Roaring to the fore with charisma and psychedelic charm, St. Louis' Hounds have struck gold on 'Cattle in the Sky', an energetic sophomore album that rocks in all the right ways.
Stream: "Three Hits of Acid" – Hounds
---
Roaring to the fore with charisma and psychedelic charm, Hounds have struck gold on a sophomore album that rocks in all the right ways.
Intimate and impassioned, gritty and fervent, Cattle in the Sky sets the bar high as the St. Louis band soar on an LP full of heart, soul, and harmony. It's a record built on love for their craft – a set of energizing, hard-hitting songs driven by the inner flame that pushes us to pursue even the most lofty of dreams. In Hounds' case, that dream seems to be coming true.
I've been taking my time,
Dreaming of
I don't want to lose your love
My heart it misbehaves
I'm dyin' at every touch
Every move that she makes
sends me to disbelief
I could be, I could be yours, love
I've been savin' up all my words
So as not to get used to
saying all the things that can't be unheard
So love you, I want you to stay right here
Lie in my arms and cast away
all the poisons that fills us up
It's not enough for us
Released February 5, 2021 via BMG, Cattle in the Sky arrives four long years after Hounds' self-titled 2017 debut album first put the Midwestern band on the map. Playing together since 2010, brothers Jordan and Logan Slone, Jack McCoy, and Logan Mohler gained considerable tour and studio experience under the name Clockwork – but it was when they changed their band name to Hounds and opted for a heavier, heartier rock sound that the band started to find not their calling, but their collective voice. The group won the Topgolf-sponsored web-based 'Who Will Rock You?' band competition in 2019, scoring them a record deal with BMG and opening a world of possibilities.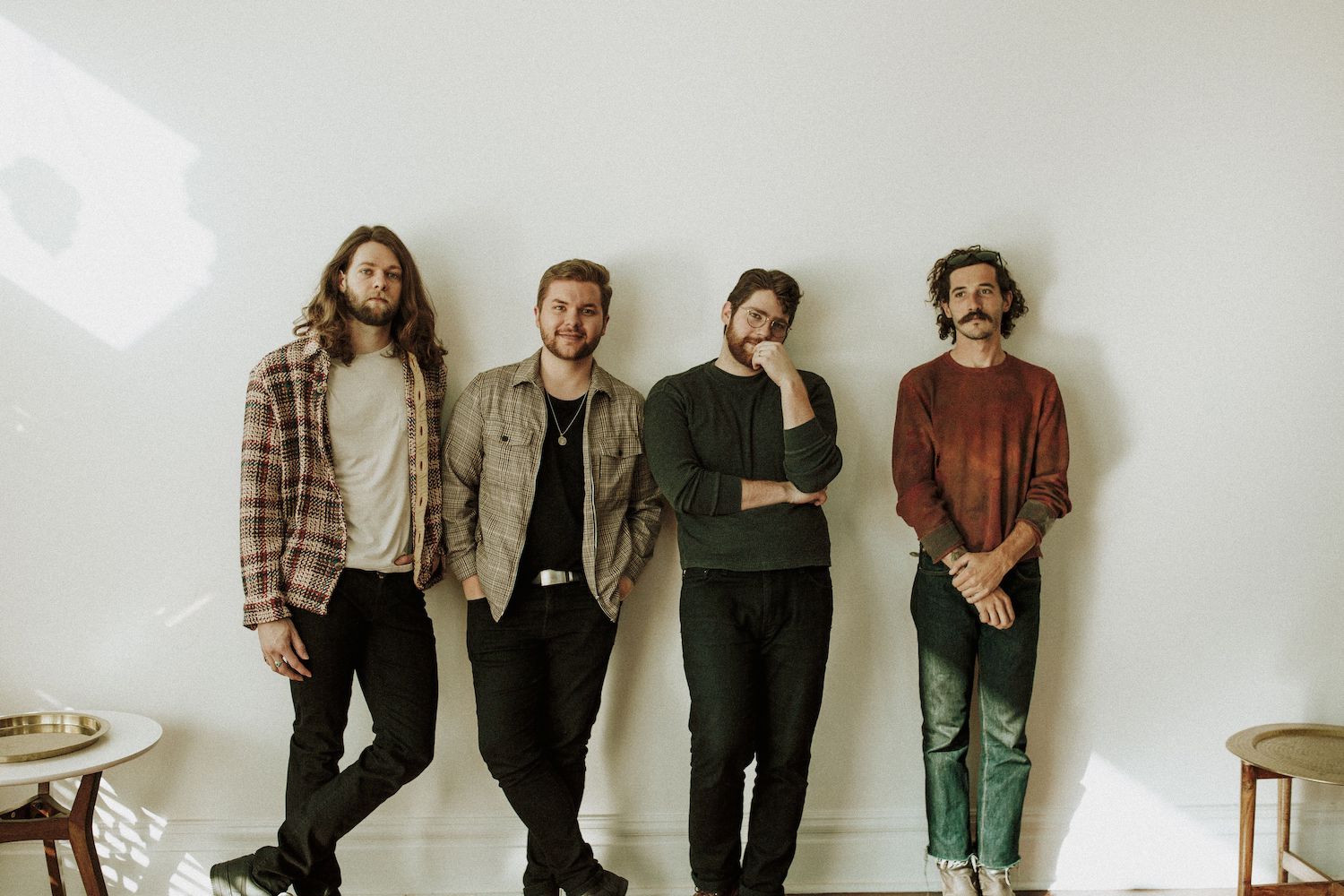 Despite the setbacks of the past year, 2021 finds Hounds revitalized, refreshed, and revving to go with a record that hits hard and leaves a lasting mark.
The band joyfully describe Cattle in the Sky as "psychedelic rock & roll slathered in harmonies and ready to take up permanent residence in your ears" – and in truth, we couldn't say it any better ourselves.
"Going into the record we knew we wanted to best our previous recordings," Hounds tell Atwood Magazine. "The whole experience as a band for us is about growth. We are set to constantly out-do each and out-do ourselves. So we continued to push our own boundaries with the style of picking, what sort of fills we would use, and challenging our sound scapes with sounds we have never used before. One of the biggest roles in that would be our use of Mellotron and the 'Stultus Tibia.'"
"Cattle In The Sky takes the bones of what has been Hounds and reintroduces it as a group that wants to truly compete in the world or art and music by taking on real production value. Before on our previous record we recorded everything live and with very minimal overdubs. Even vocals were done in a sloppy fashion. But we did that as a test to see if we could be a band worth listening to if you take away all the bells and whistles beyond what the band is actually playing. With the record, we thankfully secured a record deal with BMG. With that accomplished, we moved forward to do something more aggressive in production. We still took takes the same way with bass/drums/guitar all at once in the same room, but we added a lot more texture. We wanted to compete in radio and the pop world."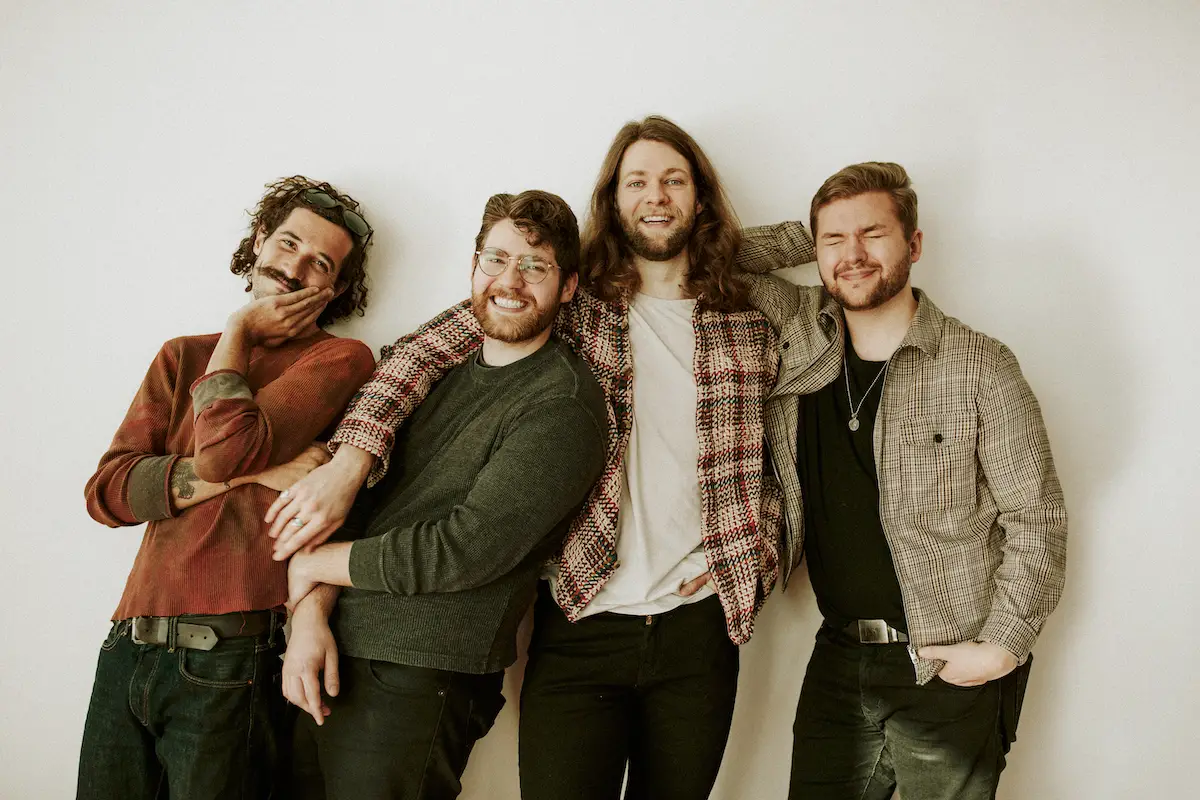 Even Hounds' album title is suggestive of the band's headspace and ethos; for them, it speaks to their own need to constantly adapt and excel.
"Cattle in the Sky is representative for consistent change for our band. To move on a moment's notice. To be able to create without hesitation, and not crack under the pressure of that. It would be very easy for us to fall into the same patterns as musicians. Cattle In The Sky pushes us to not fall into those patterns and we aim to carry that sentiment throughout our music careers, or really in any field… Over and over again, the only things we have really cared about is whether or not the music itself is outstanding and worth mentioning."
Start to finish, Cattle in the Sky is as compelling and colorful as it is radiantly dynamic. The band capture their electric live energy from the get-go with the slow-burning opener "To Be in Love," a heart-on-sleeve upheaval of desire and sincerity:
and I want to know you know what it means
to be in love, because you know what that means
and not because somebody's telling us
that this is what love does
'cause that just sucks – it's not enough for us.
"'To Be In Love' was a greatly contested song amongst the band members," Hounds explain. "At first we didn't all want to record it. We couldn't see where it would go and we were cautious about reopening doors to works we had decided were done. But it ended up being the first cut in the studio and the first time Hounds had recorded as a four-piece act. It felt alive, and natural to us. By the end of it we came up with a song that has been a band and fan favorite. And the song has one of the most meaningful lyrical sets to me as well. I was very happy to have it back and to see how it had pushed us to be a better band."
"To Be in Love" sets the stage for the mix of soft and loud, emotionally charged rock numbers to come – but what keeps Cattle in the Sky so dazzlingly fresh through and through is the band's ability to reinvent themselves, ever so slightly, on every song. Their second track "Three Hits of Acid" is an ethereal, hypnotic indulgence of soaring sound and vibrant vocal bliss. Following the opener, it's another easy standout, setting Hounds apart from fellow modern rock and psych rock bands.
"This song was a result of what felt more like a therapy session than a co-write," frontman Jordan Slone says. "I got together with a writer, Ted Bruner, and we just talked through life for a day or so until he pulled out my acid trip story from when I was 17. Up until the months before that I had been cautious as a writer not to offend or overly point out the people in my life because I wanted to protect them. But On & On and Three Hits Of Acid were the first songs that I finally found myself willing to be 100% open and honest with myself and anyone listening to the lyrical content of our music. 'Three Hits of Acid', and 'On & On' were the last songs recorded for Hounds and we feel it is very telling in how much of our musical focus will go in the next year."
---
From the 50-second Mellotron-led transition track "Stultus Tibia" to the album's feverish, bluesy n' groovy lead single "Shake Me Up," Hounds keep spirits high and listeners hooked.
"'Stultus Tibia' is the wonderful creation of Jack McCoy," the band says. "We got on through 2018/19 with a bunch of pop up shows through a company called Sofar Sounds. One of the songs we wanted to bring to life in this acoustic/stripped down set environment was a song called Sunburnt. In the full band recording of that song the bass gets a spastic and aggressive fuzz bass solo. We had to figure out how to approach that space for live performance where we aren't using pedals. (We often chose to take away pedals and effects for more intimate shows). So one day we were driving from one town to another and jack chugged a Red Bull and then started screaming into the can. Stultus Tibia is Latin. We encourage everyone to go have it translated. But that is how we created the horn sections for all of the songs on this record. It is Jack McCoy sing/screaming into a Red Bull can."
Meanwhile, Hounds owe much of the past year's growth to the success of "Shake Me Up," a good ole' fashioned rock n' roller that actually helped them win the Who Will Rock You? competition.
"'Shake Me Up' has been the flagship for our success and in ultimately securing our deal. We performed the song on TopGolf's "Who Will Rock You" and it felt like the natural lead for this record. Coming from a pop/rock n roll trio and wanting to bridge into more psychedelic realms, we were dedicated to the song that had brought us to our current situation of success in this industry. We love aggressive, pulse pounding, honest rock n roll music. And we don't want that to get lost in the music we create. Our favorite bands of all time were that way. And we want to carry that with us."
---
For as much fun as they have with their high-flying music, Hounds pay equal attention to the lyrics and sentiment conveyed in their songs. "If you let me I'll quote half the record or more," Jordan Slone says, only half-joking. "Lyrics are really important to us. And we hope these lyrics are important to other people as well." He goes on to cite four of his favorite lines on the album:
"Dancing sucks when it's just around the truth on a line between liars and lust." – To Be In Love
"It's all just a dream. There's no need to be afraid. Sour paper on teeth ears ding everything." & "that's it I'e had enough. Am I dead yet, or what." – Three Hits Of Acid
"So give me the "one two punch" go ahead and put em up, and. Make sure the stars are all I can see. I'll be lying there loving you. Even if I'm black and blue." – Blue
"And for a while I'll still feel the touch of your hand. Not really trying to forget. Not even trying to pretend that both light and dark truly existed within 6 years." – On & On
Whereas the band list their collective favorites as "To Be In Love," "Three Hits of Acid," and "On & On" –  the poignant, dusty, and fiery closing track that ends the album on an unimpeachable high – it's easy to find something to love throughout Cattle in the Sky. The record ebbs and flows, making for an impressively evocative 42-minute journey through the heartland.
"We hope that people see rock music as a continually expanding genre," Hounds say of their album, "not as something that happened between 1957 and 1999. It really isn't a dead genre. It's an evolving genre. And we hope that we aren't coming across as another stale indie rock band that's creating something without meaning. We only want to create music that has a voice. That has desires and passions and pulls the appropriate emotions out of people. I used music as a way to cope and as therapy for myself through everything in my life. It has brought me through my highest points and my lowest points. I hope the music we create does that for someone else. And I hope we are inspiring enough for some else to want to create something better than what we are doing now."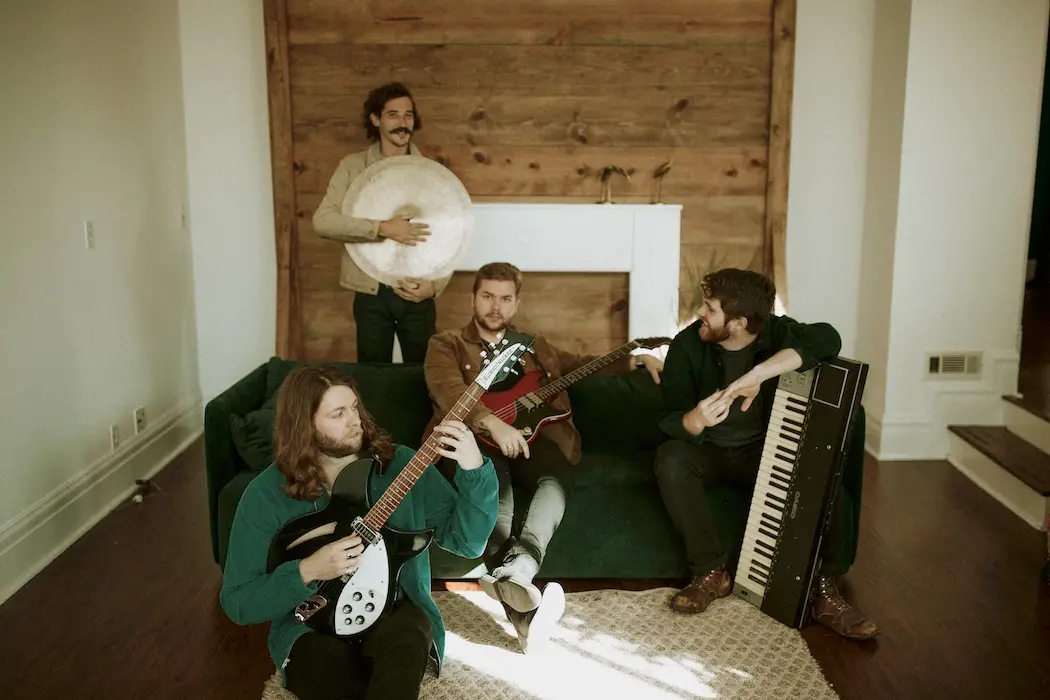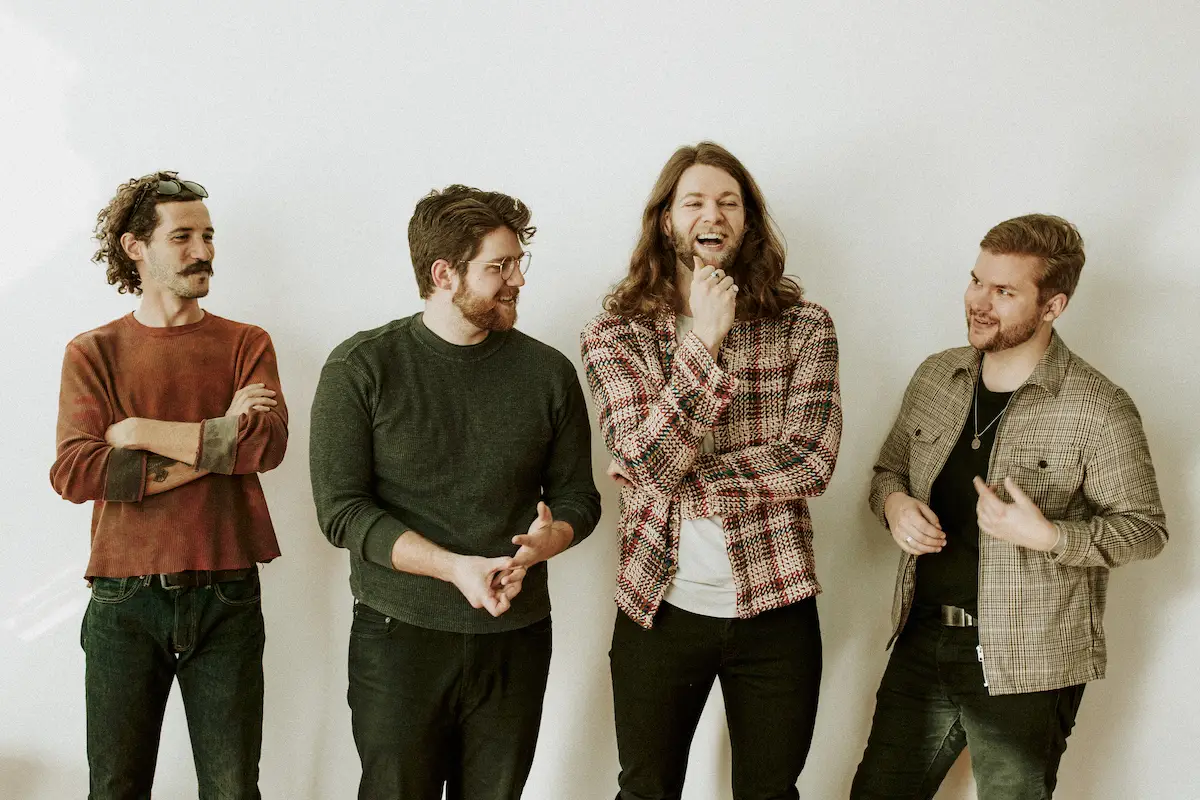 As for the current moment, Hounds have their eyes dead-set on the year ahead. For a band together since 2010 and active throughout the past decade, their excitement for the future is, let's hope, telling.
"There was a year that as an indie band we played over 130 shows. We loved it. We lived and breathed it," they share. "We miss seeing people slam packed into a room all screaming songs at the top of their lungs, and we miss being a part of those audiences ourselves. The last year has definitely been met with a bunch of challenges, and we have had to find new ways to remain relevant and on target for our releases. But I think there is still beauty in the lockdown. Hounds has never had an opportunity to write so much music, and learn so much music. We have grown more this year in our passion than we have had the chance to in any other year. I think any serious musician would say the same thing, and be able to show its results once the world opens back up to art, music, and life."
Until that time comes, we have Cattle in the Sky's twelve unapologetic songs to ignite our spirits and keep us engaged, enthralled, and genuinely excited – not just for the present at hand, but for the days to come. Experience the full record via our below stream, and peek inside Hounds' Cattle in the Sky with Atwood Magazine as the band goes track-by-track through the music and lyrics of their charismatic, shining sophomore LP!
— —
Stream: 'Cattle in the Sky' – Hounds
:: Inside Cattle in the Sky ::
— —
To Be In Love
Finger-snaps under the streetlight on that mythical summer night.  This album starter asks more questions about love than it answers; foreshadowing an album bursting with young adult palpitations.  Complex, thoughtful, and even sarcastic.  The kick-off also introduces the move of the band's previous bassist, Logan Slone, to keyboards.
Three Hits of Acid
Trippy, effervescent keyboards hover in the liquid light, astride lysergic confessions.  The band's co-write with Los Angeles songsmith Ted Bruner plainly memorializing youthful psychedelic indulgence; complete with hospitals and handcuffs.  And (some) growing up.
Head in Sand
A Logan Slone track written years ago; carrying themes of ambiguous morality and debatable perception.  Its opening sonic embellishments serve as prelude to a sinister carnival cadence and distinct art pop intentions.
Make You My Baby
A clipping hi-hat heralds a Paul McCartney-inspired shouter, its dynamic vocal buttressed by an intricate guitar riff.  Knockout women colored in jealousy and plenty to read between the lines on this co-write with Nasville songwriter Justin Flagg.  A needle-pusher; try keeping the speedometer under 70.
Stultus Tibia
An instrumental sound collage; paying homage to the late Ennio Morricone's spaghetti western motif.  Percussive, and stripped down, this playful interlude turns even more surreal with the appearance of bassist Jack McCoy's mysterious Stultus Tibia; translation: stupid flute.
Long Way Down
Another Logan Slone entry, drawn from an evening with his eventual wife watching the Tom Hanks-helmed ode to '60s rock, That Thing You Do.  A time machine fueled by Motown style and baby-faced harmonies.  Hounds' sweet and conscientiously nostalgic nod to an era the group never experienced firsthand and impassioned testimony that real love is worth the journey.
Shake Me Up
Poodle skirts and pressed denim.  Cigarettes rolled up in the sleeve of a white T-shirt.  Greased lightning with the top down.  A live favorite written as Jordan's sibling-rivalry response to Logan's "Long Way Down."  Inspired by Motown, doo-wop, and a Michael Buble' concert. 
Muchanothin
Dirty, ragged, and full of angst.  The jangle of guitars and ramped-up tempo kick in the door.  Loud, aggressive guitars and boldly literal lyrics slam it behind them.  Therapy for when pretending a bad outcome is really a good result.
In Over My Head
Ringing arpeggios against angular, determined downbeats, the cut addresses Logan Slone's previous exit from the band.  Saying goodbye to a love and to a part of life.  A transitional piece, once again, pulling inescapably towards adulthood.
Low Life
Another examination of morality wrapped in a fun little burner.  Dirt under the nails, but in hands holding knives of intellect; slicing the rock-and-roll revelry.  Written years before, musically, it shows off the group's effective use of meter change.
Blue
An elegant, word-salad kiss-off.  Modern blues working through the lingering questions of love and life.  The saddest song of the dozen, yet somehow much more cathartic than defeated.
On and On
Out of dissonant baroque comes a dusty jukebox ballad, closing the album, as lilting harmonies assuage an irreparably broken union.  Heavy, ominous, and bare-naked honest, it's Jordan Slone's heart having one last slow dance.  Written during the sessions, the finale marks the group working as a truly collaborative four-piece ensemble.
— —
— — — —
? © Michayla Slone
:: Stream Hounds ::
---