'Bring Backs' is a metaphysical project that sees Alfa Mist tackle imposter syndrome and the crushing weight of success.
Stream: 'Bring Backs' – Alfa Mist
---
Alfa Mist is finding his feet in a new world of success and recognition, while announcing himself to the wider public.
Released April 23, 2021 via ANTI- Records, his fourth full-length album Bring Backs is about coming up in the world and enjoying the success you deserve, but finding out those problems you had before are still lurking in the shadows. What you have now is temporary; it can still be taken from you. A statement on self-actualization, Bring Backs considers childhood experiences and how they linger in the recesses of your mind, shaping your life as you grow up.
There's an intriguing roughness to Bring Backs which makes it stand out from similar releases – the inevitable result of the colliding of different musical cultures. Alfa Mist was raised in east London, however his music taste comes from across the pond. An unabashed hip hop head in his youth, he discovered jazz through the samples used by his favourite producers. "There's no access to jazz where I'm from. There's no way I would have come to it without finding those hip-hop records and wanting to understand them," says Mist.
Contrasting Alfa Mist's East Ham accent, the spoken-word poetry of Hilary Thomas—which binds the album together—and prominent sampling of London Underground announcements, Bring Backs slams together musical cues from both sides of the Atlantic. The differing aural textures rub up against one another for a fresh mix of sounds. 
Bring Backs is a metaphysical project.
The title is taken from a card game Alfa Mist played as a child, where after winning a round, you couldn't celebrate because of the bring back rule: You could be dragged back into the game and forced to play again. Alfa Mist uses this to explore his thoughts on his career moving to the next level. He's done well, but feels like he can't crack open the champagne yet, as there's always the threat of being pushed back a step. "I live in this perpetual 'bring back' state where I can never really be sure that I'm doing as well as I am. When you grow up where I did, you live in a sense of instability – you can be doing ok for a while but that can change, you know that's always a possibility."
Musically, the headline is jazz. Bring Backs is low-intensity drumming, pleasant keys and extended solos. Alfa Mist's self-taught piano skills are evident, and he utilizes his talented band well on each track. His vocal style is in the middle ground between speaking and rapping. While it might have been tempting to lend his voice constantly on his own record, Alfa Mist restricts his voice to just a couple of tracks. "Rapping is a tool in the box rather than a pursuit. It's like an instrumental choice on the song. I don't rap over everything because not everything needs it," he says. Bring Backs is more about Alfa Mist's instrumental prowess than his vocal ability.
At first listen, the track list feels a little disordered — Alfa Mist is the third vocalist you hear on a play through, and the long, wandering compositions all occur together in the mid section — but on closer inspection you realize this is part of the metaphysical nature of the record. While the arrangements are deliberately structured, they are randomly scattered, representing the displaced anxiety of a troubled mind. It's this self-referencing that keeps the project in check, making it a complete listening experience.
The early highlight on Bring Backs is "People," featuring a superb turn from Alfa Mist's long-time friend and collaborator Kaya Thomas-Dyke. Backed by a gentle acoustic guitar and strings, her voice cuts through the inky darkness with stunning clarity. That's representative of a key conflict on Bring Backs: Most of the musical content is pleasant and comforting, contrasted with darker lyrical elements. The album's sombre gravity would pass by a disinterested listener.
---
"Last Card (Bumper Cars)" is the record's most esoteric cut. In truth a couple of songs bridged by a spoken word section, this track is Alfa Mist at his most progressive. Beginning with woodwind, strings and marimba backing, the song settles for a moment. Then trumpet and sax solos are layered on top busily, as the intensity rises above the album's orthodoxy of uncomplicated midnight jazz. The second half is more of the same but with a happier mood, reflecting what's said in the poem. "From basket on head, to paper bags and plastic wrapped bread; She worked, and She Hurt, from names that She heard. But Friday was payday, and Glory come, Sunday." Hilary Thomas's poetry, about being an immigrant in a foreign land, and having to build a life is in perfect unison with the main theme of Bring Backs. 
"Organic Rust" is the key composition on Bring Backs, and for all the jazzy improv we're treated to, it is this downbeat hip-hop tune that steals the show. Ending the record on a contemplative note, "Organic Rust" is rain down the window, a solitary evening in with a bottle of booze, and the quiet panic of having to deal with your demons alone. Alfa Mist's rapping ends halfway through the runtime, leaving the last few minutes of "Organic Rust" to play us out. This makes his words hang in the air, demanding to be heard.
---
Bring Backs is ultimately about evolution. It's about becoming a celebrated professional musician, then suffering the realization that you now have to re-learn how to act.
It's about spiritual and creative rebirth. There's no rulebook, no guidance on etiquette or custom. This a new world of challenges, with many risky paths to tread—and many punishments for the reckless. Through his success, Alfa Mist is starting from the bottom once again. He's hoping that this time, he won't fall foul of the bring back rule.
— —
— — — —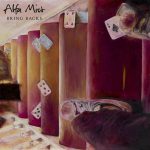 ? © Johny Pitts
:: Alfa Mist ::