HAIM's 'Women in Music Pt. III' shows us the sister trio have another level to their musical brilliance, and that they might just have many more yet to come.
•• ••
by guest writer Leo Culp
•• ••
Stream: 'Women in Music Pt. III' – HAIM
---
There's something about seeing a band live that can't be recreated. When I saw HAIM in May of 2014, it was my first show at the Tabernacle in Atlanta, and second concert period. When I first walked out onto the floor, the intimacy of the place was a completely counter to my expectations. It was the kind of environment made for a band like HAIM: rugs lined the walls, and there was that pre-show hum I grew to love. The HAIM that played for those next couple hours was so much better than the HAIM I heard on the record. Don't get me wrong, I loved their debut, Days Are Gone, but seeing them live puts you in a different world. While it's a great, unique record, it isn't known for its intimate, soul-searching lyrics; but with the emotion of the room, those distant lyrics took on a new meaning. In an interview with Rolling Stone, lead singer and middle sister Danielle Haim said, "If I'm feeling some type of way and we start to write, I don't fully understand my feelings until the song's done and out in the world." Maybe she found out how she felt about those songs earlier in the tour, but it felt like it happened that night.
If this is a safe space (and I'd like to believe that it is), then I want to say I wasn't a huge fan of their second record. Something to Tell You had some strong songs, but it felt like they were running it back rather than moving forward. Days Are Gone was a great debut, but Something to Tell You didn't push the needle forward. Rather than diving into the instrumentation and emotion of their concerts, they opted for poppy, processed beats and simple guitar lines. Even though it has high points, I thought Something to Tell You went in the wrong direction. With their third album, though, HAIM have redirected their focus.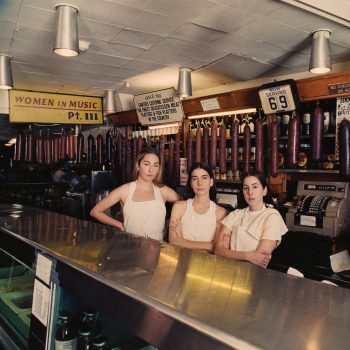 Released June 26, 2020, via Polydor Records, Women in Music Pt. III goes well beyond HAIM's earlier albums, with the production making this album a defining moment for the band. Seeing them live, it's just them with a keyboard or two, a couple guitars, a bass, and a drum kit – and that's what Women in Music Pt. III is.
Former Vampire Weekend member Rostam Batmanglij produced the record alongside Ariel Rechstaid and Danielle Haim, and it shows. Rechstaid and Haim produced Something to Tell You, and the addition of Batmanglij expanded the boundaries of HAIM's sound. Actually, maybe "expanded" isn't the right word. If anything, this is a stripped-down version. Every song is polished, but they have the rawness of demos. In past albums, these songs would have been built up with synths and electronic drums, but those are traded for acoustic guitars and drum kits on Women in Music Pt. III. The lyrics are molded to the music on HAIM's past albums, but the instrumentation of album coexists beautifully with the intimate, revealing stories on display.
---
You could tell HAIM was switching gears from the moment "The Steps" was released. Their first two albums denied fans of the intimacy, technical ability, and groove HAIM have in concert. Women In Music Pt. III achieves this, and then some. From a sheer songwriting point-of-view, this is the most inspired HAIM we've seen. While everybody can, on some level, relate to the odes to heartbreak and relationships on their previous albums, Women In Music Pt. III trades those broad lyrics for tiny descriptors that reveal much more. Joni Mitchell's influence is all over this project, especially in their lyrics (i.e. 'I'm waking up at night, TikTok, killing time / A little moonlight coming through the blinds / The love of my life sleeping by my side / But I'm still down' – from "I've Been Down"). Many millennials and members of Gen Z know what it's like to stay up on your phone late into the night and wonder what you're doing. It's a unique form of loneliness, and these details turn a good song into a great, relatable song.
Stripping down those constrictive pop boundaries gave HAIM the chance to let their other influences shine through.
People have compared HAIM to Fleetwood Mac in the past, but this is the first album where those comparisons holistically appear – and Fleetwood Mac aren't the only great artist whose influence is present. In a way, this is to the project's detriment: "Man from the Magazine", "Leaning on You", and "Summer Girl" are phenomenal, but they sound like covers of Joni Mitchell, Fleetwood Mac, and Lou Reed, respectively ("Summer Girl" is a more hopeful "Walk on the Wild Side"). Even though these are three standout songs from the project, it's hard to escape how obvious those comparisons are, and they somewhat disrupt the continuity of the project. Women in Music Pt. III is a great album, but HAIM's next challenge will be mixing those influences so it just becomes "HAIM," rather than certain songs sounding like covers.
---
On the Broken Record Podcast, Rick Rubin said he was disappointed early hip-hop records weren't reflecting the "interactive culture" of New York's underground scene. He thought these records should be honest, true interpretations of the energy that brought people to those shows, and wanted to make music that reflected that spirit.
HAIM's 2014 concert grabbed me the same way those early hip-hop shows grabbed Rick Rubin. It was less about the chords or the music or the lyrics, and more about the environment the music was played in. It was about the sense that you were getting to know HAIM as people, rather than HAIM as a band. It was like looking at their music through a different lens.
In a perhaps unknowing nod to Rubin, Women in Music Pt. III deconstructed HAIM's sound to its elemental parts, stripping down the boundaries of how we know them.
The best live shows are the ones where you get to know the artist better. This album doesn't just feel like you're in the room with HAIM, though; it feels like you're in the booth with them. With Women In Music Pt. III out in the world, people can see the HAIM I saw live: Three charismatic women with complicated lives who are really fucking good at their job. Hopefully they can keep this train rolling.
— —
---
Leo Culp is currently a junior at the University of North Carolina at Chapel Hill studying Media/Journalism. He hosts a local radio show in Chapel Hill, and loves watching Liverpool soccer and Carolina basketball. He is always trying to find something new to learn about music, and is a proud Atlantan.
— — — —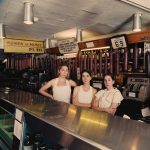 ? © Grant Spanier
:: Stream HAIM ::
---