Ioanna Gika's debut LP 'Thalassa' is a swooning odyssey through the highs and lows of love and loss, and its single "Swan" is a solemn snapshot of the artist wrestling with the shadows of the past.
Stream: "Swan" – Ioanna Gika
---
There is no shortage of capable temptresses these days, particularly on Sargent House: We rightfully celebrate women who have connected with the source of their emotions and mastered the ability to channel their profound empathy through their music without it being too soppy or romantic. Ioanna Gika definitely belongs to this category – one along the lines of Zola Jesus, except more accessible and slightly less experimental. "Swan," the final single from Gika's newly-released album Thalassa, is a testament to her ability to confidently and coherently express deep and personal emotions; to allow the levee to break, so to speak. To saturate the listener, but never drown them in the resulting flood of emotion.
Most know Ioanna Gika for being the singer and multi-instrumentalist of Los Angeles-based indie rock outfit Io Echo, who were chosen by Trent Reznor as the opening act for Nine Inch Nails at the last show of their Wave Goodbye Tour. But as demonstrated with her debut album and "Swan," she was always a star; now, she has decided to break from her band's orbit and chart a new course.
Much like Thalassa, "Swan" sounds like an angel lamenting over an abyss: It's as if she is connected to a consciousness that grants her vision beyond what the eyes can see or what the ears can hear, and through that sixth sense she embarks on an odyssey into the netherworld. "Swan" reminds one of the cliché of the goddess longing for her mortal lover who is wallowing in the suffering of the mortal world, willing to give up her divinity to be reunited with him.
How did we get here?
Feel so far yet exist so near.
Darkness through I'm through
beckoning, beckoning for you
I'm in love here but I don't belong
I can touch you but I can't hold on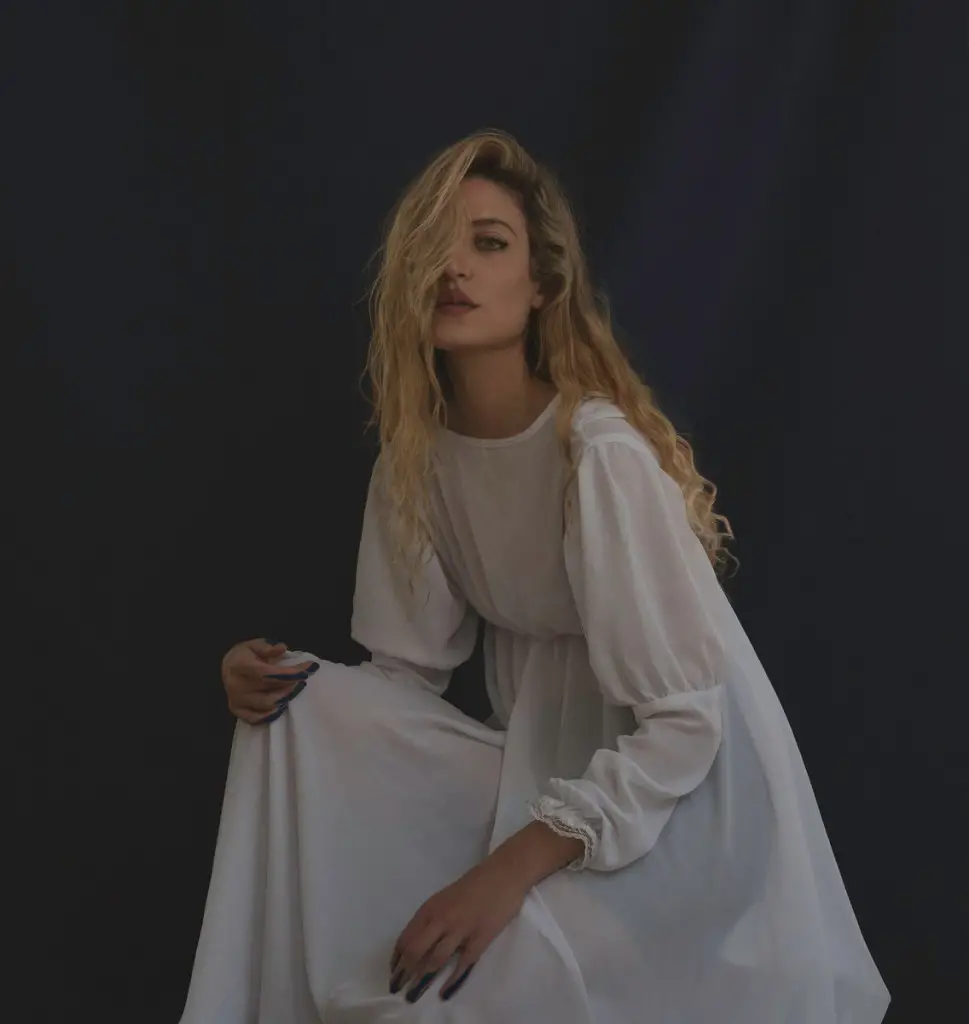 Taking into account Gika's Greek heritage and the album title – named after the spirit of the sea in Greek Mythology – the ancient story of "Leda and the Swan" could easily be a muse. Reading the lyrics, one can easily imagine the sides switched, with Gika representing the long-suffering mortal, and her lover being the God. In the traditional story (which has been a major source of inspiration for the art world for quite some time), Zeus appears in the form of a swan to seduce Leda, who then bears his divine children, Helen of Troy and Polydecues. Either way, "Swan" is a story of unfulfilled longing that is laced with a deep sense of regret. It's the post-rationalization of the trauma incurred by the unrelenting march of time, that turns lovers of present to ghosts of memory in the blink of an eye.
Froze a memory
captured our love perfectly,
but ice in hand won't last
longing for the past
There is a sombre and ethereal electronic atmosphere in "Swan," which was constructed around Gika's vocals rather than the other way around. In a time where saturating your voice in reverb and distortion is very much in vogue, Gika's naked and refreshingly unambiguous voice makes her song that much more personal. In addition to not muffling her image and humanity behind a curated image, she also never stretches the capability of her vocal range, which helps "Swan" feel like a raw snapshot of an emotional state rather than a ballad or traditional love song.
Ioanna Gika casts an undoubtably elegant Hellenic visage as she invokes the epic feel of tragedy and beauty in Greek Mythology with "Swan," an undeniably beautiful piece that is a personal odyssey into the murky waters of love and loss and the all-consuming void between them. Dive into this song and the entirety of Ioanna Gika's debut album Thalassa, out now.
— —
— — — —
Stream: "Swan" – Ioanna Gika
— — — —
? © Janell Shirtcliff
Thalassa – Ioanna Gika