The Aces unpack their liberating and triumphant third album 'I've Loved You For So Long,' discussing anxiety and depression, queerness, their hometown pride, and more in an intimate, in-depth interview with Atwood Magazine!
Stream: 'I've Loved You For So Long' – The Aces
---
This is a self-reflection record. It's a lot about where we grew up and being closeted and queer, and also just stepping outside of our really repressive hometown.
The Aces are so much more than a band, and on their third album, they make that fact crystal clear both to themselves and to everyone listening.
The Aces are a family; The Aces are a movement; The Aces are a platform; The Aces are a sanctuary; The Aces are a home. "I've loved you for so long," Cristal Ramirez sings over shuffling drums and glistening guitars, her voice a tender beacon of raw energy and emotion. She's not singing to just one person, but rather to the group she and three of her best friends founded when they were all still in elementary school; a group that has saved her life countless times throughout her teens and twenties.
Fifteen years later, The Aces are one of the indie rock and pop world's brightest voices, with two (and now, three) critically acclaimed studio albums to their name and a passion that is as unfiltered as it is unmatched. I've Loved You For So Long, their brand new third album, is an ode to their special shared connection, as a well as a powerful reflection on past and present mental health struggles, queerness (three of The Aces' four members identify as queer), and growing up in their conservative, religious hometown of Provo, Utah – something they've come to wear with pride, and consider to be their "superpower."
It's a record that delves deep and holds nothing back as The Aces explore who they once were, who they are now, and who they have been for one another over the years. Cinematic in scope and intimate by nature, I've Loved You For So Long is The Aces' magnum opus (so far): A triumphant, liberating, and cathartic album that finds them unapologetically owning their truths while making some of the catchiest, and the most meaningful, music of their career.
So stop saying it's unnecessary
To feel this way
So stop acting like it's esoteric
To feel this way
Call it how it is
I know that I'm hard to deal with
A couple of suffering significants
Know we got our differences
Call it how it is
I know that I'm verging on a masochist and
This feeling's getting kinda scary
Wake up from a dream
Where you're screaming at me
You stay sound asleep
I stay awake solo
Don't know what I don't know
Never seen this side of you though
You stay sound asleep
I stay awake solo
– "Solo," The Aces
Released June 2, 2023 via Red Bull Records, I've Loved You For So Long arrives three long years after The Aces' celebrated sophomore album Under My Influence, and follows a series of singles that have seen the indie pop four-piece opening up on record like never before. "Few tracks hit harder or carry more pure, raw passion than 'Girls Make Me Wanna Die," Atwood Magazine wrote of the record's first single (released nearly a year ago to the day), going on to call it a "churning and charged queer heartbreak anthem just in time for Pride Month." The first half of 2023 saw the release of the record's title track, the buoyant, groovy "Solo," and the achingly raw "Always Get This Way," whose combination of brutal honesty and unapologetic intimacy with soaring sonics and stunning energy made it not only an instant hit, but also a revealing look at some of our innermost emotions that all too often go unsaid:
Hope it doesn't get worse as I get older
Everyone's giving me the cold shoulder
I don't remember when it took over
All I know now is it controls me
And I don't wanna call you but I can't really sleep
And I've been wearing a smile, pretending to eat
Oh, I swear, that I can explain now
I always get this way, it's fine
And I'm trying really hard not to fall apart
If you don't mind
– "Always Get This Way," The Aces
---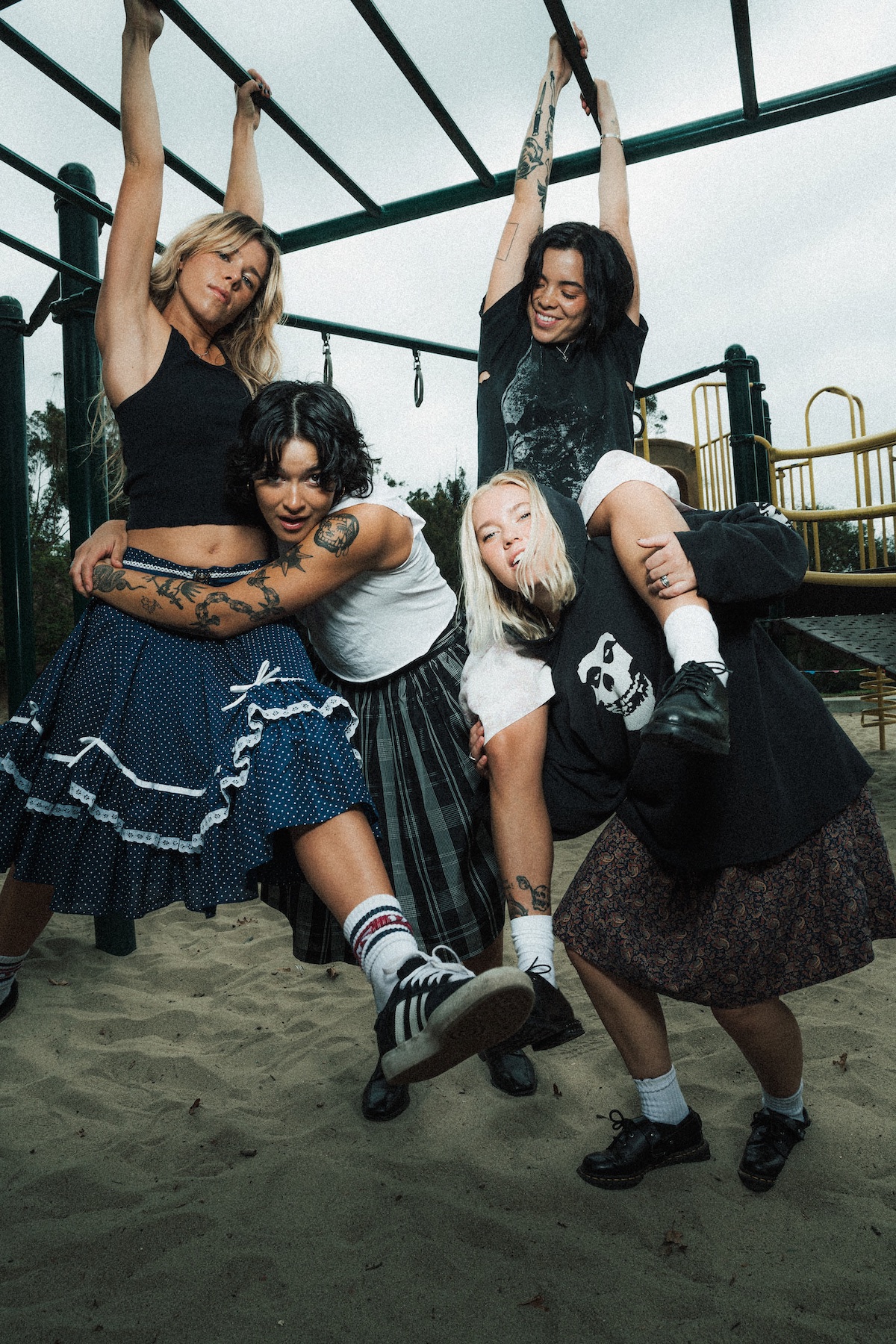 Written during a time when Cristal Ramirez was experiencing nightly panic attacks, "Always Get This Way" was a means of asking why: "Where is the anxiety coming from? Suddenly [Alisa and I] were talking about our childhood and where we grew up and how I've always been anxious," she recalls. "And then we were with the girls, we were talking about what it was to grow up there and be queer and women in a band and how hard that was at times and how repressive the culture of the church we grew up in was. It became this really self-reflective [thing of], 'How did those experience affect us currently? How was it all connected?'"
And from there, they dove deeper.
"This album is about reconnection," Ramirez tells Atwood Magazine. "Things have never been more clear than when we look back. Every year I feel like a different person. Older, wiser, but my problems are still the same as they've always been. The lessons that keep repeating themselves; some it seems, never learned. What I realized while making this record, was a surprising and subtle revelation. While trying to tell the stories of the now, of endless days and nights paralyzed by anxiety, fear, and a world out of control, there was someone else who everything kept pointing back to. A 14-year-old queer girl from the suburbs of religious Utah, whose only real joy and peace was found puzzle-piecing melodies together in the basement with a guitar she snuck out of her older brother's room."
"Really it's her who saved me during a world on fire. It's time to tell her stories – well, more like our stories. I thought I was so much different, that I've changed… and I've worn that like a badge of honor. Ultimately, I realize I'm that same 14-year-old girl in many ways. The difference is that I've started to like that girl a lot more than I ever have before."
Comprised of sisters Cristal and Alisa Ramirez (lead vocals/guitar and drums, respectively), Katie Henderson (lead guitar/vocals), and McKenna Petty (bass), The Aces are already a singular voice in the music world, with over 220 million career streams, a relentless tour schedule, and an enviable list of performance slots at many of the world's biggest music festivals, including Lollapalooza, Firefly, Bonnaroo, and OUTFEST.
2020's Under My Influence and its electric breakout single "Daydream" saw them "shine among a well-balanced landscape of pain and positivity, rock edges and pop-funk flourishes" (per Atwood's Baylee Less). On I've Loved You For So Long, The Aces further expand their musical identity while delivering the most vulnerable, visceral, and heartfelt songs of their career, with non-single highlights including the churning anthem "Suburban Blues" ("Nobody knows that I'm dying inside, nobody knows that I'm hating my life"), the uncompromisingly heavy "Person" ("How come at the age of 25 nothing makes me feel alive? Like surrendering my peace of mind"), and the disillusioned, gut-wrenching "Miserable" ("I finally got what I want, but the next part's kinda comical: I'm still fucking miserable.")
Small town, I'm burnt out
On a drive back to my house
Same chain restaurants
Same mall and carwash
I'm fine, I'm alright
I know how to blend in
They all seem so happy
What am I missing?
Nobody knows that I'm dying inside
Nobody knows that I'm hating my life
'Cause there's no way out
Of this sad town
So get used to
Suburban blues
---
Anxiety; depression; malaise; unrest; insecurity; fear. The Aces pour their hearts and souls out on these eleven songs, each of which tells another story of trying to get by, survive, and thrive in an imperfect and at times oppressive world. There's a sense of survival to I've Loved You For So Long, as well as a sense of surrender and acceptance.
"There is a lot of peace and healing and power that comes with just accepting your story and kind of doing that inner work," Katie Henderson shares.
"It's obviously a really scary thing to do, but I think there's so much peace that has come with that. [Hopefully] you can find your safe space – and that isn't always the community or the family that you're raised in, but there's always going to be people who will accept you and love you, and chosen family is so important."
And with that, we return to the crux of our argument – that The Aces are so much more than a band; they're each other's chosen family.
Atwood Magazine caught up with Cristal Ramirez, Alisa Ramirez, Katie Henderson, and McKenna Petty in a candid conversation about their third album and their overall journey so far. Read our interview below as the The Aces unpack I've Loved You For So Long, discussing anxiety, childhood, queerness, their hometown pride, and more.
A liberating and triumphant return from one of indie pop's brightest acts, I've Loved You For So Long is out now via Red Bull Records.
— —
Stream: "I've Loved You For So Long" – The Aces
A CONVERSATION WITH THE ACES
Atwood Magazine: Can you share a little about the story behind this record?
Cristal Ramirez: Yeah, this record is like a self-reflection record. It's a lot about where we grew up and being closeted and queer, and also just stepping outside of our really repressive hometown. It's a lot of self-exploration and self-reflection, and it all started with "Always Get This Way" and a song called "Don't Freak," that won't be on the record, but came out before. Those songs were me exploring my mental health and my panic attacks and anxiety and obviously being in the pandemic, there was nothing else going on. There was just this really intense push to self-explore.
I won't even say we wanted to, everyone was forced to. And so that definitely was what was going on with us. So started examining why… Alisa was the one to be like I think we should write about your anxiety. I didn't want to at first 'cause I felt really nervous about that. And then I was like, Okay, you know what? We'll write about it and if it doesn't come out, whatever. And we did. And then that like probed the question, "Where is the anxiety coming from?" And suddenly we were talking about our childhood and where we grew up and how I've always been anxious, really chronically anxious. And then we were with the girls, we were talking about what it was to grow up there and be queer and women in a band and how hard that was at times and how repressive the culture of the church we grew up in was. And so it just became this really self-reflective, "How did those experience affect us currently? How was it all connected?"
You mentioned there are all these different aspects that go into it, like being all women in a band. Have you seen any kind of shift in your experience to that effect over the past five years that you've been together plus?
Cristal Ramirez: I would say so. Yeah. I think there's still… Yes and no right? Because it's like we're touring musicians so we go everywhere, we go all over the world. And so there's in New York, in LA and you know what I mean? Like, hell yeah.
Alisa Ramirez: I think misogyny is alive and thriving and especially in certain parts of the country. And I would say when we were younger, people really wrote us off 'cause they just thought we were cute, 'cause we've been together for 15 years 'cause we started the band when I was eight and the girls were 10. We were playing all through our teen years. And so people would really write us off, call us cute, whatever. Which kind of made sense when we were younger a little bit. But even as adults now, we've done a few dates where if we're not on the right bill, if we're not opening up to the right crowd, we opened up for… We did one show with AJR where we fully were just basically called cunts on stage. And it was like, "oh wow, this still happens." There are people that really still don't wanna see women doing their thing, so I feel like that's always been a part of our story and something that has always actually really fired us up and made us wanna just even do more. I think it's something that actively still needs to be talked about and fought against.
That's disgusting, I'm so sorry that you experienced that. It's hard to find an Aces interview where you're not talking about it, and I don't want to perpetuate a broken record, but I think you're right, Alisa: If we're not talking about it, nothing's gonna happen.
Cristal Ramirez: And just being aware with touring and stuff – that show, I think it was in Albany, New York. I think that when you go to major metropolitan cities and stuff, things feel more progressive. And that's why we live in Los Angeles, as women and stuff. But you go and travel and you go to places in the south, often you're reminded heavily of, "Oh, there is still so much representation and work to do." We need to be vocal still. The majority of people in the world aren't able to live out and proud or be women and do things that aren't expected of them. Touring is a really great reminder of that. Traveling is a great reminder that we very much need to talk about it. I had no idea that Albany was like that. I had no clue.
You also said that a lot of this record is about reconciling your feelings about your home, Provo, Utah? Can you share more about that journey and what your relationship is like with your hometown?
Cristal Ramirez: I think our relationship with our hometown is, we've all been in different places with it at different times. I think that there's, it's kind of like, I think everyone has kind of a tumultuous relationship with their hometown. There's like you can love the good things about it, but then there's also parts about it that specifically for us being from a place like or on Provo, Utah. How religious it was growing up closeted, how repressive the culture was, especially for us to do anything outside of the norm, which was having kids and settling down very early and remaining a part of this religion that we were raised in. I think that there is also, of course there was a lot of traumatizing things that happened and things that we're still kind of grappling with working through today.
And so for me, and I'll let the girls chip in 'cause I'm sure everyone has a lot to say. I think I have a very hate, love, hate relationship with our hometown. I really appreciate certain things about it. I appreciate the fact that the way we were raised I think really helped us become successful earlier because we were hyper focused on our band. And I think that pressure of feeling trapped and caged was like this thing that gave us this real drive to get on stage and to get out of Utah and to create a different life for ourselves. Me specifically I'll say like for myself. And so I really appreciate that pressure in a way in hindsight because I think it gave me the life that I love so much which is touring with the girls and playing music. But I going to therapy and working through other stuff that was… It wasn't so great. So yeah, it's like very love hate for me and, but I do at the end of the day, I'm a really appreciative and I love my hometown, but at times I'm like, I don't know.
Alisa Ramirez: Yeah, I agree. I feel like through this record when we… In our last two records, we never really touched on where we came from. It was more like we were exploring things that were happening in our lives in that moment. Who we were falling in love with, who was breaking our heart. Like kind of just more topics of the moment. And so Cristal was kind of mentioning earlier, when we were in the pandemic and there was kind of… I think for everybody there was really nothing to distract you from whatever unresolved things were maybe going on in your body and mind. Like you're kind of just forced to face some of these things and especially going in and making a record during all of this when there's not much to talk about except what's maybe going on in your head.
It gave us the space and time to actually go back and think about our teen years and what it was like to grow up closeted in Mormon, Utah. And it was not easy and it was something that I feel like we ran away from for a long time. I think for a long time I didn't even wanna talk about that 'cause I didn't wanna be a Mormon band. I didn't wanna be a Mormon gay band. I didn't wanna be labeled or pigeonholed or made to look like a freak or anything like that. Like I feel we were pretty nervous about talking about anything like that. 'Cause I think there was like a lot of shame around that. I think anytime growing up when you travel outside of Utah and even when you tell people you're from Utah, they're like, "oh my god, are you Mormon?"
And if you're like, yeah, they're like, "oh, no way. Like that's so crazy." And it's like we're not Mormon, but even when I tell people that I have grown up Mormon, they're like, whoa. Which is rightfully so. I mean, it's an insane religion. It's like, rightfully so. It's definitely a fucked up religion. Like we're all not a part of it anymore. But it's just one of those things that I felt nervous to talk about, but on this record it was kind of thinking about 14 year old Cristal, 14 year old us. What it was like to go through that. It was the 14 year old version of Cristal in ourselves really deserves their story to be told. We've never told that story.
We've never talked about what that was like. And I think it would be important to share that because I think there's a lot of kids that would relate to that whether they… Right now I think there's a lot of kids that live in this country and other countries that could really use a story like that and feel seen through that. So I feel like once we cracked into that, that was like a really, that's when the record really started coming to life is when we realized that it was gonna be largely about our past and our childhood and our teen years.
Katie Henderson: I'll just add to that too, talking about our hometown, I haven't moved away yet, so I'm the only one that's still in Utah. So I feel like it is kind of like Cristal. It's like every day it's a different experience. Like some days I love being there, it's like so beautiful. There's so many good and cool things about it. Especially Salt Lake City where I live is really different from where we were raised, but then other days it's like you're constantly reminded of that religion that you're raised in, the patriarchy that is still alive and well within the religion and the culture there. And so that's really difficult and definitely I don't think I could have stayed there as long as I have if I didn't travel as much as I do. But I really do appreciate it for a lot of different reasons. But yeah, it's like you're constantly reminded of that, of the indoctrination and the stuff that was ingrained in us since we were super young. And so that's been difficult to kind of come to terms with while still living there.
Cristal Ramirez: Oh, sorry. I was gonna say really quick not to… I know this is like a lot of transcribing or whatever and you can definitely pick through it and pick the best parts, but I think as well something that happened when we were all in Utah recently that I thought was really cool and kind of gave me this new spark for love for our hometown in a way was we were like just all out getting coffee and this girl came up to us at this bakery and she was just like, "Hi, I just wanna say hi. I'm a really big fan of your band. I'm from Utah, obviously, I live here and I've grown up here and I just wanna say what you're doing for Utah women and queer people and girls is just like, it's so important and you've really changed my life and I look up to you guys so much. So thank you so much for being you and being your band." And I just was like, oh my God. Yeah. It's really important for the culture of where we're from to be that, to be the juxtaposing the counterculture and to be really vocal about it of we are just like these young.
Girls and queer people and I just wanna go back and be that kind of source of light to people in that community that need it, because we know what it's like and we grew up that way too. And so just to… And that will spread past Utah hopefully. And we've seen it when we're touring. But I just like that idea of going back for the people and being vocal about where we're from for the people in our hometown that need it that are we are just like us that need a beacon of light of like I can do something else if I want to. I don't have to be part of this culture if I don't want to. That was really special and really important to hear. And because at times we have felt very othered by our hometown, very like, what are you guys doing? You should just…
McKenna Petty: Not fully accepted, yeah.
Cristal Ramirez: Not fully accepted. People in our local scene of music that were in the music scene were really accepting and loving, but I think it's taken us a while to really kind of get the culture… And even still, I feel like sometimes we still…
Katie Henderson: It's not like our most celebrated, it doesn't feel like a celebrated hometown show all the time when we play there, but – and we always talk about this – it is the most important show that we play on our whole tour because of that, because of the people that are there in Utah.
Cristal Ramirez: Yeah. The group of people that do come are these kids and you can tell they're just fuck yeah. It's so cool that there's this queer, all female band that is from our hometown and when you… And they're like the people that come some are really dedicated and really supportive, but it's take… It's smaller, it's taken, it's harder to, you know what I mean? Because of how strong the culture is there of homophobia, religion, etcetera. So, yeah. It's a really interesting relationship. The older I get, the more nuanced it is. And the more… I think on this record though, for the first time we really explored, not running away from our story, not wanting to be like, that's the past. We don't want anything to do with it. We're different now. We don't care. Yeah. We're from Utah and we've always said that, but we don't really wanna talk about it, you know what I mean? Now this record we're like, we'll talk about it, we'll talk about the nuances of it. We'll talk about what it was like. We're just like an open book on this record more than we've ever been. And that feels really good. I just feel really free. I know the girls feel really free to really own our story and examine it and pull strength and emotion from it in whatever way. I just think it's a really freeing feeling to embrace where you're from fully for like the good or the bad.
I take a lot of what you just said to heart; there's a lot to unpack there and sadly we only have so much time.
I recognize that despite most of you having moved to Los Angeles, we've always called you a Provo, Utah band. Is that something that you wear with pride?
The Aces (in unison): Yeah.
Alisa Ramirez: I think that where we come from is a huge part of our story, and I definitely wear that with pride now, because knowing what type of band we are and knowing that we came from there means something different than if we were all born and raised LA or New York.
Katie Henderson: Yeah, I think it's our superpower. That part of our story is super interesting and unique and makes us who we are, and we are proud for that.
McKenna Petty: It's important to know that we're from there, I think.
Katie Henderson: It's so nuanced. There's all of those hard feelings and then all also this pride…
Cristal Ramirez: It's like the girls said, I think it's really important because when we first signed to our record label,  I remember Kenny Salcido, shout out Kenny – fucking love him; he's like our brother – but I remember him saying, he would say it to us all the time. He'd say to me all the time when we were 19 or 20, he'd be like, "You guys don't understand how incredible it is like, you're not from LA. You're from Utah." I didn't really understand what he meant by that at that age. I was just kind of, what, what do you mean? Because we've been in the Aces for our entire lives, I feel like it's just become a part of me. I don't realize, I don't really reflect on it. We've been a band since we were kids, working at this goal for a decade before we signed. It's been such a life labor of love and because it's such a normal part of my life, sometimes I just forget how crazy our story is sometimes.
And so he just would say stuff like that all the time. "You don't understand. You guys are suburban kids. It doesn't happen that kids get out of a suburban hometown and make a career in music the way you have." Usually nepotism is involved. Usually people, whether that's like a lot of financial help, whatever. He's like, your guys' story is just, it's so special and it's so unique and…
And I didn't really get it until I got older and got more experience being in the music industry. And then I was like, wait, whoa, this actually is so important. And it's really important that we talk about the fact that we're from a small religious town in Utah because no one makes a career in music from those towns. It wasn't even thought about when I would tell people and when I was in high school that I wanted to be a musician there was blank stares of like… What are you talking about like apply to college. No one knew what I was talking about. Everyone was like cute dream. There was just all this pushback of what are you talking about? And to us, we were like, we see it. You don't understand, but we're gonna show you. We see it.
And so I just think like now, it's so important, having my experience in the music industry and the girls' experience of like the majority of people in entertainment come from nepotism. I'm not saying people aren't talented, I'm just saying we really fought for what we have. Like we really fought against the culture of where we were from. And I think that's important to, I think we need more people in the music industry and we need more people on like microphones and talking and sharing their experiences that have that diversity and experience that come from other places that have seen and lived other ways than just growing up around the entertainment industry, because it's just more interesting! We need more stories, we need more nuance…
McKenna Petty: I feel it tells you the story just by saying where we're from, like we're here explaining it. But once you say like, oh, we're a band from, or I'm Utah, like, they get it. Do you know what I mean? Like it tells so much about us without even us, even having to say anything.
Cristal Ramirez: And I want kids to know too, the younger generation or whatever, or people that wanna get into music from smaller towns or from religious town, whatever it is, that it is possible. And we need more people in entertainment that are, have these different experiences that we need more diversity in entertainment, we need more it's just… It's boring at a point when everyone is just like from fucking generations of entertainment and stuff.
Katie Henderson: I think a huge thing too, it's like we always talk about this, of, if we didn't really go for it and do the band, like we may still all be in Utah, not living the lives that we would wanna be living. It really is such a privilege that we were able to get out and so many people can't do that. So I think we wanna inspire people to be able to do that as well because it is so hard to leave.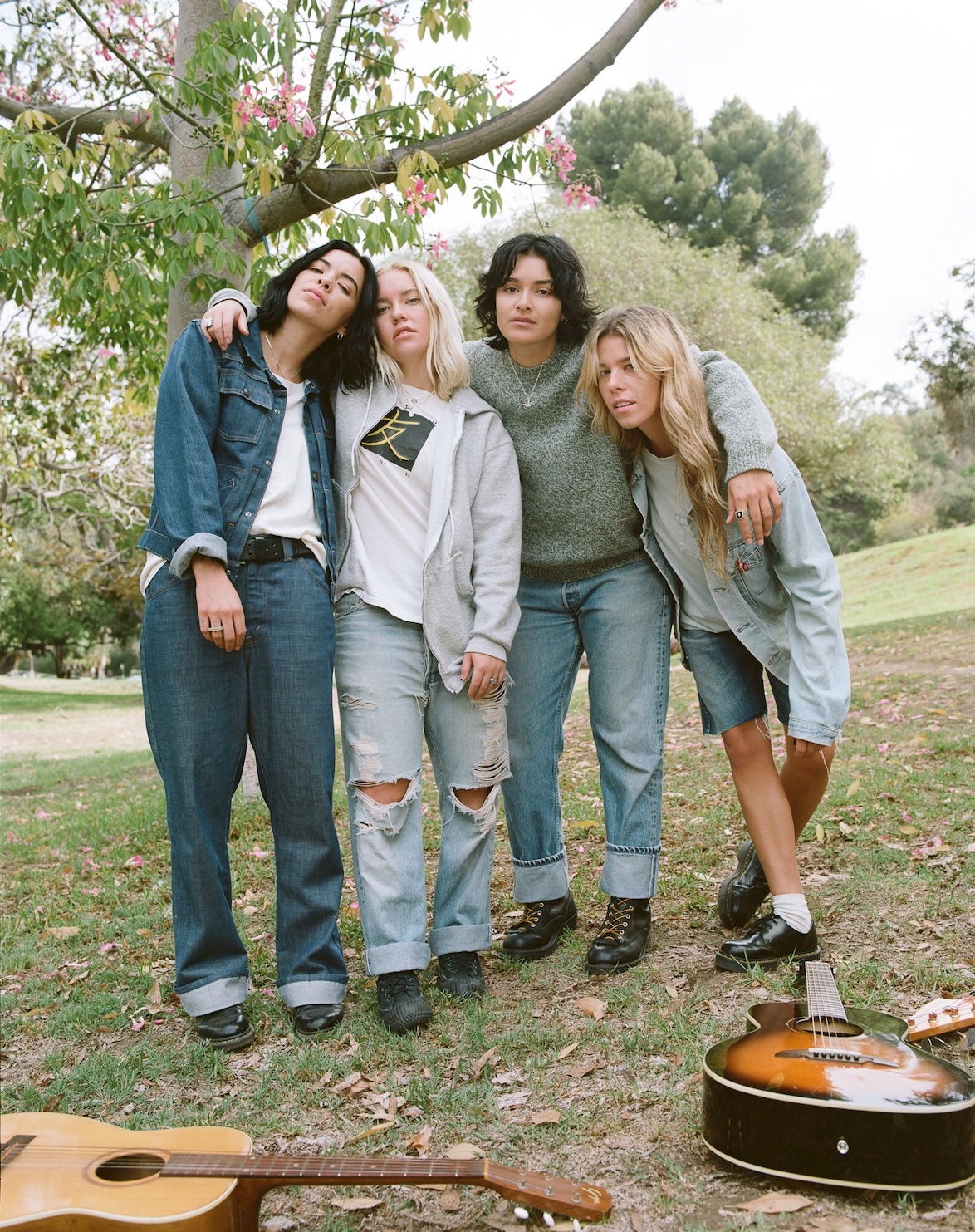 That means a lot. So, one last question on this and then I want to talk about the songs themselves. Is music your therapy, or is music a product of your therapy?
Cristal Ramirez: [laughs] I think music is our therapy. I'll say for me, for sure. I think that the big reason why I was so dedicated to The Aces from such a young age is because I didn't put this together until I was older, but I was like, it was the only time that I wasn't anxious. It was the only time that I didn't feel like I was self-examining myself into the ground about all the things that I wasn't lining up with. The fact that I was gay, the fact that I didn't want to settle down and have kids and get married super young. I wanted to travel and I wanted to tour and all of these things that I pretty much were told are not a possibility and were wrong, that I so desperately wanted and felt in my core. It was the only time I wasn't like self-examining is when I was singing and in the band and hyper focused on like getting people to shows and stuff. So yeah, for me, it really saved me. It gave me a moment to just feel in my body and comfortable and I was good at something and I was doing something important and so it really saved me as a teenager.
McKenna Petty: Yeah. I feel like as a kid, when I could, I feel like I really got into playing guitar and writing songs 'cause it was the one place I could actually be honest. There's not, I feel like even as a kid, I didn't really feel like I could even be honest in a journal just in case like someone found that, or like read it. And being young and gay and knew I was gay from a very young age. It was like the one place I could just write songs that were like an alternate reality like very therapeutic, very just like, this is where I wanna be, this is who I feel deep down and no one has to know this but me. It's very, very therapeutic as a kid and I feel what Cristal said, totally it saved me. I was just like able to really express my feelings and play and feel, and then as we come together as a band, I felt when I was on stage, that was the one place that I felt I could present myself exactly how I wanted to. Like wear what I wanted to wear, play what we wanted to play and just feel very at home and just that's exactly where we're supposed to be.
Katie Henderson: I feel being in the band with these girls is my therapy, but I feel I've had to have a different journey as far as being a musician myself and that identity because I feel I've had so much imposter syndrome. Even I think that goes back to even just being… I'll find old Facebook messages with dudes from high school, talking about me being in a band and it's like so sad 'cause I felt I couldn't like it… I didn't feel empowered in that identity for a really long time. So I feel now as a product of therapy, I'm able to own that identity as a musician more individually. But I feel like this group and being in the band and performing on stage and doing this together has always been a type of therapy for me as well.
Alisa Ramirez: Yeah. I think that it's really changed. I feel like growing up, me and Cristal, we were really taught, from our mom, that our relationship to music was to kind of dissociate. Whenever anyone was sad in our household growing up, it was just turn on a happy song and dance through it, which isn't necessarily a bad thing. But that was largely how I originally built a relationship to music is like, I never liked listening to sad music, especially not if I was sad. I know some people love to put on their headphones and cry, but that was not something that I knew how to do because for me it was always like if I'm feeling sad, I need to just turn on something really upbeat and fun and escape from it.
And I think that relationship to music really translated into how me and Cristal wrote our first two albums. It was very much like, if you notice we kind of do this thing where we always talk about kind of sad topics, heartbreak, heavy stuff, but it's always to an upbeat, it sounds happy, but if you listen to the lyrics it's like, oh, this is sad. [chuckle] It's actually a sad song. And so I feel that relationship to music translated to our artistry for a long time. And I actually feel on this record, this is the first time where everything's kind of going there. There's no…
We're still doing our Aces thing, like "Always Get This Way," when people listen that song, they might think it's happy or upbeat at first, and then they're like, "Oh fuck, this is about being really mentally tortured," so I feel we're still doing that, but there's also songs that are on this record that are very much just going there full force. And that felt almost like the first time we'd ever done that. It felt really deeply cathartic for me.
Cristal Ramirez: Yeah like "Stop Feeling," I think, is one of the first and only songs we'd ever written that was just very much a song about depression. And it feels that way. It's big and it's grand, but it's sad and really slow and heavy.
Alisa Ramirez: Yeah, it's sad as fuck and it sounds that way. Normally our sad songs just don't sound that way. I feel like that was a fun new challenge on this record that felt really good.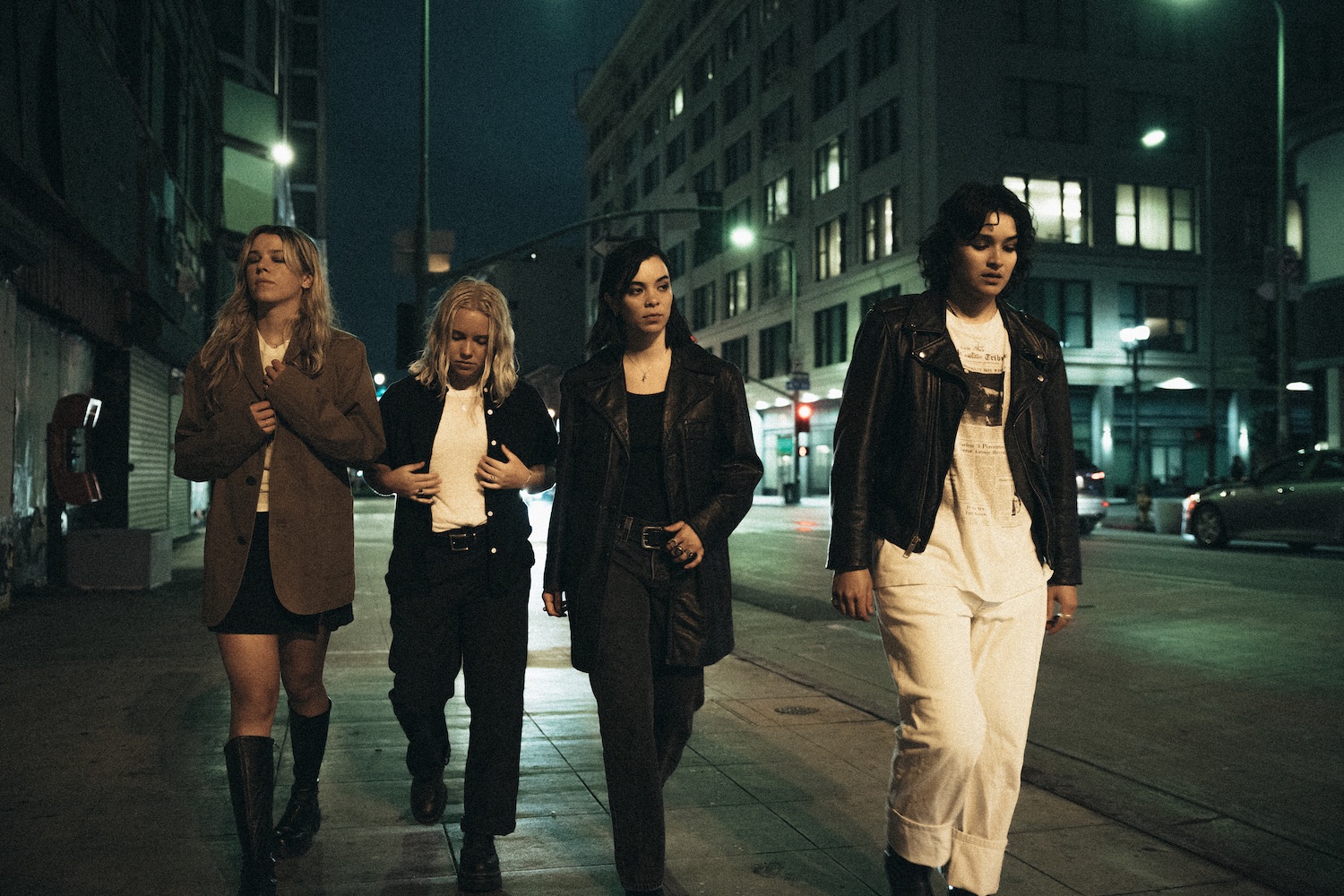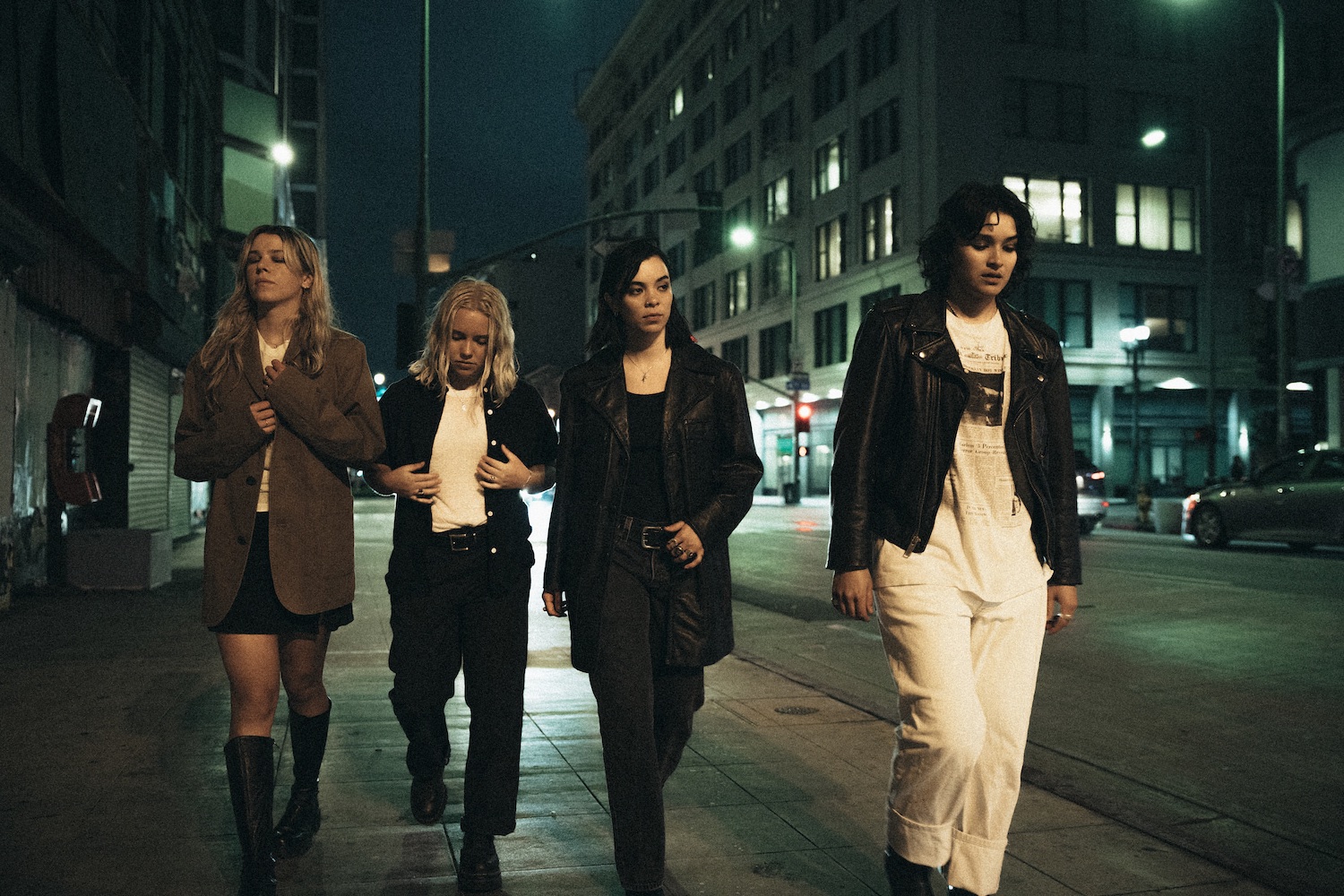 I'm so excited for people to hear the second half of the record, the way you released singles you've basically released the first third of the album.
"Suburban Blues" and "Person" really hit hard. One of my favorite lines is in "Miserable
McKenna Petty: Love! That's one of my favorites.
Alisa Ramirez: Yeah, same.
I love how much this record is just about owning your truths. How did making,
I've Loved You For So Long
compare to making the first two records? Were these decisions conscious in terms of getting out of your comfort zones or breaking out of the cycles that you'd set for yourselves?
Alisa Ramirez: Oh yeah. I think it was really conscious. I think that going to the studio and there was nothing to talk about other than that kind of forced us to be like, "Maybe we should talk about the only thing that's really happening right now, which is just like you're having panic attacks every night." We tried talking about that and that was like Cristal mentioned before, that was a territory that we hadn't really ventured into before and it felt kind of… I know it felt kind of scary for her also for me. We wanted, I think when you talk about a subject that, you wanna do it right and you don't want it to feel corny or whatever, but and I don't know why we thought that it would, I don't know. I just feel maybe when we tried to talk about it when we were younger, we didn't know quite how to articulate it.
Maybe we didn't understand to anxiety or where, what that really even is at that age. So it was harder to talk about it, but it was much easier to talk about as adults. And it started there and then I feel like yeah, it was super different this record. We chose one collaborator. We chose Keith Barron to produce and co-produce the record with us. And it just felt like a really safe space between us throughout 2021 and 2022 making the record. And it was, everything was so intentional. I feel like it started with the anxiety, but then once the story kind of started revealing itself, I felt we just started chasing it really hard. I felt, I kind of started seeing, puzzle pieces to the album that I hadn't seen before. It was more almost like a concept record. Once we realized what it was and then was, I almost had a list of things and I'm we need to talk about this, we need to talk about that.
Suddenly I could see the full elephant and it was there was important pieces that needed to be made. And that was very different. I feel the other records were way more just in the moment, individual songs kind of. And this one felt way more like it was one big story.
Like, "I want to hit this topic, this topic, and that topic," making sure all these things are addressed in some way, shape, or form. Do you mind talking about what those were and where we hear them?
Alisa Ramirez: Yeah, absolutely. After writing "Don't Freak" and "Always Get This Way." And then we, like Cristal mentioned before, we were kinda like, where is this anxiety coming from? 'Cause it didn't start in the pandemic. You've had it your whole life and why do you think that is? We were sent on this goose chase of inner child work between the two of us that was like let's figure this out. And we talked a lot and we wrote a lot and we kind of ultimately it led us back to talking about our teen years and our childhood. And we were like, "Okay, we need to give 14-year-old Cristal a voice and tell those stories."
And it just became really clear, like we wrote "Girls Make Me Wanna Die," which was very much about being a young closeted teenager, really yearning maybe some of those early relationships where you're in love with your straight best friend that we've all been through. And that unrequited kind of yearning feeling that I think everyone's experienced, not just queer people, but definitely young queer people know that feeling. And then after that we were, well, now we need to talk about what it was like to grow up there and how tortured and hard it was for us. And that was "Suburban Blues." And then going from there too we were wanted to talk about present day stuff too, as well. And Cris, if you wanna take it from there too and kind of finish that off.
Cristal Ramirez: Even when we wrote "Always Get This Way," we weren't writing a record. I think that that's something that's really unique about this experience of this third record, is that we had just put out Under My Influence – it was only six months old. We were really trying to give that record its best shot in the middle of the worst part of the pandemic. Our best shot at working that record was Instagram Live-ing. We had no other option – we were competing against fucking Justin Bieber also Instagram Live-ing, you know what I mean? It was a crazy, crazy time.
I think that we started going into the studio more towards this time where I felt I was hitting this point with the second record of just feeling immense like sadness and grief around what I thought that that record was gonna be and how excited I was for that record. And I was really depressed and I was having really gnarly panic attacks. And so we went into the studio more as like, I just need to write and do something that's not like doing a Zoom interview and getting on Instagram live. I just need to do something else! [laughs]
And when we did that, we started talking about what was going on and there was no intention to write a record at all. And so it just started like, as corny as it sounds, I feel like people are gonna be like, yeah, yeah. But it's like it really started writing itself. I felt like suddenly we were just on this journey where we were just holding on ready and excited, showing up every day to see what was gonna happen and see what we were, what was… What kind of music was gonna be inspired. And so then the record started taking shape. And when we knew we had something, then things started getting really intentional with, honestly…
The only, the best way for me to put it is like my guiding light through it, going through the pandemic feeling so heartbroken over 'Under My influence'. And also just like shit, we got together and had this really deep conversation of like, where are we? What do we want? There's things going on in our team and personal lives that we know we don't align with and don't want. We need to let some people loose. We need to recenter, we need to regroup and remind ourselves of who we are and why we make music and who The Aces are and what success really means to us. And so we re-grounded and my only thing during this record was like, "I'm not doing anything if it doesn't feel good, that's it. If it doesn't feel good and I don't feel excited, I'm not doing it." And that was the only rule I followed really the entire time we were making the record. And I think you can hear how playful, how much fun we had on this record. We literally just sat in a room together and jammed, like "Suburban Blues" came out of us four just sitting in a room and playing. And we hadn't done that in years. It was probably the most collaborative record we've ever made us four together. It was literally just like us exploring sounds and lyrics and concepts and getting excited together and being like "Wouldn't that be so cool?" And writing things out on a whiteboard and like, it was so playful and so childlike and so creative. And that was…
Alisa Ramirez: Yeah, I agree. I feel like it was like, there was a turning corner for me. It went like what you're saying, it's like it went from being we're not even trying to write a record to, wait, we have a record and I love what we're talking about and we need to explore more and go down these avenues. I also feel like that's the difference between me and Cristal too as creatives. That's our big push and pull is, I feel like that's how we've always tangoed when we're making a record is, I'll have all these ideas and then Cristal is filtering out which ones are good and which ones aren't good [chuckle] And then we're coming together to finalize it.
Cristal Ramirez: Alisa's is more like business structure minded. And I'm just like, you need to catch a vibe and relax.
Alisa Ramirez: Well, not like business. I'm not approaching the record like business, I'm just feeling really creatively fueled and having tons of ideas! Like I wanna explore our childhood, that I think this is important. We need to talk about this and drive it here and we need to dive into the after fact of depression, like the depression post-anxiety. I feel like it's important to talk about all these things and then we're just playing with the colors until it feels right.
Cristal Ramirez: I feel like it's… Like Alisa's film mind. She's like, it's a story and here's the arc. She has this full picture in her head, and mine's more like, I really just follow my instinct and I'm like, I don't like that, I like this. Let's move with that. Yeah. And we kind of yeah, go back and forth off of each other like that. But yeah, it just turned into this thing of like, it was just so fun. It was so fun. I had the most fun I've ever had making the record. I know the girls had the exact same feeling we talk about it all the time. How fun it was to just go in and create freely. And it's that attitude and mindset has now made working this record, talking about this record and going forward into a record cycle the most… I just feel so calm about it.
I don't have any expectations for what's gonna happen with the record. Obviously there's a hope that it will do well. And, but more than anything, I'm just like, I just hope that whoever gets the record is who needs the record. And I feel this sense of immense peace that I've done my work to be honest and vulnerable and make art and then it will find who it needs to find and I don't feel attached to any type of real numbers or outcome or anything like that for the first time in our career. I feel just like I already did it. I did what I was supposed to do, and I'm gonna just try to enjoy every moment of getting to connect with our fans and getting to see the world and be present because I don't know, I just feel different. I just feel really happy. I feel really proud of our band and I feel really proud of everything we've created and very at peace with what we're doing.
I'm sorry that it took having such a dark time to get to that light, but I'm so happy to hear that. It sounds like The Aces as a collective whole have really hit your stride. There's always this myth of the third album that it's the one that bands hit their mark on, and I think it rings true to for this album.

Each of your albums has so far had at least one runaway breakout track that seems to tower over the rest. What song would you hope to break out of
I've Loved You For So Long
?
Cristal Ramirez: I feel honestly for the first time, any of them.
McKenna Petty: I think we would all say that we're so happy with every single song that if any single one of them took off, it would feel amazing.
Cristal Ramirez: So On our past two records, When My Heart… felt a little bit less, but Under My Influence specifically, we wrote like 70, 80 songs for that record. It was like we were writing five days a week for six months, just nonstop, nonstop, nonstop. Some days not coming up with much other days having the whole song that we ended up using, whatever. It was really like a bootcamp in songwriting, that record. We just were writing endlessly. For this record, what you hear is pretty much all we wrote. The record is that's it. There's not really, there's like maybe one or two songs that haven't made the record that might come out later, honestly that we love. So it was just a really different process, and so with that being said, it was just like… It feels like this record was just kind of pre-made and we were kind of inspired to be the ones to make it and this is what it is.
And so, I just love the record so much, top to bottom. I would be so happy. And when we were going in talking with our label about singles, I honestly, and the girls, we were all kind of like, we honestly don't care what the singles are. Because we just love every single song so much individually, whatever we… Obviously, there are certain songs that we feel like would be a really good start of the story of telling the story, and that's where we kind of more went toward. But would be happy with any of them. I'm like, take it away, whatever wants to be be, because I just love all these songs so much, I can't even really pick to be honest.
Do you each have different favorites – or rather, does everybody have their own tracks that they stand by?
Katie Henderson: I feel the collective favorite is "I've Loved You for So Long." We all feel so special about that song. And I feel it's never been that way with a song on a record too, that we all like, it's just such a special song to us.
McKenna Petty: Yeah, totally.
Cristal Ramirez: I just feel like there's this magic around that song, it's the most simple song on the record. It's almost like a lullaby… Alisa started that song, producing that song, and then I helped her finish and write it. And what you hear on the record is pretty much exactly what the demo was. Well, there was an original, original demo that was very different but we hardly changed that song. It felt like it just poured out, we didn't wanna touch it. The magic of it felt like it was just there in the simplicity, and I think the reason why we all love it so much is 'cause it's kind of this love song to our band, to how much hard work we've put in and what we've been through together. And I wrote this one caption on Instagram about it, but I just, The Aces is really like the love of my life and the thing that I've loved for the longest in my life and I think the most special thing in my life. And so, it kind of reminds me of just that nostalgia, I love everything about that song. I just turn it on it just feels really good, it feels like it's like it should be a soundtrack to a '90s movie or something.
Of the other songs that haven't yet released, what are you most excited for folks to hear?
Alisa Ramirez: I think "Miserable" is one of my favorite songs that I'm excited for people to hear. I feel that's just a really feisty vibe on the record. It just feels like fresh and light and fun, but sad at the same time. Very classic Aces fashion. But yeah, I feel like that one is really exciting and we just learned it in rehearsal yesterday, so I'm excited to play it live too.
McKenna Petty: I feel like a song we're all really collectively excited for everyone to hear is "Suburban Blues," 'cause it's very just like, describes what this album was about so perfectly. And it's the first song on the record that we all just got in the live room and it just came out of us, just started playing, there it was the story is so true to our childhood and I'm really excited for everyone to hear that.
When I first heard that song, I had to listen to it twice because I thought Cristal was singing, "
So burn me up!
" and I was like, "
Oh, that's dark
."
Cristal Ramirez: So burn me up, Oh my God.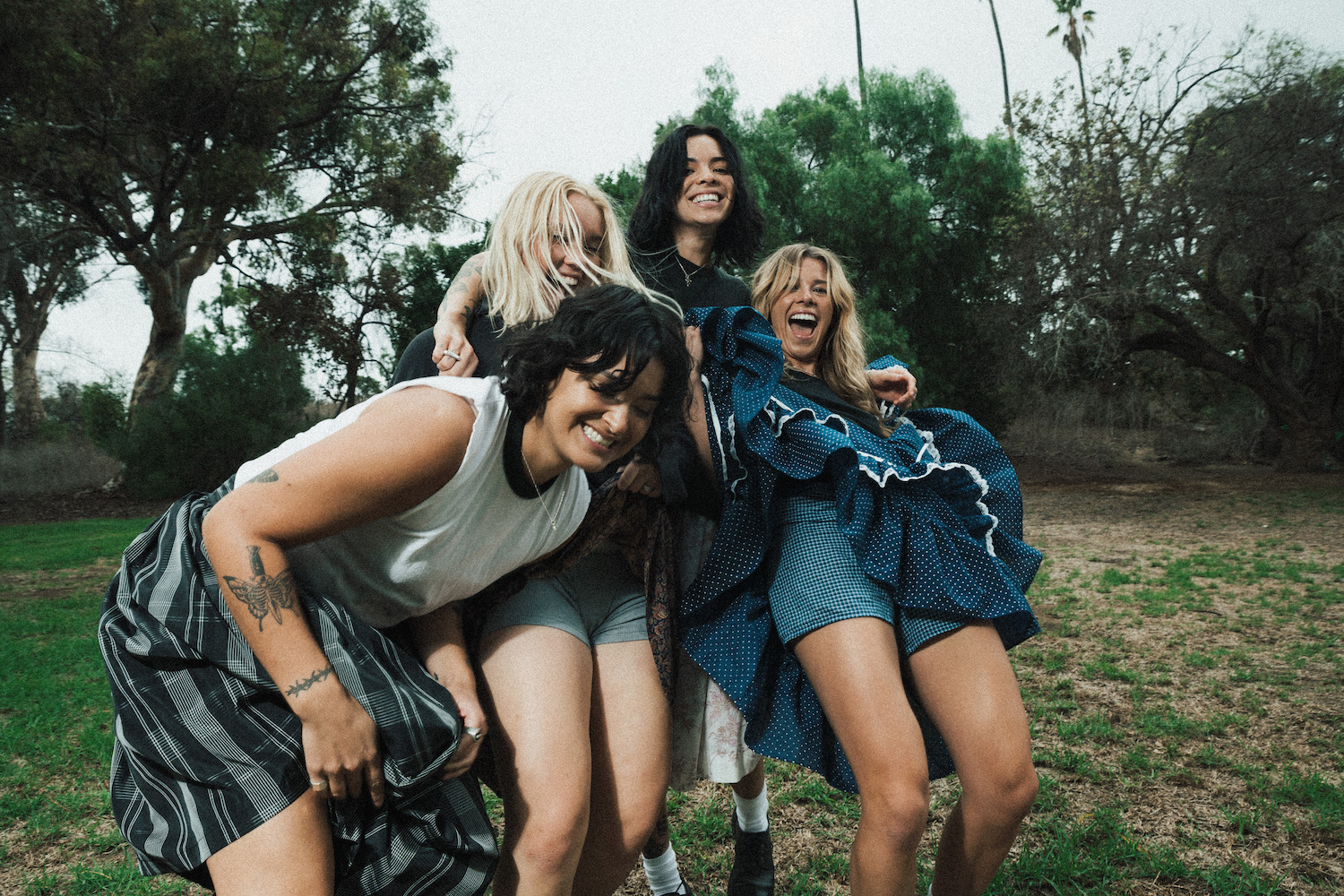 What do you hope listeners take away from,
I've Loved You For So Long
, and what have you taken away from creating it and now putting it out?
Cristal Ramirez: So much. For me, I just hope that people have been saying this is my only hope to me, what this record would be if I could say the most successful version of this record in my mind is if we could do… Like what Tegan and Sarah did for me, I would like to do for someone else. If I could be, if we could be that inspiration for them to be make them think different give them hope, whatever it is. I just want this record to soundtrack our fans' lives. Be something that's comforting to them, something that they go back to, something that they can pull up when they need to feel nostalgic and go to a place that feels safe for them. I just really hope Paramore and Tegan and Sarah are that for me, and when I was in the middle of the pandemic, the worst part of it, having awful panic attacks, all I was listening to was Paramore.
I just was listening to the old albums, and that to me was like the time in the day where I'd go on a run and listen to these old albums was the only time that I felt kind of safe at this little bubble of my own memories and feeling hopeful. And so, I just hope this record is that for people, I hope that this record is just healing and cathartic for people that people feel seen through this record. And if we can even do that, the cliché, if we can do that for one person, then we're happy. But it's really true.
Katie Henderson: Yeah. I think just showing too that there is a lot of peace and healing and power that comes with just accepting your story and kind of doing that inner work. I think it's obviously a really scary thing to do, but I think there's so much peace that has come with that. And also that you can just find your safe space and that isn't always the community or the family that you're raised in, but there's always gonna be people that will accept you and love you and chosen family is so important. So, I think that is a big message that I want people to get from this take, from this record too.
McKenna Petty: Yeah. Like Cristal said, just feel seen. We have a lot of beautiful visuals as well that Alisa directed that are gonna be coming out with a lot of these songs that I am really excited for people to see a bit of a visual with a lot of these songs. And hopefully just be able to see themselves in these situations and feel connected to us in even a deeper level. I'm really excited for those visuals to start coming out as well.
So LP4 will just be full-on pop punk?
Katie Henderson: [laughing] You never know!
Alisa Ramirez: You never know.
McKenna Petty: Never know.
Cristal Ramirez: We'll see, we'll see. We never know. I always say with the records we make that I have no clue. They just come and they're there and it's like, "Yeah, that's it. This is the record." [laughs]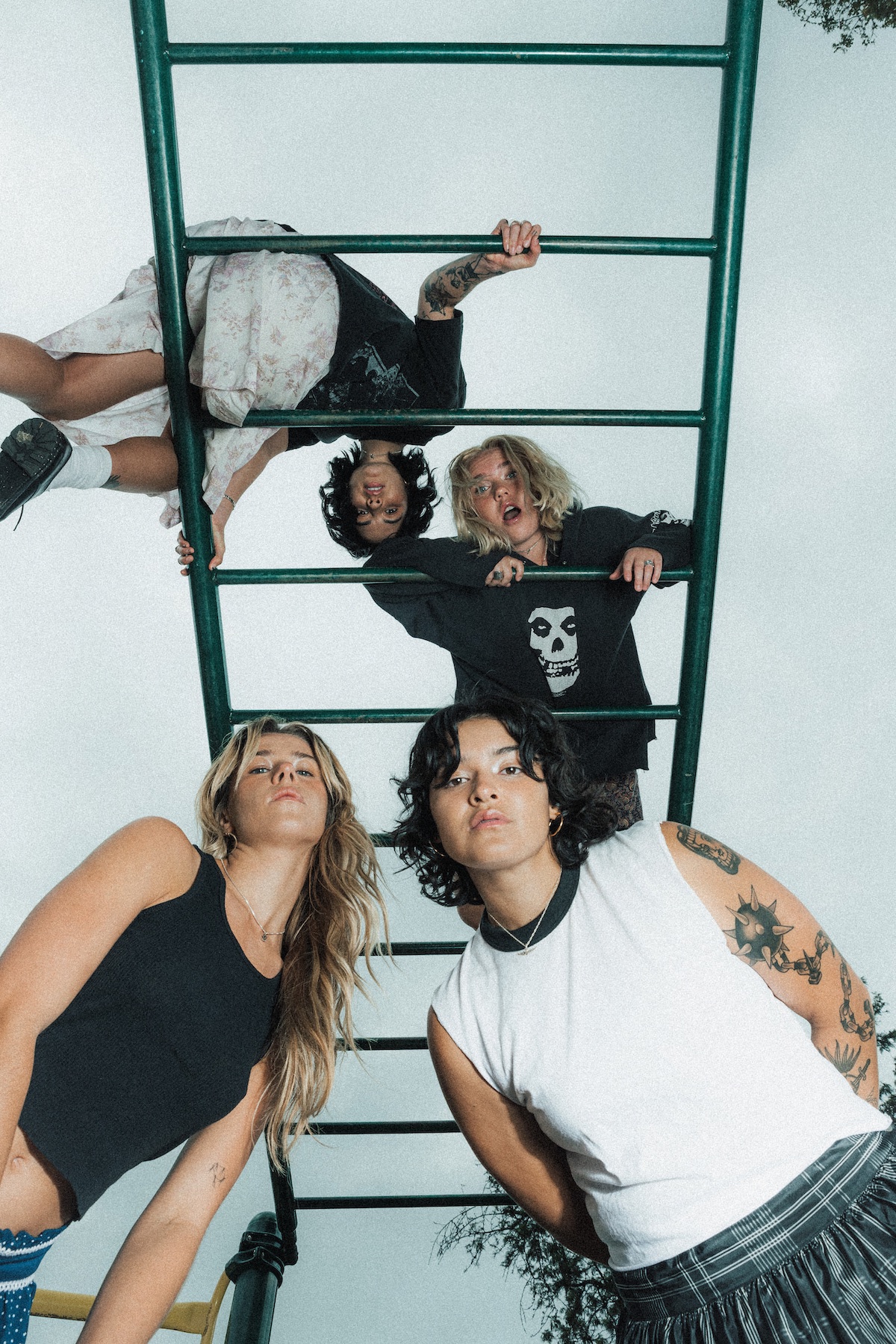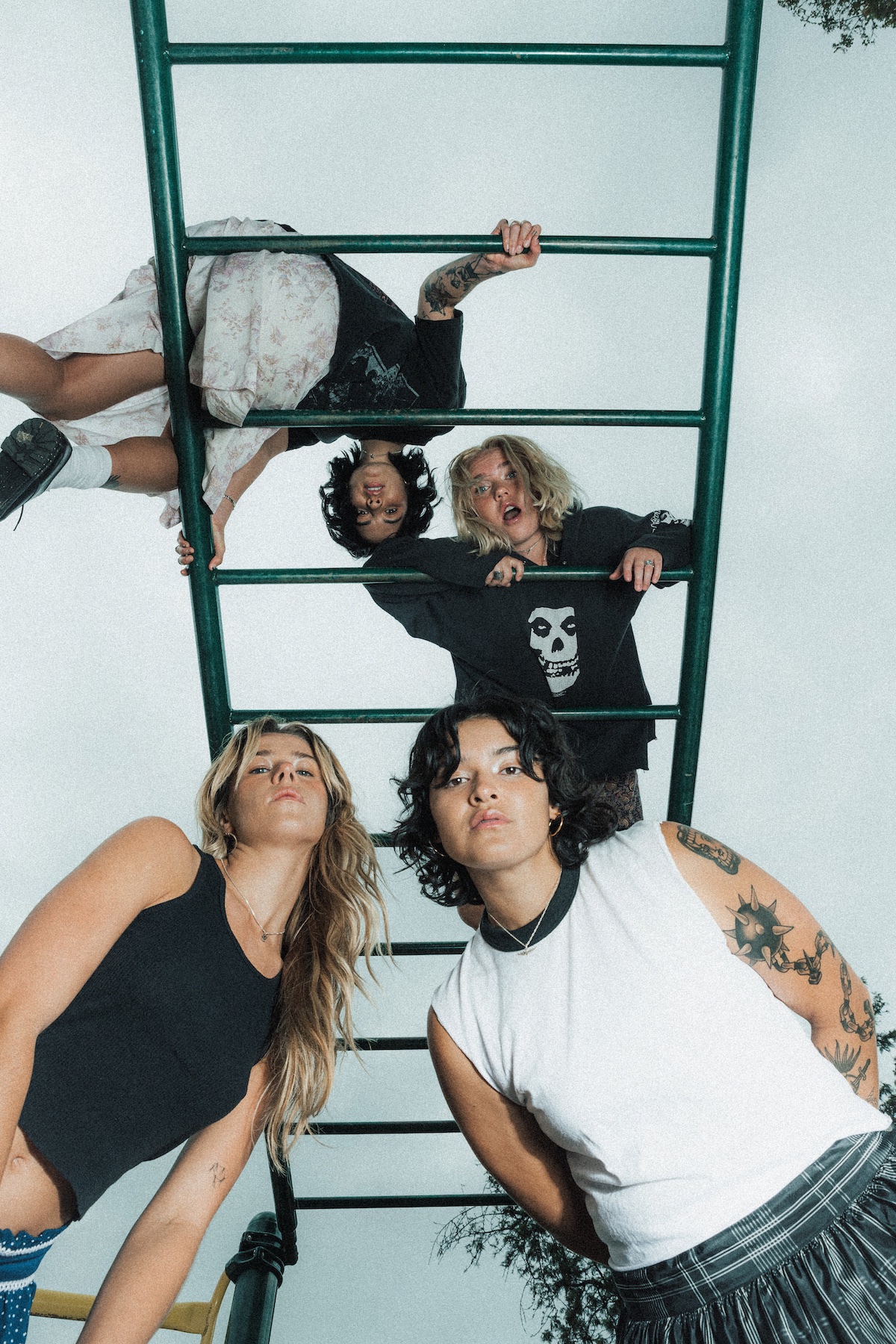 I'm so glad we got to connect like this. Lastly, who are you listening to right now that you would recommend to our readers?
Cristal Ramirez: Oh my God. I would say I'll start and then everyone can go around. I am a massive fan of Ethel Cain, I love Ethel Cain. Her music, I think is some of the most unique, incredible, indie, pop ambient music I've heard in a really long time. Yeah, I just think everything about her is just really incredible and I'm a huge fan.
Alisa Ramirez: Yeah, she's fucking sick. I would say probably Blondshell. I love her new record, I've been able to become friends with her, which is dope and she's awesome. So her new record is fantastic. I also wanna throw out The Bitches, 'cause they just sent us a link to their record that's gonna come out this summer and it's so, so good. So, everyone watch that.
McKenna Petty: I would say a band called Momma, these sisters and I just saw them live last week, but I really have been into their music and the way they write guitar lines and stuff is so cool. I really enjoy their music.
Katie Henderson: I really love Samia – her new record is so good.
It sounds like we all share similar interests, because I love all those artists, Ethel Cain especially – her debut is so refreshing to listen to!
Cristal Ramirez: I just love her so much 'cause I just feel she's doing something that arts aren't doing anymore, which is just making art in the ways that they want to, that's not necessarily catered toward certain platforms –
Alisa Ramirez: – and consumption –
Cristal Ramirez: – which I don't blame artists for, we're all trying to fucking eat and make a living and stuff. But I just think it's really refreshing to see an artist just come in and be very authentic there, and express really authentically. I feel that from her and I'm really inspired by her and she is amazing.
Alisa Ramirez: She's fire.
Well, if anything could be taken away from our conversation, it would be that the four of you owned your truths for this record as well. And I think you're doing something similar.
The Aces: Thank you so much!
— —
Stream: "Attention" – The Aces
— — — —
 © Julian Burgueño
:: Stream The Aces ::