Recommended If You Like: Carly Rae Jepsen, CHVRCHES, Halsey, Ella on the Run
It's all about saying something that's been said a million times before, with just a different way of saying it.
 Bold and daring, creative and current, CAPPA is the modern queen that today's indie pop world needs. In January 2016 Atwood Magazine interviewed Carla Cappa about her journey in becoming "CAPPA" the artist. It's been a few months since CAPPA last graced us with new music – her last release was December's "Goddess" – but this week she returns in force with the powerfully pristine "I'm Good."
Listen: "I'm Good" – CAPPA
---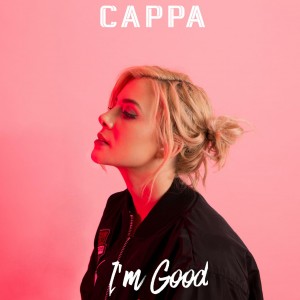 Shivers run down the spine as CAPPA introduces herself once more. Her voice is a silvery whisper over a pulsing bass synth, yet it's brimming with forceful energy. "You don't have to wonder – I'm on top now," she sings, immediately establishing her place in the hierarchy (after all, she is a "Goddess"). "You're stealing my thunder; you can stop now." CAPPA's words are her crown, as well as her shield: She pumps out her chest and walks proudly out under the spotlight, not merely for herself, but for women (and to some extent, underdogs) everywhere.
For that's what "I'm Good" does best: Assert independence and strength.
CAPPA's whisper becomes increasingly full-bodied as she moves from the verse to the pre-chorus and chorus. The backing instrumentation – an electro-pop sorbet consisting of driving bass, airy shouts, an entrancing percussion kit and who knows what else, builds in equal fashion behind CAPPA's mesmerizing performance – but as has become expected from the artist's output, the true magic lies in CAPPA's vocal work.
I know what you, what you want from me
Say what you know, but you don't know me
Can't buy my heart with just a drink
Are you listening?
Carla Cappa channels innumerable emotions through her distinct singing. She can capture a shout in a whisper; a cry in a snarl. "I'm Good" exemplifies her proficiency at emotional manipulation through singing: As she builds out of her whisper, her words become clearer and crisper. She enunciates every syllable, paying special attention where appropriate ("heart" and "drink" are stressed) to evoke as vivid a mental picture as possible. One imagines CAPPA as the strong-willed "independent woman" who will stand up for herself, as well as her friends and anyone else she can relate to in the face of ignorance and bigotry.
Not gonna be the one
Don't want that kind of love
Could be a ghost
'Cause I see right through you
A personal self-empowering anthem with universal comprehension, "I'm Good" develops a distinctly flavorful tapestry as it dives deeper into CAPPA's experience and perspective. On the surface, we hear a woman rejecting a man's advances; underneath, we perceive the daily struggles underlying a woman's every male encounter. The assumptions; the selfishness; the utter disrespect. CAPPA is not asserting herself simply because she wants to, but because she has to. The song's distinctly flavorful musical tapestry – one that jumps between full-bodied production and hauntingly sparse support – carves out a nest wherein CAPPA and everything she represents can flourish.
Earlier this year, CAPPA shared how things started to click for her, musically: "When I started doing pop, it all made a lot more sense…. It just came really naturally." Sheer honesty – a purity, of sorts – runs through "I'm Good." CAPPA thrives in the pop environment: Her ability to develop an idea past its full potential, and into a world of its own is unmatched in the indie realm. Meanwhile, it takes teams of songwriters to do for big-name pop artists what CAPPA does with her resources:
"These radio hits that come one after another, done by producers like Max Martin… People's ears for pop are so used to hearing that when you're making pop music as an indie artist with your friends in basements, it gives you a little more of a challenge. You want to say what you want to say, but you also want to say it in a way that people resonate with it, and get something of what they're used to hearing out of pop."
It's true: Many music 'aficionados' take issue with the sheen perfection of pop music, criticizing it for the mechanized, factory-like developments that started in the late 1990s and flourished at the beginning of the century. But there is much good to glean out of pop music – not just indies like CAPPA, but also major-label acts like Carly Rae Jepsen, who for all intents and purposes started just like Carla Cappa: With an instrument and a notebook.
Yet there is an electricity about CAPPA's music that magnetizes listeners to her. She immediately makes "I'm Good" personal – her opening line is about her, the individual – but at the same time, that her can be internalized by anyone. Her personality is there for all to pick up on – and CAPPA herself knows that she isn't writing your run-of-the-mill Top 40 hit:
"I sometimes like to call it "smart pop," and I hate that because it almost is a backhand to pop music, and pop music, like Top 40 radio hits, are incredibly hard to write – but what I'm going for, it just has a little bit of a different way of saying things, and some darker sounds to evoke in the actual songs."
She's edgy and unhinged, and not afraid to show it. "I'm Good" offers a dose of that more-than-pop sensibility, with its easy-to-digest lyrics and deeper, darker intonations. It reads like a one-sided conversation, but CAPPA inserts more than enough gusto to fill the air for both parties. She erupts with poise and emotion in the chorus:
I don't wanna dance with you
I don't wanna kiss goodnight
Don't care about your money
And I don't want a drink tonight
You gotta run before you drive
You're just lookin' to… not the type
If you get someone else to go, you should
Cause I'm good (I'm good)
Part of the brilliance of "I'm Good" lies in the fact that CAPPA keeps her cool throughout. Never once does she misstep, nor does she ever move back. She and her song only progress in one direction: Forward.
I'll paint the whole world gold 'cause it's mine now
Thus, CAPPA continues her quest toward indie pop royalty with a strong reminder for resilience, strength, and self-love. "I'm Good" is as much a personal anthem as it is a universal cry. It is a shout in the form of a whisper, but also a whisper in the form of a shout. In our interview, CAPPA noted, "the biggest thing for me is to figure out who I am and who I want to be as an artist, and just stick to that." "I'm Good" finds CAPPA advancing herself and coming closer than ever to her artistic calling: That of an empowered and empowering individual – a strong, seductive and surreal voice with the melodic wit and musical prowess to match.