Ecstatic Union's bold, euphoric third album 'Neurons' is an emphatic, raucous, and fun indulgence of life.
— —
Love is the reason that I'm breathin'!
Ecstatic Union's music is a passionate and unabashed embrace of life: Absorbing the good, the bad, and everything in-between, the California band evokes a sense of wonder, awe, and knowing through raw garage rock and euphoric psychedelic bliss. Their bold new album Neurons is an emphatic, raucous, and fun indulgence of life.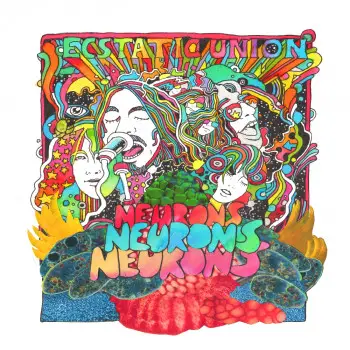 Rays piecing the veil of your mind like sun
light turning the page your age
when the morning comes
will I behold your beauty
wanna feel it running through me
will I be called to water
the fruits that flower from her
Atwood Magazine is proud to be premiering Ecstatic Union's third album Neurons (prod by Tomas Dolas, Mr. Elevator), out August 31, 2018 via the band's own Channel Records. Consisting of Rex Costello (Guitar/Vocals), Oliver Hart (2nd Guitar/vocals), Erik Mutzke (Bass/Vocals), Bradley Cluff (Organ/Synth/Vocals) and Rodney Mitchell (drums), Los Angeles' Ecstatic Union pride themselves on crafting what they so fondly describe as "liquid sun-soaked, harmony-layered psychedelic dance party." In truth, there is no better way to describe Neurons' pleasantly cacophonous ride.
Opening with a fiery and poetic title track, Neurons sets the tone with an assertive reminder of our ethereal, yet very real existence: We get a dose of metaphysics and psychedelic drugs in hearing the late Terence McKenna declare, "The neurons that you're born with are the neurons that you die with." If we accept this as fact, then our neurons are our only stable and defining facet; everything else is in constant flux. This approach to, or understanding of life stays with us as Ecstatic Union barrel into the groovy dream "Desert Queen," which Atwood Magazine previously described as " a sort of anthem to the power and beauty in the creative minds of women."
Well here she comes, the desert queen
her bow and arrow gonna purify me
aim for the source, aim for the sea
waken the maker of your soul to breathe
in the day and in the night
she'll light a fire let the spirit burn bright
in my heart and in my mind
her eyes are pointed and you one at a time
Whether you're dazing out to the funk of "California Sleepin'" or basking in the catchy exultance of "Phosphorescent Footsteps," Neurons offers stimulation and excitement the whole way through. Rock guitars come to the forefront on the riff-roaring "Oceans" and closing spectacle "None of Us," offering solid ground for those who may feel lost in Ecstatic Union's immersive psychedelia.
Yet perhaps that's a bit of the goal with this third, amped-up offering: In order to really appreciate life, you have to be outside of the moment and in the moment at the same time. How better to do that, than by loosening our anchors and setting sail for distant horizons? Ecstatic Union are our willing guides, inviting us to open our minds, our hearts, and our eyes to what life can be like if we simply learn to appreciate the miracle of our own existence.
Experience the full record via our exclusive stream, and peek inside Ecstatic Union's Neurons with Atwood Magazine as the band go track-by-track through the music and lyrics of their sophomore album!
Stream: 'Neurons' – Ecstatic Union
:: Inside Neurons ::
— —
Neurons
My intention for the song was really just to create a captivating and powerful, high-energy intro tune that would command the crowd's attention and be fun to play live. I it 'Neurons' based on a lecture by the late great Terence McKenna (sampled in the song during the half-time break-down) in which, after describing of the process of cyclic molecular regeneration, he climactically states, 'The neurons that you're born with are the neurons that you die with.' I'd say the lyrical synopsis of the song is basically an ode or declaration of intention to connect with the energy of life in a sensual and ecstatic way
Desert Queen
The essence of the song was initially inspired by our adoration for a few of our friends who are badass women that make art and live out in Joshua Tree, therefore, "Desert Queen" was an obvious name and direction for us to follow. Our bassist Sol is a Sagittarius which is where the line, "her bow and arrow gonna purify me" was conceived. Little did I know that months later I would be in love with a lady of the Desert (originally from AZ) who is also a Sagittarius and who ultimately became the director for the accompanying music video which is planned for release in February. It's a kind of a cute synchronicity I like to attribute to the narrative of the track.
California Sleepin'
I wanted to write a song that was funky but also had an element of 'trickiness' when it came to the rhythm/time-signature, which manifested as the odd meter in the verses. Lyrically, the majority of my writing for Ecstatic Union is super sunny, so to speak, and though the song is still very upbeat, I feel that this track stands out as the most angsty on the record. Put simply, I'm reflecting on my experience of living in Los Angeles while navigating the often strange and illusory world of the entertainment industry. To spice it up a bit I bring in some cheeky occult Hollywood references along with allusions to masonic symbolism. The initial version of this song had a different chorus which never quite sat right. While tracking verse vocals in the studio, this nursery rhyme-esc melody would drift through my mind whenever the chorus sections arrived. I decided that they won over the previous chorus and so I proceeded to write lyrics and solidify the melody along with help from Tomas (Mr. Elevator – engineer/producer at Studio 22) and Joojoo (Froth) who was assisting the session that day. The chorus transformation is what I feel 'made' the song, as it provides a smooth contrast to the rest of the overall aggressive performance of the track. Plus that's how the track got its name of 'California Sleepin' which tied it all together.
Let It Be Love
Lyrically, this tune has changed pretty significantly since I first wrote it. For two years (2016-2018) when we'd play it live, all the verse and pre-corus sections were sung completely different, both in lyrical content and melodic structure. After laying down the initial instrumentation at Studio 22 (engineer, Tomas Dolas – Mr. Elevator / Keyboards in Thee Ohsees), I felt the sense of another character emerging from the these sections of the composition – rowdier and untamed. The night before I went in to the studio to track vocals, at around midnight, I sat down by the fireplace with a bottle of white wine and basically (aside from the chorus refrain) re-wrote the song. Other than a live studio session recorded at 'Melting Pop' (OC studio run by 'Purple Mountains Majesties' ) the previous version of this track will remain only a memory. That's probably the most notable thing I could say about the track. Other than that, its one of the tunes we have the most fun playing live and one that gets at least a section of the crowd to dance their asses off without fail.
That's Life
I started writing this song during our 2017 summer PNW tour. One night, after lying in bed and failing to fall asleep for maybe 6 six hours I finally entered a kind of hypnagogic dream state where the verse of 'That's Life' was playing. I pulled myself awake and did my best to retain every facet of the composition possible while I retrieved my phone and proceed to record it, by voice, in a memo. I played it on acoustic the next day for the band and everyone was stoked on it. I wrote the first half of verse one and just riffed on it a lot until a month or so later when Bradley (harmonies & primary keys on Neurons) and I completed the other half. We would all play with ideas for other parts and lyrics but shelved it when it came time to record the album. 9 months later, after recording, mixing, and mastering what started out as a 6 track EP, I added three more tunes making it a full LP. While in NYC after mastering what I thought were the last 3 tracks, I was encouraged by Joe Lambert (Joe Lambert Mastering – mastering engineer of Neurons) to add one more, making it an even 10. I knew it had to be this one. I spent a solid 5 – 7 hours and cranked out a full composition. After returning to LA, I teamed up with the rest of the crew to hash out the kinks in full band setting. That's where the song really came to life. Everyone who recorded on this track brought a uniquely written element to what became the final product, making it the most truly collaborative song on the album. As for the lyrics, I think they're are pretty self explanatory.
Phosphorescent Footsteps
This is the oldest song on the record. I wrote it while living on Catalina in 2015 where I recorded a version to be featured on the 2017 self titled album but it didn't end up making the cut. It has been one of our favorites to play live over the years so it was a no brainer to add it onto the new record. The originally song came through to me on a boat while vamping on a friends' guitar as we crossed the channel from Newport to Catalina. The feeling of traveling across the ocean was the inspiration for this song. That along with a memory of walking on a beach with phospholuminescent sand in Hawaii.
Afterglow
I wrote the primary composition of this song along with scratch lyrics after moving to Los Angeles in late 2016. One night after sharing its development with Sol (Bassist for Ecstatic Union throughout 2017), she went through the song with me singing harmonies and helping me fill in missing pieces for the lyrics. Initially, the chorus line, "Is there a light on", was just a place holder until I found something that I thought could be better. Sol encouraged me to keep it so I did. Conceptually, I wanted to elucidate the feeling of "afterglow" that occurs after a powerful experience, like the morning after a mushroom journey when you're filled with tender gratitude for the simple beauty of being alive. We wrote the spazzy-overdriven outro as a full band one day during rehearsal.
Oceans
This song formed in 2015 out of a jam at our old shipping container rehearsal space on Catalina. I didn't finish writing the actual lyrics until the night before the first bill of our Wayfarer residency in June 2016. I think of it as a kind of sexy love song written from the perspective of mythological nature spirits.
Secret Season
Also in late 2016, I worked out various demo versions of this one which I would play drums to until the vibe and key transitions felt like they sat right. I wanted to communicate the sensual and electrically charged essence of spring. The feeling of when everything is in bloom and inviting pollination. With help from Sol, I worked out lyrical variations until everything fell into place. It's a real fun one to play live.
None of Us
One very starlit night at pebbly beach on Catalina Island, I shared the song idea with my pops over a bottle of tequila. I pressed record on my voice memo app and banged the chords out on a beat up acoustic while my dad slurred savagely soulful musings. At some point, "None of us are getting out alive" came out. I took the tune into the studio and wrote the rest there the day we tracked it. Tomas played all the organ and synth on it and was the one who pushed me to go for the super aggressive key change solo. The song has this '90s grunge feel to it and so it took me a while to get through tracking vocals as I had way too much fun fucking around singing it in various very nasally, overly expressed, '90s commercial radio personifications. Tomas would chime in over the talk back encouraging the character so naturally it took a little longer to track the lyrics for this one than intended. We laughed a lot.
— — — —
? © Natasha Wilson
album art © Ben Montero


:: Stream Ecstatic Union ::