only the light is darkness in decline
There's nothing like the resonance of an electric guitar ringing hard and heavy in your ears, or the petition of a singer evoking his or her truest self. Rock music is rooted in protest and togetherness, the child of emotional energies given a spiritual, sonic voice. Brooklyn indie rock band ROBES offers a fresh voice in 2017, delivering an intense blaze of personal and universal allegories that speak to notions of life, love, pain, and joy.
Listen: Indecline [LP] – ROBES
---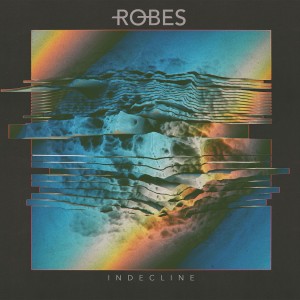 Atwood Magazine is proud to be premiering Indecline, ROBES' fiery debut album (out 3/17/2017 via Bakery Outlet Records). Consisting of Drew DeMaio, David Diem, Jeff Gensterblum, and Peter Bartsocas, the Brooklyn four-piece crafts a '90s rooted brand of heavy, guitar-driven and emotionally-fueled rock music that burns like an unquenchable fire. Whilst the band's individual members have deep individual roots in Florida and New York City's indie/DIY music worlds, it is their ability to meld their talents into a seamless unison that makes ROBES' hard rock music so compelling.
An onslaught of overdriven guitars provides torrential ignition to Indecision. From the constant chugging on opener "Pilgrims," to the riff-heavy "Yourmajesty," to the carefully plotted melodic outpouring on "Lay Low," guitars provide a colorfully evocative framework for ROBES. DeMaio and Bartsocas' vocals shine in this environment, supported even further by Gensterblum's emphatic, ecstatic drum performance.
As striking as ROBES' instrumental performance is their lyrical intensity: Indecision is a deep observation of life, its songs covering a range of topics including individual empowerment, the search for meaning and purpose, depression and anxiety, and our relationship with our surrounding environments. It is not so much how to be a human, but rather, how to be a better human – taking from past experience, and looking forward to a brighter, warmer future. ROBES' outlook is not always positive, but the band does maintain a grounded, insightful perspective throughout.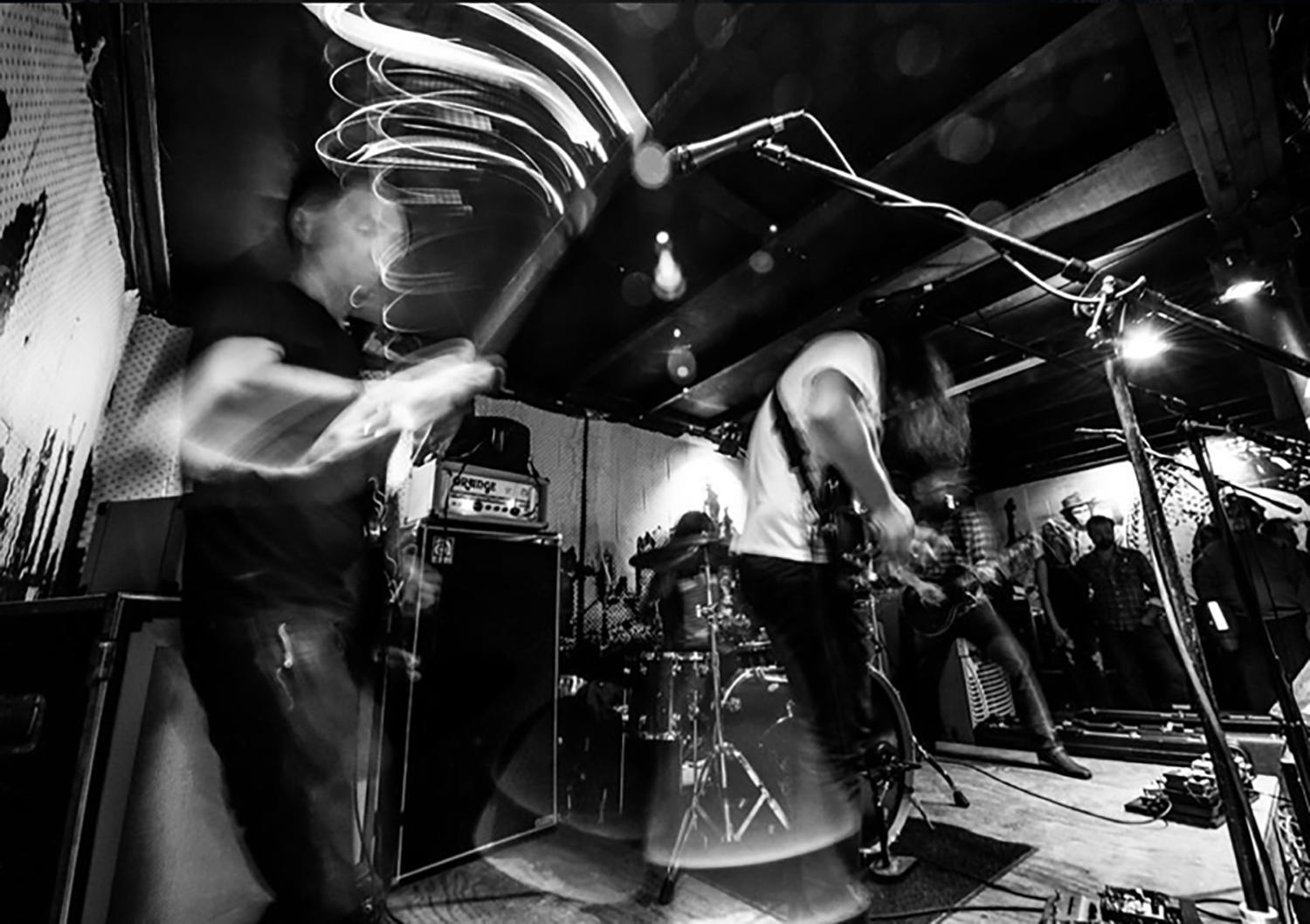 The opening lines for "Pilgrims," the album's inspiring opener, is a prime example of ROBES' illustrative lyricism:
slow down you've only just arrived
one foot in the pine
sawed jagged by time
dive down bathe in broken teeth
a real drag by design
one foot in the pine
ROBES display a clearly seasoned artistry: Their performance excels expectations on every front, their songs propelled by meaning and coming from deep within. Indecline hits harder than most for that matter, and that power feels good; it's high time a band let loose, unleashing emotions and the real world in their music. Whether you're in it for a nostalgic sound or for a never-ending surge of energy, Indecline is an engaging, smart bout of Brooklyn's finest heavy rock. Experience the full record via our exclusive stream, and peek inside ROBES' Indecline with Atwood Magazine as the band provide their personal take alongside the song lyrics. You can purchase the record now on Bandcamp.
:: Inside Indecline::
— —
Pilgrims
Devote your life to something, see your path and walk. Live and die a samurai!
slow down you've only just arrived one foot in the pine sawed jagged by time dive down bathe in broken teeth a real drag by design one foot in the pine kind killer a sinner with nothing to prove and I deserve the abuse I'm beholden to you I'll wake up and grin those broken teeth and then we'll know who's brittle bones will rattle and roll seer look through the eye believer, surrender your life as those who devote never die pilgrims we are on a road that divides
Black River
We often bury beauty with what we build.
head up and I hold out because there's nowhere I can run to then a satellite wakes up the night and clears a path to you the hand of god will show me all things a voice of reason tells me nothing now a saboteur has made his way to shore and whispers in a code only I can decipher black river flows and drowned the only greenery known to grow steel mountains killed the sunlight and chased away the scenery far below the seasons cross our caravan in search of slower seas and a softer sand we've lost the satellite and the guiding light It's getting dark out and we're going in circles
The Flowerbed
We are the seeds we sow.
there's an angel asleep beside me there she's lying in the flowerbed I'm still dreaming of the devil he's been hiding in my head misery is telling me that your company is killing me harmony is misery when malady's the melody feeling fearful for what lies ahead there's beauty in the treachery and boundless is the bettering a seedling fearless is bound to live misery in my head sinking in the deep end now disobey my head living in the deep end now
Honeyblood
Moving on from a past love will always have moments of inertia and volition.
she's all the rage and all I see here I am standing on my own two feet I'm not alone we are neighboring anemones in a sea of rivalry we're riling the enemy how does she sell herself so selflessly when she is souring she tastes so sweet I would even bite her tongue just to taste that honeyblood Indeed it's all I need to set me free and keep me young only the light is darkness in decline your alibi is of no surprise the methods devised will not apologize they've awakened the breakers and I've capsized

Young Buck
Look forward, be your own person, stay youth minded, make peace with who you are.
hey young buck where did you go wrong you chased all your demons away when will you learn they make you a man but don't take your hell to the grave climb up your tower and swing from your bell soon comes the hour when you'll have to tell breathless sound it suffocates the truth the rats bring the wolves as the plague takes the youth so hold on aimless give up your gun son shameless blame all but one hey young blood celebrate the now soak up the love through your labor outrun the pack and never look back seldom is history a savior shout from your tower I'll echo in wait soon comes the day when you will have to face what I've found and propagate the truth the rats bring the wolves as the plague takes the youth stay young don't you ever run and stay young
Unholy Moon
Our holy mother earth is on her last leg.

this army of earthquakes is ready for battle the people of earth wait for a war that won't even matter I'll save you the heartache and tell you a lie I'll keep you warm with friendly fire a sentence is handed down and now it's coming down to the wire the holy one is on the run unholy moon is on the dune the aftershocks are frightening we lay torn and tattered messiahs they come and prophets they go illusions are shattered we have to find a way to keep you alive clean your wounds then show you the light bandages soaked come undone blood kissed lips say goodbye there will be no one to save you
Lay Low
Depression cripples the ability to construct a future.
this parasite eats paradise then drinks straight from your eyes your candidate is running late the vote you've cast is now cast aside beneath this haunted house are many graves I can hear the waking of the ghosts hollow bodies of souls unsaved and I feel the ache in their bones so I lay low within this island cave a treasure waits calling those in search of a name luring the crazy-brave into its cavern lake only to fall beneath the waves don't go it alone you'll never find your way home and what is a home when you live in a shadow
Yourmajesty
Explores the ethereal distances that can arise within a loving relationship.
listen up because we're speaking in circles there's nothing to win we labor and long for the answers and never beg the question I can see you climbing the walls I can feel you bending the laws there's nothing but nothing between us brace for the fall I'm out of reach I'm shifting sand we crush we lift never in command how can we sing it's deafening without any meaning locked on a melody forever astray I'm on a beach but I'm getting shivers we lay we drift the party conspires how can we sleep in dirty sheets what is this new terror float on a jet-stream and get further away your eyes throw knives now rise play nice
Men of the Desert
Live life in love or fear. Take your pick.
a wise man survives as he lives on his heels who's love leans him forward lost is the fool who lives for the deal trading silence for silver one should not want for so many things our wealth is our nature still we attach to so many strings then we swing from the rafters I'll never mourn for a life chosen to waste I will adorn a life half-mast away the mind of a madman he heads for the hills looking over his shoulder fearing such things unknown to be real his soul growing colder no towering giant nor magical spell will quell his adventure only the sane will they live to tell as the heart saves the mind
— —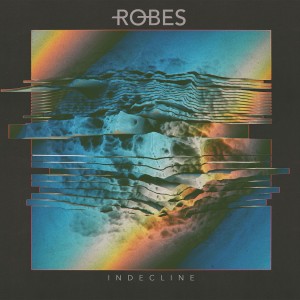 — — — —
Connect to ROBES on Facebook
cover: ROBES © 2017