2017 has barely begun, but it's already looking like a long and arduous year on a lot of fronts. It's high time we had an everybody love everybody rock song, and who better to deliver it than rock mavericks New Politics? The Copenhagen-cum-Brooklyn trio delivers a high-energy celebration of friendship on "One of Us," inviting everyone to join together in this hard knock thing we call life.
Everybody needs a place to call their home
Everybody's skin is different not their bones
Even when you're lonely know you're not alone
You're one of us
Listen: "One of Us" – New Politics

[youtube=https://youtu.be/kVuUQwGE6VY?t=0s]
---
New Politics are one of the modern era's premiere rock acts, a hard-working band driven by passion and love, with a breathtaking, engaging live show that gets everyone in on the action. "One of Us" heralds a long-awaited return; it is New Politics' first offering since 2015's third album Vikings (DCD2/Warner Bros. Records). Followups seem to have a bigger impact when they carry special meaning; last time around, the band's "Everywhere I Go (Kings & Queens)" served as a tribute to their support group and celebration of hard work paying off.
"It's a celebration of like… You see, no one else knows that we lived off of ramen noodles and white bread for six months. No one knows that we packed our bags, left everything in Copenhagen, Denmark, explained singer David Boyd in Atwood Magazine's exclusive 2015 interview. "No one knows the backstory of New Politics – the struggle and the decisions made, and people that didn't believe, or gave up on believing in us, for something else. But then you also have the people that stuck with us, that continued to believe in us even though we weren't in the best shape. Our fans that stuck around, our families supported us, friends, and this and that – and it's a celebration! It's a feeling of being on cloud nine. Everyone deserves that – everyone who stuck with us."
This time around, the stakes feel even higher.
Everybody needs a place to call their home
Everybody needs someone to call their own
Even when you're lonely know you're not alone
You're one of us
Is this your starring role or just a cameo?
Who are you living for?
When you can't take no more
Cause when it rains it pours
What are you living for?
New Politics have penned another song deeply inspired by their personal lives, and it is hitting hard and at exactly the right time. "One of Us" is bright, melodic and inviting; it acknowledges (and commits to getting through) the bad, sad, hard, and dark times, without diminishing their significance. Personal and universal, it comes from a place of truth and vulnerability that all too frequently gets swallowed up and squashed as bands get on in their careers. In the case of New Politics – which consists of David Boyd, Søren Hansen, and Louis Vecchio –  the truth serves as inspiration for the best music.
The band issued the following statement alongside their new release: "After being out on the road for nearly three years straight, we took most of last year off to decompress and see what we wanted to do next as a band. We were on this crazy rollercoaster ride, we've had our ups and downs, but we realized that the thing that mattered most to us was our friendship, our fans and that there's nothing else in the world we'd rather be doing than to continue writing music as a band for all of you. That's when "One Of Us" was born! This song represents friendship, love and unity and we hope all of you can connect with it too. Enjoy, and remember "you're not alone, you're one of us."
"You're not alone; you're one of us." New Politics' chorus is a powerfully inclusive statement in a world that has never felt more divided. What we need now, more than ever, are calls to come together; to remember that we are all here as one: One people, one nation, one city, one family. There are those who will seek to divide us; don't let them. There are those who will tell us the other side is the "enemy"; it isn't. We are all only human: Flesh and blood, mortal and powerless. "One of Us" is a fond reminder, as well as a call to action – to rethink (y)our priorities. Who are you living for? What are you living for?
Bring the sunshine in, the happy days
The hardship too, we'll find a way
So raise your flag one last time
Before the day is through
I promise you that we will
laugh about it all
And we'll celebrate the things we've done
The years to come
'Cause that's what friends are for
New Politics' "One of Us" is the anthem 2017 needs. This year promises to offer more than its fair share of obstacles. Whether your challenges are personal or universal, New Politics offer a moment to step back, relax, take a deep breath, and smile: The sun will shine again! "One of Us" is a song of harmony, of camaraderie, and of love. Whoever you are, wherever you are, always remember: "You're not alone, you're one of us."
?  ?  ?  ?  ?  ?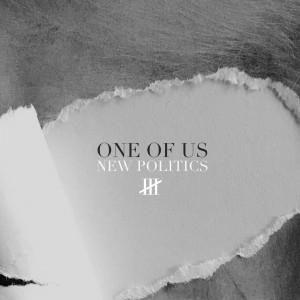 cover © Max Schwartz