A lot of bands have picked up on the resurgence of '80s-style pop/rock in recent years, but few have succeeded in crafting as tasteful a sound as Bad Suns. Blending the tones of music's past with modern guitar licks and catchy pop structures, Bad Suns offer a refreshing rock/pop mix on their 11-track debut, Language & Perspective (released June 24, 2014 via Vagrant). In doing so, they earned their place on my Top Albums of 2014 list.
I first discovered Bad Suns through the release of their four-song EP, Transpose, in late January 2014. Featuring the songs "Cardiac Arrest," "Transpose" and "Salt" (which also appear on the album), the band found a home in my "Most Often Played" playlist. Normally, an EP and full-length album release are a little more spread out – the band hardly waited five months between the two – but in this case, the pace seemed appropriate. The EP, whose cover is nearly identical to the album's, was clearly a prelude to the band's debut, rather than a standalone project.
While I recommend listening to the album as a whole for maximum impact, I still find myself partial to EP tracks "Cardiac Arrest" and "Transpose." "Cardiac Arrest" is one of the album's slowest songs, but it is also one of the catchiest, with simple relationship-related lyrics alluding to the deeper meanings of life and time well-spent. "Transpose" gets right to the heart of the matter in its chorus, where singer Christo Bowman sings, "And I can't stop even if I wanted to / Up top, maybe I'm simply deluded / That's right, maybe I've been wasting my time."
Yes, folks: Language & Perspective tackles the age-old musical subjects of love and loss, but Bad Suns make these roads fresh and exciting. They not only offer contemplative and introspective insights into familiar topics, but they also take on less-common, darker and denser themes.
Take a second to read the lyrics to the album's opener, "Matthew James":
Listen: Langauge & Perspective (album) – Bad Suns
"Matthew James" – Bad Suns
Hungry for a meaning, this all seems unclear
I come to the conclusion we're all clueless here
The more I try and simplify, I realize it passes by
I find myself enamored with an explanation that doesn't exist – no
What's the point in counting when it never ends?
Face yourself at night, it's time to make amends
The TV's on, it helps me sleep / The force of habit killing me
The kiss goodnight, a stale routine / The spark is gone, what's wrong with me?
Language and perspective shape the way we live
Some things are hard to take and even harder to give
Lost circling a moment deep inside my head
I won't get this moment back, I'll move instead
This place just ain't the same without you
Out with the old, in with the new
I think you know this pressure
Welcome to a depression that I'll learn was never true
"Matthew James" is emotionally deep, lyrically clever, and musically enriching. As far as songwriting goes, that's the dream: It's difficult enough for an artist to accomplish one or two of these tasks, but to achieve all three with multiple songs is a mark of great musicianship.
Listen: "We Move Like The Ocean" – Bad Suns
[soundcloud url="https://api.soundcloud.com/tracks/152521793″ params="color=ff5500&auto_play=false&hide_related=false&show_comments=true&show_user=true&show_reposts=false" width="100%" height="166″ iframe="true" /] 
Bad Suns make catchy music, but they are not "pop" by any definition of the word. If you find you cannot get the song, "We Move Like the Ocean," out of your head, ask yourself what the lyric, "We move like the ocean, but I can't swim anymore," really means. That'll eat up at least a good half hour of your day.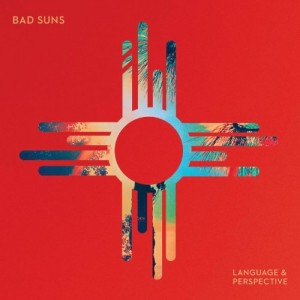 In true modern pop/rock fashion, Language & Perspective clocks in a little under forty minutes. It is not the longest album ever produced by a wide margin, but it is cohesive and well-thought out. Bad Suns make great, intelligent keyboard and guitar-driven pop/rock music, and this earworm of a debut is proof. Will Bad Suns find favor with America's mainstream radio jockeys? Only time will tell, but wouldn't it be great to see a bunch of teenagers screaming the line, "My cardiac arrest, high voltage when we kiss," over and over again?
Listen to Bad Suns. Without a doubt, Language & Perspective is music you should know.
More info about Bad Suns via Vagrant here
Purchase Language & Perspective on iTunes