Boston indie folk duo Tall Heights discuss the construction of their latest track "Keeps Me Light," building a fanbase, and the powerful connected friendship that makes their band so strong.
Stream: "Keeps Me Light" – Tall Heights
---
Everyone knows Boston, Massachusetts for its cultural richness and deep historical roots. Flowing with storied antiquity, so many are attracted to the buzzing energy this unique city creates. It's here that the Boston area natives Paul Wright and Tim Harrington relentlessly busked, ultimately creating a signature sound of strikingly lush harmonies and indie folk soundscapes.  Building a fanbase organically, the duo known as Tall Heights have now graced the stages of packed venues all-across North America, Europe and beyond.
How did you know where to find me
What did you think you would see here?
I live alone in the state you moved outta
I drink you down with my fear
Hey, there's love that keeps me light
It ain't truth that keeps me right
Can I borrow from your mind?
Just to keep me light
Their latest release "Keeps Me Light" was mixed by Grammy-nominated engineer Damien Lewis and captures a raw authentic energy through a delicate wistful tone. Blending feathery folk with indie pop, Tall Heights ever evolving craft is transported to new levels in this stunning release. The duo are known for melding two dynamic voices to construct a rare and distinctive sound. "Keeps Me Light" is a pensive exploration of the security found in friendship. The song illustrates how even when things seem bleak, there's always room in your heart for a friend.
I don't care if the darkness
is soon to arrive
Just save me a place
in the hungering sky
Oh, and the day is soon to arrive
I'll be safe in the place
that you said was mine
Atwood Magazine spoke with Tall Heights, discussing the creation of their latest single, their unbreakable bond of friendship, and more.
A CONVERSATION WITH TALL HEIGHTS
Atwood Magazine: 'Keeps Me light' features rich textured arrangements and stunning ethereal vocals, what was the experience like crafting the song?
Tall Heights: This song took the long road from original idea to finished track. It started with a viby pile of guitar and cello sounds that Paul had created on his laptop. It was fly as hell for sure, but the first challenge was definitely translating the work of many layered individual lines into parts we could play our instruments in a single performance. That challenge brought me to using the guitar in new ways. As I was tracking it, I thought it sounded best on a metallic and twangy parlor sized resonator guitar I borrowed from my friend years ago (and still haven't returned it, oops). To me, there's something weirdly Zeppelin about that resonator sound on this track.
The next challenge was lyrics. The two of us took two creative outings together to a coffee shop and then to an outdoor park in Salem, MA, drafting and redrafting them. We spent more time than usual on these lyrics. The chorus in particular really bogged us down. We never want our lyrics to be too on-the-nose, but we also wanted to freshly explore hope and lightness clearly enough to register on the emotional radar screen of a new listener. We thought writing a song about hope, togetherness, and friendship was about the boldest thing we could imagine doing at this moment in our lives, in this world.
Then there was the arrangement. As we tracked this one out, we had just met our dear friends, Upper Structure, an a cappella group comprised of immensely talented Berklee College of Music students. The idea of including them on this track stemmed from our desire to have that last chorus be fucking huge. The big group vocal, the group clap, the shouted lyric "I'll stay, I'll stay there by your side," it was all just begging for more than just Tall Heights vocals. So we made an arrangement for the whole song, and had them into the studio for a couple days. It was so fun to use their voices like synthesizers. The human voice is such an instrument that you can use in so many ways, and these Berklee badasses are so malleable, they can do literally anything you ask. It was so fun.
We love songwriting and recording and creating, so the process is always such a kick for us. To guide an idea from nothing to a finished track is the biggest reason we do this. Some ideas pop and explode to finished in a matter of minutes. Others require heavy lifting and patience and extra jet fuel and fire. 'Keeps Me' falls into the latter camp, and I'm so happy to have experienced every minute of it. It was really fucking fun.
The single explores a sense of safety in friendship even through the darkness we sometimes face, what inspired the song's profound message of hope?
Tall Heights: As I alluded to, we actually think Hope is pretty punk-rock right now. Melancholy is probably our natural habitat. Like many songwriters, it's the corner of the human psyched from which we usually create. So in a moment when, even for non-artists, melancholy, sadness, and concern are so accessible, where's the 'fuck you' to come from? Our conclusion was that, at this moment anyways, the middle finger to put up is on the sunny side of things. We're not pretending it's not dark out there, I think this single clearly acknowledges the darkness, but as always, we're just trying to push ourselves to feel it all and see it all, and friendship is a pretty badass thing to do these days.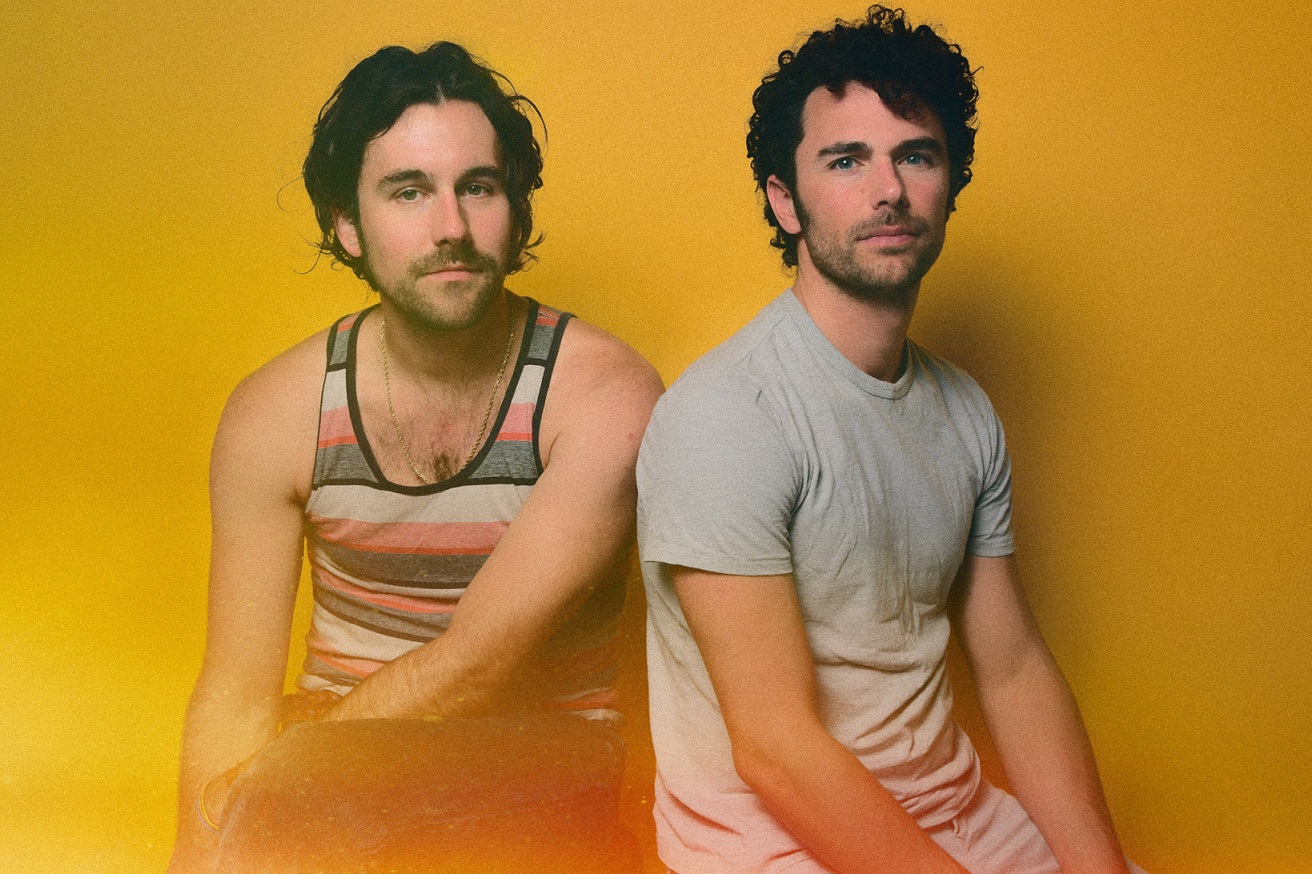 On the topic of friendship, I understand the bond you formed first blossomed back in high school when both of you took up guitar. What makes your duo such a powerful collaboration and do you find you have similar creative processes?
Tall Heights: Ah man, Paul and I are just life homies. He's like a brother to me. I think it's really special that our relationship, our mutual respect, and our commitment to this Tall Heights thing have become almost unconditional. Of course that's  an overstatement, if I killed his cat or something, the band would probably split up. But our vibe these days isn't urgent or frantic. We're just a couple Sisyphus-es pushing the rock, happy to have someone there to help in the slog. Our process, our thoughts, our voices, our tastes, and everything else have thebecome, if not uniform, at least very complimentary. We're weirdly good at working together. I think it's a powerful co-op because of the time we've put in, and the vibe that we'll keep being there for each other for years to come. We're not about to quit, and I think that realization alone keeps a lot of fresh air in the room.
Tall Heights have tirelessly built a career from the ground up, busking in Boston to now performing at major venues opening for acts such as Cake and Ben Folds. What advice would you give to other artists who are just starting out?
Tall Heights: I don't know. Every step of the way I've always tried to do it well, or prudently, or expediently or whatever. Then every year or two or three, I look back at how we did and I realize we did it all wrong. That's probably how I'll feel in 3 years about this very moment. How can I advise anyone if that's all I ever get? I guess I'd take a page out of Nike's book and say just do it.
What's next for Tall Heights?
Tall Heights: My life is very predictable. Here's what I'll do, and I'm pretty comfortable speaking for Paul too… We'll keep making music we love, we'll tour a lot, we'll stay hungry to make a truly great album that lasts. And we'll hang out a lot with dogs, cats, and babies.
— —
— — — —
? © 2019
:: Stream Tall Heights ::
---
:: Tall Heights 2020 Tour ::
Jan 21 – Carrboro, NC – Cat's Cradle
Jan 22 – Atlanta, GA – Masquerade
Jan 24-29 – The Rock Boat XX
Jan 30 – Safety Harbor, FL – Art & Music Center
Jan 31 – Orlando, FL – Hard Rock
Feb 11 – Cleveland, OH – House of Blues
Feb 12 – Columbus, OH – The Basement
Feb 13 – Indianapolis, IN – HiFi
Feb 14 – Chicago, IL – Beat Kitchen
Feb 15 – Minneapolis, MN – 7th St Entry
Feb 16 – Milwaukee, WI – The Back Room
Feb 18 – Denver, CO – Globe Hall
Feb 19 – Salt Lake City, UT – Kilby Court
Feb 21 – Portland, OR – Bunk Bar
Feb 22 – Seattle, WA – Tractor Tavern
Feb 23 – Vancouver, BC – Biltmore
Feb 25 – San Francisco, CA – Swedish American
Feb 26 – Los Angeles, CA – Moroccan Lounge
Feb 29 – Austin, TX – Barracuda
Mar 1 – Dallas, TX – Deep Ellum Art Co
Mar 3 – Memphis, TN – Growlers
Mar 4 – Nashville, TN – High Watt
Mar 10 – Washington DC – U Street Music Hall
Mar 11 – Philadelphia, PA – Boot & Saddle
Mar 12 – Brooklyn, NY – Elsewhere
Mar 13 – Montreal, QC – Petit Campus
Mar 14 – Toronto, ON – Horseshoe Tavern
---