The 2010s are coming to a close, and with them ends an exciting era of musical innovation and societal transformation. The past ten years have seen the breakdown of genre, increased accessibility for content creators, and new modes of access for music consumers. Downloads bowed to streams in the West, and artists like Justin Bieber, Drake, and Taylor Swift rose to international superstardom – but this is just the tip of the iceberg of a busy, busy age; it seemed like the more connected we were, the more disconnected we felt. Music was a means of transcending distraction and hardship; a vessel of understanding that lent us stability for moments of stress and doubt.
How better to capture a decade in music than in the words of those who lived it and breathed it? Atwood Magazine is proud to present Our Favorite Albums of the Decade, in no particular order (you can jump directly to an artist by clicking their name above, and return to the top of the page by clicking any album art below). For ten weeks, our writers will be breaking down the music of the 2010s year by year. These are the records that shaped the people we are today: The music that carried us through pivotal milestones, the songs that together form the soundtracks to our lives. We have grown and changed, matured and evolved, but in this time of reflection, we can still feel the sense of wonder we felt as listeners pressing "play" for the very first time.
This week we celebrate 2013 in all its dynamic glory: From Chance The Rapper's groundbreaking Acid Rap mixtape and Lorde's raw Pure Heroine, to The 1975's angsty self-titled debut, Sky Ferreira's dark Night Time, My Time, Vampire Weekend's magnum opus Modern Vampires of the City, and much more!
Mitch Mosk, Editor-in-Chief
— —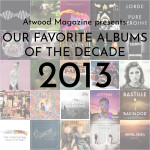 Our Favorite Albums of 2013
They only lasted for a few years, but for a brief glimpse in time, Dresses was the hottest thing in folk-pop. The Portland, Oregon-based guy-girl duo of 21-year-olds Timothy Heller (vocals/ukulele/piano) and Jared Ryan Maldonado (vocals/guitar) established a bright and sweetly dazzling ethos across their debut album Sun Shy, introducing themselves through radiant electro/acoustic guitars, keys, and Heller's sensational, uniquely spirited vocals. Their music seemed to emit light itself, glowing as mightily as their album's art despite the darkness and poignancy of their song lyrics – and it was this exact duality that made Dresses so special.
Opener "Back to Life" began the record with the stirring line:
Wake up, you're not dead, you're breathing
Slowly in my car, my palm sweat
Stains your pretty shirt, my lips
Oxygenate your world, back to life
Immediately we were hooked by hazy scenes that indulged our fantasies while leaving much up to interpretation. Were there drugs involved, or was this more a story of high school fooling around? What was real, and what was embellishment? As the record progressed through the sprightly "Blew My Mind" and infectiously upbeat title track "Sun Shy," we came to accept that some of our questions might go unanswered: That Maldonado and Heller's poeticism, full of symbolism and clear personal import, would seldom be spelled out; instead, it was up to our imaginations to finish each story alongside their beautiful sounds. Lyrics of death and struggle in "Painting Roses" and "Friends Are Dead" gave us ample opportunity to reflect on our own deepest relationships and experiences:
The thunder roasts
Got one pair of ghosts
I'm wandering saintless debris
Cuz the saints they arose
Heaven took them home
And now I am lonely
This is how it ends, all my friends are dead
I know that I fucked up, the life of a cultural
How can I pretend that everything's alright
When no one can find me alone in this wasteland?
I will be human for awhile
A record marrying love and depression, Sun Shy remains a perfect balance of light and darkness in both its lyrics and its musical content. It proved a seminal discovery for my soon-to-be post-graduate self, and its lush, sunny charm makes it a standout of the decade to this day. Dresses the band may be gone, but the art they created continues to be a buoyant and energizing force of life. – Mitch Mosk, New York
---
Technically a mixtape, Chance The Rapper released Acid Rap in 2013 making waves for himself far beyond the traditional music purchasing and streaming platforms. Acid Rap garnered over 10,000,000 free downloads, catapulting Chance's popularity to the point where he had to release albums on top of mixtapes. From thumb tapping "Good Ass Intro" to soothing cocoa butter kisses, Acid Rap is Chance in his truest and purest form. He thrives in the live show and makes his living off of merch, but Acid Rap, the mixtape, put him on the map, and for that reason it's my album of 2013.
Recently re-releasing Acid Rap on streaming services, fans of Chance the Rapper and new fans alike are streaming it just as if it were 2013. This is an artist with timeless taste and untouched talent. Coloring Book and The Big Day are strong sequels to the perfect intro that was Acid Rap. – Kelly McCafferty, New Orleans
---
Within the first 30 seconds of her debut album, New Zealand alt-pop sensation Ella Yelich-O'Connor (aka Lorde) proves herself to be wise beyond her years. "Don't you think that it's boring how people talk?" she croons over minimalist beats. "Makin' smart with their words again, well, I'm bored…" All over Pure Heroine is evidence that Lorde was an old soul in a 16-year-old's body. The record drips with suburban disillusionment, each track pulling the listener deeper into Lorde's hazy, poetic universe. It's moody, hypnotic, and aesthetically-driven: picture elegantly wasted teens, sunsets that look like watercolor paintings, desolate drives lined with houses that are too expensive to feel like homes.
Lorde's detached sensibility and razor-sharp wit continues to define a generation of young people who dare to desire something bigger than themselves. There's an air of that classic teen angst — an "I can't wait to leave my hometown and never look back" kind of vision propels each of these cinematic songs forward. Pure Heroine is wide-eyed and dreamy, but is constructed on a foundation of thoughtfulness and social commentary. Lorde positions herself on the outskirts of the status quo, peering into the windows of the upper echelon and knowing she won't fit in ("We'll never be royals"). While "Royals," "Tennis Court," and "Team" gained the most traction for Lorde, it's deeper cuts like "400 Lux," "Buzzcut Season," and "Ribs" that turn Pure Heroine into something altogether unforgettable. – Meredith Nardino, New York
---
The 1975 have undoubtedly exploded in popularity over the course of the past six years. Their chameleonic sound has delighted critics and fans alike, winning the world over with their unique brand of true musicianship and aesthetic #goals. It all started somewhere, though, and that somewhere was their monumental debut self-titled record. The eponymous album forgoes all preconceived notions of genre, fluidly divulging into pop sensibility, electronica beats, and pure rock 'n' roll goodness.
The 1975 introduces the band to the world with unmatched elan, deftly adapting to itself as its 16-track (or 39 if you have the deluxe version) behemoth swells and compresses. Songs like "Sex," "The City," and "Robbers" offer raw rock intuition, while "Chocolate and "Girls" provide pure pop goodness to the umpteenth degree. Woven through these dichotomies are a variety of lo-fi beats, instrumental interludes, and combinations of all of the above. The 1975 invites even the most casual of fans to listen and enjoy, providing opportunities for everyone to find at least one song onto which they can latch themselves.
The 1975 and The 1975 perfectly mirror each other not just in name, but in substance. The megalith debut record proved right out of the gate that The 1975 were a band not to be ignored or taken for granted, and set the foundation for what has ultimately becoming a monstrously successful career. The 1975 beautifully illustrates exactly who The 1975 are without being overbearing – despite its seemingly overwhelming length – and has steadfastly held up throughout the latter half of the decade, and will likely continue to hold up for years to come. – Maggie McHale, Philadelphia
---
Perhaps more surprising than the sonic catharsis of Sky Ferreira's much hyped debut is the fact that it exists at all. The young multi-hyphenate was scooped up by Parlophone in 2009 and was immediately set to work recording an album slated for release in 2011. Needless to say, that didn't exactly go as planned. She released two EPs instead to moderate success (though there are conflicting accounts that the label tried to shelve her for sluggish sales), and started pursuing modeling and acting while her musical ambitions went on the back burner. Those that fell in love with her for her Myspace account and simmering talent were left wanting. As the release date was pushed to 2012 and later 2013, it seemed like her debut would never materialize.
But by some miracle, October 2013 finally saw Night Time, My Time hit the listening world with its headline-grabbing album art shot by avant-garde shock filmmaker Gaspar Noe. Ferreira stares needles at her audience quite literally dripping with vulnerability. Here it is, she seems to say. Everything that I am, everything you wanted from me.
So it's a minor wonder that it slaps as hard is it does. Where her contemporaries leaned hard on bright, anthemic pop music full of blistering synths and belted vocals, she blended her love of indie rock, 90's grunge distortion, and 80's new wave sensibility into something unheard of in the pop realm before "Royals" brought the other foot down that same year.
By way of apology, or perhaps owning the narrative surrounding her continual delays, she confronts the critics head-on in standout "I Blame Myself."
How could you know what it feels
like to fight the hounds of hell?
You think you know me so well
How could you know what it feels
like to be outside yourself?
You think you know me so well
But she doesn't eschew responsibility. Immediately afterward, she turns it around and robs those voices of their power.
I just want you to realize I blame, I blame myself
For my reputation
She's triumphantly at the center of her own story, staring unblinkingly through sheets of water. This is her music and she owes nothing to no one. Night time is her time.
Though we've heard little from Sky over the following six years (apart from her film roles, a Commodores cover, and her head-scratching single released earlier this year), Night Time, My Time is still a woefully unappreciated pop masterpiece. Its rough edges and raucous production that flirt with the industrial angst of Nine Inch Nails (thanks to a top-of-his-game Ariel Rechtshad behind the board) portended the alt-pop boom later that decade. It's hard to imagine the murmur pop of Billie Eilish or Hot Topic window dressing of Halsey without Sky Ferreira. Now if only she would put out something new… – Anthony Kozlowski, Los Angeles
---
Keaton Henson could be the face of the tortured artist—his anxiety leading to a recluse lifestyle in which he favors the solitude of his own mind to all else. Though, in his mind lies a wealth of imaginative stories, characters, and aching emotions that are ready to become realized. His solitude is what makes Henson so enthralling, creating art forms that are poignant, evocative, and undeniably nonpareil. One such art form is his music, often him alone with delicate plucks and strums of his electric guitar as his soft, trebled voice speaks of moments closest to him, oftentimes mournful memories that carry the most somber tones in all of music—but that sorrow is his weapon, and he brandishes it well by surrounding the heartbreak in his voice and songs with an allure and elegance that transcends the very art form of music. This is why Birthdays is so special, why 2013 was so privileged to have it.
"Teach Me" possess celestial choir-like vocals in the foreground to begin the album with a spark, leading then to the track "You," whose lyricism and poetic nature can stop time itself. The stillness "You" brings is enchanting, and the first time I finished listening, I was left in shock. "If you must die, sweetheart, die knowing your life was my life's best part," he croons, creating knots in my stomach as I dive deeper into the hurt of Henson's life. Then there's the track "In the Morning," swapping guitar for piano and stunning myself and all others who listen with his docile and smooth playing. Beauty is often found in the darkest of places, and Keaton Henson exemplifies this with an unmatched grace on Birthdays, and my 2013 became all the more momentous because of it. – Adrian Vargas, Seattle
---
While it's the early 2000's that are remembered as the era in which Eminem most dominated the globe, the early 2010's featured plenty of highlights for the great MC as well. These include his commercial comeback record, Recovery (2010), and a fiery joint EP with Royce da 5'9," Hell: The Sequel (2011). But musically the strongest of his albums in this period, perhaps in the past 15 years at this point, was none other than The Marshall Mathers LP2, released in November 2013.
Eminem had just turned 41 when this album came out and had been rapping professionally since the mid-90's. Yet amazingly, the new record featured plenty of qualities we had never before witnessed from the veteran performer. Always known for his speed raps, he had never rapped as many words per minute as he did on hit single "Rap God"– indeed, no rapper in history ever had, should Guinness World Records be believed. He had also never apologized for an old song or formally made amends with his estranged mother on record before, yet pulled both off at once with the moving "Headlights," on which he retracted the scathing words he had uttered years earlier on "Cleaning Out My Closet." MMLP2 also marked the first time Eminem had ever pulled off a proper sequel to an earlier hit record– "Bad Guy" imagined Stan the Fan's little brother plotting revenge for his elder's demise, with hair-raising results that rivaled those of the original.
Perhaps most importantly, Eminem was audibly enjoying himself in the studio more than he'd ever done in a long time. "Berzerk" was as playful and nimble as the vintage Beastie Boys records he'd grown up on, with an energetic Rick Rubin beat to hammer that connection home. He also traded raucous verses with "Kendrick Lamar" on "Love Game" and poked fun at his past family misfortunes on "Rhyme or Reason." In the end, The Marshall Mathers LP2 struck the same proper balance between lighthearted and dead-serious tracks that some of earlier hit records had achieved, resulting in the most successful of his "I'm still around"-era albums. – Josh Weiner, Washington, DC
---
From the moment "Obvious Bicycle" opened with its warm, dulcet tones, Modern Vampires of the City made it clear that Vampire Weekend had reached a new apex of creativity and ingenue. The eclectic frame of 2010's Contra matured into a radiant, focused identity in the band's third album – one that feels tighter, more experimental, and more dynamic than anything they made up to that point, or afterwards. Questions and musings on faith and purpose ("Unbelievers," "Worship You") remain a strong lyrical theme for the band as they also take on love and relationships directly and with unabashed enthusiasm: Songs like "Step" and "Hannah Hunt" are sweet n' moving romances brimming with personality and rich melodic spirit.
What makes Modern Vampires of the City such an absolute success is its confident embrace of a vast musical spectrum and of complex, relatable human topics. The record is a far cry from its predecessors in terms of style and diversity of instrumentation and conceptualization, but that doesn't stop it from feeling like a single cohesively unity: "Diane Young" proves a rollicking hit full of feverish rock urgency, and yet somehow it smoothly transitions into the graceful, majestically-orchestrated ode to youth and aging in "Don't Lie." At the same time, songs like "Ya Hey" and "Everlasting Youth" find Vampire Weekend embracing the big melodic indie pop structures that made their first releases so utterly enjoyable. This is Vampire Weekend at their peak, and that means the highs are higher, the lows lower, and the middles are deliciously unpredictable. Transformative, nuanced, and incredibly smart, Modern Vampires of the City pushes listeners to join Vampire Weekend as they dive over the edge into the their unknowable depths; it was a disruptor in its time, and it continues to be one today. – Mitch Mosk, New York
---
It's hard to imagine that these guys became indie giants. Two dufuses playing power chords, banging on pickle jars would become something of the face of modern, forward thinking pop-punk, but here we are. The pop sensibility and upbeat sound offsets the fact that these songs are really sad. The album opens with the most joyful sounding breakup with "Au Revoir," but reaches climax with the brutally intense "Lone Star," which has a brutally honest couplet that addresses a real life issue in a blunt manner that few pop songs have:
Good bye future once so bright
Meet my pregnant girlfriend
The album's most surprising moment comes in "Twin Size Mattress," a song that's become an anthem, not just for emos but for fans of indie rock. The song that addresses loss, anxiety, and loneliness in a song that's fit to close the album, but it's the fourth track on the album. The Front Bottoms' popularity shows that rock that zigs when it should zag can sit well with a large audience, even if the songs are probably uncomfortable. – Jimmy Crowley, New York
---
Settle is a force to be reckoned with from the jump. "Intro" guides us into the house-heavy album with one minute of motivational speech, and "When a Fire Starts to Burn" subsequently tosses us in headfirst. It's true that Disclosure's debut is house music at its best, and surprisingly at home in album format. Where electronic dance music has struggled to conform to a linear model, Settle excels. Each track melds into the next, and yet they easily maintain their individuality. Featuring heavy hitter vocalists like crooner Sam Smith on "Latch" and the ethereal London Grammar on "Help Me Lose My Mind," Disclosure effortlessly balance house music with radio pop likability.
I'm so encaptured, got me wrapped up in your touch
Feel so enamoured, hold me tight within your clutch
How do you do it? You got me losing every breath
What did you give me to make my heart beat out my chest?
Settle ebbs and flows through vocal heavy and production focused tracks, but each has a balance of both that makes the whole album shine. Catchy hooks will make you sing along and the infectious post-chorus drops are sure to keep your feet moving. Even the cozier tracks maintain an element of movement and house music sensibility. Brothers Howard and Guy Lawrence created something special with Settle. Prominent hi-hats, sweeping synths and perfectly cut vocal samples combine to become something new in dance music, at least to their own audience of 90's kids and millennials as a whole. Critics and fans alike were taken aback by the album's consistency, skill and style. While Disclosure's later work continues to captivate, their debut will likely keep the spotlight, and remain an iconic effort for many years to come. – Alex Killian, San Francisco
---
From the moment those big "ay-oh" calls opened "Pompeii" with giant strength, Bastille told us they were someone different and special. Bad Blood's music was passionate and cinematic, a raw and unforgiving strain of pop that managed to be both polished and rough around the edges all at once. To indulge in Bastille's music was to open oneself up to a world where life played out like a movie: The sheer intensity of the human emotional experience weighed down each song with pulsing guitars, hip-hop beats, and pounding pop melodies. Choruses like that of title track "Bad Blood" and "The Weight of Living, Pt. II" feel large than life in their demand to be not only heard, but also felt, and with Dan Smith's booming vocals in the eye of the storm, how could anyone resist? – Mitch Mosk, New York
---
Finding an album like Radical Face's The Family Tree: The Branches in 2013 was like reuniting with an old friend whom I had never met. Full of beautiful characters, soulful lyrics and a very full, folk-ish sound with well placed claps, vocal sighs and an expertly played kick drum, every single track is perfectly feely. and played right into my wheelhouse. And, it was a tree, like me. I couldn't get enough.
See, with a name like mine, Ilana, which means tree in Hebrew, it was impossible to escape a life lived in metaphor.  And maybe it's because I was keenly aware of my natural namesake, or maybe my parents had some kind of magic when naming me, but I have always been quite arborescent.  While drawn to the sun for metamorphic nourishment, I know how to batten down the hatches in a storm and hold my ground until the sun returns. The wind may blow and bow me, seasons come and go and while I may change form from time to time, I am still and will always be an Ilana all the while. And trees will always inspire me.
As gritty reality would have it, despite my tree-like desire/need for roots and a forest, my life has been lived mostly without my organic family. With complicated family roots destroyed at a young age I was forced to decide between growing new ones or not growing at all. I chose to create new roots, a patchwork family, and to find the sun come what may.
The year was 2013 and I found myself, yet again on the threshold of change. A new career as a teacher delivered many late nights spent planning lessons and making materials.  Weary yet driven, I sweetened the midnight oil by listening to music and whistling while I worked, always hunting for musical swoon. If a song begged me to stop working and look up, I paid it mind.
That's how I found Radical Face's album The Family Tree: The Branches. 
If you only listen with your ears, I can't get in.
Was the line that snagged me. From a song called "The Mute," which Radical Face wrote from the perspective of his non-verbal, autistic nephew.
"The Mute" continued to speak to me:
And I set out on the heels of the unknown
So my folks could have a new life of their own
So that maybe I could find someone
Who could hear the only words that I'd known
And with that, and all it's similarities to my own personal narrative, I was hooked. More than finishing my lesson plans, I needed to find out about this perfect and Radical Face.
It turns out that prolific singer-songwriter and creator of Radical Face, Ben Cooper and I have a lot in common. It's probably why his music always resonates with me. From a large family, Cooper grew up surrounded by relatives and the support of their connection. Pardoned unceremoniously from this nest at a young age, Cooper found himself at a crossroads… create himself or be destroyed. Thankfully, Cooper chose to create (and create and create.)
Eventually, after writing two books (which were lost by a faulty computer…) Cooper flowed with his music and lent his many dynamic talents to numerous musical projects including Electric President with Alex Kane, Iron Orchestra (with his brother), Mother's Basement and Unkle Stiltskin, The Clone Project (with Rick Colado), among other musical projects. After releasing his first two Radical Face albums, The Junkyard Chandler (2003) and Ghost (2007) Cooper began his The Family Tree trilogy.
Releasing from the ground up, there was The Family Tree: The Roots (2011), The Family Tree: The Branches (2013), The Family Tree: The Leaves. 
It was through The Family Tree series that Cooper created his own family of fictional characters called the Northcotes.  In a special narrated release of The Family Tree: The Branches Cooper explains "One of the concepts of these albums was to allow elements to transfer from record to record. And kinda let them evolve. Kinda like passing traits from generation to generation."
Cooper, a naturally positive person, despite being scorned by his family, was still striving to create his own version of family, history and longevity. Every track on The Family Tree: The Branches is filled with the most palpable heart and soul.  To be fair, all of Ben Cooper's music is just as rich. Check it out ASAP to get a major dose of 2013 swoon. – Ilana Kalish, New York
---
By 2013, rock band and punk favorites, Paramore, had already been through a lot, and after changing the landscape for the twenty-first-century rock world, it would be hard not to call them a success. Winning mainstream praise from rock lovers and pop-punk devotees alike just after the release of the band's 2007 album Riot! and their second record, Brand New Eyes, Paramore and lead singer, Hayley Williams, suddenly became and still remain, the band for a generation.
Their self-titled studio album, Paramore, was released in April 2013, a little while after the band had been through a rough period of perseverance and growth. From the departure of founding members, Josh and Zac Farro to feeling out of place in their hometowns, pain, anger, and bitterness mirrored with resilience, hope, and belonging are simultaneously present throughout William's lyrics on the record. Still, the heart and truth that exists in rock music emanates through Paramore's songs on the record, leaving all questions about the band's comeback behind.
Someday you're gonna be the only one you've got.
Someday you're gonna be the only one you've got.
Paramore took the band through a pop-fueled, electronic rock essence, and it introduced a new wave of sound different to what their fans were used to. The change brought about huge commercial success for the band. It debuted at Number 1 the US Billboard 200 in its first week of sales, and "Ain't It Fun" was named Best Rock Song of The Year at the 57th Grammy Awards. Created out of darkness, Paramore is easily one of the most breathtaking pieces of art ever made to capture the growth of the Tennessee-based rock band sonically, lyrically, and emotionally. Stepping into the light in bold colors and bright hair, everything about the record still screamed Paramore that everyone knew and loved. It still screamed Hayley Williams, and it still screamed music with heart. – Erica Garcia, Los Angeles
---
Graceful piano playing and riveting melodies infuse Fire Within, sophomore album by British singer-songwriter Birdy, whose delicate tone and vocal ability enhance the body of work even further. The album explores pop in all its versions, from heartfelt piano ballads, to hook laden bops, to playful tunes with a folkier edge to them.
Piano driven, the album showcases the artist's tasteful playing. Combining simplicity with carefully chosen ornamentation, her playing serves the purpose of the song, far from overplaying, yet adding an additional layer. In songs like "No Angel", the elegant melodies intertwine with her singing, whereas in other pieces like "Wings", the piano has a rhythmic function, fueling power into the ballad and establishing the artist as a versatile musician.
Having a dynamic opening, the album takes the listener on a journey, lightening the mood with lively pieces such as "Maybe" and "All About You", to then return to the initial intensity, except this time with a subtly darker tone, closing with "Home", a potent ballad about heartbreak. – Alicia Bugallo, London
---
On October 16th 2013, Janelle Monáe walked into the House of Blues in Boston to perform as part of the Electric Lady Tour, and walked out with October 16th having officially been declared "Janelle Monáe Day" by the City of Boston. It takes a very special kind of performer to achieve such a feat in a single evening, but when I saw the city council appear onstage at the end of the show to recognize her artistry and social leadership, I knew that this honor had been entirely well-deserved. Not just because of the concert itself, which remains one of the most exciting evenings of my life six years later, but also because of the accompanying album, which represented one of the most vital artists of the decade at her most innovative and entertaining.
Janelle Monáe let her creative versatility rage like crazy all throughout The Electric Lady. She got us listeners amped up on the strength of hard rock guitars on "Givin' Em What They Love" and "Electric Lady," then soothed our senses on the hypnotic "Primetime" and "Dorothy Dandridge." In between, she drew us all into the dancefloor of the future on the upbeat "Dance Apocalyptic"– no one could resist her orders to "smash smash, bang bang, don't stop, cha-lang-a-lang-a-lang." She also proved she could collaborate with just about everybody, as A-listers such as Prince, Miguel, Esparanza Spalding and Solange Knowles all made memorable contributions with their guest appearances.
"Oh, what an experience," Janelle exclaimed multiple times on the final track. The sentiment was a fitting one: she had just treated her fans to one of the finest listening experiences they could have hoped for with The Electric Lady. The City of Boston were far from the only ones to recognize just what an extraordinary multi-talent Ms. Monáe had proven herself to be. – Josh Weiner, Washington, DC
---
On Push the Sky Away, Nick Cave and the Bad Seeds are at the skylight attempting, aptly, to escape the heavens falling upon their heads. His lyrical content meanders and weaves its way through "Googled curiosities" and "exotic English Wikipedia entries, whether they're true or not," added Cage in an interview).
Oh let the damn day break
The rainy days always make me sad
Miley Cyrus floats in a swimming pool in Toluca Lake
And you're the best girl I've ever had"
–"Higgs Boson Blues"
"Whether they're true or not" is an important point to Nick Cave's songwriting—most of the stories from his 1996 record, Murder Ballads, are true only after the fact. They seem fanciful until reading about the man behind the "Stagger Lee." Until then they seem the dream of a fevered man about love and murder and love in murder and in that way he is a writer is a lover is a murderer because he fell in love in with PJ Harvey during the recording of "Henry Lee" and then she murdered her love for him and then he executed her publicly for The Boatman's Call. She was no longer a lover but a muse and in his muse he made a slow record for the ages. Transformed her into a waxen raven haired statue which upon he rested his broken heart among "her glove of bones at her wrist" and "her hair of deepest black." You would think this man loved among corpses and wed among graveyards and perhaps that's where the mask falls off, but the writing remains true: he loves this imagined Circe with her "dark hair" on "Finishing Jubilee Street." Even on the calmer transitionary tracks, Cave is devoted to the somber, the violent, the twisted and the beloved. And if his ex-girlfriend is now feature to his personal Madame Tussauds then he might as well fill the collection full.
Be it observing young Londoner as prey for the Brighton boys, ready to devour their beach bodies on the "Water's Edge" or singing belief in "Mermaids" and 72 virgins and the rapture and the "Wide Lovely Eyes" of his wife's face; be it invoking Gwendolyn Brooks and the creation myth for "We Real Cool" or playing Bee's favourite patron from "Jubliee Street" and then fever dreaming her thousand carbon copies for "Finishing Jubilee Street;" be it Miley Cyrus floating facedown in a swimming pool, drowning in the "Higgs Boson Blues." These are all pieces worth time from listeners, even when "We Real Cool" is bare with only pianos, violins and a bass guitar or the tinny groove of "Finishing Jubilee Street" wanders into an impromptu choir or "Higgs Boson Blues" builds momentum upon a single dirty riff from Warren Ellis. They serve template to Cave's writings and obsessions: "['Higgs Boson Blues'] came about because I was in Madame Tussauds with my kids and they were hugging Miley Cyrus's waxwork. Elizabeth Taylor as Cleopatra was in the next room. They were groping Miley Cyrus, and I'm going, well, hang on a second, you've got Elizabeth Taylor here. 'Who?' And that had some impact on me, and that's why she's floating in the pool."
More people will cite Skeleton Tree or Ghosteen as Cave's defining oeuvre for the decade. But these records would not exist were it not for the Dig, Lazarus, Dig!!! comedown of Push the Sky Away. In many ways it is superior in its collection of myriad influences, its sharp percussion, its looping electronica and its sixty pound riffs training the "ten-tonne catastrophe" of Cave's lurid imagination, rumbling down to Geneva to find salvation in Hannah Montana and a good groove. Oh, what a beautiful catastrophe it is. – Ben Niesen, Pacific Northwest
---
Heartland rock came to New York City with gusto and charisma in Animal Years' spirited debut album. Those keen enough to discover this raucous indie band were inevitably exposed to vocalist Mike McFadden's hearty vocals – and for many, it was the juxtaposition of grit and vulnerability that kept them hooked.
Throughout Sun Will Rise, Animal Years injected a charming, all-is-not-lost hope into personal stories of strife, disconnect, longing, and love. Nowhere is this better expressed than in opener "Meet Me," a rugged expression of togetherness and perseverance that captures the small-town drive to break out – not to anywhere in particular, but rather simply away from our current arena. Songs like "Heart on Heart" and "Let Go of Your Head" maintained a more raw and unpolished sound, whilst songs like "Rapture" and title track "Sun Will Rise" expressed the band's folk and country influences.
If one thing can be said with certainty, if is that Animal Years inspired moments of calm, quiet reverie. They invited contemplation, encouraging their listeners to drop everything and just think for a bit. Few bands could wrestle us out of the every day in 2013, and Animal Years did it with sbsoltu
About a year and a half ago, I moved across the country to the middle of nowhere in the Arizona desert. I arrived here and quickly realized that I had made a terrifying decision. I knew no one, and I very quickly felt overcome by how dark the desert at night can get. It was lonely, it was foreboding, and it was just so so dark.
For a few weeks, I dealt with this pit of mild despair and doubt by driving around the desert. I'd leave my brights off, and the world became so close to pitch black as I drove slowly through empty roads, over rolling empty hills. The stars overhead were endless. I felt motion, and serenity, and dread, and awe, all at once.
Almost all those night drives through the wilderness, I listened to Psychic.
Darkside is the sound of Nicholas Jaar's deeply gloomy synths and drum machines combined with Dave Harrington's echoey vocals and tense guitars. Listen to it while you drive around the desert at night and before long you will forget that you have not committed awful crimes that evening, that you do not have a body in your trunk, that everyone in the other cars you pass is not looking into yours, trying to find your misdeeds.
The very greatest art portrays an emotion, a setting, an uncanny feeling in a way that language is not equipped to. Listening to Psychic, you are transported by the music into the dark, yet oddly comforting world of paper trails, golden arrows, and greek light. The blanket of the dark sky peppered with stars covers you, and in a weird way, you feel safe – Jon Hecht, Arizona
It would be a punishable offense to celebrate the start of the 20s without looking back on the greatest homage to the original Roaring Twenties that is The Great Gatsby. No one captured the glamorous spectacle of Fitzgerald's novel quite like Baz Lurhmann in his 2013 adaptation. The film featured an impressive cast, Academy-pleasing performances and some of the most colourfully camp cinematography of the decade.
The real star of the film, however was its soundtrack. Lurhmann called upon Jay Z to achieve the impossible in merging the barbaric energy of the jazz age with modern hip-hop. The result can only be described as the Frankenstein's monster of the 2010 music discourse. Featuring previously unreleased tracks from Florence and the Machine, Beyoncé and the XX, the soundtrack touched on the cornerstone of just about every prominent genre at the time.
There was an element of chaos in the album that seemed to manifest into something that was no longer an accompaniment to the popular film, but a cultural relic in its own rite. Whether it's Emeli Sandé's orchestral cover of Crazy in Love, or Beyoncé and Andre 3000 covering an Amy Winehouse classic, I can't think of a better way to enter the new decade than blaring this cultural abomination that's so wrong, it's right. – Christine Costello, Limerick, Ireland
And then I realize that
We need to use our own
two feet to walk these tracks,
And we have to squad up and
we have to watch each others backs,
When forgiveness is our
torch and imagination our sword
Well I'll tie the ropes of hate
and slash open the minds of the bored
And we'll start a world so equal and free
Every inch of this earth is yours
all the land and all the sea
Imagine no restrictions
but the climate and the weather
Then we can explore space together
Forever
Portugal. The Man have always had an electronic, dance-element that set them apart from the rest of the field. However, the introduction of producer Danger Mouse for their seventh record, Evil Friends, changed everything. From the twisted cover art—which my best (evil) friend painted for me and hangs proudly in my living room—to the ever evolving sound, it was clear this album was something different. 
It doesn't sound like anyone else. Sure there are moments where you can pick out the influence—nothing is made in a vacuum after all—but the merging of Danger Mouse's trademark sound and Portugal. The Man's rock'n'roll made this a truly unique sound. It's intriguing, engaging, and makes your feet move. 
The lyrics are deep without being pretentious, a John Baldwin Gourley classic. Songs such as "Modern Jesus" and "Holy Roller (Hallelujah)" take on his own splintering from a  religious upbringing, an interesting philosophical listen for the believer and non-believer alike.  
And when the wave approaches
Take our ashes to the ocean
Who cares if hell awaits?
We're having drinks at heaven's gate
Don't pray for us
We don't need no modern Jesus
To roll with us
The only rule we need is never
Giving up
The only faith we have is faith in us
We know that we're helpless
At least we always assume
But we don't need to prove nothing to you
Let's keep the cool
You don't need to feel blue
'Cause we won't sell you nothing
You can't use
"Hip-hop kids" is an anthem for anyone, while "Creep in a T-Shirt" dethrones Radiohead as the kings of a song about weirdo misfits. 
Danger Mouse was able to give Evil Friends the ideal amount of dance-pop; not too much that it's overbearing like their follow up Woodstock, or too subtle as to be easily missed like their still-very-good-previous records. Lightning in a bottle has never sounded so good. – Oliver Crook, Halifax, Nova Scotia
We begin in a quiet and open space where every noise echoes and drones, and you hear the pitter patter of guitars, feet, and every creak and crack around the beginnings of a gut-wrenching and profoundly moving album. Whenever, If Ever is the first album from the emo, indie outfit, The World is a Beautiful Place and I Am No Longer Afraid to Die. Yes, such a long name, and true to form with much of the emo revival scene at this time. I love this album. I love this album aside from what it does emotionally for me, because in terms of my music listening history, this album was the first true album I was excited for—in 2013, I finally grasped the kind of music that had the power to encourage and move me, to inspire and enlighten how I wanted to view myself in the world.
Whenever, If Ever is a cacophony of bright guitars, synth and drone tones, punk and post-hardcore drum blasts, and skramz vocals: A true blend into what I would learn later would be the hallmark of a great post-rock sound. The song—or songs—I resonate with are the last two, "Low Light Assembly" and "Getting Sodas". Much like the album's cover, the idea of blindly accepting the risk, jumping off the cliff into the water below, not knowing how bad the chosen actions might hurt, you follow through and run. In "Low Light Assembly," the song ends with:We are all the, all the same. / We are all the, all the same. In "Getting Sodas," the song closes the album with: "Whenever you find home, we'll make it more than just a shelter / And if everyone belongs there, it will hold us all together / If you're afraid to die, then so am I" – Aaron Scobie, Omaha
You'd be forgiven for only knowing Britain's Biggest Band™ by a couple of tracks back in 2012. After their false start for American audiences in 2006 ("I Bet You Look Good on the Dancefloor" anyone?), they slid into relative obscurity album by album. The story may be very different across the pond, but the Monkeys always seemed to take the backburner in the American rock scene. That is, until AM.
This record blew the door right off its hinges for Alex Turner and his ragtag group of childhood friends. It took them from down-the-list festival billings to selling out Madison Square Garden. "Why'd You Only Call Me When You're High," "Arabella," "R U Mine?," and of course "Do I Wanna Know?" still find their home on most Spotify catalogues. So, what happened?
AM was born first on a whim in the wake of their 2011 album Suck It and See. Mixed reviews had many, including their rabid UK fanbase, declaring time of death for the Monkeys. Plus, their shifting style over the past six years had fans coming and going between records, and momentum never grew in their favor. But on a US tour supporting the Black Keys, they wrote a song that changed everything for them – "R U Mine?" The response was immediate. People loved it, and the boys wanted to explore its sound further, recording twelve songs just like it. The resulting album was AM.
And it hit hard. Eschewing the guitar-driven tracks and punk immediacy that put them on the map, the boys went back to their favorite R&B and hip-hop tracks of their youth. They wanted to sound less like four guys playing together in a room and more like something that would sound boss in your car. The drum and bass propulsion of AM's songwriting could have easily been produced by Dr. Dre, and you could take almost any of the album's instrumentals and use them as the backbone of 2014's biggest hip-hop singles.
Alex Turner also veered in a different direction with his vocal delivery, adding plenty falsettos and adopting a conversational tone. He and the band oozed swagger across AM's runtime. And their new aesthetic complimented the tone, sporting leather jackets and pomade in their hair. It was the epitome of cool.
But most importantly, AM made the cultural splash it did because of rock's diminishing landscape. The juggernauts of the American scene had vanished. The White Stripes and the Strokes had disappeared. Elder statesmen like Red Hot Chili Peppers, Foo Fighters, and Green Day had their best albums behind them. The establishment basically had Imagine Dragons and Coldplay left to define alternative rock. Arctic Monkeys were the last band with a spotlight still playing capital "R" Rock & Roll.
AM was the best of two worlds. Sepia-toned nostalgia from rock's past, and a modern statement of how it could conceivably evolve. But instead they vanished, and twenty one pilots picked up the baton and ran in the opposite direction. The musical landscape looks very different in 2019, but AM is still a monument to one of rock's final monolithic peaks. – Anthony Kozlowski, Los Angeles
In 2013, it would have been hard to imagine that a band could achieve global success off of a sound that seemingly transcends genre altogether, but with 15 million monthly Spotify listeners, sold out arena tours and the first album to have each song certified Gold, Platinum, or multi-Platinum, that's exactly what the Columbus-based alternative duo Twenty One Pilots have accomplished.
Following the release of a self-titled album and Regional at Best in 2009 and 2011 respectively, Vessel was Twenty One Pilots' major label debut following signing with Fueled By Ramen, a subsidiary of Atlantic Records responsible for big alt names to the tune of Paramore and Panic! at the Disco. The record granted Twenty One Pilots their definitive sound – traipsing across hip-hop, electro-pop, and even acoustic folk with the occasional ukulele.
However, as an angsty fifteen-year-old unearthing the alternative music scene for the first time, it was frontman Tyler Joseph's lyricism that became the paramount feature that landed this album a place amongst my favorites of all-time. In its entirety, Vessel is a deeply personal examination of the most covert corners of Joseph's psyche – exploring themes of love, loneliness, and personal identity. Essential alt-pop anthem "Car Radio" divulges the revulsions of forcibly being alone with your thoughts, with reflective lyrics, "sometimes quiet is violent" becoming the face of the group's second headlining run under Fueled by Ramen, the "Quiet is Violent World Tour". On the other hand, ukulele folk track "House of Gold" is a lighthearted ode to Joseph's mother – persisting a theme of Joseph's entrenched family values (as highlighted by Vessel's album art, featuring the grandfathers of both Joseph and the band's drummer, Josh Dun). It was these elements, including the defiance of seemingly all rules of radio and mainstream aesthetics, that made Vessel a fan-favorite persisting among the Top 40 charts to this day. – Harper Beattie, Boston
Bushwick by-way-of Copenhagen trio New Politics found their voice in a sophomore album rife with energy that is quite literally bursting at the seams. A Bad Girl in Harlem presents a firebrand form of indie rock built off dynamic pop bombast and heart-on-sleeve intensity, but the best part about New Politics is just how excited they are to have you, the listener, join in on their reverie. The band's opener "Tonight You're Perfect" immediately embraces the current moment, setting the scene with massive "oh" chants while hinting that there may be more to the big anthems than meets the eye. Hit single "Harlem" hits like no tomorrow, an explosion of electricity once again dwelling the here and now – because after all, that's all we've got in this world: Whatever present we're currently in, that's what we have.
While New Politics excel at anthems, they are more than just musical blasts of TNT: Power-ballad "Stuck on You" shows a softer side that balances out some of the frenetic oomph driving the rest of the album. Nevertheless, A Bad Girl in Harlem is by no means a light or easy-listening record. Fiery numbers like "Give Me Hope" and "Goodbye Copenhagen" find New Politics doing what New Politics do best: They knock the audience over with passion and verve. That's the tone set throughout A Bad Girl in Harlem – New Politics are a powerful force not to be underestimated or taken for granted. – Mitch Mosk, New York
It didn't even release in the United States, and yet The Royal Concept's Goldrushed is easily one of my favorite indie pop albums of 2013. Whereas so many bands came to prominence with one-off hits in the early-mid 2010s, few of the "indie pop" hoard had quite as consistent a stream of bangers as this singular Swedish group. With a knack for fat bass riffs, deep rhythms, and brilliant melodies, The Royal Concept invited their listeners to dance, move, and groove the night away in style. The heavy pulse of "World on Fire" opened the album with a ringing in the ears. Guitars erupted alongside vivid synths and layered harmonies to signal the start of something exciting and fresh. "D-D-Dance" electrified the air with its invitation to get up and get funky. The vibrant "Cabin Down Below" – a true highlight of the year – weaves its poignant tale of longing and desire through a hearty rush of palpable, aching emotion.
In point of fact, every track off The Royal Concept's debut album is a catchy, good time. The band take us through moments of hardship and self-doubt just as they do points of celebration and revelry: With a glistening zeal and obvious, finely-honed love for their craft. I may not have had the chance to buy Goldrushed outright, but it is nevertheless a top catch for the year and a bustling display of rich indie pop/rock power. – Mitch Mosk, New York
Hailing from Utah, The National Parks' inviting folk rock has always felt like a fitting nature soundtrack – a quality that began in the lush brambles of their 2013 debut. Young is a coming-of-age album rich with vocal harmony and acoustic warmth that can't help but smile at the wonder all around.
The album's finest moments occur in its bookends: "Helsinki" is a worthy introduction to The National Parks' folk identity full of earthen goodness and excitement. It flows into the searing "Birds Eye," whose chorus of change and longing bites with the sort of ragged ache that comes with time's learned pain. Meanwhile, the gorgeous sentiment and golden vocals gracing "Wind & Anchor" make it a moving love song that will get stuck in your head for years and years to come. They may not have garnered as much acclaim as acts like Blind Pilot or The Head and The Heart, but The National Parks' debut is a fierce folk rock outpouring and a special listen for all who discover it. – Mitch Mosk, New York
"Give music back to life, give life back to music," Daft Punk sang in their techno-distorted  voices on the opening track of their fourth album, Random Access Memories. True to their word, the Parisian duo then delivered over an hour's worth of the liveliest, most energetic music they had ever produced in their twenty-year career. The entire planet got to join in the celebration with "Get Lucky," far and away the biggest smash hit Daft Punk had ever produced and one of the greatest sensations of the year (if only the all-conquering "Blurred Lines" hadn't been there to block it from the top spot on the Billboard Hot 100 all summer long). Those who chose to dive deeper into the accompanying album were rewarded many times ever, from the equally-infectious Pharrell-Daft Punk collaboration, "Lose Yourself to Dance," to the gleeful plea to spend the entire evening rocking out on the dancefloor, "Doin' It Right," and much more in between.
Random Access Memories batted a rare 1.000 at the Grammy Awards, winning five trophies out of five nominations, most notably a well-deserved Album of the Year. Outside of the Recording Academy, it was clear to all that Daft Punk had delivered the defining album of 2013. That much is still apparent today, when several years have gone by but the music on Random Access Memories remains as fresh and invigorating as always. – Josh Weiner, Washington, DC
— — — —