In "First Time," Inspired & The Sleep orchestrate breezy surf rock bliss and remind us why it's beautiful to be vulnerable with another human being.
— —
In the beginning of any relationship – friend, partner, professional, etc. – there's a lightheartedness and elation. The rush of joy directly causes an opposing caution to not cause confrontation. Making a new friend, finding a new lover, or starting a new job fills us with excitement, jubilation, and opportunity. Then we reach a tipping point where we decide if the relationship will consist of only surface-level interactions or will become a relationship we cherish – a relationship worth writing music about.
"First Time" – Inspired & The Sleep
---
Atwood Magazine is proud to be premiering Inspired & The Sleep's "First Time," the duo's first release of 2018 as well as their first true venture outside of dream-pop. "First Time" bubbles with surf-rock vibrations and bounces with electronic, echoing vocals. Comprised of singer-songwriter Max Greenhalgh and multi-instrumentalist Bryce Outcault, this team utilizes their California influences more than before to create breezy rock bliss. Although magic lies woven within the melodies, the story caught my adoration almost instantly.
I'm not the best with words its true
The thoughts, they don't seem to cut through
When there's so much
To be said
I know sometimes I bring you down
There are no answers that I've found
Ruminating
In my head
The anticipation of any foreboding situation tends to worsen the actual situation. Confrontation – for most people – provokes apprehension, fear, and anxiety; the apprehension of rattling the other person, fear of slipping on a single incorrect syllable, and the anxiety that this conversation will result in our worst fears. Yet, the willingness to be open and vulnerable with another can actualize a closeness some humans experience only once in a lifetime.
I caught you nervous for the first time
It's not the easiest to get inside
I feel the warmth that you provide
I see it happening all the time
Furthermore, the 'first time' dimension of this situation stirs the stomach butterflies of youth and the goosebumps of an easier time. Red rushes to your cheeks with the opening line of the chorus as your memory travels to your first car's driver seat or high school crush's bedroom floor. Inspired & The Sleep said, "The song is also very personal and conveys that universal feeling of opening up to someone for the first time when you're in a relationship and what that vulnerability means."
Vibrancy guides this track along xylophonic twinkles and a rhythmic drum pattern. These sounds feel distant from their 2015 deeper Eyelid Kid EP, but related to the 5-month old AVO EP. Clearly, these two musicians brew with more spices in their cabinet than the industry initially anticipated.
"First Time" is out everywhere tomorrow, 4/6/2018. Fans in Southern California can catch Inspired & the Sleep at two upcoming shows at San Deigo's Belly Up Tavern on 4/12/2018, and Los Angeles' The Satellite on 4/17/2018!
— —
— — — —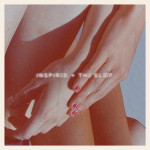 ? © 2018
:: Inspired and the Sleep ::