Warm vibes and positive energy go a long way in music. With all the clutter and noise in the world, sometimes the best medicine is a piece that lets you close your eyes and sink away – and Brooklyn's The Visions have concocted just the thing. "Oceans," which Atwood Magazine is proud to be premiering, is an intoxicating blend of rhythm and melody that heightens the senses and eases the mind.
Oceans, it's the feeling
Swimming in your oceans
Feel it, oceans
Got it? Oceans
Watch: "Oceans" – The Visions
---
A slow, deep flow beats from the heart of The Visions' latest single. The trio of Ben Sugarman, Michael Sugarman, and Ryan Brooks captures the transfixed feeling of infatuation with a heavy, pulsing synth and tantalizing percussion work. The lyrics are like icing on the cake, tying everything together while it explores various melodic lines. The result is an experimental, smooth fusion of R&B and electro that gives rise to strong emotions that simply can't be expressed by words alone.
I don't want to go
I don't want you to leave
So please don't go 
Stay right here, stay right here
And baby let me show you
I'm gonna show you
Show you
Show you what it's all about
"Oceans is really driven by the MPC and the percussion of the synth chords," agrees the band. "Together they create this tension and release that felt like waves, or currents. Hence, 'Oceans.' So naturally we were drawn to that vibe and just stuck with it."
As the song progresses, the music steadily grows. The synth oscillation gets heavier and the backbeat gets stronger, driven by the narrator's desires. Our basic, primal instincts were not designed with patience in mind; we want what we want, when we want it. There's no denying that truth: Though we may try to do so and bury our impulses, lust is a formidable enemy and dangerous friend. Underneath that musical manifestation of impatience is a fiery passion – a youthful burning glow that shines brighter and brighter.
It's about time you, change your mind
Gonna take time, time
But I'm gonna change you
Change it
The Visions keep the '80s alive with their own spin on a sultry sound. You can get up and dance, or shut your eyes and sit back: Either way, you'll be submitting yourself to the full force of "Oceans." This isn't a crush; this is full-blown enamoration. With an EP set for early 2017 release, The Visions are ready to take their hypnotic force to the next level. Enjoy our exclusive stream of the entrancing "Oceans" visual, with art designed by Gonzalo Guerrero, and look out for more from the Brooklyn trio in 2017.
— — — —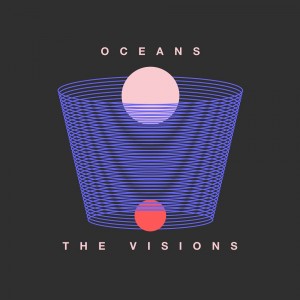 Connect with The Visions on FB, Twitter, Insta
cover © Jonathan Shugarman