Joey Dosik surpasses the expectations set by his previous musical endeavors with his debut album's title track – "Inside Voice" – showing that he is truly a master at his craft and that he owns every note he hits.
— —
Joey Dosik is a surprise. Meaning that upon first glance one might write him off once they catch wind he is a soul singer, but as soon as he opens his mouth an onrush of sultriness permeates the area around him.  It's soft, tender, and at times plaintive, giving him a sound that is uniquely his. Whether it be an intimate ballad or a winning anthem about his favorite sport, Dosik carries these tunes with a serene quality that is equal parts thrilling and sexy. Dosik showcases his vocal work gorgeously on his debut album's title track – "Inside Voice."
Listen: "Inside Voice" – Joey Dosik
[soundcloud url="https://api.soundcloud.com/tracks/444668676″ params="color=ff5500&auto_play=true&hide_related=false&show_comments=true&show_user=true&show_reposts=false" width="100%" height="166″ iframe="true" /]
---
The L.A. based singer is most commonly associated with the funk and soul band Vulfpeck, often collaborating with them on their own tracks as well as assisting in covers of his own songs. It was a small taste of the talent that Dosik carries, but then in 2016 the Game Winner EP released, shining a light on his emotive ballads. The EP had a swagger about it that tied together with the themes of basketball expertly. Mix that in with gospel melodies and an instant classic was born. With his debut, Dosik is able to fully emerge and show just how powerful of a musician he really is.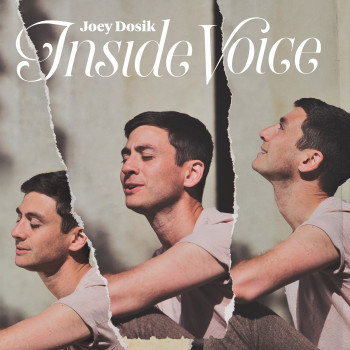 There are things I could only tell you quietly
That's why I wanna get inside
And use my inside voice
Ain't to proud to tell you, and girl I hope
That you get the message
When I use my inside voice on you
"Inside Voice" begins with snapping fingers, a delicate piano melody, and subtle guitar arrangements, all wrapped together with those signature silky vocals. The track only builds from there with a slick bassline and strings accompanying the rest of the harmonies. When blended together, a soulful and sweet tune is created that harks back to styles introduced in the '70s.
I ain't gonna scream and shout it
I ain't gonna send it to your phone
Just get in the same room
I ain't gonna write a letter
Cause you'll hear it so much better
It's a seductive and silly anthem whose theme echoes throughout the entirety of the song, and his lyricism ties directly into his craft. The musicality and song craftsmanship on "Inside Voice" is so stylized and has a unique mix of a slow, almost languid buildup that turns into a bustling out roar of confident vibrato, showing that Dosik truly owns every note he hits.
---
The silliness of the track is the focal point in the music video. Directed by Carlos Lopez Estrada, the video starts off normally with a shot of Dosik serenading the room as chefs in the background are preparing a meal for him to serve. The viewer then sees a couple, and one might expect the fireworks to occur from the two individuals, but what would the fun in that be? No, this video is a tale of love between a clam and a meatball. We see the two foods enjoy a nice evening on a boat ride adventure under the stars that ends with a framed portrait of a small clam and meatball family. A brilliant ending to one of the most thrilling and confusing love stories in music history. Truly a pioneer.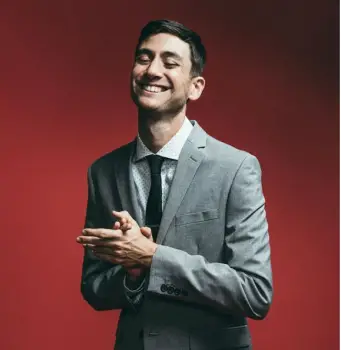 Outside
I've got trouble hearing outside
Trouble feeling inside
There's a way to make you see
What you mean to me
Ooooh
Dosik has shown what he can bring to the table in the past, but with this title track, he truly delivers on the expectations set. He has blended a mélange of styles ranging from smooth jazz and soul into a contemporary piece of music that still holds true to tradition while deviating just the right amount to make something immensely special. It's sexy, it's seductive, it's fresh, and it will get your grooving for hours on end. Inside Voice releases August 24 via Secretly Canadian, and we are looking forward to hearing what the album will bring!
— —
— — — —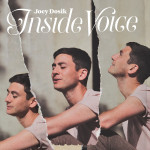 ? © Rog Walker
:: Stream Joey Dosik ::
---
:: Joey Dosik Tour Dates ::
* = w/ Vulfpeck
Fri. Aug. 24 – Los Angeles, CA @ Troubadour
Sun. Aug. 26 – San Francisco, CA @ The Independent
Thu. Sep. 6 – Portland, OR @ Doug Fir
Fri. Sep. 7 – Vancouver, BC @ Wise Hall
Sun. Sep. 9 – Seattle, WA @ The Crocodile
Sun. Sep. 16 – Templeton, CA @ Whale Rock Music Festival
Fri. Sep. 21 – Brooklyn, NY @ Kings Theatre *
Sat. Sep. 22 – Brooklyn, NY @ Kings Theatre *
Tue. Sep. 25 – Copenhagen, DK @ Store VEGA *
Wed. Sep. 26 – Copenhagen, DK @ Store VEGA *
Fri. Sep. 28 – Paris, FR @ Olympia *
Mon. Oct. 1 – Dublin, IE @ Olympia Theatre *
Tue. Oct. 2 – Dublin, IE @ Olympia Theatre *
Thu. Oct. 4 – London, UK @ O2 Academy Brixton *
Wed. Oct. 10 – Washington, DC @ Pearl Street Warehouse
Fri. Oct. 12 – Philadelphia, PA @ Boot & Saddle
Sat. Oct. 13 – Brooklyn, NY @ Baby's All Right
Sun. Oct. 14 – Allston, MA @ Great Scott
Wed. Oct. 17 – Toronto, ON @ The Drake
Thu. Oct. 18 – Ann Arbor, MI @ Blind Pig
Fri. Oct. 19 – Chicago, IL @ Sleeping Village
Sat. Oct. 20 – St. Paul, MN @ Turf Club
Tue. Oct. 30 – Berlin, DE @ Auster Club
Thu. Nov. 1 – Copenhagen, DK @ VEGA – Ideal Bar
Tue. Nov. 6 – Zürich, CH @ Exil
Thu. Nov. 8 – Paris, FR @ Badaboum
Sat. Nov. 10 – Sun. Nov. 11 – Dublin 2, IE @ The Sugar Club
Mon. Nov. 12 – Manchester, UK @ Soup Kitchen
Wed. Nov. 14 – London, UK @ Islington Assembly Hall