With the silky vocals and delicious guitar riffs of "A Part of Me," Justin Levinson lets us know he is not quite through with music.
— —
Justin Levinson is in love: That is clear from his latest tune, "A Part of Me" featuring Anna Nalick. The meandering jazz standard serves as the perfect companion for a rainy day. Soft guitar riffs drift across cobblestone streets newly slick with rainfall — it's the musical melancholy of heartbreak peppered with a love that goes beyond human comprehension. Who could this whimsical tale of love and heartbreak be about?
Some might say it's a woman, perhaps represented by the sultry sound of Anna Nalick's voice circling and swirling into Levinson's, creating a sound as rich and thick as a triple chocolate cake. As delectable as that sounds, this song is not about a woman – but Justin Levinson's relationship to music itself. After he took a year off from writing and performing, this silky jazz standard sparked some kind of magic.
Sometimes I'll see your face
Through a distance
you're calling my name
I'll think I've moved on,
then I'll hear our old song
As if somebody knew,
that a part of me
still loves part of you
Stream: "A Part of Me (ft. Anna Nalick)" – Justin Levinson
---
Atwood Magazine is proud to be premiering "A Part of Me," Justin Levinson's brand new single. A 33-year-old singer/songwriter from Vermont, Justin Levinson released his debut album 1175 Boylston twelve years ago, while still a student at Berklee College of Music. He most recently released his fifth studio record, Yes Man, in 2017.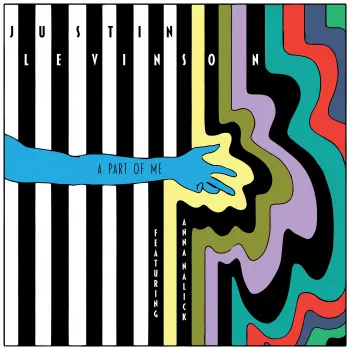 "In November 2017, after my last tour in Europe for the Yes Man record, I started to re-think everything and this whole touring artist lifestyle in general," Levinson tells Atwood Magazine. "I decided to see what my life would look like in 2018 without music… This year, I haven't been writing and only performed one very low profile show in Los Angeles… In a lot of ways I've found it relieving, but also really heartbreaking. A few months ago my friend Stein Malvey of The Four Freshmen came over and we started noodling on this jazzy progression. Though '60s-inspired pop has always been my niche, my two favorite jazz standards are "Someone to Watch Over Me" and "Moonlight In Vermont"… I was really trying to capture some of that type of magic. For a while I was stuck on the changes, but my producer Adam Popick came up with that beautiful 2-5 bridge. After that, the lyrics just flew on the paper!"
Levinson's glossy tenor gives way to Anna Nalick's intoxicating alto:
I don't walk our old street
Avoid places where we used to meet
Though love couldn't outweigh
all the heartache and pain
I'll be lonesome it's true
'cause a part of me
still loves part of you
Levinson explains, "Once the track was competed, I really could hear a female vocalist and decided to ask my friend Anna Nalick to sing the duet. Anna and I have toured together in the past and I truly admire her. She's such a monster talent, a kind and humble human being. This song has sort of re-kindled the musical flame in me. Though I may not tour in the same capacity as I have over the last decade I've decided to begin composing a new record!"
"A Part of You" is a tragic love song — a passion once fiery and intense, dulled to a labored drip or even a chore. Maybe that passion is not quite restored to its full potential, but it still burns deep within. Each jazzy chord is a log added to the fire as Justin Levinson breathes new life with glossy harmonies. Line by line, note by note, Levinson lets us know that the fire is not quite out.
When I think I'm alright,
doing just fine, knowing it's best that I'm free
That's when you'll
appear in my dreams, like it used to be
When all of you still loved all of me
I know it's too late
we're no good I'm afraid
I'll be forever blue
cause a part of me
still loves part of you
"A Part of Me (ft. Anna Nalick)" – Justin Levinson
— — — —
? © 2018
:: Stream Justin Levinson ::