Atwood Magazine had the pleasure of interviewing Aubrie Sellers and Jade Jackson. We chatted about their wonderful friendship, their record 'Breaking Point', and Sofia Coppola.
•• •• •• ••
It's so obvious when two artists are destined to meet and create a piece of art together. It's a bit like love at first sight, it's artistic and unique chemistry that immediately makes you understand that it will lead to something good. As a listener, it's even easier and more immediate to understand when this magical mechanism happens.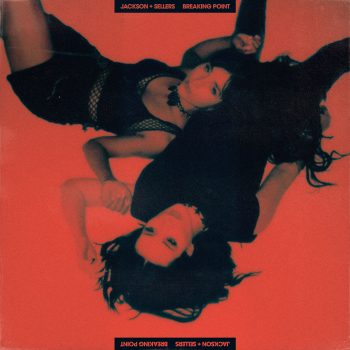 You can tell by the way the voices interact with each other, by how much the final result succeeds in putting together the artists' personalities without making them an anonymous mess. They enhance and complete each other, they create such a spontaneous and harmonious flow of sounds and words that you could think the piece was born from a single mind. It's a fascinating process and yet another example of how music can join two souls in a way that nothing else can.
And what happens when two powerful, confident women like Aubrie Sellers and Jade Jackson work together? The result is Breaking Point, a coherent album that is a pleasure to listen to. With influences ranging from 60's rock to classic country, the two artists have created a very fun record that suggests how well they worked together.
Sellers and Jackson are two free spirits who have found in creating this duo the perfect way to express their thoughts in a chaotic time like the pandemic.
The birth of Breaking Point could be compared to "La ginestra" ("The Broom"), Italian poet Giacomo Leopardi's moral testament. The broom is a beautiful, peculiar flower because it grows even in the driest conditions, even near volcanoes. For this reason, the poet considers it a symbol of hope, tenacity, and resilience, a wonderful thing that's born even when there's complete chaos around it. Likewise, the friendship between Jackson and Sellers (and the creation of Breaking Point) reminds us of the magic that music can create even in a situation that has isolated us like never before.
Atwood Magazine had the pleasure of interviewing Aubrie and Jade; we chatted about their wonderful friendship, Breaking Point, and Sofia Coppola.
Stream: "Waste Your Time" – Jackson+Sellers
A CONVERSATION WITH JACKSON+SELLERS
Atwood Magazine: BREAKING POINT: WHY THIS TITLE? DO YOU THINK YOUR MUSIC COULD BE A RESULT OF REACHING A BREAKING POINT?
Jade Jackson: This record came together very quickly from when Aubrie and I initially met. We had the intention to do just one song together, maybe two. The label then responded that they wanted an entire record, so we had to move quickly. We were sending each other songs, 'cause we didn't live close by. She sent me "Breaking Point" and I remember I really connected with it from what I was going through at that time, the relationship I just ended… I felt like it was written for me and immediately connected to it.
Then, when thinking about the record title, we thought about the state of the world and decided it was an appropriate title – if you look at it positively. When you reach a breaking point you either crumble, which I think we've all done, or you create something cool. I feel like this record represents this other side of the breaking point.
Aubrie Sellers: We've had so many challenges in our solo careers and everything about this project came together so easily that we could say it was magical. We've been asked about the challenges we faced with this record, but we genuinely didn't face any! It's amazing 'cause it's normally not that easy, so we see the breaking point like a breakthrough, a positive thing that's happened.
HOW WOULD YOU DESCRIBE THE MOMENT WHEN YOU UNDERSTOOD THAT YOU TWO WOULD WORK GREAT TOGETHER?
Sellers: We played back to back at Americanafest in Nashville in 2019 and that was our first exposure to each other. Then she reached out to me with the song "Hush", which ended up on the record – it was a song she was thinking maybe I could sing backgrounds on. She came down to visit me at my house in L.A. at the time and we recorded the demo for "Hush" and "Has Been" – that has been the first day that we met. It's been a year now since we recorded the album, so we've had this time to get to know each other as well.
Jackson: Yeah, we met that one time in person before and then we were literally in the studio, so luckily we got along really well.
WHAT'S ONE THING YOU ACTUALLY LIKE ABOUT BEING SOLO ARTISTS AND ONE THING YOU LIKE ABOUT WORKING TOGETHER?
Sellers: As far as working solo we both like writing, I think. We write really personal things about ourselves, so it can be hard to collaborate because of that. About being with each other, we enjoy being able to do everything together, including interviews. We're both introverted, and it's really nice to be able to share that with someone else. It can be pretty isolating and lonely to do solo artists' stuff, so we've enjoyed that part of it. We also write together really easily! We only wrote one song together, but it was very easy.
Jackson: Yeah, there was never any awkwardness or strangeness, we just bonded really quickly. It's very rare, we've been doing our own thing for a long time and hadn't had this type of experience collaborating with other artists.
IT LOOKS LIKE YOU HAD LOTS OF FUN ON THE PERFORMANCE VIDEO OF 'THE DEVIL IS AN ANGEL', I LOVED WATCHING THAT! WHAT SHOULD WE EXPECT FROM A JACKSON+SELLERS PERFORMANCE?
Sellers: We got to play a few shows, things are still weird but they're kind of opening up, so we got to play a show in Alabama, and a few ones in the Americanafest. It was really fun because we got back up the band we recorded Breaking Point with – and that's cool because it's not something you'd usually take on the road.
Watch: "The Devil Is An Angel" – Jackson+Sellers
WHAT'S ONE SONG FROM BREAKING POINT YOU THINK SOUNDS EVEN BETTER LIVE THAN IN THE STUDIO?
Jackson: That's a hard question… On the second night we played at Americanafest (we played for three days) we played this one song that for whatever reason immediately clicked and made everyone connect.
Sellers: Which one, "As You Run"?
Jackson: Yeah, I felt like there was a sort of imaginary rainbow, and everyone connected. It doesn't just have to do with us or our performance but with the audience, how people received it.
YOU HAVE A PLAYLIST ON SPOTIFY WITH YOUR INSPIRATIONS. THERE'S NIRVANA, SUZI QUATRO, THE CRANBERRIES, THE B-52'S, AND MANY MORE. HOW DID THESE ARTISTS IMPACT YOUR MUSIC?
Sellers: Yea, Ethan Ballinger – who co-produced Breaking Point and played guitar on it – came up with a playlist with a list of our influences. It was more about the mindset of what we wanted to record to sound like when we went to the studio. A lot of it is getting the right band together, and then leaving things open to interpretation and waiting for the magic to happen, if you will.
We try not to dictate what we're going to do specifically, it kind of sucks a little bit of the magic out. We listened to a lot of country music while growing up, we also have rock influences – we still want this record to sonically resemble like 60s and 70s rock. The drums, the bass, that's what we were thinking while creating the record at that time.
YOU CLAIMED ''THIS IS AN ALBUM THAT PAYS HOMAGE TO UNIQUE, INDEPENDENT WOMEN WHO CREATED THEIR OWN PATH, WROTE THEIR OWN SONGS, HAD THEIR OWN SOUNDS.'' WHAT'S SOMETHING YOU WOULD LIKE YOUR LISTENERS TO TAKE FROM YOU BOTH AS ARTISTS AND WOMEN? .

Jackson: For me, this project was different than anything I've ever done. It was such a freeing and recreative process, there were no challenges really. We recorded it at a time when I would open up and express myself during a very negative time in the world. Getting in the studio was such a blessing, being there and recording the songs without knowing if we'd ever actually get to perform them made us home in on the songs.

We let them take us to where they wanted to go, rather than thinking about what genre they should be placed into, or who's gonna play them. It's a beautiful and personal thing, I feel like if you choose to do art and it becomes your financial income there's this weird gray area where sometimes you subconsciously might start creating with this end goal in mind. It's important, I hope Breaking Point reminds people to focus on why you started that craft and getting into that, rather than thinking about the outcome.

Sellers: Yeah, I read the book Big Magic by Elizabeth Gilbert, and this concept immediately connected with me. It's about how you can separate your creative endeavors from the business aspect of it, I think that's important to remember that. People hang too much on their creative endeavors, they feel like they constantly need to achieve something but it shouldn't be about that. It's great if you do, but you have to remember how the joy of creating feels.

Jackson: It changes the vibration! Breaking Point had this spontaneous, beautiful friendship random and fun vibration, and that's the sound you hear! I'm super excited people are interested in it.
WHAT'S YOUR FAVOURITE LYRIC FROM THE ALBUM AND WHY?
Jackson: That's hard, every song is important in its own way, from day to day we might like one song more than another. They're very much like children, choosing is like saying "oh, I like my son's blue eyes more than my daughter's brown hair!" It is very strange, but I love the imagery Aubrie creates in her writing and how she uses really cool words. I just love songwriting, that's the thing I like the most about creating music. So, we use cool words like in "Fair Weather", we use terms that you don't really hear and turn them into something new. I feel like Aubrie does that really well.
Sellers: I like "Waste Your Time", for some reason. Jade's much more lyrically driven, I'm much more musically and production driven and so I just really enjoy not only the lyrics of the song but what the spirit of the song is.
AUBRIE, I READ AN INTERVIEW WHERE YOU SAID THAT YOU GREW UP IDOLIZING LOTS OF ACTORS AND ACTRESSES. IS THERE ANY MOVIE OR TV SERIES YOU WOULD HAVE LOVED TO BE FEATURED IN?
Sellers: Probably a million, when we met I was living in L.A. because I was in acting school when I was younger. I love acting and yes, I would have loved to be in any Tarantino or Sofia Coppola movie! I also love political thrillers like "House of Cards", "Damages", and the movie "Marie Antoinette" by Sofia Coppola.
HOW DO YOU FEEL YOU CHANGED AS PEOPLE AFTER CREATING BREAKING POINT?
Sellers: I just realized how much I enjoy doing all of this with another person, you know. I was really caught up in my own music and stuff, but I realized that a collaboration could possibly be even more enjoyable. That's been my experience, I'm looking forward to maybe doing more at some point!
Jackson: Yeah, this record has definitely been a turning point in my life, personally and musically in so many ways. I always clung very tightly to the results of things, I put so much pressure on myself. I think about how well I'm gonna do, if I'll be able to support myself and my mom. There are all these doubts, while I'm just trying to create something.
This experience made me remember that the reason why I started making music was that it healed me and it made me feel like I was connected to the universe, it's like my little outlet. This reminded me that you don't have to get jaded, there are projects out there and things that can give rebirth to you and your own craft. This is one of them for me.
I KNOW IT'S A BIT EARLY TO TALK ABOUT IT, BUT IS THERE ANY CHANCE FOR ANOTHER JACKSON+SELLERS WORK, IN THE FUTURE?
Sellers: I hope so, I'm into it!
Jackson: Yeah, me too! We've been working so well and I think that the main part of it is just how fluid it's been. So, I have a pretty strong intuition that we'll meet again, for sure.
— — — —
 © Ashley Osborne
:: Stream Jackson + Sellers ::
---