Every other week, Anthony Kozlowski pens the Atwood Magazine column Tunes & Tumblers, pairing new and classic albums with cocktail recipes. He quickly found however that drinking alone is a sad business. So he invited his friends into a recording booth to aid in mixing delicious drinks and to discuss the music that they all love. Strap on your headphones and enjoy a cold one on us. 
 
Join the Tunes & Tumblers regulars for a new monthly segment where we roundup our tops, bottoms and in-betweens of the past month. This week, in honor of the 4th, we gather for chit-chat that's about as patriotic as this country deserves.
   
words by Lilly Eason
On this week's episode of the highly decorated and deeply patriotic (wink, smirk, sarcasm) podcast Tunes & Tumblers, the regulars throw America the birthday bash of the century, remembering every song that reminds us of what this place stands for and every drink that helps us forget. Guest-free, the regulars get real, raw and uncensored (except for Drew's well-needed edits for time) about this place that we call home. For tangents, tales, and talented talkers, tune in.
Check out our newest episode of Tunes & Tumblers on Spotify and Apple Podcasts. Cheers!
Have your own idea for a Tunes & Tumblers pairing? Let us know in the comments, or hit us up on Twitter.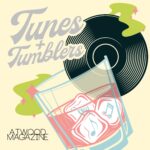 © Kaylyn Wiggenhauser
design by Kaylyn Wiggenhauser
---