Tash Sultana is an artist that can't be labeled. She's more than a singer/songwriter, with heavy stress on psychedelic instrumentals. She's not indie pop, yet not alternative rock. She's not reggae, but could very well be considered a combination of all: nothing short of a jam-band inspired rock star.
Sultana began her career in Melbourne, Australia, "busking," or performing on city streets. The street influence is prevalent in her music, filled with sounds of candid improvisation and unlikely instrumental combinations. The one-woman-band gained exposure in public performances and YouTube views, growing a fan base broad enough to sell out shows in Australia, and now, concert halls around America.
Today's song, "Jungle," written and performed by the 21-year-old musician, perfectly captures all that is Sultana, from mellow mood to intricate vocals.
Listen: "Jungle" – Tash Sultana
[soundcloud url="https://api.soundcloud.com/tracks/281556850″ params="color=ff5500&auto_play=false&hide_related=false&show_comments=true&show_user=true&show_reposts=false" width="100%" height="166″ iframe="true" /]
---
The instrumental heavy track shows Sultana's dedication to authentic music, completely free of pressure to perform. The track opens with an instrumental intro just shy of two minutes long. It's fully immersive in layers of convoluted electric guitar, manipulated using a loop pedal. The intro has a DIY feel in a perfectly raw way, a grouping of sounds crafted on individual levels, flawlessly disconnected, yet harmonized in a way modern rock artists rarely dare to experiment. The collection of layers encapsulates listeners and immediately immerses them in the world created by Sultana, a world of slight darkness and musical empowerment.
"Jungle," written about falling for another individual, shows the fluidity of Sultana's lyrics in lines like, "But you throw me into the deep end, expect me to know how to swim and I put my faith inside my hands cause I will be just fine." While the lyrical content of "Jungle" is up to any standard of good writing, it's Sultana's delivery that makes the song come alive. In contrast to the instrumentals in layered formation, Sultana's lyrical pronunciation takes on new forms in individual context. The chorus is a mellow song, lines sung sweetly. The first verse is a bit more manic, with more vocal exploration. The second verse is a fast-paced almost rap, which takes the track to a new level of provision. Together, the mismatched deliveries make for a song completely fresh at every turn, a truly special example of Sultana's talent in each line.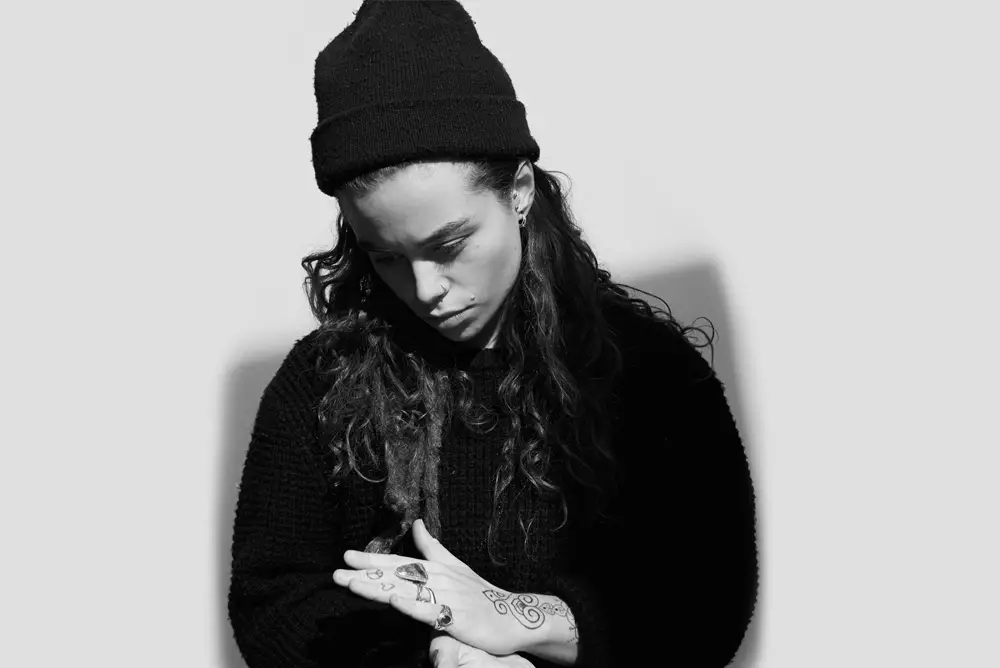 Sultana's debut EP, Notion (released 12/19/2016 via Lonely Lands Records/Mom+Pop Music),  displays the best of every angle, including live performance. "Big Smoke, Pt. 1 (Live)," captures the personal feel of the one-woman-show. The 11-minute track is immersive in all the same categories as "Jungle," and only expands on the experimentation and talent of Sultana, as she even showcases her beatboxing skill along with her basic song structure. The live performance is just as mesmerizing as any pre-recorded track on the EP. The collection's title track, "Notion," shows a softer side to Sultana, submerging listeners in an angelic ballad. Notion shows every side to the variable artist, each just as good as the last.
In one EP, even just one song, Tash Sultana has proven to be fearless. Her sound is complex, with loop pedal layers and intricate lyrical escapades. Still, today's song, "Jungle," live or recorded, sounds as if she picked up her guitar and just began playing. It's this live quality that makes Sultana's work so intimate, as if you're watching her on the street in Melbourne, or in your own living room. It's a connection lacking in much of modern music due to the pressure to sell records and fit into a genre. Tash Sultana, however, is untainted by it all, even seeming to create her own genre in order to fit her musical wishes.
— — — —
cover: Tash Sultana © 2017
Notion EP – Tash Sultana
:: Tash Sultana Tour Dates ::
(s/o = sold out)