British singer/songwriter Allman Brown dives into his intimate and introspective 'Reflections' EP – a collection of three distinct songs, each of which captures his lyrical depth and musical breadth with a different canvas.
Stream: 'Reflections' – Allman Brown
---
But now I'm just an echo, from some place long before…
British singer/songwriter Allman Brown has been running for a long time, making a name for himself as a talented independent artist on record, on tour, and more. Since 2013's debut EP Sons and Daughters, Brown has been seen as something of a hustler – the kind of artist that appears to give all of himself to his music and his career, seldom second-guessing this action because this is how it was meant to be for him. We know, of course, that humans are far more complex than such a simple description will allow; cognitive dissonance is a tricky thing, after all – and yet, Brown's 2017 debut album 1000 Years and 2019's follow-up Darling, It's Be Alright – not to mention the sundry tours he's been on over the past four years – reveal the highest echelon of concentration, dedication, passion, and conviction.
It only feels right that Brown might take a second to step back and relax a bit this year, but even stepping back has given him the opportunity to take two steps forward. His intimate and introspective Reflections EP is a collection of three distinct songs, each of which captures Brown's lyrical depth and musical breadth with a different canvas. It's a brief smorgasbord of nuanced sounds and textures that connect on a higher level, and speak to Brown's continuing talent.
Back again
In this city where I used to have friends
That was then
But now I'm just an echo, from some place long before
Strangers looking back at me, everywhere I go
Has it been so long since I was young?
Where have all of those years gone to?
Released August 14, 2020, Reflections is a special ten-minute snippet of Allman Brown's greater musical memoir. "I feel like I have the confidence to try new things and to put out an EP with three diverse songs of varying vibes," he tells Atwood Magazine. "Also, I really enjoy the fact that I can try different genres rather than playing it safe all the time."
Consisting of the downtempo acoustic song "North Point," the hauntingly fervent "The Glass," and the straight-up pop banger "All My Life," Reflections shows three different sides of Allman Brown – who has grown so much, yet remained so true to himself over the past four years. In premiering his hit single "Sweetest Thing" (over 62 million Spotify streams), Atwood Magazine examined how, "Brown relies primarily on his soulful, hearty singing and his immensely evocative guitar to give a musical voice to his authentic poetry." This quality is epitomized in Reflections' ten short, evocative minutes.
"Lyrically it's all about Springsteen on this EP," Brown reflects. "'North Point' in particular owes a debt to The Boss and his album Nebraska. It's a song about seeing my father and Hong Kong (where I grew up) for the first time in ten years. I've tried to be really personal on this record, so hopefully no matter the production you will always hear my voice, as it were. The writer David Mitchell (Cloud Atlas, Slade House, Bone Clocks) inspired me when it came to the variation in production between the tracks. His novels are all wildly varied but they all have a through line which is instantly recognizable, despite the stylistic pyrotechnics."
He continues, "These three songs were all written and recorded at different times with different people. It was only when I was listening to them all [that] I realized they were thematically linked and belonged on the same release. I want the diversity of these three songs to mirror the various mental and emotional states we have when we are analyzing our feelings."
I wanted it to show how we are many different versions of ourselves and not just one fixed point.
---
Brown's description of his work could not be more fitting: Every song serves its own niche role on this EP, yet the three do still come together to showcase that decidedly inner experience, and how it may manifest outwardly to ourselves and others. "All My Life" – the EP's "pop" song, produced by Lewis Gardiner (Prides) – is certainly the standout of the three tracks, finding Brown succinctly conveying a deeply personal desire to be one's best self and leave some sort of meaningful legacy. He sings over a bed of guitars, drum claps and slaps, and so on – and while some of this is certainly new fodder for the singer/songwriter, it's still embedded with that same honesty and sincerity Brown has embodied since his earliest recorded music.
All of my life, I've tried to be
A good man, can't you see
My mother told me, be kind, be true, be cool
There's a weight on my chest
And it won't let me rest
There's things I regret
And words I haven't said
I hope there's still time
To find peace of mind
Every day of my life
I'm trying to do what's right
When they lay my body down
And I'm six feet in the ground
With my family standing round
I hope they will be proud
All of my life, I've tried to be
A good man, can't you see
My mother told me, be kind, be true, be cool
Well there's pain and there's glory, in everybody's story
All of my life, life life
All of my life, life life
"It always feels like a minor miracle to release anything," Brown muses for a minute. "I rarely take stock of how special it is to be able to make music as a career. So I guess I'm proud that I'm still going. There's plenty more to come."
Plenty more indeed, and for now we have a ten-minute escapade into the depths of a mind running rampant with feeling. Reflections is nothing if not a genuine expression of self-discovery, and what better time than the present is there to stop, take a few steps back, and reassess ourselves?
Experience the full record via our below stream, and peek inside Allman Brown's Reflections EP with Atwood Magazine as the singer/songwriter goes track-by-track through the music and lyrics of his new record!
— —
Stream: 'Reflections' – Allman Brown
:: Inside Reflections ::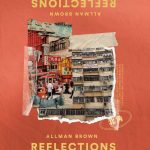 — —
North Point
This is one of my most personal songs to date. It's about the strong connection between the past and the present. Even when you think the current between the two is dormant, it only takes an instant for it to reignite. This is the most organic song on the EP – it's built around my acoustic guitar, an electric guitar part and the percussion is me banging on the back of my guitar.
I wrote it on my first trip to Hong Kong, my old home, in ten years. The feeling I had of being there was so strange, I wanted to capture it and do it justice. It's about the weird sensation of your former self walking side by side with your present self.
The Glass
I wrote this song with my friend Liz Lawrence (her name might ring a few bells). This is probably the most ambiguous and introspective track. On first listen you might think I'm singing about someone else but the song is actually me singing about myself, the negative version of myself and how I'm trying to deal with that. Liz came up with the lyric "in the glass"- a glass refers to a mirror. This track is a little trippier in terms of production. I wanted to manipulate the sound more and to have a heavy electronic element to the song. The beats at the end are very reminiscent of Death Cab For Cutie. Liz produced this track and she nailed it.
All My Life
I wanted to release a straight up pop banger. So Lewis Gardiner (the producer) was given free rein to try anything. I told Lewis not to try and make it sound like an Allman Brown song, and to just go where he wanted to go. Making this was really instinctive. I didn't overthink anything, I just went with my gut. If I liked a sound, instrument or synth I didn't overthink it. We did it all in one four hour songwriting session. The song is about legacy and the constant work it takes to live a good life.
— —
— — — —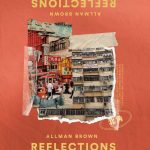 ? © Flore Diamant
:: Stream Allman Brown ::
---