Every Friday, Atwood Magazine's staff share what they've been listening to that week – a song, an album, an artist – whatever's been having an impact on them, in the moment.
This week's weekly roundup features music by Dizzy, Squirrel Flower, Hot Freaks, TYDL, Estevie & Cuco, Malick Koly & Ron Carter, Lucy & La Mer, Carver Commodore, Tash, SPELLES, Tyler Gunn, & The Shrugs!
•• •• •• ••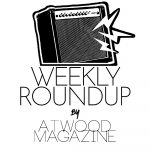 :: "Knock the Wind" – Dizzy ::
Ontario four-piece, Dizzy, bites back with "Knock the Wind" — and be warned, this one leaves a painful mark.
Released last Wednesday (August 16), right ahead of their self-titled record on Friday (August 18), Dizzy, "Knock the Wind" effectively knits together a "patchwork quilt of different emotions and inspirations."
When one passively listens, they'd likely believe that the melody's soft lilt is well-suited to a devotional love song — but when a little more attention is paid to the lyrics, they discover that "Knock the Wind" is a truly spiteful and biting track. Stinging quips (like "And I will heal you in a way you won't deserve / Suck the poison from your natural reserve") come disguised by gentle acoustic fingerpicking and dreamy slides, while lead singer Katie Munshaw's mellow vocals lull listeners into a comforting trance.
And while the track's thinly veiled threats that would no doubt crush the receiver, "Knock the Wind" is a truly gorgeous melody to listen to. Though, if you're looking for a track that won't bruise your ego, we recommend diving into the band's incredible record, DIZZY.
:: "Alley Light" – Squirrel Flower ::
A forlorn reverie full of heartache and longing, Squirrel Flower's latest single blends raw passion and pain into an unfiltered, intimate, and brutally honest fever dream. Released August 22, 2023 via Polyvinyl/Full Time Hobby, "Alley Light" is the third single taken off the artist's forthcoming fifth album Tomorrow's Fire (out October 13th), and a visceral one at that: The melancholy, brooding ode to a lover finds Ella Williams spilling her soul in waves of poignant, reflective poetry.
"She looks so pretty tonight, blue dress in the alley light," Williams sings at the start, and yet while on the surface this situations sounds celebratory, we quickly come to understand the darkness creeping in from all sides. "I was gonna take her out tonight, but all her favorite spots closed down," she laments, concluding the first verse and going right into a bittersweet, soul-stirring chorus:
She knows how these things go
In line for a radio
I could never take things slow
Maybe that's why she loves me
"This song is about the man in me, or a man who I love, or a man who is a stranger to me," Williams explains. "The video references a neo-noir Chicago heist movie where they use this thermal metal contraption to cut into a safe. They run around the city making sparks fly and getting up to no good. I wanted to do all that."
She says she wants to go far
Outta town in my beat up car
Will she find another man who can take her there
When my drive burns out?
She knows how these things go
On air at the radio
I could never take things slow
Maybe that's why she loves me
With her heart on her sleeve and her soul exposed, Squirrel Flower does what she does best in "Alley Light," bringing us deep into her world through a powerful human story of connection and inner reckoning. This song aches in all the best – and worst – ways, inviting us to contemplate how we approach intimacy in our own lives, and what our loved ones mean to us. Do we approach love with fear; do we approach it with doubt? Is it a heavy weight – and is it okay for it to feel that way?
As provocative and is it profound, "Alley Light" is a truly beautiful, heartrending performance – and one that hints at great things to come in Tomorrow's Fire. Squirrel Flower's fifth album will be out October 13, 2023.
I'm taping scratch tickets up
Flying in the evening wind
She says i'm wasting my time
But she knows one day I'll win
She looks so pretty tonight
Blue dress in the alley light
I was gonna take her out tonight
But all her favorite spots closed down
She knows how these things go
In line at the radio
I could never take it slow
Maybe that's why she loves me
:: "Together Above" – Hot Freaks ::
Hot Freaks' "Together Above" is the perfect bright, serene, summer jam. With soft, dreamy vocals floating atop carefully crafted keyboard and gentle guitar it is easy to get lost in this effortless offering. The laid-back piece depicts how love can lift you higher and the infectious lyrics and sound are irresistible. Their video keeps the relaxed vibes going with colorful pool floats and lead singer Leo Vondracek slaying in a yellow tropical tee.
The sunny Beach Boy-esque band consists of Vondracek, Cody Brown, Darin Dahlmeier, Celeste Heule, and Sarah Darnell. Delivering the ultimate comeback, "Together Above" is the third single off of their upcoming album Hot Freaks Forever. It's a funny name, considering the band had previously broken up. The ten-track album is slated for release September 15th.
:: "Ethereal" – TYDL  ::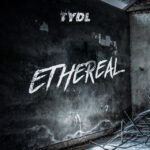 British duo TYDL have just unveiled the introduction to their upcoming EP, and now we're on the edge of our seats anticipating the rest of the release. "Ethereal" is the title-track from the impending EP, perfectly encapsulating the band's sound, the eerie track reverberates with deep, growling basslines, chiming synths and a marching beat. Like the song's title, the track emits an otherworldly atmosphere, sucking you into its mesmeric soundscape and holding you hostage, reflecting the narrative of the song.
Lead singer Rebecca Valerie sings from the perspective of someone who has become totally obsessed with a love interest, as her powerful vocals state, "I'm bound to you, you're stuck with me." The duo explain, "The song is really about how we all have a part of us that can't be controlled and we need to accept that and use it to our advantage."
Keep your eyes peeled for more from TYDL, as their upcoming EP isn't something you'll want to miss out on.
:: "el paso" – Estevie, Cuco  ::
Estevie and Cuco go old school with their newest single, "el paso." With a cumbia-inspired sound, Estevie described her release as "a Chicano love story." At its core, "El Paso" is romantic – in it, the artists lament over a passionate, almost aching long-distance love.
They sing about crossing mountains on foot, about learning how to fly to reach their special person. As the title suggests, this song ends with the narrator saying he'll wait for this love in El Paso.
"Este amor será por siempre / Cruzó fronteras para verte / No puedе ya nada detenermе / Hasta que te tenga de frente," Cuco sings in the second verse. The music leans on traditional Mexican folk music in the best way. It's summer-y and sweet, even if it's different from Cuco's signature psychedelic / bedroom pop aesthetic.
:: "Feel Bad Fest" – Malick Koly ft. Ron Carter ::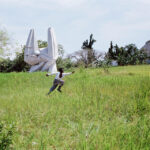 The smile-inducing title track taken off his recently released debut EP, "Feel Bad Fest" is a stunning display of passion and feel-good energy from Malick Koly. The New York-based singer/songwriter and drummer aches with raw radiance as he delivers a stirring, light performance – one whose deep emotions melt like butter over an array of golden, glistening instrumental work and the artist's soaring vocals.
So far so good – Soft universe
Safe easy streets – Ought to feel care
So long you sleep – Fell in your stairs
So is it fair – To feel despair
'Cause I feel for you…
It's a feel bad fest…
"I mostly find happiness in the smallest places, and that means there's always a layer of joy somewhere if you dig deep," Malick Koly tells Atwood Magazine, "but I think the last 10 years also held a lot of struggles, so 'Feel Bad Fest' sums up those experiences, my aim with both the visuals and the song were to jump into conversation with the ones I've lost, and catch them up on what they may have missed, and the way I envision that is in a dream state. As the song was developing it became clear to me that once the catching up was done it was the start of a new chapter which leads to 'New Strings Attached,' the last song of the EP. And to close said chapter with Ron Carter, and Steve Jordan as overseers, felt indeed like a new time, an era of feeling better."
"Feel Bad Fest" though it may be, this melancholic song promises to fill your world with sweet sunlight and summery bliss.
Thought you should let it out
feel alright
Silent daze, yeah
Quite unfazed
Time to fade
It's a feel bad fest (when I'm not with you)
It's a feel bad fest (when I'm far from you)
:: "Ice Cream"- Lucy & La Mer ::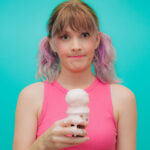 Los Angeles-based indie pop project Lucy & La Mer has unleashed her cynically sweet single "Ice Cream." The singer's warm vocals drip over tropical ukulele. That sunny sound is contrasted by her melancholic message. The soothing track details her battle with anxiety and the effect it has on her romantic relationships. "Sometimes I meltdown like ice cream. Will you like me, when it gets all messy?" The clever play on words seamlessly convey the song's meaning. Lucy admits, "As an anxious person, I'm constantly overthinking in relationships. Like, what if they find out that I'm not what they thought? What if I get insecure and sabotage the whole thing?!" When falling in love there are already a myriad of highs and lows. That sensation is only amplified by our mental health struggles.
Bisexual creator Lucy LaForge is a proud advocate for her community, often speaking out at LGBTQ+ events. The blossoming artist is recognized for her positive pieces bursting with optimism. Though this new release begins skeptical of where the partnership will lead, it ends hopeful for the future. This once again shows her shining positivity fans have come to love.
:: If Nothing Happens – Carver Commodore ::
Alt-rock Alabama natives Carver Commodore emerge as a refreshing breeze, staying true to their unique style. The latest EP If Nothing Happens takes listeners on a nostalgic voyage of self-discovery and contemplation. Soft, impassioned vocals soar over enchanting melodies, crafting the ideal wistful five-track collection.
Commencing with "Too Late To Get Out," the radiant and reflective piece details a catastrophic crash and burn with no time for escape. A silky tone and shiny, dream-like soundscapes seep through our ears, creating a sensation of pure sonic bliss. "Never Satisfied" possesses more edge with jangly guitars and rich, gravelly vocals. An unapologetic anthem of self-awareness, there is an admission of being selfishly unsatisfied that is utterly relatable. The bold, euphoric offering finishes with the title track. An upbeat, tenacious ending, "If Nothing Happens" is a psychedelic song oozing with Beatles-esque backdrops. The intoxicating sonics evoke deep emotion and showcase their profound musical prowess.
The band is composed of guitarist and vocalist Payton Pruitt, guitarist Phillip Blevins, drummer Noah Freeman, multi-instrumentalist Clayton Christopher, and bassist David Smith. Together they construct masterful works that fuse garage, indie, and pop influences. Carver Commodore's unwavering commitment to delivering a product that is both organic yet polished is made clear within this new EP.
:: "It's Really Not That Deep" – Tash ::
Aching in all the right ways, Tash Palmer's new single is a seductive daydream full of soul-soaked goodness. Intoxicating emotions and deep, pulsing grooves coalesce on "It's Really Not That Deep," a cathartic R&B immersion full of heart and heat:
more often I find, when things don't align 
in the harmony that I visualised 
it's just hard for me to love the compromise
I just need to allow time 
to do the work, and resign 
feelings of hurt
cause they're no longer serving me 
I deserve to feel relieved
"The lyrics of 'It's Really Not That Deep' talk about being in an emotional rut and the struggle to see it in a more positive light," Tash tells Atwood Magazine. "When I'm down it usually takes me a while to get my head back to a space where I can think more rationally about things, and put them in perspective. This song is basically a reminder for myself not to think of the worst when I'm in that headspace. I hope it makes others feel a little better about whatever they're going through too."
Propelled forward by a thick, hearty bass guitar and a cool, steady drum beat, "It's Really Not That Deep" puts Tash's golden vocals on full display as she spills herself with dreamy grace and ease. "Every time I try to pull myself apart, I'm in a frenzy trying remain calm," she sings in the chorus, "wishing that logic could kick in before commotion starts…"
it's really not that deep, although,
every time I try to pull myself apart 
I'm in a frenzy trying remain calm 
wishing that logic could kick in
before commotion starts 
honestly I know, it's really not that –
And yet, this song is our beacon in rough seas; an anchor we can all come back to in times of hardship and instability, full of warmth, familiarity, and tender self-empowerment. "I deserve to feel relieved," Tash sings for herself, and all of us as well. Get lost in the enveloping, immersive waves of this intimately captivating hypnosis.
I'm stuck in a rut, far more than I'd like 
naively thinking the worst will transpire 
it's just hard for me to love the compromise
I just need to allow time 
to do the work, and resign 
feelings of hurt
cause they're no longer serving me 
I deserve to feel relieved
:: "A Million Miles" – Tyler Gunn ::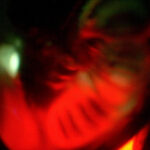 Transporting us back to the '90s, Canadian artist and producer Tyler Gunn releases his latest single "A Million Miles." Offering up a melting pot of genres and influences, Gunn has established a sound which defies categorization, making something that is distinctly his own. Moody and melancholy, "A Million Miles" serves as a beacon of change in Gunn's musical journey, reflecting a transformative period in his life. His introspective lyrics see him contemplating human emotions and trying to better understand the role they play out in our lives.
The songwriter shares, "This song came at a time when I desperately needed it. Life at that point felt stale and unchanging. Making this felt like the beginning of a new chapter." Carrying a somber and slightly unsettling vibe, the song features Radiohead-esque guitars, thunderous percussion and a foreboding, throbbing bass line.
Gunn has certainly made a statement for the introduction of this next phase and we can only imagine where he'll be heading next.
:: "Holy Hells" – SPELLES ::
We all go through ups and downs. That is just a part of life. How we handle situations and learn to evolve though, says a lot about our character. Those with deep-seated hunger and grit will always persevere. SPELLES' haunting track "Holy Hells" is all about harnessing profound personal growth despite the stark realities we may face. With warm, fiery vocals and soul-stirring soundscapes you feel the unflinching determination piercing through. Empowering lyrics such as "In the kingdom of my ruin I made peace. From a dead land grew an Eden for all to see," make the offering effortlessly shine. Those bold words inspire others to turn their own misfortune into magnificence.
The duo consists of songwriters and instrumentalists Kathryn Baar and Luc Laurent. The pair have written and produced an alluring anthem that showcases arduous endurance. "Holy Hells" displays a fierce fusion of indie pop and blues/gospel. That distinct sound results in a stunning mystical composition.
:: "Charlie Brown" – The Shrugs ::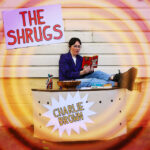 The Shrugs' latest single is full of grit, indie rock charm, and heated, unapologetic fervor. Released last October, "Charlie Brown" is a sonically and emotionally charged grunge-pop fever dream calling out toxic positivity and all those who would rather sweep your problems under the rug than hear you out and work through complex issues and emotions.
when i was down you'd say to me
"cheer up, it'll be alright"
"quit being blue all night"
now i can tell you wished you'd see
you can't just run away
you'll meet again some day
you don't have to grin and bear it
just let it fall around
even gloomers wear it
Don't turn that frown upside down,
you just make it Charlie Brown
Mixing the feverish churn of early grunge pioneers like Nirvana, with the no-holds-barred drive of present-day bands like The Beths, The Shrugs are a captivating four-piece out of Sydney, Australia. The band released their debut album It's Not the World, It's You… in 2018, followed by the singles "Shoebox" and "Charlie Brown" – and while the entirety of this nascent discography is worth diving into, there's something about their latest single that all but demands repeat listens.
"While 'Charlie Brown' was originally written about a particular situation, it's also become a bit of a comment on toxic positivity," songwriter, guitarist, and vocalist Jed Holmes tells Atwood Magazine. "Every time you go through a rough patch, say you get your heart broken or have a bad bout with mental health, there'll be extremely well-intentioned people who will bombard you with glib, useless platitudes. "Cheer up," they'll say, or "just be positive," or some rubbish about going outside. The song is about this attitude, but also its more modern extension, where a philosophy of "good vibes only" has been adopted by the optimist faction. As if you can just ignore a whole category of feelings and still consider yourself emotionally healthy. Denial in a sparkly costume with a hefty dose of superiority."
"But here's the rub; if you don't acknowledge and process these feelings you won't develop the emotional scaffolding necessary to cope with them in the future. I've found these folks are quick to fall apart when things actually go pear shaped. Better to expect the worst and be pleasantly surprised."
Holmes describes Charlie Brown as the band's power animal – the perfect vessel to capture the raw ethos of this fiery song and its message. "There's something about that little dude's melancholy that I feel like we could all learn from. He doesn't run around being relentlessly happy, he doesn't run from his feelings. He might go in with a positive attitude but when he feels sad he just feels it. Don't turn that frown upside down, you just make it Charlie Brown."
For those of us who have dealt with the kind of personalities The Shrugs sing about, "Charlie Brown" is a source of cathartic relief and release. It's a fun, rollicking, hard-hitting outpouring: An eruption from our innermost depths that aches with unrelenting intensity. Pretty funny that it's come from a band named The Shrugs, eh?
Get lost in this searing song and its fantastic music video – and next time someone tells you to shrug something off or "just be positive," remember these words: Don't turn that frown upside down, you just make it Charlie Brown.
— — — —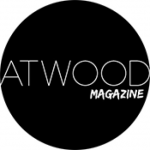 :: Weekly Roundup ::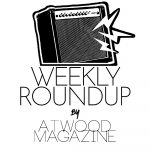 ---
:: This Week's Features ::
---