Kississippi move easily into pop music with their sophomore album 'Mood Ring.'
Stream: 'Mood Ring' – Kississippi
---
We all want to fall in love, don't we? Great pop records make you feel like you're walking down a summer boardwalk with the person you've been crushing on since you spotted them from across the beach or bar. Even better pop records can take you through an array of emotions that you can go through with real-life heartache (think Emotion or Melodrama). Kississippi's latest album Mood Rings (via Triple Crown Records) brings listeners through all the emotions that both a summer love and heartbreak can bring.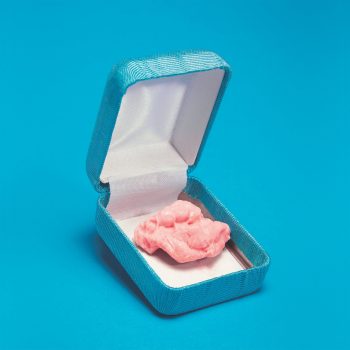 Like the color changing of the mood ring for which the record is named Zoe Allaire's brand of indie-pop glides easily across an array of feelings, whether it's the windows down, breathing in heartbreak of "Moonover" or the hot-and-heavy, stripped-down nature of "Heaven." Allaire has never shied away from confessional lyrics, but rather than the DIY indie rock that she offered with her debut Sunset Blush, she delivers her romantic lyrics over catchy beats, made up of luscious synths and soaring productions. While Mood Rings is a decidedly more pop-oriented approach than her last full-length, she occasionally leans into some of her more rock-oriented sounds from before, like in the twinkling guitars and heavy drums in "Twin Flame" or the palm-muted power chords of "Dreams With You" that add a little more edge to her indulgent tones.
Just like she moves seamlessly through different genre flourishes, Allaire can also breeze through emotions, whether it's the cheery honeymoon state that the opening track sets up or the impending breakup of "Wish I Could Tell You." The album's most tender moment comes in the Bartees Strange-assisted middle song "Twin Flame," where Allaire tries to get somberly offers a friend or partner help. The urgency of wanting to know everything about the person she's singing to is in there, but it's not an impatient song. Even though she wants to learn all the "secrets" and share all of hers, she's happy to let it wait. "If you're feeling low, give me a ring/I'll call back eventually/We won't talk about until we can quietly," she sings in the bridge.
Regardless of whether it's about a breakup or bursts of joy, Allaire commands Mood Ring with her distinctive voice and insanely catchy choruses. It's hard to not become infatuated with the regret sense in "Moonover."
If this is the future, let's go back in time
I know I was yours, long before you were mine
We could move backwards never go home
It's a heart-wrenching ode to all those coulda-woulda-shoulda moments, but she sings it with a calming tone that eases you into a dance. She moves into really devastating territory in the album's penultimate track "Big Dipper," which can't help but conjure up all the feelings of a devastating breakup, no matter what point in your life you're at.
The only thing that's really reliable in this world is change. Whether it's an intimate personal change or a shifting relationship, the peaks and valleys of ever-changing relationships will punch us all in the gut. Mood Ring walks you through all of them in a sweet way that usually makes you want to dance.
— —
— — — —
? © 2021
Mood Ring
an album by Kississippi
---