Four years after the release of Pure Heroine by a shy, mysterious teenager from New Zealand, Lorde makes her highly anticipated return and it is everything we hoped for and more. Full of intoxicating highs and heart-wrenching lows, Lorde lays her whole heart out for us on Melodrama.
You asked if I was feeling it
I'm psycho high
Know you won't remember in the morning
When I speak my mind
Lights are on and they've gone home
But who am I?
Oh how fast the evening passes
Cleaning up the champagne glasses
We told you this was melodrama
:: Inside Melodrama ::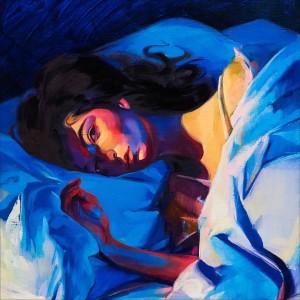 — —
Green Light
Nicole: "Green Light" is a song that makes you want to cry tears of joy and tears of sadness at the same time. At first glance, it is just a very well-crafted pop song with a catchy chord progression, but veiled amongst piano parts and harmonies, is a sad tale of heartbreak and desperation. It's the right song to open the album – it announced Lorde's return three months ago and is a fantastic example of the new vein of pop O'Connor is exploring in Melodrama. It is also electrifying and exciting and tumultuous, overwhelming and confusing, just as the teenage heart and life can be at times.
Kaitlyn: Green Light was an excellent return for Lorde. Check out our feature on the song here.
---
Sober
Kaitlyn: Immediately following the bright, triumphant "Green Light," is the dark, twisty "Sober." The chorus asks "but what will we do when we're sober?" with such urgency and desperation that it will actually make you consider the question in a new light every time. The trumpets that interject in the chorus are a welcome surprise that add just another layer of depth to this already complex song.
Nicole: Comparing love to drugs and highs isn't exactly new, but Lorde offers a fresh perspective on the theme with "Sober". The dynamism of "Sober" is unparalleled, it's a song that gets you moving even if, like me, you generally resist any kind of dancing. The haunting question "What will we do when we're sober?" echoes in everybody's mind as it does in the song. Lorde alternates between singing, talking, and whispering, creating an emotional journey that's contained in the song but also part of the bigger Melodrama narrative. It also manages not to be overshadowed by predecessor "Green Light", which is a feat in and of itself.
---
Homemade Dynamite
Nicole: I first heard this song when Lorde premiered it at Coachella and despite the song being fantastic, what I couldn't get out of my head was the vibe the song emanated. It was Lorde's ecstatic return, the vibrant weekend's final stretch, a celebration of what had happened and what was still going to happen, and "Homemade Dynamite" seemed to encapsulate all these feelings. It is a joyful and carefree song that, just like "Sober", dares you not to dance to it and the chorus was made for people to sing along to. Lorde's extraordinary capacity in painting pictures with words is perfectly exemplified in this track, where you can picture every stage of the night with her lyrics.
Kaitlyn: "Homemade Dynamite" is a song of teenage triumph. Lorde perfectly captures the incredible feeling that comes with the freedom of your later teenage years, the complete and utter invincibility that you feel driving around with your friends late at night. The idea that you could do absolutely anything, even make homemade dynamite, is exhilarating and is perfectly captured on this track.
---
The Louvre
Kaitlyn: On "The Louvre," Lorde shows that she is not bound by the sound she created on Pure Heroine. The guitar on this track is a refreshing change and demonstrates the strides Lorde has made as an artist. Considering the popularity of her first album, it would have been easy to revert back to that same style. But Lorde continues to push herself and her music forward. Despite these big, obvious changes, there are subtle moments on this song that also demonstrate Lorde's talent as an artist. The stutter when she sings "I over think your punctuation" is a perfect example of the way her brilliance shines in the details.
Nicole: As an absolute sucker for guitars, I admit I was ecstatic when I heard the strumming at the start of the song. In "The Louvre", Lorde takes control and commands you: "Broadcast the boom boom boom boom and make them all dance to it" – and you happily abide. The line "I overthink your p-punctuation use" is a sincere snapshot of today's relationships, where text messages play a large part of how people communicate with one another. Lorde's smokey and layered voice makes you feel like she's sharing a secret with you, letting you watch the intimate moments of the start of her new relationship. It encapsulates both the thrill of falling in love and the fear that it might all go horribly wrong. I think this is my favourite song in Melodrama.
---
Liability
Nicole: After "The Louvre" gradually fades out, "Liability" stretches the mellower mood in the album. This ballad had everything to be so drenched in self-pity that people would roll their eyes and then see Lorde as another celebrity who complains about fame – but the songwriting here is so genius that she just comes across as vulnerable and honest. There's not a hint of self-pity on the track, and instead all you can see is a young person getting things off her chest. It's a nice change of pace in the album, and I'm glad it was put in the middle of it and not at the end – it is symbolic of the middle of the night when things start to fall apart and you're vulnerable for a short amount of time before letting all your worries go. If it had been the last song on Melodrama, we wouldn't see the emotional arc of the story Lorde is trying to tell, which starts off as upbeat, slows down, but returns to the high energy it started with – instead, we would have been told the story of someone who was very happy but gradually drifted into sadness, and Melodrama is too colourful and Lorde is too radiant to have sadness be the message on which the album ends. It's the first big dip on Melodrama's emotional rollercoaster, and is a great example of how to powerfully tell stories in song.
Kaitlyn: Few songs have moved me to tears the way that this song did. At the point of its release, it was so radically different than anything she had put out before. Lorde's trademark synths are replaced by a simple piano track that allows the beauty and range of her voice to shine. Lorde has never shied away from writing personal songs, but the lyrical vulnerability of "Liability" is heart-wrenching. You can feel the pain in her voice as she struggles with self love in the face of intense criticism, a pain that so many other 20-somethings have felt before. The last line is as heart-breaking as it is freeing; Lorde finds a glimmer of hope in the promise that her critics will "watch me disappear into the sun."
---
Hard Feelings/Loveless
Kaitlyn: I absolutely love the fusion of these two songs. Lorde grapples with a failing relationship during "Hard Feelings" and then turns around a smiles defiantly through the witty "Loveless." The difference between the two is pushed even further by the chaotic interlude that separates them. One of my favorite things about Lorde is her acceptance of contradiction. Growing up is messy and things that you feel or believe today will not always be the same tomorrow. Instead of trying to pick one feeling and create a cohesive story around it, Lorde highlights the complexity of her life, making her songs, especially this one, so honest and real.
Nicole: The moment I read the lyrics to this song was when I realized just how potent it is. "Please could you be tender and I will sit close to you/Let's give it a minute before we admit that we're through": talk about a heartbreakingly honest way to start the song. Lorde delivers the truth on a silver platter in lines like "When you've outgrown a lover, everyone knows but you". I feel like "Hard Feelings" is the ultimate breakup song in the album, with "Loveless" symbolizing her getting over her ex-lover. "Loveless" is reminiscent of "The Love Club" and "White Teeth Teens" off Lorde's debut Pure Heroine in its tongue-in-cheek attitude and broad reflection of the younger generation. In fact, while she makes albums which celebrate youth, Lorde's ability to examine her group of friends and generation from a third person perspective also makes it seem like she isn't a part of it.
---
Sober II (Melodrama)
Nicole: This is how interludes should be done. In 3 minutes she manages to skim over all moments of the night she's been narrating, and creating one of the album's most surprising tracks. There is something hypnotic and beautiful about it. Also, very appropriate that a song that has the word melodrama in the title starts with dramatic strings – I love strings and fell in love with the song instantly. I also like the homage she pays to the title of the album, sucking us into her world even further.
Kaitlyn: This track truly lives up to its name. From the nearly whispered backing tracks to the violins to the to the distorted lead vocals to the deep bass, "Sober II (Melodrama)" is seeping with drama at every turn.
---
Writer in the Dark
Kaitlyn: This song is so emotionally jarring. The layered vocals during the chorus are desperate and goosebump-inducing. Despite her obvious pain, Lorde finds power in the ability to turn love and heartbreak into art and that is a beautiful thing.
Nicole: This is supposed to be a revenge song but it's so heartbreaking both in lyrics and arrangement that it's impossible to see Lorde in that light. It's more produced than "Liability" and captures a wider emotional range, making it a strong and bold statement. Lorde calls herself a writer, and therefore makes a song that tries its best not to distract the listener from the lyrics (which are brilliant). I adore how she brought the strings from "Sober II (Melodrama)" into "Writer in the Dark", it really adds depth and meaning to the song.
---
Supercut
Nicole: This was made to be played in a club at maximum volume and have a crowd dancing in ecstasy. It's lustful and thrilling, full of anticipation, it oozes youthful spirit. And it's perfect.
Kaitlyn: On "Supercut," we find Lorde looking back on a past love and exploring the way in which we're inclined to romanticize people and moments once they're gone. She obsesses over a few specific memories ("in your car, the radio up") but never fails to remind herself that it's all in her head. It's a constant back and forth that ends in a long fade out, evoking the idea that she's finally reached the credits of the highlight reel.
---
Liability (Reprise)
Kaitlyn: The faint feeling of hope that ends "Liability" is realized in its reprise. When she sings "but you're not what you thought you were," it feels more like a moment of triumph than a moment of self-doubt or defeat. After internalizing the idea that other people shoved onto her— that she's a liability—Lorde is finally realizing that that doesn't have to be the case.
Nicole: I like the new, suspenseful twist she gave to "Liability" on its second part. This is closure made into song, and it's nice and comforting to see the wounds she opened at the start of the album healing by the time we reach its final stretch.
---
Perfect Places
Nicole: What a perfect way to end the album. After the emotional rollercoaster that was Melodrama, "Perfect Places" comes as that final burst of energy you preserve until the very end of the night. Lorde brings things full circle by ending Melodrama on a song that's just as much of a banger as the one that started it. It is a celebration of Lorde's teenage years but of youth in general, something that is emphasized by the layered vocals and the use of "us" and "we" in the chorus. It fades out and as it does so you can almost see the orange sunrise marking the end of Lorde's party.
Kaitlyn: I think "Green Light" and "Perfect Places" are perfect bookends for this remarkable album. They frame the narrative with two upbeat, catchy, clever songs that remind us that the Lorde of Pure Heroine is not gone, just grown up. The stripped down ending leaves such a bittersweet feeling—a perfect encapsulation of the complexity and contradictions of the transition between being a teenager and an adult. People say that age is but a number, but on Melodrama, age is everything. The feelings and experiences that Lorde documents are so unique to her own place in life.
---
:: Overall Thoughts ::
Kaitlyn: Part of the massive popularity of Pure Heroine came from Lorde's incredible ability as a lyricist. At just 16, she seemed wise beyond her years. But on Melodrama, Lorde feels more comfortable in her own skin at this very moment. Her life changed massively in between these two projects, as is expected given the four year break, and Melodrama brilliantly captures that. She is able to tell a complete story, full of love and heartbreak and vulnerability and triumph, through brief yet clear glimpses into her life. Each song play a vital role, creating an album that is begging to be listened to from start to finish every single time.
Nicole: Lorde is a remarkable force in music. She showed this with Pure Heroine, which has been repeatedly stated as one of the albums that shifted the pop landscape, and in Melodrama Lorde finds another side of pop to tackle – she transitioned from the darker, introspective tales of Pure Heroine to the colourful, raw storytelling of Melodrama. Somehow I feel like in Pure Heroine we saw a lot of Lorde, but in Melodrama we get invited into the life and mind of Ella Yellich O'Connor. The beauty in her songs is how she juggles critical analysis with personal experience, telling stories about people she knows and personal experiences from a distance despite being inserted right in the center of it all. Her lyrics are a work of art in and of themselves, but coupled with the brilliant melodies and wider narrative she creates across the album, Melodrama is set to be one of the top albums of the year.
— — — —
❇️❇️❇️❇️❇️
cover © Theo Wenner