Ah, the allure of adventure: Every generation, going decades back, has its share of explorers. The call of the wild is strong; the thrill of the unknown beckons them to leave this world behind, and set off on a journey toward something new. Chicago's Mazes celebrate that grand departure on "West Coast Revolution," an ode to the open road and new beginnings.
I was aware of a good time waiting
Well, the doorman is there to let you out
Where do you wanna go now –
Out of our minds, or out of our house?
Listen: "West Coast Revolution" – Mazes
---
Atwood Magazine is proud to be premiering "West Coast Revolution," the lead single off Mazes' upcoming third album The Violent Tapes, out 4/21 via Sanzimat International. An homage to photographer David Lamelas' mysterious photo series "The Violent Tapes of 1975," Mazes' first album in five years is pulled from four years of real adventure: Shortly after releasing 2012's Blazes, Mazes songwriter Edward Anderson quit his job of 11 years and joined band mate Charles d'Autremont in Buenos Aires, Argentina. Enter life. The recordings compiled here, with the help of producer/mixer Tim Sandusky (Lola Wolf, Ezra Furman) and Diego Martín Pérez Arango on drums, form an intimate tapestry that encapsulates a truly life-changing period in time.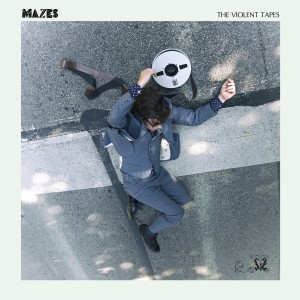 Edward Andreson describes "West Coast Revolution" as the thesis for the album: "It's about setting out on a new adventure, either physical or mental. The terminology used was inspired by Detroit gang culture in the '70s and '80s."
Pack on your back, you're stuck on the shoulder
A feeling you can't define
Passed the time stoned against the sky
The definition's definitely wrong
If you're not with us then you're with no one
Shooting gallery / Quarterhouse soiree
You can only go where you come from
I was a long time waiting
Breaking the law is not a crime
Just as long as you stay outside….
"West Coast Revolution" is brimming with life; it carries an infectious energy and excitement that transcends its storytelling lyrics and colorfully psychedelic folk/pop musical composition, touching upon a core element of our genetic makeup. We are innately drawn to discovery like moths to a flame, and Mazes capture a specific beauty in that process. "West Coast Revolution" is Mazes' reflection of their own epic experiences, but it serves as a mirror to us as well, injecting a healthy dose of that natural curiosity deep into our veins.
This is the start of something very special. Grab your bag and get ready to set sail with Mazes as they embrace their past while embarking on their own new adventure: The Violent Tapes is out 4/21, and available for pre-order now.
— — — —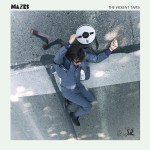 cover © Mazes 2017