With a radiant folk-soaked sound and ten stunning songs, Kris Ulrich's 'Big in the USA' deserves to live up to its name.
for fans of Gregory Alan Isakov, Ken Yates, Brian Dunne, Leif Vollebekk
Stream: "Big in the USA" – Kris Ulrich
---
There's a self-help book by Family Guy cartoon dog Brian Griffin with the title, Wish It, Want It, Do It.
It's a mantra, really – and in the television series, it's the butt of many a joke (to the point where someone else publishes their own book, Wish It, Want It, You Blew It) – but damn if there isn't a nugget of truth in there. The idea of manifesting the world we ourselves want to live in, and being our own catalyst for change, is inspiring – if not time-tested; at the risk of sounding hyperbolic, it's the same underlying principle that Barack Obama spoke of in his famous 2008 Yes We Can! speech, and the same idea that leads folks to embrace those classically corny, yet persistent phrases like "dress for the job you want" and "look good, feel good."
Canadian singer/songwriter Kris Ulrich didn't necessarily take a page out of the Brian Griffin Wish It, Want It, Do It playbook – his new album's title is supposed to be tongue-in-cheek – but even if he did, and it was all super serious, could we really blame him for trying? With a radiant folk-soaked sound and ten stunning songs, Big in the USA deserves to live up to its name: Warm and wondrous, intimate and impassioned, Ulrich's sophomore album glows with unassuming charm, heart-on-sleeve tenderness, and raw, heart-on-sleeve emotion. It's the kind of record you want to root for, coming from an artist who cares so little about "making it" in that way that he just might actually make it, after all!
When you're a kid
it's hard to understand
And all you wanna do
is play guitar in a band
Your friends think it's cool,
but you're older man
And they're all having kids
and you still live in a van
I had a dream that was clear as day
We made it big in the U.S.A.
– "Big in the USA," Kris Ulrich
Released March 31, 2023 via Birthday Cake Records, Big in the USA is a sweet, folk-inflected indie rock seduction. The sophomore album from Winnipeg singer/songwriter Kris Ulrich combines a healthy dose of Beatles whimsy, a bit of Wilco warmth, and a little Lucero grit into a captivating, charismatic collection of energizing anthems and cathartic confessions worthy of multiple up-close and personal listens. Following 2021's Americana-leaning seven-track debut Pacific Central, Big in the USA sees Ulrich coming into his own unapologetically and unashamedly, sharing his innermost self with the world whilst showcasing his talents as a songwriter, a storyteller, a vocalist, a guitarist, and a producer.
"To me, Big In the USA represents a massive shift in my life," Ulrich tells Atwood Magazine. "I spent most of my 20s playing guitar in service of other people's music and I am now committing to chasing my own dreams. It was really hard to let go of a career I had spent years building, but I knew if I didn't I would blink and five years would fly by and I would still not be doing what I truly wanted to. I was in a period of my life where I didn't think I would make another record and I felt very creatively empty. My friends in Slow Spirit invited me to join a songwriting club where you had to turn in a new song every week or you would be out, and it really lit a fire in me to create more consistently."
"Before I knew it, I had written a whole bunch of songs, with many ending up on this record. I didn't realize I was making a record until I showed a few of the demos to my pal Field Guide and he said, 'You've got a record started!' I had thought the demos were too different production-wise from my previous stuff, but he really pushed me to keep pushing further in the direction I was headed. Eventually I reached a point where I was losing steam and needed some outside ears, so my friend Boy Golden offered to help co-produce the record to take it to the finish line. I love working with him because we have been close friends and collaborators for a long time. He really got what I was going for, but helped distill and focus the record as a whole."
"We did a lot of exploring with recording, like trying to record vocals in my car in the garage and using a 4-track Tascam as a tape loop synth. We both learned so much in the process of recording and mixing these songs together. It was all recorded in my home with the exception of a few drum tracks, and after some hiccups in finding the right mix engineer for the album we opted to mix it ourselves at No Fun Club in Winnipeg. I'm really proud of what we made and I think it instilled a certain confidence in our skills that we didn't have before making this album."
---
Ulrich describes his album as determined, earnest, and playful – three words that highlight the high levels of energy and emotion that went into these songs, and then bringing them together under one collective umbrella.
The album's title is a nod to the song of the same name.
"I chose 'Big In the USA' because it felt like that track really encapsulated the meaning of the record for me," Ulrich explains. "It's a tongue-in-cheek title because I made this record in my house with the help of my best friends and we did it not for some idea of fame or fortune, but because we love making records."
"I think this record really shows my influences and abilities more than any music I have ever made," he adds. "I really love electronic music and for years I felt like those sounds didn't have a place in my music, but with this record I let synths and drum machines really drive a lot of the songs. I can hear my love of Boards of Canada, Tame Impala, and War on Drugs in this record. This record also signifies the first time I really took on the role of engineering in a major way. I really fell in love with recording while making this album."
The record starts off strong with "Friends on the Internet," a moody, brooding song of what-ifs whose sweet, enchanting guitar licks are instantly reminiscent of George Harrison's solo work. "When I saw you dancing there on my phone I didn't feel so alone," Ulrich sings at the start, painting a picture of intimacy and isolation that somehow doesn't feel all that lonely, after all. "And I daydreamed I was dancing with you," he continues, "yeah we swayed to the song like we could do no wrong."
---
It is within this state of dreamy wonder that Big in the USA finds its footing, spreads its wings, and soars.
"I had just moved to Toronto," Ulrich says of his album opener. "I didn't know many people there and was feeling quite lonely. But the new scenery had me feeling optimistic and excited about meeting new people, so when I moved back home to Winnipeg in the spring of 2022 I found myself daydreaming about the kind of life I might have had and what kind of people I would have met if I had stayed. This song is about that nervous excitement of new possibilities that come with a new crush."
From there, the scene is set for a litany of visceral outpourings, intimate eruptions, and cathartic, catchy upheavals. The smoldering "Never Too Late" paints a picture of small town sadness; of a youthful desire to break out of one's hometown and experience everything the world has to offer. The soul-stirring "1994" is a gentle giant of tender turbulence – a song filled with nostalgia and existential yearning, about winding back the clocks to the artist's youth and embracing his roots, his family, and the parts of his past he can never have back. The supercharged standout "Lucky" is an intoxicating, beautifully uplifting love song that embraces a connection and holds on tight for dear life.
Do you remember how it felt back then?
Would you go back and do it all again?
That way that it used to be
When you were still 23
Sometimes I wish we could wake up
And it's 1994
In the clothes that you made us
Dancing on the living room floor
And you're still there, alive in
The house that you lived before
Sometimes I wish we could wake up
And it's 1994
You don't have to say anything…
---
And then there's the aforementioned title track "Big in the USA," an undeniable highlight on the record that captures all there is to love about Ulrich's artistry in three easy minutes. It's a personal favorite for Ulrich, too.
"I find myself identifying with different songs the longer I live with the record," Ulrich says. "My partner and I listened to the record on vinyl when I first got the pressings, and after it was done, she said the record sounded like a note to myself from my past self. That really hit me. I think my favourite lyric on the record is from 'Big in the USA': 'I'm not famous on the internet, and my record sales don't pay my rent; I wouldn't change it for anything, I've still got my guitar and I can still make it sing.' It really summarizes how I feel about my career. It's all going to work out as long as I keep a pure intent for making art."
Worn cassettes, and rolled cigarettes
Livin' on gas station coffee
If I could only remember the words from that dream
We'd be front page on magazines
I'm not famous on the internet
And my record sales don't pay my rent
I wouldn't change it for anything
I've still got my guitar and I can still make it sing
I had a dream that was clear as day
We made it big in the U.S.A
I had a dream that was clear as day
We made it big in the U.S.A
– "Big in the USA," Kris Ulrich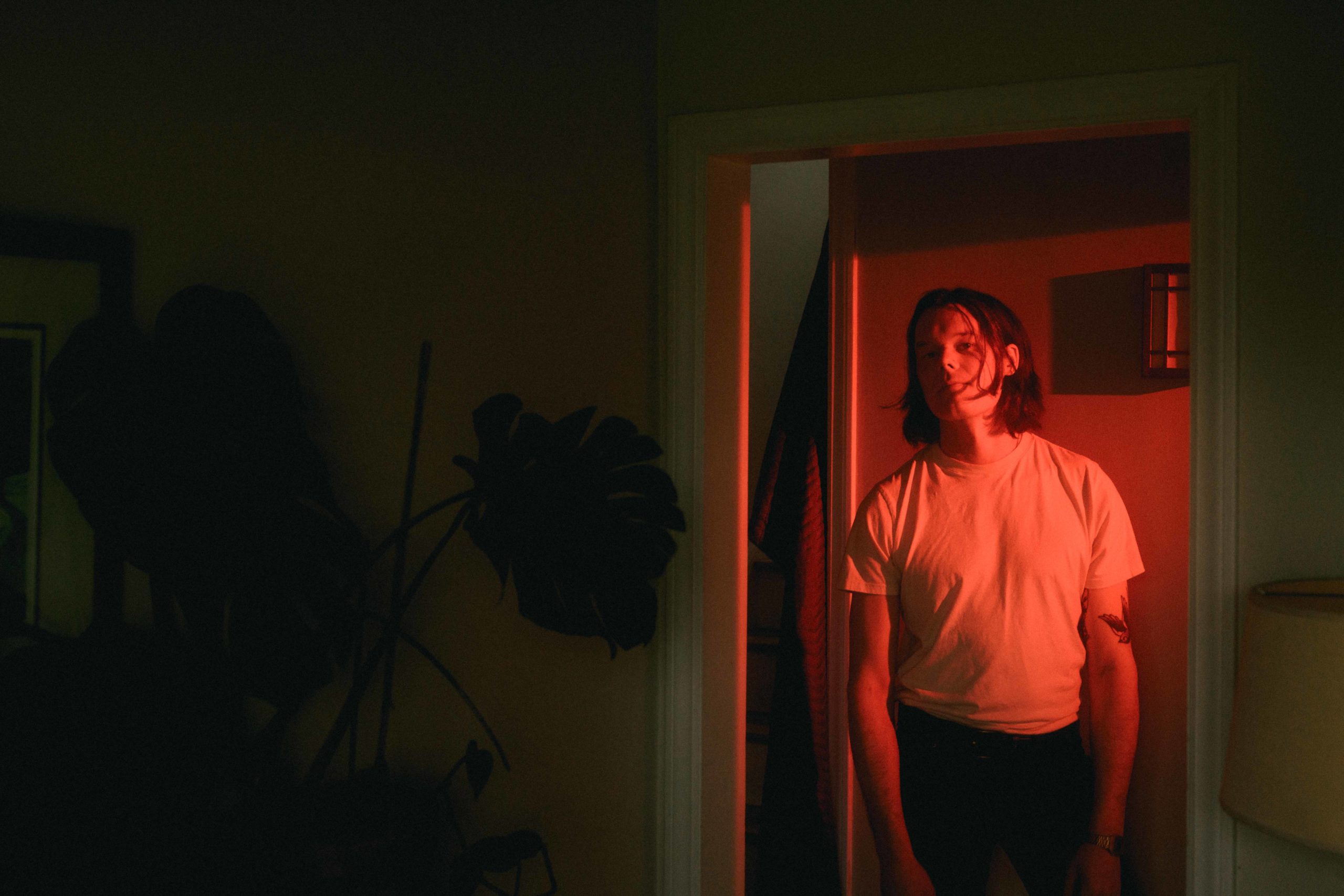 The point of it all is that we don't need to be "big in the USA" in order to pursue our passions or chase down our dreams, because the essence of being an artist lies in the creation and sharing of that art – not necessarily in the accolades or recognitions one receives for said art. Ulrich's happiness and contentment stem from writing these songs, capturing them on record, and playing them to anyone and everyone who's willing to listen. That said, he does hope his songs make an impact – a sense of connection.
"I hope folks come away from the record feeling like they made a friend," Ulrich shares. "This record represents such an important time for me and even though I have lived with these songs for a long time, I still love them and I can't wait to play them live for people."
Experience the full record via our below stream, and peek inside Kris Ulrich's Big in the USA with Atwood Magazine as the singer/songwriter goes track-by-track through the music and lyrics of his sophomore album!
— —
Stream: 'Big in the USA' – Kris Ulrich
:: Inside Big in the USA ::
— —
Friends On the Internet 
I wrote this song after moving back from Toronto and I had a few crushes I developed that I had to let go of. It's about those "what if," alternate timeline kind of thoughts and that makes the song feel like a daydream to me.
This was one of the first songs I wrote that really helped guide the sound of the record. I played the guitar hook on an old Kay lap steel and something about that tone really felt like it got the message of the song across. It sounds really earnest to me. I recorded Field Guide playing drums up at his family cabin on this one and layered it in with a drum machine.
Never Too Late
I loved growing up in a small town but I definitely felt a desire to leave when I was in my teens. I had some amazing mentors and friends, but I knew I wanted to experience more. I wrote the verses from the perspective of myself in my teens, trying to encapsulate the characters and emotions that were my life at that time. The choruses were written from the perspective of the current version of myself telling my younger self that it was possible to leave. There is a constant intertwining of those voices throughout the song.
Big In the USA
This song has been feeling more and more like a letter from my past self whenever I hear it. I wrote it at a time when I was leaving a world I knew very well and entering a new chapter of my career which left me feeling pretty anxious. Since releasing it, I have received a bunch of messages from artists who have really connected with the sentiment and that has been truly amazing to see. A career in music is a long and strange path and at times you can really feel like giving up but I think it's important to keep in mind that music doesn't owe you anything and in the end you have to do it because you love it. I wouldn't have made these songs without the community of friends and family I have.
1994
I recently made a video for this song where I used a bunch of the footage that had inspired the song. It really felt like a full circle moment to see the home videos playing alongside the song. I feel really lucky to have those videos. There is something that is truly magical about tape and how it makes everything look amazing even if the lighting is terrible. I have the camera that my family used to film with and I plan on making some music videos with it. I definitely cried while editing this video together seeing my grandparents smiling and laughing together. I'm pretty sentimental so there always ends up being a song about my family on my records.
Lucky 
This song came out really fast. I sat down one evening and wrote and recorded a demo for it within a few hours. I was inspired by a movie my girlfriend and I had recently watched and the scenes from that movie were kind of playing on a reel in my head. I think it's pretty apparent what movie it was, but I like to leave it up to the audience to make their own conclusions. I'm really proud of this one because I feel like I wrote about love in a way I never had before.
Things Are Changing
I wrote this song as a way of telling myself that I was growing and becoming the version of myself I wanted to be even if I didn't always feel like that. It's about accepting that change is always happening and there is always something new around the corner. The song started with the drum loop on my tape machine, prophet pad and the bass line. I'm really proud of the production of this one. We had a lot of fun looping my vocal into an Organelle and making weird little barely intelligible fragments of sound. There are a lot of little found sounds on there including the sound of my mic hitting a glass of wine we kept from the original vocal take.
Don't Think About It
The inspiration for this song actually came from a podcast I had heard on the topic of memory.
I don't remember the exact theory but my takeaway from it was that every time you remember something, it overwrites the original memory. That idea really stuck with me and I thought of how maybe the truest memories we have are the ones we think of the least and if that is true, maybe the best way of preserving really important memories is to avoid remembering them. The outro of this was really fun to record. We really blew up the drums and ran the guitars through an old solid state projector amp with microphones in the stairwells of my house. The guitar to me sounds like a voice from the past wailing.
Here In My Mind
I wanted this song to feel like a fever dream where you are unsure of what is real and what isn't. To me, this song feels like a companion song with Friends On the Internet. It's further down the line in the daydream to the point they actually got together. I tried to capture that feeling of being in a crowd at a show where it's loud and overwhelming at times but you are with someone you love and it feels like it's just the two of you there. Flavio Cirillo played and engineered the drums on this one and we really went for a "Ringo" drum vibe. Keiran played all the dreamy piano, mellotron, and synth parts on it.
It's Okay
I wasn't sure if this song would make the record, but I'm really glad it did. It feels like a little cozy rest stop before the last song. Everything was played by me except for the piano which Liam played while I tracked acoustics. I really used this song as an opportunity to pay homage to one of my favourite songs, A Day In the Life by the Beatles.
You've Got To Be Patient
This was the first song I wrote for the record and I feel like it ended up being a perfect send-off for the album. I had just moved to Toronto to pursue my own music after many years being a side person for artists and I was thinking a lot about what a life of music meant to me. I had recently been told an anecdote from a close friend who said the best advice he ever received was that, "at the beginning, a career in music is a sprint, but then it becomes a marathon". It really had me thinking about how to care for my art and how to care for myself as an artist. I made the whole track in my bedroom on Euclid Ave, and sent it to Flavio Cirillo to play drums on. This track was mixed by Gus Van Go.
— —
— — — —
 © Adam Kelly
:: Stream Kris Ulrich ::
---