With their newest album, Make Things Better, Town Meeting throws another log on the bonfire, cueing those who have lapsed onto hard times to clink glasses and to dance.
— —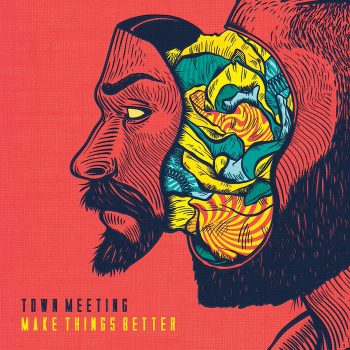 Town Meeting may hail from New England and they may play folk music, but don't call them quaint. While you were nodding off to hot cocoa and falsettos, the boys were stocking up on whiskey and preparing to break some guitar strings. With their newest album, Make Things Better, the band throws another log on the bonfire, cueing those who have lapsed onto hard times to clink glasses and to dance.
The band sustains the revelry for forty minutes without ever smoking the listener. At times they cool their rhythms, but only so they can push your nose closer to the coals. Tales of failure and success react with modern instrumentation to release pure folk-music energy. Amid the general trials of making it as a band as well as the precarious state of the world in 2020, Make Things Better is a call to gather, to celebrate, to mourn, and to heal.
Listen: Make Things Better – Town Meeting
A cappella, country-style harmonies ride clap-along rhythms through album opener "Bleeding Hearts." Welcome to Town Meeting's New England where the local boys must learn to keep it together, "with a heavy cloud that's trying to bring us down just a couple miles back." The band members trace their roots to the exurban small-town of Ayer, Massachusetts, some forty miles west of Boston in the heart of opioid country.
It was there, in 2012, that brothers Luke (lead vocals, guitar) and Russell (drums) Condon sparked an energetic blend of mischief and sorrow to bring their acoustic-driven tunes to life. Later joined by their brother, Brendan (harmonica, tambourine), as well as by friends Tim Cackett (lead guitar, mandolin) and Derek Fimbel (bass, banjo), the brothers-Condon found in music their ticket out of town. And yet to hear the story's latest chapter on Make Things Better, it seems as though the band's good fortune came packaged with a familiar brand of hard luck. The album plays like a letter of commiseration with friends and family back home. You'll hear the letter's central message on track eight:
And we walk the tightest rope,
Trying not to focus on the fallout.
So in the darker moments,
Think about the ones who never left…
And fuck the man who keeps you there.
Since the release of 2018's From the Green, Town Meeting have deepened their sonic palette. Strums and thumps still supply the songs with their presence and the band has doubled down on their thrilling peak-valley-peak dynamics. These elements feature on the opening tracks "Bleeding Hearts," "Answers," and "A Goddamn Song," and later on tracks "Forget Me Nots" and "Fuck the Man." Upon nearly every track they've added just the right amount of electric guitar, here crunching along to make the track rock, there plucking out a melody to connect verse with verse.
The real deliverables show up on the three middle tracks, "The Fourth Verse," "Sometimes the Moon," and "Pretend (It Isn't Strange)". As the band catches its collective breath, the tight jangles begin to space out, and Cackett douses his Nashville-bright pickings in shoegazy reverb. It's here that lead singer Condon confronts us with his lyric-writing prowess. He slides, line by line, between earnest questioning and biting interrogation, all the while remaining conscientious enough to stop in the middle for plain observation. More than on previous albums, he exposes himself, sometimes literally ("I was drawing yellow lines in the February snow") but always emotionally. He shuns any pretension for self-pity and offers only understanding and love to the listener.
Throughout the album every band member puts their talents toward the effort of connecting with the listener, and it pays off. The instrumental interlude of "Pretend (It Isn't Strange)," a swirling, shimmering fog of guitar and bass, removes the band from the spotlight and leaves them in the dark beside the listener. By the end of the album, you'll have trekked from forests that heal to mountains that catch fire. You'll have encountered preachers and the devil, taken pills, gambled on drunk texts, spouted blood and piss, shouted with the gang choir, and been left to sit in silence. If the night is still young, put on Make Things Better, if only to see whether the album lives up to its title.
— —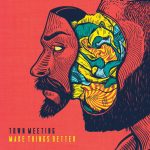 ? © Town Meeting 2020
Make Things Better
an album by Town Meeting