Fueled by the stuff that makes life worth living, indie rock band Last Dinosaurs' radiant, unfiltered fourth album 'From Mexico with Love' represents a post-lockdown era of celebration, connection, togetherness, and hope.
Stream: "CDMX" – Last Dinosaurs
---
Last Dinosaurs' fourth album starts in a moment of reverie and revelry: "Point in time, it feels crazy to describe, when all the stars align and the world just feels beautiful," Lachlan Caskey sings in "Hanson Ghost." "Moving fast but we're slowing down at last, I feel good in my skin again." It's an unadulterated embrace of the present; a cathartic exhale full of not only relief and inner release, but also excitement for where life's going and all that's to come. If the past few years represented an era of lockdown-fueled soft, intimate, introspective, and contemplative "pandemic" albums, then Last Dinosaurs' From Mexico with Love represents the post-lockdown era of celebration, connection, togetherness, and hope. The songs themselves are still deeply intimate, brutally honest, and introspective, but no one's languishing on their own, in the dark: This is an unfiltered album fueled by light, love, and warmth – the stuff that makes life worth living.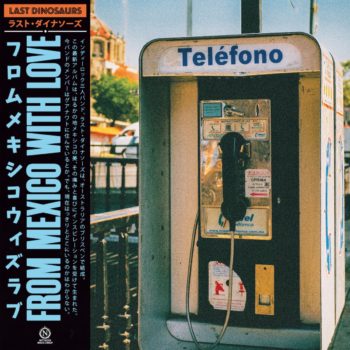 If I knew you'd make me feel this kinda way
To make the coldest winter feel just like the spring
And I was helpless here just dreaming on my lonesome
Nothing I can understand
Mexico City in the palm of my hand
Feeling like a billionaire
(let it go to your head if you need)
I can't pretend that I ain't seeing all the flaws
But I am human, makes me like it even more
Feeling restless for perfection I was wrong
– "CDMX," Last Dinosaurs
Released November 4, 2022 via Nettwerk Music Group, From Mexico with Love is a radiant, sun-soaked return for Brisbane, Australia's Last Dinosaurs. The follow-up to 2018's Yumeno Garden sees the indie rock trio of Lachlan Caskey, Sean Caskey, and Michael Sloane reeling through good times and bad, reckoning with relatable hardships and heartaches, and finding the strength to not just carry on, but soar through the hurdles in our respective paths.
Lachlan Caskey wrote much of the album in Mexico during the height of the pandemic in 2020; Australia had closed its borders, essentially stranding him in North America for the time being. Rather than fall into a state of brooding and despair, Caskey found beauty in his new surroundings, finding a special space in Mexico City that he could eventually call his home away from home. "In Mexico I had a lot of time to think about life, to face the demons and just figure shit out. But there were also rapturous moments where I felt so free," he explains.
Atwood Magazine previously premiered the album's cinematic single "CDMX," a captivating, feel-good tribute to Mexico City that captures the spirit of the album as a whole.
"'CDMX' equates a huge metropolis to the variability of life; the good, the bad, the beautiful, the horrendous… the feeling of having such perspective of something as large as life, is what this song is," Caskey shared at the time. "Basically, when you're in the honeymoon period of a relationship or anything equivalent which makes you feel that good, you feel in control of life in this empowering sort of way. 'CDMX' is our homage to our first time in Mexico City in 2019. We didn't really know what to expect, but soon as we hit the ground, we realized that nothing could prepare us for that place. We were consumed, taken over and absolutely made to believe that we were dreaming. The experience of that first time was etched into our memories, and 'CDMX' is just a glimmer of what we felt. Mexico, we love you."
"CDMX" comes to life with sun-soaked guitars and joyous vocals that, working together, invite us all to bask in a space of revelry and cheer – and it's not alone. While Last Dinosaurs' lyrics dive into such heavy topics as self-doubt and self-sabotage, anxiety and uncertainty about oneself and one's future, their music ultimately bears a sunny and sweet disposition. From the aforementioned opener "Hanson Ghost" and its smile-inducing bounce, to the charming "Put Up with the Weather!," the harmony-laden "Auto-Sabotage," the weighty, mesmerizing "Can't Afford Psychoanalysis," and more, From Mexico with Love is an uplifting and inspiring enchantment.
I can't catch a break it's on you this time
To pick us back up again
Things were going great with my stoic mind
But you had to ruin it
I know you don't wanna change
even if it's for the better
Apologise to yourself 'cause I know
that in time that you'll regret it
I keep on asking myself why
Self-sabotaging all the time
I keep on asking myself –
– "Auto-Sabotage," Last Dinosaurs
---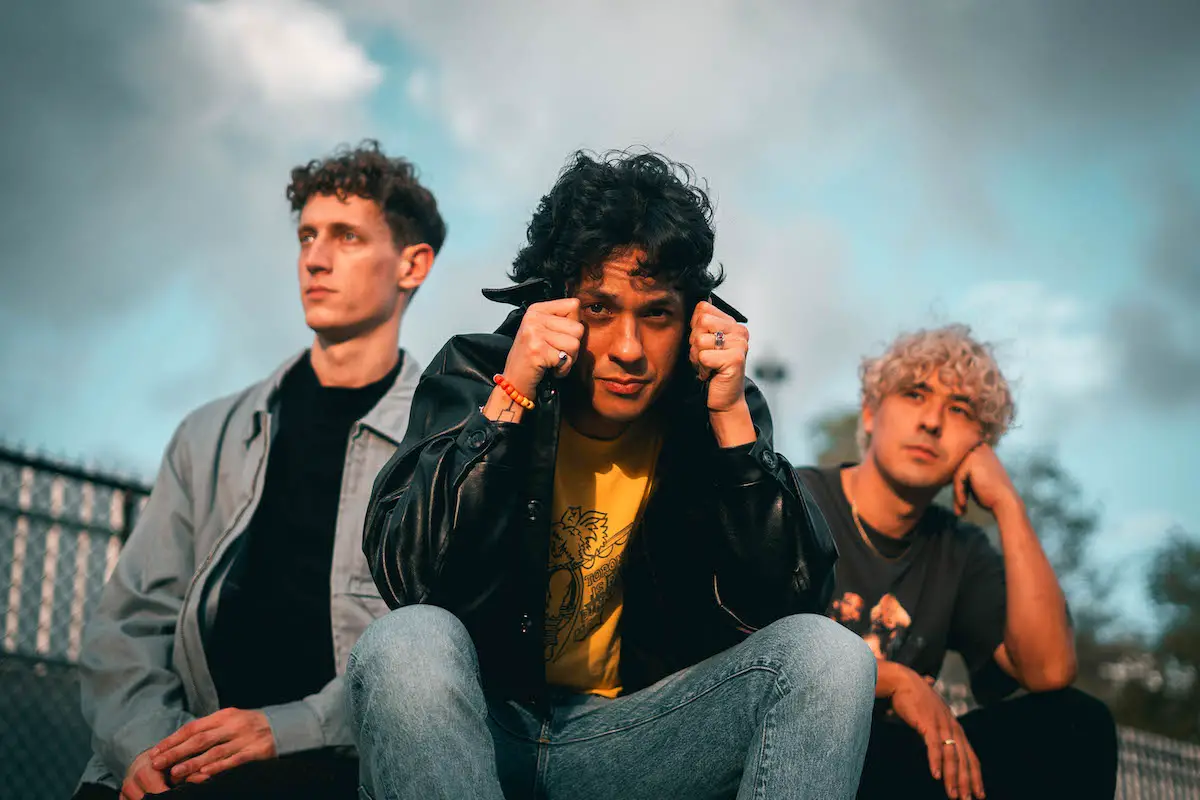 Rather than escape life's hardships or sugarcoat their problems, Last Dinosaurs openly share their dirty laundry, peeking under every rock and exposing every skeleton. From Mexico with Love isn't blithe ecstasy; rather, it's happiness derived from sorting through the muck and, at times, learning to live with it, rather that ignoring or avoiding it. "Melancholy was what made us want to be musicians in the first place," Caskey shares. "The Strokes, The Beach Boys… It's the idea that someone who really listens would say it's a sad song, but a passive listener wouldn't get it."
Nevertheless, one can't help but come away from Last Dinosaurs' fourth album feeling a sense of relief, optimism, and hope – and what more could we ask for, as we approach this year's holiday season? Experience the full record via our below stream, and peek inside Last Dinosaurs' From Mexico with Love with Atwood Magazine as the band goes track-by-track through the music and lyrics of their latest LP!
So long as the sun exists
To cast shadows on ourselves
The shadow has all to tell
For which we have such a bitter need
Took at every turn, we're never gonna learn
It's always gonna hurt and we won't get over
But we try… But we try…
Like something from an old greek tragedy
Can't believe in anything that ain't hollywood
One doesn't have a happy ending
But either way you gotta play your part
And try… I'm an optimist when I see pigs flying
Try… Either way you gotta play your part
– "When I See Pigs Fly," Last Dinosaurs
— —
'From Mexico with Love' – Last Dinosaurs
:: Inside From Mexico with Love ::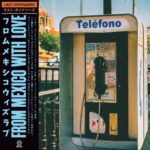 — —
Hanson Ghost
"Hanson Ghost" is straightforwardly about the ups and downs of touring and kind of how nice it is to have so much down time now. About being exhausted in the course doing something that you essentially live for. I just recall moments, certain blips in time where it felt like a dream: Mexico City sitting in the open air sidewalk table area of the taco joint next to our accommodation in the late afternoon, waiting for the night to fall when shit would get crazy. Even just looking at the street signs and realising like fuck, we're in Mexico City right now.
Basically when shit slowed down during the pandemic it was like infinite "me time" or whatever to try and address and face your demons. I felt that I had done a lot of this and that time was kind of slowing down, felt like I was calming down and finding true happiness in that alone. I hadn't felt happy with myself in such a long time and I think a lot of people can relate to that. This song is the pure joy and celebration of this feeling.
Look Back
"Look Back" is about the sorrow of flying away from your lover. You spend two months in each other's presence, in each others arms, always very close to each other and very comfortable as such only to have to face the moment when you have to physically let go of each other, not knowing the next time you will see them is.
CDMX
Equating a huge metropolis to the variability of life; the good, the bad, the beautiful, the horrendous… the feeling of having such perspective of something as large as life is what this song is. Basically when you're in the honeymoon period of a relationship or anything equivalent which makes you feel that good, you feel in control of life in this empowering sort of way.
Put Up With The Weather!
This song is a homage to Japanese city pop. It's deliberately an exaggeratedly upbeat song. The lyrics go between speaking to myself in the verses while the choruses and bridge are about the beginning of a relationship. I imagined an idyllic snowy winter in Canada. The way a Japanese anime or TV program would frame the perfect western white christmas would hyper-romanticise every element, with sparkly music and all. I kind of wanted to make the sound track to my relationship to a girl in Canada, who I met in the winter. The lyrics are also deliberately corny to an extent, so as to be true to the naivety of young love as well. This is just a song you don't need to dwell on the meaning of much and I like that.
Auto-Sabotage
Self sabotage. Everybody does it, everybody is puzzled by it. I wrote this song at a time when living through the pandemic in Mexico, the sheer surplus of time that I had firstly got me facing my demons and disciplining myself. But it's as if the other things in life which generate difficulty or tension that require some sort of self-sabotage to deal with them. To dabble in the darkside of things even if they are mundane (alcohol, lust, addictive video games, gossip) is somewhat necessary to existence. We can't be hyper controlled and all entirely pure, at least in most cases. But it is the fact that this self-sabotage is so prevalent in everybody, that it seems disproportionately high. Whether it was me, my own mind, my best friend in Mexico or anybody really, the sense of self-destruction at the time was infinitely infuriating. I don't wish to make a song which simply makes it okay to destroy yourself and your goals, but rather to point it out a problem, to expose it as a sly and and clandestine condition of the mind.
Note to Self
"Note to Self" was written as a result of seeing shit in other people that I don't like in myself. The idea of giving someone tough love to wake them up from their own piece of shit like lazy and useless, yet entitled and self-righteous behaviour felt good to me. Basically like Chris Moltisanti in sopranos, a overly coddled child who has been given a lot yet still finds every excuse to blame all his problems on the rest of the world.
Can't Afford Psychoanalysis
Mental health during the pandemic. I was in many respects alone in Mexico when I first arrived and it felt fucking weird to be there at first. Awesome but also very sad for leaving my girlfriend in Canada and being in a dead city due to covid. A lot of time spent in my tiny flat meant a lot of thinking and facing demons
The Hating
Originally about the city of Melbourne and its unique inhabitants, I have since changed it to be about Australia in general. It's a song expressing hate about a highly hypocritical culture: one that is known as a rough and tumble, outdoorsy, highly casual and modest one, yet if you're not as casual and modest as us, then you're a prick. It also happens to be one of the whitest and richest countries in the world, with the least amount of shall we say 'real' problems. Melbourners however are just so pretentious and insecure that they have massive chips on their shoulders, but they live in what has been voted the world's most livable city. I hate these sides of Australia from where all the shit things are born so I guess I tried to make a song about it.
Collect Call
This song is the only song which was written NOT in either the US or Mexico. Home coming was a kind of weird and has always been a painful and sad experience for me. Everyone has gotten older and the joke is that Brisbane never changes, that it is just a big over-grown country town at heart; everyone knows everyone etc. I felt like I saw a lot of depression this time, like COVID, although barely existent in our state, had still taken its toll on people. People who I thought could do much much better for themselves seemed to have not grown at all, seemed stagnant yet still aging. It's like even their stomping grounds was growing more than they could keep up with. Too much emotional history: grudges and ego defeats keeping them down. Therefore this song is a heartfelt gesture encouragement to those who feel a bit beaten down by their own self-sabotaging behaviours.
When I See Pigs Fly
This song is essentially about my friend Tyler in Guanajuato. When he had seemed to be going through some internal turmoil, I  had also just become familiar with the the Greek Myth of Sisyphus. Seeing him carry out his own endeavours, trying so hard to work out his demons and feel like valued person in the community we lived in, when I would see him come undone, ultimately sabotage himself, whether it was shutting himself off to others or becoming excessively upset with himself and not being able to sleep as a result, I was seeing him drop the boulder so to speak. Though it gets to a point sometimes, perhaps when the weight is too much in life, that we don't even want to try to pick it up again. We need a long-needed break at least. But I suppose in my view, being someone who is maybe excessively pessimistic, despite the pain of the process which is illustrated in Sisyphus, we have to try. I am never optimistic about life endeavours, yet I still muster the will to give it a good shot. Take a music career for example. Hence the title of the song, "I'm an optimist when I see pigs flying." The idea that life is more like a Greek tragedy and not a Hollywood film, is kind of the message I guess. That even though some things in life don't turn out to have ideal endings, or perhaps things have no end at all and feel more like an eternal grind, is far more realistic. The acceptance of this can allow us to carry on and not allow our endeavours and expectations to ruin our state of mind.
— —
'From Mexico with Love' – Last Dinosaurs
— — — —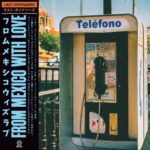 ? © GAKU
:: Stream Last Dinosaurs ::
---