Laura Dreyfuss reveals her most raw and authentic self with her new EP 'Peaks' and offers up all the feels with "Nose to Nose."
Stream: 'Peaks' – Laura Dreyfuss
---
Laura Dreyfuss is likely most recognized for acting in shows like "The Politician" and performing in major musicals such as "Dear Evan Hansen." But she is also known for her blossoming music career, with songs like "Sidelines" and "Be Great (feat. Jeremy Pope)." Something fans may not know about Dreyfuss is that she is a huge animal lover. Her bubbly track "Nose to Nose" pays homage to her fun-loving, three-year-old dog Banjo. The offering will melt hearts with its comforting vocals and affectionate lyrics, while the shimmery soundscape adds to that gentle quality. The song definitely provides all those fuzzy feels, and the visuals are just as touching. In the video, we see Dreyfuss playfully trying to balance her time between a guy and her dog. In the end, it is all cuddles as she and Banjo tenderly lay on the bed.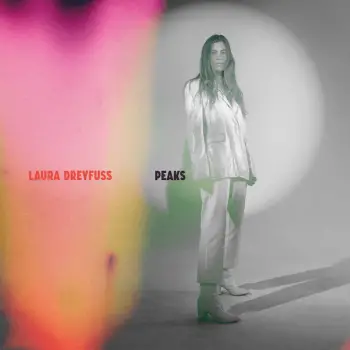 The singer has just released her solo debut EP, Peaks (out November 2021 via S-Curve Records), which beautifully showcases her musical evolution throughout the last few years.  Each song on the EP is intimate and inspiring. There are upbeat, vibrant songs like "Better Days" and "Nose To Nose," but also slower tracks such as the poignant conclusion "Pillow." The emotive visuals for "Pillow" provide the viewer with a further glimpse into Dreyfuss's personal life. Film style shots depict her playfully making snow angels, bonding with Banjo and walking through picturesque settings.
Much like her video for "Nose To Nose," the viewer is instantly swept up by the piece's warm nature. Atwood Magazine had the pleasure of interviewing the talent discussing her love for acting and music, "Nose To Nose", new EP and a lot more.
— —
A CONVERSATION WITH LAURA DREYFUSS
Atwood Magazine: What first sparked your love of music and acting?
Laura Dreyfuss: Music was always a big part of my household growing up. My older sister is an actress and I grew up going to see her perform a lot. So acting was always something that was a part of my life. Also my parents put me in piano lessons when I was really young. I was always learning from a young age what music was and I was always very drawn to it. Then I saw Les Miserables on Broadway when I was six. I grew up in New Jersey, so it was somewhat accessible. It was really amazing. I saw that show and immediately fell in love with performing and theater. I knew from that moment that this was something I needed to be doing with the rest of my life.
You are known for your several acclaimed roles in Once, Dear Evan Hansen and The Politician. What were you able to take away from those experiences, and have those lessons helped you in your music career as well?
Laura Dreyfuss: I'd say with each show it is something different. With Once I feel like I really felt what it was like to play in a band. Every actor on that stage is also a musician and they are the orchestra. We were playing everything music wise and it was a really incredible moment for me. As someone who never felt like I was the strongest musician or pianist, it was great to really push myself in that way. I feel like I learned a lot about keeping time playing with a band. It was amazing to be around so many brilliant artists. I feel like with every show, like Dear Evan Hanson, Hair and everything else that I've done, I've been so inspired by the people that I work with. Understanding the art of collaboration is important. So much of creating anything is best when it's a collaboration, at least in my experience. I've always really appreciated learning how to work with different people who bring different things to the table and adapting my style to work with theirs. That's always been super valuable.
You just released the light-hearted single "Nose to Nose." The song is an ode to your three-year-old dog Banjo. Can you tell us more about how you found her and some of her characteristics you really enjoy?
Laura Dreyfuss: Banjo came into my life at a really important time. I was filming the politician season one in Los Angeles. It's pretty serendipitous. I found her and it was really amazing. I was able to bring her on set and she grew up around the entire cast and crew. I was far from New York and had yet to form the strong friendships that I now have with that cast. At that time, it was a bit of a lonely experience. So having her was what got me out of the house. It's what gave me this sense of responsibility and companionship. She's just been such a soulmate. She has been really special.
I know your dog was a big influence, but what specifically inspired you to write the tune?
Laura Dreyfuss: I wanted to write a fun song. I feel like all of the songs that I've been writing have been about difficulties in relationships and the feeling of not getting what you want. I really wanted to just write a song that was the opposite of that. I was a little afraid at the time to write a full on love song about a person because it's a really hard thing to do. So I just thought it'd be really fun to do something from the perspective of singing and writing it for my dog, but having it also be something that could be about a person. So when you hear it, it's up for interpretation. It could be about a person or a relationship, but also, it was coming from a place of the pure innocent love that comes from a dog relationship.
The track features warm electro soundscapes and stunning, tender vocals. How was the track concocted sonically?
Laura Dreyfuss: I worked on that with my producer Michel Heyaca. We really just wanted to create songs that sound like me and figure out what's in my head and how to get it out. I really appreciate music that I can dance to or just feels really good physically. Lyrics are really important to me as well. For me, it was really fun to figure out a way to have interesting melodies and then pair it with a song that you can move to.
The video is so fun and playful showcasing each moment where you try to divide your time between the guy you are seeing and your pet, ultimately choosing your dog. How was the clever visual concept developed?
Laura Dreyfuss: It was really fun trying to figure out what story we want to tell. We kind of thought it'd be fun to make it funny. To have it be almost like a joke that's not so far from the truth. It's wanting to spend the day with my dog rather than see people. We thought it would be fun to make it about a date where you just were more interested in the dog than the person.
Besides dogs, what other animals do you really love?
Laura Dreyfuss: I pretty much love all animals. I grew up riding horses so I love horses. I'm coming around to cats. It's taken a while but I find them to be really sweet now. I feel like my dream one day would be to have a farm with a bunch of rescue animals because I just love all animals. I think that they're just the best.
Your new EP Peaks is so intimate and raw, almost like a series of personal journal entries. What do you think allowed you to be so open and vulnerable within this release?
Laura Dreyfuss: I feel like vulnerability is so important when creating any art. It's important to me that whatever I do doesn't feel contrived and I think the best way to achieve that is by writing from personal experience and feeling. It's actually very freeing to get it all out there.
I'm sure all the songs off of your EP mean so much to you, but is there one track specifically that you really find special?
Laura Dreyfuss: "Pillow" is probably the most special to me. It just felt really good to write and it's probably the most relevant song to me at the moment.
What is the significance in titling your EP Peaks?
Laura Dreyfuss: I like to think of life as a series of peaks and valleys. Neither are good or bad, it's just how life tends to flow. I thought it would be fun to use that for my music.
When people listen to your music, what is the biggest thing you hope they can take away from it?
Laura Dreyfuss: My biggest hope is that people can feel seen and understood when they hear my music. I hope that it's freeing for people. I hope that people can feel like their truth is validated because that's when I hear music that I love. When a song is very truthful and it resonates with you, you feel a little bit less alone.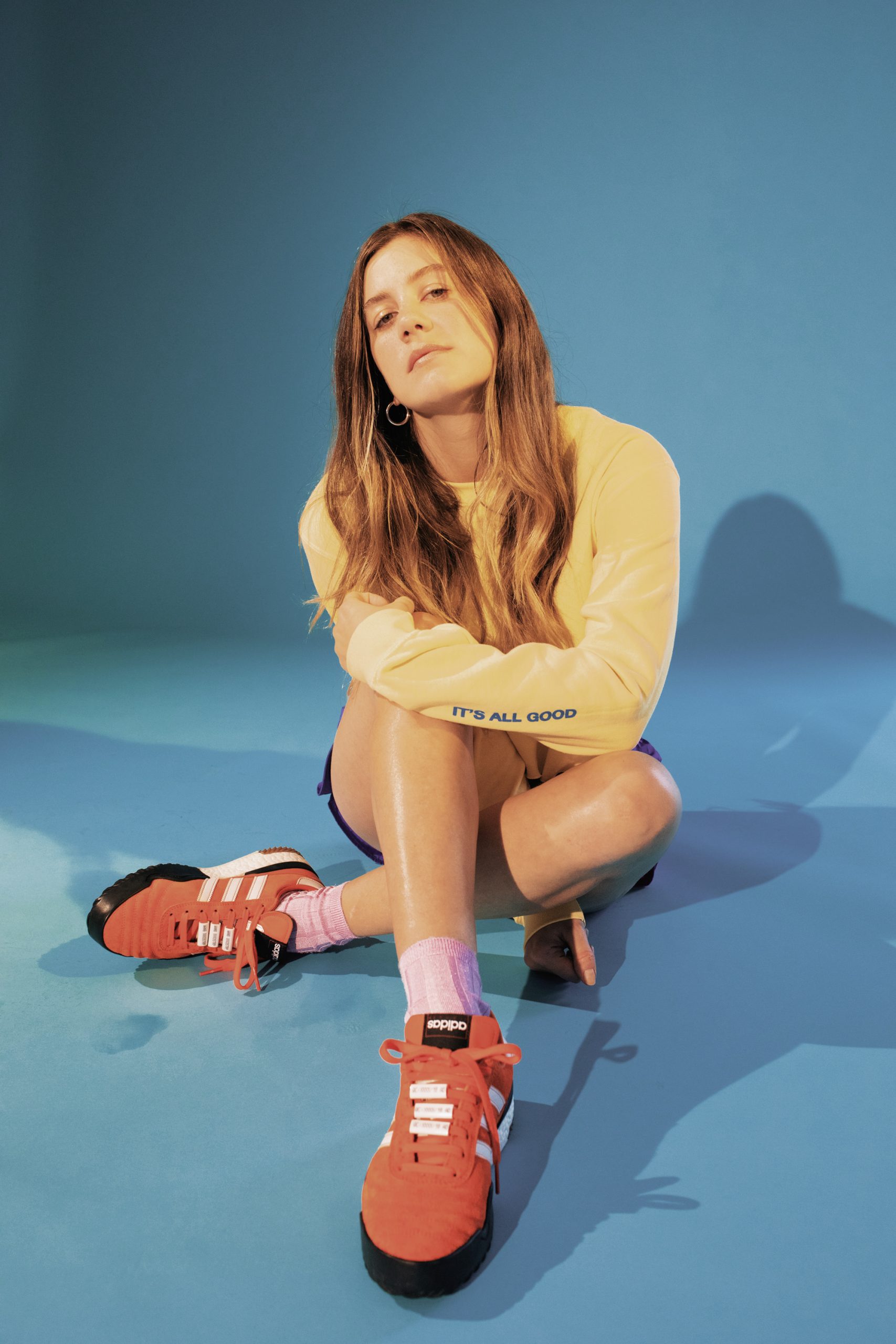 Who are some artists that inspire you?
Laura Dreyfuss: Lyrically and musically growing up, I always listened to The Beatles and The Rolling Stones. My dad loves classic rock. I also love Joni Mitchell. That's something that I always come back to as the gold standard for writing. I like more current stuff as well. I really appreciate the female artists that are killing it right now. I love Christine and the Queens and Florence + the Machine.
Finally, who are some musical acts currently on your playlist you can recommend to our readers?
Laura Dreyfuss: First Aid Kit, Phoebe Bridgers and Dermot Kennedy. I also love Taylor Swift and Harry Styles.
— — — —
? © Luca Venter
:: Stream Laura Dreyfuss ::