Australian singer Lenka talks about her new music, how COVID-19 crushed her touring plans for this year, writer's block, as well as life after moving from the US to live back in Australia.
by guest writer Nick Thomas
Stream: 'Discover' EP – Lenka
---
Australian singer-songwriter Lenka produced one of the catchiest pop songs of the late 2000s with "The Show," featured on her debut album. After a three-year recording hiatus, she's now back with new music and a video as well as several beloved standards.
The latest release includes six new songs and six covers which she began promoting during an early 2020 tour but, like so many other entertainers, was forced to cancel when the coronavirus struck.
"I'm supposed to be in Europe on tour, so it's a bummer," she said by phone from her home near the rural New South Wales town of Berry where she has lived for several years. "But of course, the whole world is struggling with this."
As with any new music release, a follow-up tour keeps up the momentum for sales and interest in an artist in the news.
"Yeah, I was energized and hoping fans would look forward to some new music and concerts," she said. "Now I'll have to pick up the pieces somehow next year and would like to book exactly the same tour in 2021 if possible. But I also feel that somebody like me who is an established artist who's been around for a long time has a pretty stable fanbase, which isn't changing a lot right now. So [I] feel really bad for young new performers who were hoping to start or continue their careers by touring this year and picking up more fans. It would have been such an exciting year for them."
A short tour is still scheduled for later this year, including Los Angeles and New York, as travel becomes safer. "I might expand it to do more shows, we'll just have to wait and see."
Known for composing playful melodies and whimsical lyrics, as well as her dreamy vocals, the singer mostly performs her own songs but chose to cover several classics on her recent release, including the cheerful Leslie Gore '60s song "Sunshine, Lollipops and Rainbows."
"My (4-year-old) son began singing it after he heard it in a movie and it stuck in my head, too!" she recalled. "The upbeat melody and lyrics felt kind of like a Lenka song, but I gave it a more folksy sound."
She also tackled Bob Dylan's revered "Mr. Tambourine Man."
"Dylan is a genius, so this was an experiment for me to attempt a legitimate revisit," she said. "The lyrics have always sounded like a lullaby to me – like someone trying to go to sleep – so my version has a slower tempo."
Lenka also 'covered herself' by reworking "The Show," which a contract with the original recording label had prevented her from legally doing.
---
"When my manager told me the restriction expired a few years ago, I thought it would make a nice addition to the cover set," she explained. "My voice is a bit deeper now and I've probably become technically a better singer since the original came out in 2008. I've sung the song '50 million' times so thought I'd rejiggle it with a fresh approach."
"The Show," with its simple, haunting melody, has been used in many movies and TV shows. Comedian Billy Crystal even adapted it for a segment introducing the Best Picture nominations during the 2012 Academy Awards ceremony. Lenka songs have been featured in Apple, Windows, and Old Navy commercials.
"I co-wrote 'The Show' with Jason Reeves in 2008," Lenka said. "I was at the piano, he was on guitar, and we wrote it in about an hour and a half. I'm not sure who came up with the actual melody, but I find it better not to focus on who wrote what, as that takes away the creative joy."
As for the new songs, the video for "What Goes Up" shows the singer lying on the ground as the camera pans up high.
---
"That was done on our property with my brother's drone on Christmas Day," she recalled. "He was actually standing under a tree nearby holding his baby while controlling the drone with his phone. That probably would have cost about 50 grand to shoot professionally. But it worked out great and looks fantastic."
"Goodbye Beautiful Day" came into her head while soaking in the bathtub. "I had no instrument with me when I created that melody, but used either the ukulele or keyboard for the others. Melodies usually come to me pretty easily."
Except when they don't. The singer admits she wrestled with writer's block and other issues since her last album three years ago.
"I go through cycles – after a tour and doing all the publicity I feel exhausted and need a break from writing, recording, and performing," she said. "And that's natural. But that period became much longer last time. We had also just moved to the country from Sydney, after living in LA and New York for several years. I just felt, 'Okay, I'm 40 now, maybe I need to give up music.' It seemed my identity was changing and I was becoming a regular country lady and a mom."
She says depression made getting out of bed difficult some days.
"I knew the fans wanted new music and I wanted to make it for them. But I needed to find my own mental health and realized I had to be creative again. In the end, getting back to writing was therapeutic."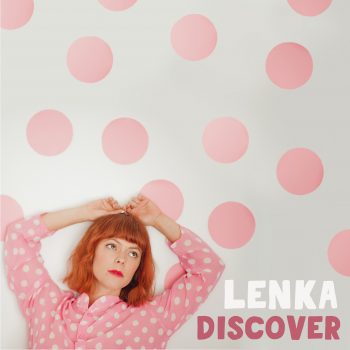 Lenka's new recordings are available on digital download, as well as a limited number of vinyl EPs titled Discover and Recover for the new and old songs, respectively. (see www.lenkamusic.com)
Although vinyl records have been staging a comeback in the past decade or so, the medium was definitely spiraling out of favor when Lenka was a teen in the early '90s. Nevertheless, she was no stranger to the medium thanks to her parent's record collection.
"My dad was a jazz musician, so we had a lot of jazz and blues records," she recalled. "And my mother had a box set of The Beatles. I remember copying my favorites onto cassettes then riding around the suburbs listening on my Sony Walkman."
This past April, Lenka treated housebound fans around the world to a sample of new and old tracks during an uplifting Facebook mini-concert from her Aussie backyard, armed only with a ukulele and laptop, surrounded by cows and chickens on the rural cottage which the family – including husband and two young children – currently rents. The family plan to move soon into a nearby remodeled home on 5-acres the couple purchased some years ago.
"Most of the land is bush, rainforest actually, and it's just beautiful," she said. "In fact, the cover photo of me in a tree by a creek on my last album, Attune, was shot there."
"I feel my life is a lot more mellow these days," she adds. "I'm grateful for the ability to create music and that the positive whimsical nature of my songs is uplifting and good medicine for myself and others."
— —
— —
Nick Thomas has written features, columns, and interviews for over 800 newspapers and magazines. See www.tinseltowntalks.com
— — — —
? © 2020
:: Stream Lenka ::
---