Radiant and irresistibly catchy, Sonia Stein's 'Lessons From Earth, Pt. 1' is an intimate record of connection and contemplation, experience and introspection.
Stream: "Zoom Out" – Sonia Stein
---
Sonia Stein's latest music is as entertaining as it is educational: A true mix of the head and the heart. Radiant and irresistibly catchy, Lessons From Earth, Pt. 1 is an intimate record of connection and contemplation, experience and introspection. Groovy and moody instruments join slick and seductive singing to make for a set of songs one can't help but play on repeat.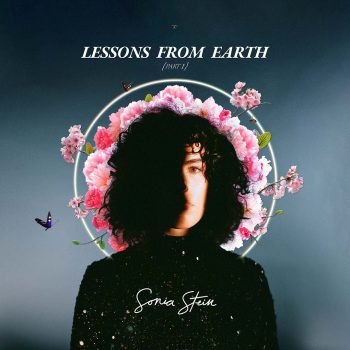 A lotta life is coming right at me tell me how to get out
A Guru told me if you get confused then you gotta slow down
When I get lost inside the big picture I cannot be found
oversaturated too pixelated I gotta zoom out
All I really need is some distance babe
(Step back, zoom out, walk away)
Everything looks better from far away
(Step back, zoom out, walk away)
Everything feels new from a birds eye view oh
(Step back, zoom out, walk away)
So I'll be making my decisions from outer space
Released March 18, 2022 via Marathon Artists, Lessons From Earth, Pt. 1 arrives two years after Sonia Stein's last EP Letters and its breakout single "Philosophical" helped reaffirm the London-based pop singer/songwriter's place in the indie spotlight. An unapologetic artist with an alluring voice of gold and the songwriting talents to match, Stein has been actively setting the world on fire since she introduced her music over eight years ago.
2014's Symbol EP offered visceral insight into an artist exploring not only herself, but also the limits of sound and space; these explorations have continued through to more recent years, where songs like the catchy "Coexist" and the propulsive, flowing "London Used to Feel So Cool" blur genre and familiar timbres while propelling an exciting air of pop majesty. Letters is as vivid as it is charming – a captivating, charged collection of reverie and revelry ready for moments of solitude and celebration alike.
One has to hope Lessons From Earth, Pt. 1 is the lead-up to a full-length album (although it hasn't been officially confirmed): With nearly a decade's worth of songs and EPs under her belt, Stein is long overdue for a long-form musical experience, and fans deserve to hear the fuller breadth of her artistic abilities. With its six songs, Lessons From Earth, Pt. 1 finds Stein at her best, soaring through high heights and dwelling the life's depths – all in a format that's as unforgettable as it is cathartic.
"Lessons From Earth, Pt. 1 came about as I naturally started to see a theme emerge in my songwriting," the artist tells Atwood Magazine. "My songs started having messages in them rather than just telling an open ended story. I realized it was a reflection of how I started looking at the events in my life as happening for a reason, as happening to teach me something. It felt like I was being asked to document my progression as a person on this planet, to share the things that have been helpful to me."
"I think I was really starting to find my confidence in creating more upbeat music and I gave myself permission to really lean into what felt fun rather than just what felt emotive. I was also being drawn to more moving baselines, more groove than I was before. Every session I just had the theme of "lessons from earth" in my mind and let myself tune into whatever was present for me, and sonically that took me somewhere that felt new and exciting as well. I think it showcases a variety of styles that I resonate with and most of all it showcases my passion which is to take quite complex ideas and try to communicate them as succinctly and simply in a the format of a 3-4 minute pop song."
The EP's title comes from a deeper philosophical dive into questions of existence, time, place, purpose, etc: Those big questions that can so often and easily keep us up at night.
"I was reading a lot of books about past lives, about reincarnation, about souls and I really liked this idea that we are all these eternal souls that reincarnate into manifest reality all over the universe to learn different lessons," Stein explains. "That we chose earth, that we chose the time, the place, the body we are incarnating into specifically for the reason of integrating something new. I loved the idea of coming to earth almost as an alien from another planet and observing what there is to know about life on this particular planet. Part 1 comes from this being a longer project that will end up being my first album!"
---
When it comes to extended plays in today's oversaturated musical environment, every second counts – and Sonia Stein makes the most of this record's 22 enchanting minutes. Opener "Mercury Retrograde" is an instant banger in itself: Intimate and deeply grooving, the cerebral track reminds us to get out of our heads and out of our own ways – to stop waiting and worrying, and take some action. In premiering the track last September, Atwood Magazine called it an "endearing, alluring moment of important self-empowerment. It's a supportive note-to-self to dismiss the bad thoughts and embrace a can-do attitude." Stein deftly rises to an emotional and sonic high in the chorus:
It's like I got superpowers but the bad kind
These mountains weren't here before I saw them in my mind's eye
So I think I might make them disappear
So then I get to
Ride that wave
Although Mercuries in Retrograde
Although the Stars didn't align today
And the reasons keep coming
They keep stealing my moments away
Further highlights include the undeniably driving, intoxicating "Zoom Out," the anthemic outpouring "Apocalypse," and the indulgent, hypnotic R&B-infused pop ballad "What's Yours (Isn't Mine)."
"I think Sad Girl has definitely become a favorite of mine especially after performing it live," Stein muses. "It has its own energy that feels really strongly mine. I also love 'What's Yours (Isn't Mine)' – I feel like sonically and melodically it just flows and soothes in a way that's really satisfying to me."
As a lyrically forward artist, Stein notes a few of her favorite lyrics:
"I don't wanna believe everything that hear, even though it's my voice I know it's not really me, everything that I see is just a thing i perceive" – "Zoom Out"
"It's so romantic when I stay up waiting, for an 'on the way' text sound of violins, a veiled metaphor for a diamond ring" – "Sad Girl"
"holding onto the warmth for a sideways glance" and "we just talked about it, turned our love into a good idea on a bucket list" – Bucket list
---
Ultimately, this is a record to get your feet moving and heart beating faster.
"I hope listeners can relate to the messages of the songs," Stein shares. "I hope that some of them plant seeds of self awareness that will lead to smaller and bigger shifts in the way people relate to themselves and their loved ones. I think I'm taking away an excitement for the rest of the project, a new confidence and trust in the constant flow of creativity and a renewed sense of purpose."
Experience the full record via our below stream, and peek inside Sonia Stein's Lessons From Earth, Pt. 1 with Atwood Magazine as she goes track-by-track through the music and lyrics of her latest EP!
— —
Stream: 'Lessons From Earth, Pt. 1' – Sonia Stein
:: Inside Lessons From Earth, Pt. 1 ::
— —
Mercury Retrograde
This song is basically about making excuses , about creating obstacles for yourself and about realizing you have the power to remove those obstacles the same way you've made them appear. It's about taking ownership and taking your own power back, realizing you are the master of your fate in many ways.
Zoom Out
Zoom out is about getting perspective when life gets overwhelming. I was getting a lot of messages and imagery in my life about a birds eye perspective, I constantly being reminded to look at the bigger picture and I wanted to put it in a song that felt fun and easy so that it would become a subconscious mantra that could easily infiltrate into your daily life. This was the first song I wrote for the EP and it has been a North Star stylistically and message-wise for the rest of the project.
What's Yours (Isn't Mine)
This song is about absorbing other people's energy and understanding that by following someone into a dark place you are not helping them nor are you helping yourself. I think the word empath is thrown around a lot as a virtuous quality and having compassion is incredibly important but the song is about being able to be there for someone you love by pulling them out of their darkness rather than climbing in with them.
Sad Girl
Sad girl came about as I was sitting at my piano pondering on the younger female singer-songwriters who's writing I really admire and getting nostalgic for a time where I could write a song purely from a space of "I wish this guy liked me". It's about growing up as a woman and starting to understand how so much of my creativity used to be wrapped up in this subconscious idea that I would one day be happy and complete when I entered a relationship. How happy I am that I'm no longer in that space but sometimes still wish I could use it to fuel my songwriting.
Apocalypse
I wrote Apocalypse about the conflicting feelings of both being in love and worrying about the demise of our planet. It's a struggle between being present in the moment with someone you love and being present with the pain and suffering happening in the world all of the time. It's about wanting to escape the constant worry and feeling guilty about wanting to at the same time.
Bucket List
Bucket list is a song about staying in a relationship with someone that is only fueled by the potential and hope for what it might become rather than what is actually there. It's about having this moment of clarity with yourself and realizing , wow what is really keeping me here ? It's about being in a relationship that's all about comforting words but not any significant actions.
— —
— — — —
? © Simon Emmett
:: Stream Sonia Stein ::
---