This Women's History Month, Atwood Magazine has invited artists to participate in a series of short essays in observance and celebration of the month's significance. Today's submission comes from the First Lady of Queer Country herself, Cindy Emch of Secret Emchy Society. Emch is known for her distinct voice and ability to blend Americana, California Country, Hellbilly, Goth, and Honky Tonk, spinning radically distinctive tales from her singular perspective. Her new album, Gold Country / Country Gold, comes out May 24th.
Says Emch: "From Nina to Frida to Dorothy, Women's History Month is a time to name our heroes and shout their collective names from the rooftop."
•• ••
Once upon a time, I was at my weekly country music jam with this wonderful group of older guys who were incredibly supportive and encouraging about my songwriting. One night, after a bit of whiskey, one of the guys turned to me and said "Thank you for coming tonight – it is so much better when there is a woman here. I mean, you know how it is when it's all guys" and I just looked at him and said – "No, I don't."
That's a bit how Women's History Month feels to me. All year long, every moment of every day more than half of the population walks around knowing how amazing, strong, influential, and powerful women are – and like all of the identity celebration months – I always feel like one month is not enough time to celebrate the width and breadth of women's contributions to our culture, science, and world. That said – I'm glad for the spotlights that showcase the women we don't know. Women have changed the history, art, culture, science, and movements of our world – and often with less than a footnote in our culture of record to tell anyone about it.
As a songwriter, musician, and poet – there are so many women who have influenced and lifted me up. Unlike the portrayals of vicious competitive women in the Hollywood blockbusters – I've been lucky enough to know so many women who were more interested in forming community, offering a hand up the ladder, and truly supporting and collaborating with each other to help folks with less access or experience succeed – and that is one of the most awesome parts – for me – of being a woman.
I've taken inspiration and fortitude from writers like Zora Neale Hurston, Lauren Wheeler, Dorothy Parker, Daphne Gottlieb, Fran Varian, Gwendolyn Brooks, Sharon Olds, Michelle Tea, Nadine Hubbs, and countless others. I've rediscovered my spiritual center with music from Mildred Bailey, Carolyn Mark, Hazel Dickens, Nina Simone, Shawna Virago, Rosie Flores, Billie Holiday, Karen Pittelman, Dolly Parton, Rebecca Coseboom, Mercy Bell, Laura Benitez, Lilli Lewis, Patti Smith, Mya Byrne, Brandi Carlile, and too many more to list. Film and multimedia artists like Jbird McLaughlin, Lily Wachowski, Judy Chicago, Frida Kahlo, Jane Campion, and Yoko Ono have pushed me to walk emotionally in another's shoes and come out of the moment better for it.
As I put together this list of gratitude and influences, that gets to the actual heart of it all. Women's History Month is about putting the names of other women in our mouths and shouting them from the rooftops.
It's about spotlighting, boosting visibility, and not letting the names of our people be forgotten. Women build families – not just with spouses and offspring – but with each other around art, culture, and friendship. The women that I treasure in my life are the core community that helps me accomplish my art. They drive me to the ER at 2 am when 'something' is wrong. They drop off black-eyed peas on New Year's Day when my wife and I are stuck inside with COVID. They call and text and check-in if they haven't heard from me in a while.
And sometimes – we just sit together. Quiet and content – knowing – that we're walking the same road, we're each other's ride or die, and overall other things – we have each other's backs. We stand on the shoulders of the women who made history before us, together, walking forward, making an inclusive, intersectional, and powerful history for the next generation of women to come. – Cindy Emch
— —
— — — —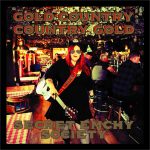 ? © Margo Duane
:: Secret Emchy Society ::
---