A warm, sweeping serenade of elegant acoustic sound, Cujo Moon's sophomore EP 'Bridges II' is as beautiful as it is heart-wrenching.
Stream: "Watch You Shine" – Cujo Moon
---
A warm, sweeping serenade of elegant acoustic sound, Cujo Moon's sophomore EP is as beautiful as it is heart-wrenching. A five-track journey of reflection, acceptance, and healing, Bridges II is an immersive cathartic experience bustling with impassioned indie folk and achingly visceral performances soaked in stirring emotion.
Soft yet fierce, it's a twenty-minute you can play for hours.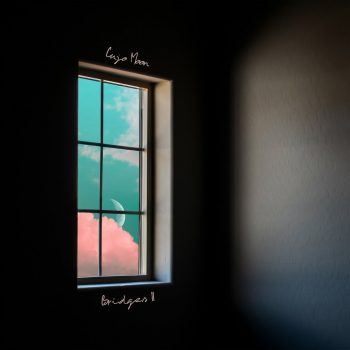 Won't you come inside
I give you my word
I know you never meant harm
Never wanted me to hurt
But all these years
That you were washed away
I've been living in fear
Each and every day
So come on
Come on
Come on my love
It's gonna be alright
Just like the stars above
In the dark night sky
I'd love to watch you shine
I'd love to watch you shine
Shine so bright
Released March 26, 2021 via Tone Tree Music, Bridges II arrives just six months after Cujo Moon's debut EP, Bridges I. The alt-folk moniker for 29-year-old Nashville-based artist/producer Trevor Willmott, Cujo Moon first introduced himself with last summer's single "Come Home Now" following the dissolution of Willmott's bands Dream the Electric Sleep, The Wild Jays, and Neon Rain. A multi-faceted singer/songwriter weaving aural worlds of wonder, Willmott has a special ear for filling the airwaves with just enough sound to elicit a raw, real emotional response. His textured soundscapes and tender vocals make for an intoxicating listen – one that is subtle, yet filled with feeling; heavy, yet light on the ears.
"Bridges II is a mix of songs both old and new, the production style was a new venture entirely. The strings, percussive elements, and epic layering of sounds were entirely new for me in this genre. Maybe it was the residue leftover from having been in a psych-rock band for 4 years; I just couldn't completely revert to acoustic guitar and vocals by themselves," Cujo Moon tells Atwood Magazine. "I've been bouncing around between different genres and musical projects for years, so it does feel like it's been a long time coming. Funny enough though, I think the production and overall direction for these songs happened faster and with more focus than anything I've ever worked on before. I was toying around with several different sounds at the time when all of this started. I had written a handful of alternative pop songs with a '70s retro soul vibe (or something like that??) and some friends and I started tracking them. We released a few recordings on Bandcamp and played one show at a local bar under the name Amora Sol. I still love where that was headed but the Cujo Moon stuff kind of took my attention away after producing "Watch You Shine." That song was just so powerful for me personally with everything that happened around then. A friend kind of nudged me to finish an album of songs in that direction and I put everything else on pause. It felt right at the time so I went with it. I put together 10 songs and started shopping them around. That led to signing with Tone Tree which completely changed the game. We split the album into two EP's to help introduce the new project more slowly. And now here we are!"
"This was a very cathartic record to make," the artist adds. "I was pulling out old songs that never saw the light of day, plus writing new ones in that same folk style that I abandoned for several years. So I was revisiting old parts of myself every time I produced. I think it all happened because I needed to do this reflection. I had kind of jumped ship so many times in my 20's that I lost my way. Making this album was like finding a rope in the water and slowly pulling myself back to the boat. It let me tie off all the loose ends and realize I had to accept things in order to move forward. And that's where the healing happens."
---
This is far from your "typical" singer/songwriter content. Cujo Moon is a sonic architect: Akin to artists like Haux, Novo Amor, and Dustin Tebbutt, he elevates every moment with a delicate, painstaking finesse.
Crafting cool, nuanced tapestries full of colorful depth and varied instruments, he conveys message as much through the words he sings as by the barely audible keyboard in the background; when it comes to this kind of production, every song feels like a miniature masterpiece.
"I didn't have much of a vision other than to make a bunch of songs that would work well with "Watch You Shine." Really though, that one just sparked the whole thing," the artist recalls. "It was a whole new way for me to work as a producer and songwriter all at the same time…and without the need for a band or anyone else to rely on. I do love the camaraderie of collaboration but once The Wild Jays disbanded, isolation was what I needed. In the words of a Kevin Parker song, "Solitude Is Bliss." I can totally be like that sometimes."
While Bridges II is certainly its own standalone piece, "it's really just a continuation of the first EP," Cujo Moon admits. "I don't really differentiate them much in my mind since the songs all got produced in a similar time period. They could easily be lumped into an album though I think it's best we split them up. This kind of songwriting can be tough to listen to for 45 minutes straight! Small doses are often the best kind."
"I did try my best to make them stand on their own though. I actually wrote "Our World" for the first EP for that very reason. I just felt like it needed an intro song to get things going. I did save several of my favorite tracks for the second EP. And also one of my more obscure ones called "Mirror Image"…which also happens to be a personal favorite because it's so different from the rest. Someday I'd love to do a vinyl that is one EP on each side. And put both covers front and back. That would be fun!"
The title itself, Bridges, maintains a special meaning that the artist wrote down for himself a long time ago: "It's the idea of a space we must journey between our own shadows and our truest expressions of self."
"I think ultimately what the name has come to mean to me over time is merely a "bridge" between my past and my future. This collection of songs has really been a turning point for me in my life. I have a renewed sense of identity as a creative. I still have my moments where I question everything, but I have a much more solid footing within my heart and mind as to why I'm on this path."
Opening with the softly radiant "Watch You Shine," Bridges II weaves as spellbinding adventure through a set that is as tender as it is dramatic: Sometimes, it's the quietest songs that stir up the heaviest, most volatile feelings. At the same time, Bridges II doesn't assume to be any one thing: Whisking its listeners into an atmosphere of sun-kissed alt-folk (we might as well call this "folk+"; it's 2021, after all), it lets us decide how we want to feel in the moment – whether it's unraveling some deep-seated sentiment, or basking in a state of blissful serenity and zen.
Cujo Moon cites a number of highlights on his sophomore EP, noting a few special lyrics that continue to resonate with him to this day. "I think one of my favorites from Bridges II is the line from "In a Sky of Blue" that says, "If we're living a lie, I don't give a damn about truth." I remember when I wrote that song and I completely resonated with that feeling. It's kind of a selfish line I guess but sometimes daydreams are the best, you know? Who wants to come down from that? That song is probably my favorite lyric in general. I think it has to do with the way the words sound over the music. It's easy for things to get clunky when I write but I think that one has a good flow. My good friend Amadia took this "flowiness" and made a killer hand-drawn animation music video for the track!"
---
He further adds "Goodnight Black Sky" and the "Watch You Shine" as meaningful tracks: "One highlight from the recording process was tracking vocals for 'Goodnight Black Sky' with my partner, Rae Mercedes – I'm so happy we did the duet. Her voice took the song to another level and really brought the narrative to life. I'd like to venture into new territories with each new collection of songs that will follow these EPs – I'm not a fan of repeating the same sound over and over."
No I cannot bear
To look in your eyes
Not even one more time
You need to go your own way
Because I need
To go mine
Goodnight my black sky
Goodnight
"Watch You Shine" was a sort of blueprint for the whole EP, and it remains central to Cujo Moon's musical identity today. "Ever since I produced "Watch You Shine," that has remained one of my favorites. But to be more specific, it's the ending that really does it for me. Right after that second chorus ends and it goes off in a new direction with those wordless vocal harmonies. I just really love the mood of that part and how it opens up into the big epic ending. This became even more realized when my good friend Ryan Usher made the animated video. The scenes that unfold during this part just really take things to a whole other level. I was blown away by what he was able to create for the song. You should check out his other videos too!"
While there is much to be gleaned from these aforementioned tracks, the truth is that Cujo Moon spread a little musical pixie dust across Bridges II's five songs: From the catchy tranquility of "Watch You Shine" to massive ethereal drama that takes place in the finale "Mirror Image" (which can't help but remind us of fellow sonic soundscaper, EDEN), Bridges II makes for an enthralling escape into tantalizing pastures.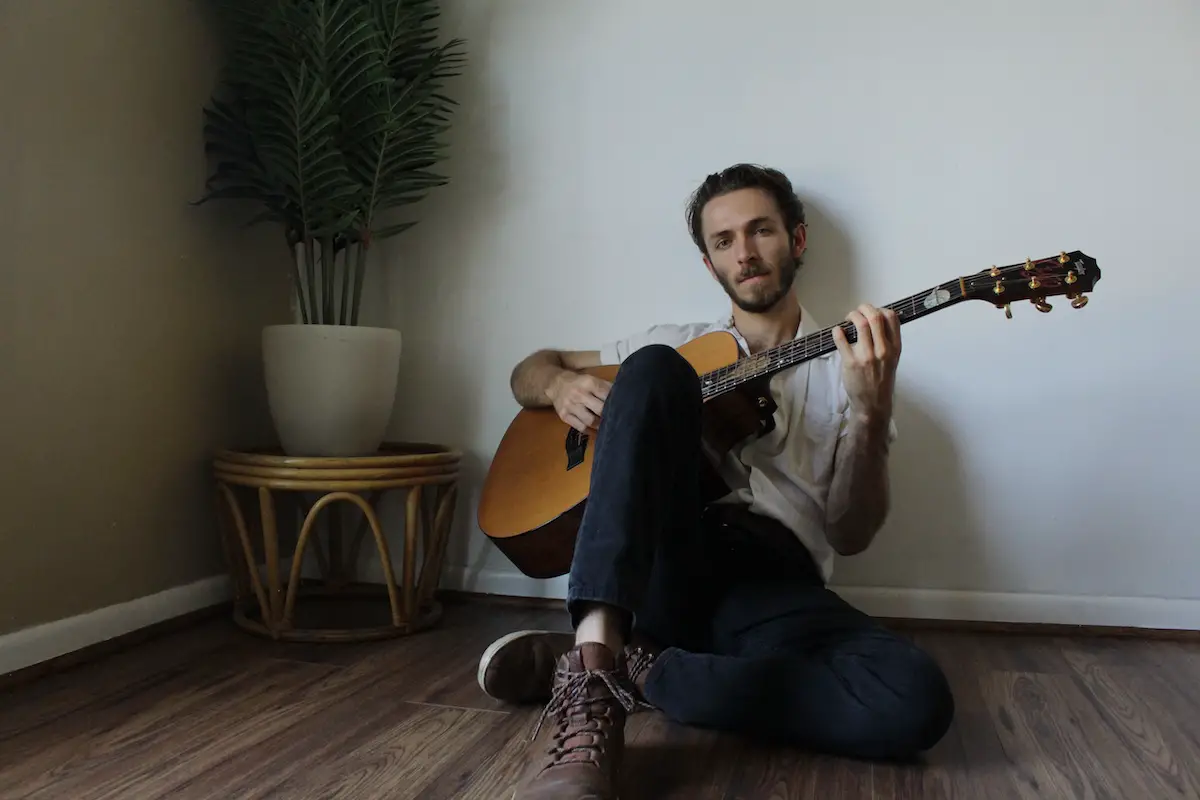 "I hope people are able to take away some sense of peace from the listening experience," Cujo Moon says. "These songs are a bit heavy and moody at times but I also think they are threaded with hope and healing. I know for me personally, I have gone through many phases of life where I needed to listen to music that wasn't always the happiest. There is something very human about putting on headphones and losing yourself in the music. It's the connection that happens. If a song resonates, then you know you aren't alone because at least one other person (the writer) had to have felt the way you do. If putting my own heart and soul into creating some music helps just one other person out there feel less alone, then it was all worth it. Cliché maybe, but totally true."
Needless to say, we are thoroughly hooked. In less than a year's time, Cujo Moon has asserted himself as a thoughtful, evocative voice in the alt-folk scene – rising out of Nashville to fill our worlds with comfort, vibrant sound, and deep pools of visceral reflection. Experience the full record via our below stream, and peek inside Cujo Moon's Bridges II EP with Atwood Magazine as the singer/songwriter goes track-by-track through the music and lyrics of their latest EP!
Runaway from the pack
And never look back
As the moon calls for your song
And the night pulls you along
And though the road
Might seem long
In the end it just goes on
Gotta sing your song
Gotta sing your song
– "Sing Your Song," Cujo Moon
— —
Stream: 'Bridges II' – Cujo Moon
:: Inside Bridges II ::
— —
Watch You Shine
"Being the first Cujo Moon song I produced, this track really inspired the sound and direction for the songs that followed. The lyrics were inspired by a TV show where a father is estranged from his son due to years of drug use. The song sat in my voice memos for months before I felt moved to produce it. Unfortunately, a super talented and long-time student of mine committed suicide that December at the age of 14. It was a tragic event for everyone close to the family and I was completely torn up. Shortly after, I recorded this song as a sort of catharsis. I'd like to dedicate it to his family in loving memory of Jaden."
In a Sky of Blue
"I wrote this song on a beautiful summer day when I was completely depressed. I was lying on the grass strumming some chords and staring up at the moon. I remember thinking how lonely but also how perfect it looked surrounded by the empty sky. The word 'blue' took on a double meaning in the lyric as something both sad and beautiful. I think sometimes we prefer familiar pain over unfamiliar change. This is a song about swimming in that feeling."
Goodnight Black Sky
"This is an older song of mine that never saw the light of day. I wrote it during a transitional time of life just after a difficult breakup. I was self-medicating far too often and getting more and more lost. The lyrics ended up sounding like it was about the relationship, but it's really more of a metaphor; I wanted to break free from my own destructive lifestyle. Healing takes time, but I really believe that our darkest moments can hand us our brightest lights."
Sing Your Song
"This is a song about following your heart and trusting your own path in life. I wrote it at a time when I was doubting my own passion for music. I think it was my subconscious grasping for air and trying to make sure I didn't give up. I think this message of "gotta sing your song" is important for anybody on a creative path. It's not about being like other people. It's about sharing your own unique soul with the world and letting that breathe. There's no need for comparison."
Mirror Image
"This is the only song on the EP where the production came before the lyrics and melody. It is another one of the early Cujo Moon songs that came during a time when I was really losing hope for the path I'd chosen in life. The lyrics are reflecting on the feeling of becoming the very thing you swore you wouldn't. That's what the 'mirror image' idea is referring to…looking at yourself and realizing you are following in the footsteps of family and/or friends in a way that is subconscious and unintentional."
— —
— — — —
? © Rae Mercedes
:: Stream Cujo Moon ::
---