A Brooklyn show with Jeff Rosenstock playing his excellent 2016 album Worry in its entirety would be special enough, adding Chris Farren and Laura Stevenson just sweetens the deal.  This hometown show at the Music Hall of Williamsburg was stacked with Rosenstock's Antarctigo Vespucci and Bomb the Music Industry bandmates feels more akin to a DIY show at a local VFW with people filling in for each other's bands and making jokes.  It was a fitting show right before Christmas.
Chris Farren really embraced the holiday spirit as he played songs off of his Like A Gift from God or Whatever Christmas album, with a stage decked out in Christmas lights.  He plays with the tropes of Christmas songs but adds a self-deprecating sense of humor.  "Christmas Guitar" and "Chris Farren's Disney's Frozen" are the best examples of Farren's silly ideas.  Dueting with Laura Stevenson on "I'm Not Ready for Christmas" was the easy high-point of the set.  As a sincerely sad Christmas song, it easily resonated with this audience, although it didn't get nearly as much as a rise as the saxophone driven "Happier New Year."  Rosenstock joined Farren onstage to play the sax, and they kicked the song into overdrive with more cheer than the album-version.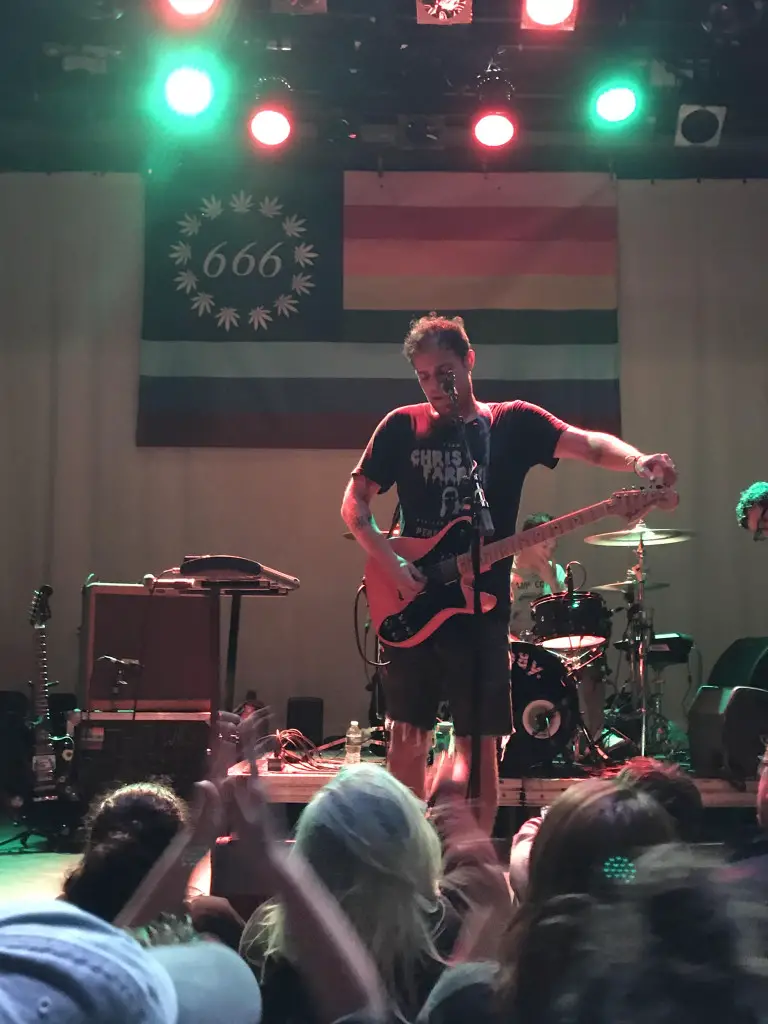 After Farren's set, I hung out at the bar until I heard a familiar voice, not Laura Stevenson's though.  Comic Chris Gethard hopped onstage to do a quick set and introduce Stevenson, who provided the credits song for Gethard's Career Suicide HBO special.  The audience was just as responsive to Gethard as they were for any of the bands who played.  When Stevenson entered, Gethard showed he was just as much a fan as a friend.  Stevenson does a good job of blurring the line between singer-songwriter and punk frontwoman.  She can flip between sincere acoustic songs and punk bangers.  The two new songs she played showed that her fifth record will surely be another to watch out for.
Before Jeff Rosenstock entered the stage with his band, Chris Gethard came back out one more time.  Right before Rosenstock entered, Gethard said, "I want to tell you all something Jeff taught me, which is eat more butts," only to launch into a chant of "Eat. More. Butts."  While the crowd screamed the glories of analingus, Rosenstock's band encouraged it.  It seemed like at least two minutes of chanting before kicking off the Worry opening song "We Begged to Explode."
---
Rosenstock is a punk veteran.  At 35, he's a decade older than some of his pop-punk and emo contemporaries like The Front Bottoms and Camp Cope, but he has the energy of a manic teenager.  He's a ferocious singer and guitarist, but he also has no shame in jumping around and adding pizazz to his reaches for his synthesizer. Worry is an innovative punk record in its varied style.  Rosenstock is hardly the first person to add synths or horns to a punk record, but in merging classic punk, ska, emo, and folk music.  It's also a political album that doesn't seem preachy, mainly because it's so interconnected with Rosenstock's personal life.  With an audience screaming "Staring out the Window at Your Old Apartment" back, the song speaks to both the romantic heartache and the annoyance at crummy landlords.  The songs that got the most reaction were strictly personal: "Wave Goodnight to Me" and "I Did Something Weird Last Night," mainly because they're so relatable. Worry's penultimate song "While You're Alive" certainly is the type of punk love song.  It also saw a number of people crowdsurfing, singing along:
I gotta let you know while you're alive
Cause I'll be a disaster when you die
Chubby body, no hair, don't care.
The set ended with songs from 2015's We Cool?, which is a much more fun, personal record.  "You in Weird Cities" and "Get Old Forever" were fitting set-closers and encores respectively that really set the audience in motion, where Rosenstock could've played another hour of Pulp covers to satisfied people.
Still, Worry is an album about coping with a dystopian reality. It was incredibly ironic to hear anti-gentrification anthems in Williamsburg, but on the day we lost net neutrality, there was certainly plenty of anger to be released.  When Rosenstock sings, "This decade's gonna be fucked" in "We Begged to Explode," it's more foreboding than the personal loathing Rosenstock intends, especially with Trump looming over everything. Although "To Be A Ghost" is a seemingly anti-Internet song, there was a certain amount of empowerment in calling out:
They want you be a ghost
when they rob you of your hope
But you've got power
when they're not expecting anything
Worry sums up a large number of young-adult anxieties and seeing Rosenstock bounce around onstage reminds that worrying really is an act of love. Worry shows a number of people who care.
— — — —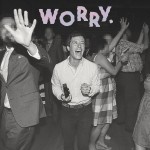 photo © Jeff Rosenstock
:: Stream Jeff Rosenstock ::