Weaving enthralling melodies and guitar hooks with sophisticated imagery, Sam Fender is set out to spread a bold message on debut album 'Hypersonic Missiles'
•• •• •• ••
Although often dismissed as a mere form of entertainment, music has always played a part in major social and political issues in society. From soul music and its connection with the civil rights movement, to punk and how it challenged social and political hierarchies, the role of music as the means to spread a wider message and change society for the better has always been present.
Focused around themes such as white privilege, male suicide, the downfalls of a society of classes and the likes, Sam Fender's Hypersonic Missiles is an example of this political purpose of music. Featuring enthralling melodies, mature lyrics and a solid sound, it would be hard to guess at first glance that Hypersonic Missiles is Fender's debut album. The well roundness of the album, however, does not come as a surprise.
The singer's first full body of work has been a long time coming, with the release date being pushed several times, something to be expected with such high expectations. Before having released his debut album and with just a handful of singles in his pocket, Fender's talent quickly stood out, awarding him a place as one of BBC's Sound of 2018, as well as the Brits Critic's Choice award. All eyes were on him, and he did not disappoint, creating an album that ended up as number 1 on the Official UK Charts in its release week.
With a strong lyrical focus, the album takes a raw approach to sensitive topics that may be seen by some as taboo, diplomacy and pleasantries aside. He goes from swearing and talking about Brexit in "White Privilege", a politically charged track, to tackling the triggering issue of male suicide in "Dead Boys", a theme close to his heart.
Listen: Hypersonic Missiles – Sam Fender
Despite its pungent nature, such lyrics come enclosed in an old-school, guitar-laden indie rock sound, making them more accessible for a wider audience. "Hypersonic Missiles", opening track that gives name to the album, starts with minimal production that grows as the drums start leading the song, until it culminates with a twangy guitar solo
Oh, silver tongue suits and cartoons, they rule my world
Singing, it's a high time for hypersonic missiles
And when the bombs drop, darling
Can you say that you've lived your life?
Oh, this is a high time for hypersonic missiles
Impassioned lyrics about the state of the world we live in, and its effect on the lives of individuals, the intense lyrical content is compensated with a wordless bridge in the form of a chant, as if encouraging the listeners to sing all together as one.
Watch: "Hypersonic Missiles" – Sam Fender 
---
Following track "The Borders" elevates the dynamics from the start, a compelling indie anthem. In contrast to other songs where he takes a look at society, here Fender adopts an introspective posture, resulting in more personal lyrics that depict the day to day hardships of working-class families. Hidden within the darkness of the song, a sax embellishment comes in unexpectedly, as a homage to Fender's hero Bruce Springsteen.
I remember my mother when she found a new man
And your mother thought she found a partner
A father for you, no wonder you can't stand me
I can't stand me, too
I can't stand me, too
Oh, your gone mother repaired the anger in me
Spoke to me like I was an adult
Didn't take sides and didn't turn me against my dad
Then she took those pills and now she's gone
Watch: "Dead Boys" – Sam Fender
---
The injustices suffered by the working class is a recurring theme throughout the album. Previously released single "Play God" approaches this topic again, however, the perspective is different form the one in "The Borders", taking a step back and contemplating the bigger picture rather than taking a self-reflective approach. A repeated note on the electric guitar creates a cyclical tension, enhancing the rebellious attitude of the lyrics, which depicts a world where a mighty figure acts as a reckless puppeteer, manipulating a vulnerable community for their own benefit.
It's all the same down in the capital
All the suits and clattered feet
Sewer rats will shower the underground
In a race to make ends meet
And he will play God
And he will play God
A haunting guitar riff introduces the next song, "The Sound", where Fender explores his inner world and the intricacies of his mind. The desperation is audible in his exposed vocals, singing about a sound that relieves his anxieties and is his last resort to stay grounded. The tone turns satirical in "Saturday", a track about mundane struggles. The sound is more light hearted than previously in the album, playing with timing and syncopation, leaning towards a soulful approach.
This less aggressive sound is embraced again in "Call Me Lover", a laidback track that encapsulates the uplifting aspect of love, and the alleviation it provides. The vocals rise into the chorus, padded with harmonies over which Fender's vocals soar, carrying the straightforward, memorable hook.
I love it when you call me, "Lover"
Ooh, lover
I love it when you call me, "Lover"
Ooh, lover
 Showcasing strong lyrical content with a tangible focus on controversial topics such as the unfairness of a society of classes and the toll it takes on the minds of individuals, and the inherent chaos of the world we inhabit, Hypersonic Missiles serves a purpose beyond entertainment. Fender had planted a seed with first single "Play God", a seed that has flourished into an album that expands on his initial message, showcases his full potential as a songwriter and reignites a flame that is much needed in a world that is crying for our attention.
— —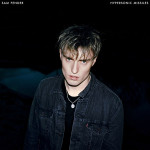 ? © Sam Fender 2019
Hypersonic Missiles
an album by Sam Fender
:: Stream Sam Fender ::