Rina Sawayama is a pop star, country performer, and rock n' roll legend all wrapped into one woman.
Stream: "Frankenstein" – Rina Sawayama
---
Emerging to the stage as an angelic silhouette illuminated by bright white lights, Rina Sawayama appeared before the sea of phones anxiously awaiting her arrival.
The Japanese-British pop artist performed at Stubb's Waller Creek Amphitheater in between her sets at both weekends of Austin City Limits as part of ACL Fest Nights on October 11, 2023. Texas local Disko Cowboy took the stage first for a DJ set consisting of pop mashups ranging from Troye Sivan to Kate Bush to Dolly Parton and beyond. R&B mixed pop opener and "Kiss Me" collaborator Empress Of danced from stage to audience without losing a breath, singing in both English and Spanish.
With backup dancers (Summer Jay Jones and Chanté) on either side of Sawayama, the trio effortlessly choreographed their way around the stage for the entirety of the 70-minute show. She commanded the audience on opener "Hold the Girl" as they dutifully followed her instruction to clap along as they sang the chorus back to their goddess. Halfway through the set came the energetic rock track "STFU!" transitioning into a shortened rendition of Limp Bizkit's "Break Stuff"– but not before the crowd eagerly held up their middle fingers while screaming "shut the f up, shut the f up!"
The vivacity continued as the crowd bore witness to the budding rock star's debut live performance of Metallica's "Enter Sandman," previously only existing on the band's The Metallica Blacklist compilation cover album. The primarily millennial and Gen Z audience jumped and pumped their fists through the track as if it had never existed before, the 33-year-old breathing life into it for the first time ever. Though, the audience wasn't without the few Gen X and baby boomer parents sprinkled among the amphitheater, seemingly enjoying the throwbacks – maybe appreciating them even more than their children.
---
In complete synchronicity, Sawayama's dancers ripped off her clothes to reveal a crimson red bodysuit as they dressed her with a sheer, matching robe for hit "XS." She swapped out the golf club she had in hand for a whip, swinging it above her head as the track came to a close.
"Thank you Texas for… letting me borrow this culture of yours," she said as she closed the 16-song setlist with "This Hell," now adorned in a perfectly matching crimson red cowboy hat and boots.
Channeling their inner country – with a pop-twist of course – the three cowgirls geared up for their country-western inspired line dance. "Let's go girls!" she said, announcing the final song of the night and echoing fellow ACL performer Shania Twain's "Man! I Feel Like A Woman!"
She pitted the two sides of the crowd against one another in fierce competition as they begged for her attention, repeating lyrics back to her – to her left, fans chanted "Got my invitation to eternal damnation" while the right side followed, slightly louder "Get in line, pass the wine, bitch, we're going straight to hell" vying for her praise.
So what is one to do when Rina Sawayama announces a show in your city? Y'all better giddy on up!
— —
— — — —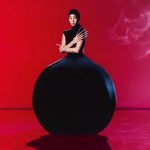 © Charlotte Rutherford
:: Stream Rina Sawayama ::
---