The bassist and his exceptional band are a must-see for fans of live improvisation.
Stream: "No More Lies" – Thundercat & Tame Impala
---
Three songs into Thundercat's show Tuesday evening at Brooklyn Mirage, my friend turned to me and said, "I don't know what I was expecting, but it wasn't this."
He meant it as a compliment. Thundercat and his band, composed of drummer Justin Brown and keyboardist Dennis Hamm, were in the middle of the song "How Sway." On the 2020 album It Is What It Is, the track only lasts one minute and 14 seconds. During Tuesday's performance, however, the band turned it — as it did with many other songs — into an improvisational jam that can only be described as if you were tripping on acid while flying through a video game soundtrack in a rocket ship.
The preeminent bassist and Brown crammed an incredible amount of notes and fills, respectively, into each measure while Hamm filled out the jam with a variety of spacey synths. Despite the onslaught of notes from each respective musician, nobody played over each other and nothing was muddied; the definition of each musician came through crystal clear.
The only thing I could do was laugh. My mouth was literally hanging open as I watched in awe of the musicianship on stage as Thundercat — whose real name is Stephen Bruner — shredded up and down the neck of his bass.
Casual listeners might know Thundercat for his 2017 hit "Them Changes," which features a funky bass riff played over the drumbeat from the Isley Brothers classic "Footsteps in the Dark, Parts 1 & 2." Or maybe for the goofy viral music video for the 2020 hit "Dragonball Durag," in which the musician finds a "Dragon Ball"-themed durag in the trash and tries to court women all over Los Angeles — he unsuccessfully woos the Haim sisters after comically creeping out of a dumpster, for example.
But only a fraction of the bassist's skills are present in the studio cuts. Since he hasn't released a live album, you wouldn't know what to expect if you've never seen him perform — though, perhaps a Brooklyn crowd includes more musicians who are in on the joke compared to other cities' audiences.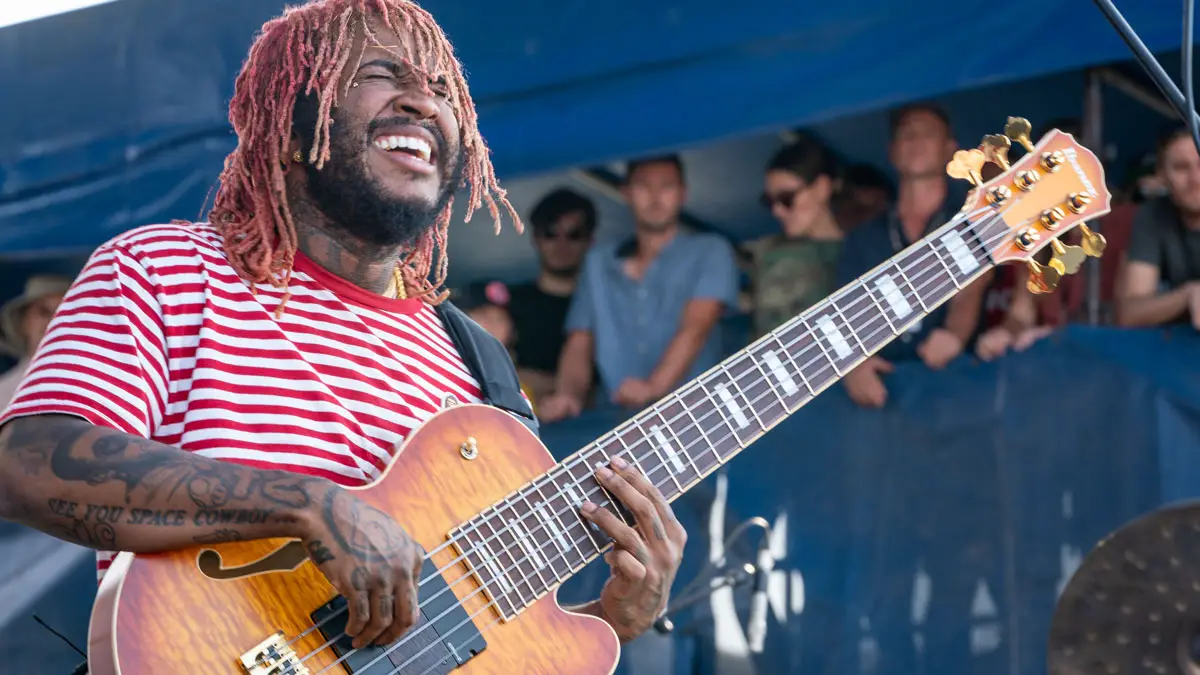 Seeing Thundercat live is an absolute must for any fans of live improvisation. He carries the torch passed down by his influences — the zanny exuberance of Frank Zappa; the pioneering jazz fusion of Herbie Hancock — while putting his unique touch on the genre.
That's the salient thing about Thundercat's live performances — much like Zappa, he's playing his music the way he wants to, and if anyone else vibes with it, that's a bonus. On stage, he was nothing but smiles as he rocked back and forth while jamming.
It certainly wasn't for everyone. Some of the audience members near me talked through the whole show and many seemed stiff, like they weren't sure how to react to the music. But for those of us in the crowd there to rock out to some wild jazz fusion, we willingly strapped in for the space ride and let Captain Stupido show us the way.
— —
— — — —
 © Jesse Lirola
:: Stream Thundercat ::
---