Another consummate release from TWICE with their bevy of songwriters and producers, 'Formula of Love: O+T=<3' stands out among its contemporaries with eclectic influences and strong features.
Stream: 'Formula of Love: O+T=<3' – TWICE
---
Of the litany of releases K-pop nonet TWICE have had this year, Formula of Love: O+T=<3 (both One + Two = 3 and Once + Twice = Love), presents the most complete, the most progressive cut for TWICE listeners globally. Prefaced as it was by dance-floor disco hit and the group's first foray into the Billboard 100, "The Feels," Formula of Love expands on this flavor. Here, the group lean further into that nu-disco vibe we felt on "The Feels," but also conduct some other surprising experiments, true to the album's aesthetic.
Formula of Love also marks the first time a member of the group has composed for an album, as Jihyo appears in the music credits of "CACTUS" alongside Coke Paris, while other members have continued pushing their lyricism. Though the album doesn't have as many immediately recognizable credits as their 2020 Eyes Wide Open, which featured names including Dua Lipa, it stands up in its own right as a complete package and an addictive release for TWICE.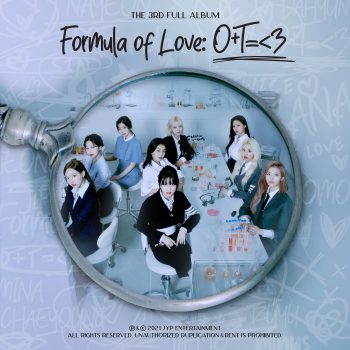 TWICE's eclecticism stands out among the tracks on Formula of Love and among their discography as a whole and it's one of their chief strengths as a group – with credit to their writers and producers of course, as well as the resources behind the name. Their blitz of music releases in 2021 ranged from the dark cabaret influenced jazz on Perfect World, a full length Japanese album, to the airy bossa of the Korean "Alcohol-Free," released just one month apart. More critics than just myself have noted modern K-pop's broad reliance on trap influences. While this is an interesting and unexpected cultural fusion, it comes off as tiresome just as often as it succeeds. Their contemporaries and the girl group with the greatest traction in the US, BLACKPINK, typify this archetype, and with a higher success rate than most.
But TWICE cannot be mapped. They flit, hummingbird-like, from experiment to experiment with surprising rapidity as they suck the nectar from each, bound by the constraints only of modern pop production. There's a steady trajectory of maturity across their work that Atwood has covered ad nauseum in the past, lest we repeat it here, but trying to pin TWICE down to any one archetype other than "pop" – admittedly an epithet with its own fraught conversation – doesn't age well.
---
Formula of Love itself loves nu-disco, which may be unfairly read as a jab. In fact, the group pull off this concept with incredible self-possession and rhythm. Some of the best tracks that lean on the feeling include "CRUEL," "F.I.L.A (Fall In Love Again)" – which dares to start with a lingering string section and funk guitar like it was ripped straight from the 70s – and "ESPRESSO," which slams house drops, hip-hop beats, and disco bass in a room with one another and demands they get along. "ICON" however, itself a top-tier cut on the album, deviates from nu-disco entirely and gives listeners another fully English, heavily hip-hop track with one of the best lines on the album as Momo says, "Damn, I got it/I'm iconic" alongside heavy, punctuated percussion.
Each song explores some aspect of love as the group role play scientists, though until "CANDY" the songs dwell quite conspicuously on everything from the bittersweet to the downright harrowing. "SCIENTIST" pushes against over intellectualizing love, suggesting, "You think too much, that's your problem." "CRUEL" explores the post-breakup phase, and how being nonplussed about the breakup ordeal might be cruel to the other party. "LAST WALTZ" is the saddest song on the album despite its still driving beat – it ponders the last moments of a relationship when the inevitable end approaches, but both partners strive to give the other the best, happiest last hours possible. In the midst of heartbreak, "Let's laugh a lot/Smile more brightly/Even the sadness/Without knowing that today will be the last."
---
If there is any criticism to be had, it's the length of the album. While no track stands out as a weak link – each is strong in its own right – certain tracks are similar enough that there is a case one or two could be cut in favor of creating a tighter package and accelerating the journey towards a remarkable experiment that TWICE pulls off towards the end of Formula of Love, which, incidentally…
The tail end of the album proper does something rather unique, splitting the group into three groups of three for some electrifying features. This is a concept in K-pop parallel to subgroups that TWICE hasn't explored yet and might be unfamiliar to those not psychically enmeshed in the idiosyncrasies of the industry – where if Alex Turner wants to work on The Last Shadow Puppets, he'd simply do so, "subgroups" are a more formalized venture largely having to do with the often hair raising structure of entertainment companies and artists' contracts.
Nevertheless, these three cuts – "PUSH & PULL," featuring Jihyo, Sana, and Dahyun, "HELLO," featuring Nayeon, Momo, and Chaeyoung, and "1, 3, 2," featuring Jeongyeon, Mina, and Tzuyu, end up being the most dynamic part of the album. These tracks are a jolt as the album rips to a satisfying conclusion.
---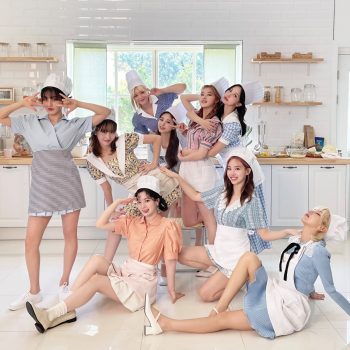 "PUSH & PULL" sublimely balances the individual talents of its three features, fluidly trading parts like the tracks namesake, an ambidextrous dance through Jihyo's classically strong vocals, Sana's pop sensibilities, and Dahyun's sharp rap articulation. There isn't a down moment on the song – it constantly treats you to new, interesting musical ideas and seduces you with more fat funk beats. "HELLO," for its part, tries something we mentioned TWICE doesn't experiment with much, and to their credit: trap influences. As a one-off towards the tail end of the album though, it doesn't feel overwrought. Chaeyoung and Momo shine here particularly, while Nayeon's bright pop vocals adhere the track together as it winds through rap verses and self-referential choruses of "Fanfare, hands in the air, ooh," an idea delightfully re-contextualized and contrasted with the sugary J-pop roots of their "FANFARE."
"HELLO" presents TWICE listeners with another definition muddling experiment for the group, and it's no surprise that Chaeyoung as the most convention-defying member of the group was involved here. "1, 3, 2" likewise plays to Jeongyeong, Mina, and Tzuyu's strengths with its melancholy, longing Latin spirit. Laid back lyrical delivery atop the shuffling rhythm evokes shades of a passionate dance in a mediterranean villa, and the balanced production gives the song a terrific sense of build up as it flows between chorus and verse.
"CANDY" functions perfectly as a closing track. It's also the third fully English song on the album. But after an album exploring the complexities of love and breakups, a straight love song feels like sonic caramel, in no small part because of the song's legato construction and minimal composition. This cut mostly leaves the nine and their vocals exposed save for bass and drums. This gives "CANDY" the air of a calming, a relaxed winding down.
Formula of Love presents TWICE's most progressive release yet, and for a year absolutely studded with releases from the group already, marks an impressive milestone.
It improves on each listen, with more nuances springing forth from each track. Whether you're a long time fan or a first time listener, Formula of Love is well worth the listen.
— —
— — — —
? © 2021
:: Stream TWICE ::
---