Eva and Arden Baldinger (form. Moonrise Nation) of Chicago-based sister duo Lilla Sol discuss their new band's recently-released debut single "ROOM" and their evolution as artists.
by guest writer Nia Robinson
Stream: "ROOM" – Lilla Sol
---
It's rare we get to witness the evolution of friends' musical journeys unless you're deep in the industry.
And it's even rarer that people take us behind the scenes of their shadow work. In my case, I was introduced to Arden Baldinger in 8th grade and quickly learned the lore of her singing career. What stood out then, and continues to, is music's foundation in her life and in her relationship with her family. There were also stories about Arden's cool and talented older sister, Eva, who existed as a legend in my mind. Together, Arden and Eva make up Lilla Sol, a Chicago-based, genre-bending band producing melodies rooted in storytelling. If you haven't heard them sing together, you're missing out. It could be classical training or blood harmony that blends their voices perfectly, but their talent is electric.
I had the pleasure of sitting down with the duo in advance of their upcoming releases to talk about their recently-released debut single, "ROOM" (April 2023). Sitting at a dilapidated and slanted, yet sturdy, picnic table at Smith Park in Chicago, we spoke about shadow selves, carrying the people we love with us, and what we let go of as artists.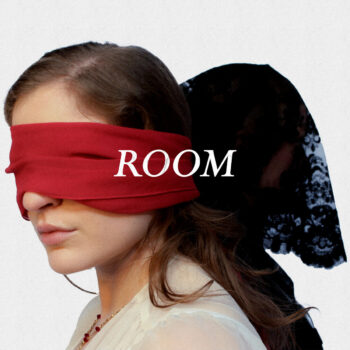 Commitment to those they love is a constant theme throughout Lilla Sol's music, resulting in a meditation on their life experience. The name Lilla Sol translates to 'purple sun' from Norwegian. The band knew they wanted to honor their deceased best friend through their music, opting to weave her into the very fiber of the project by honoring her brilliance and love of the color purple in their name.
Lilla Sol is the second project Eva and Arden have collaborated on together. They were previously 2/3rds of the indie pop trio Moonrise Nation. By the time the band called it quits in 2017, they'd toured extensively to play festivals such as SXSW and Electric Forest, amassing a committed fan base along the way.How refreshing it is for them to have a body of work to reflect on their growth as people, artists, and musicians.
Arden reflected on her personal growth in songwriting since that period, crediting Eva's poetic writing as an inspiration. After four years away from Moonrise, both of them doing the "stable thing with life," they've found their way back to creating together. They've evolved to see projects as manifestations of themselves—they don't need to identify too closely with them. Rosalía, a staple in our interview, shared similar sentiments in a recent interview with Apple Music. This view shouldn't diminish the work gone into creation. The devotion, quality, and final result remain consistent. For Lilla Sol, this allows them to have more fun, while taking themselves seriously.
"ROOM" is the first release and music video from Lilla Sol. It's a comfortably haunting track grappling with the fog of depression and fractured sense of self, asking if we care for ourselves the way we care for others. At a time where we as a collective are working to be our better selves, this question couldn't be more important.
The song came about through a "beautiful Frankenstein process," during a difficult time in college for Arden. There was a point where she couldn't find any space to be alone, birthing the lyrics, "take me to a room, where I can be alone / And use this beating heart to find my way home." On breaks, she'd bring back bits and pieces to Eva creating the song through a truly collaborative process.
The music video was just as collaborative. Over the course of 6 days, they shot 4 videos for all the songs we'll hear this year, all executive produced by Will Reiland. The video features different rooms and the pursuit of the shadow following the main protagonist, Arden, as she faces herself. The final product is a gallery exhibit where she looks at different versions of herself and realizes they're all part of her, even if they're hard to handle.
Lilla Sol's song topics are personal, yet universal, allowing listeners to take what they need. "Endless Summer" is the most recent release. The two-song EP is a reflection on love and loss, slowly unfurling to reveal a heart learning to heal. 'Endless Summer' surges and subsides much like the grief it aims to exhibit. Lush strings, synths, vocal harmonies, and piano propel the listener across an ocean of emotions so often unexpressed.
---
Lilla Sol's music communicates the human condition.
It's the result of creating without an outcome, balancing devotion and not taking themselves too seriously. Back to the concept of "ROOM," how do you get back to your own voice? Lilla Sol thinks it's similar to grace. Practice grace, practice gratitude and it comes easily. Practice and develop your voice and it gets a bit easier. For them, this practice is "for expansion. It's for transformation".
Look out for more ways to find yourself through Lilla Sol this summer. Listen, document your response, then listen again. I promise that you'll find something different.
— —
Nia Robinson is a writer, creative strategist, and event producer based in Chicago. As a multifaceted creative, Nia weaves words and ideas to produce art. With a passion for music, culture, and people, her goal is to better understand and connect to the world around her. You can find her on Instagram, Twitter, or at niarobinson25@gmail.com
— —
Stream: "ROOM" – Lilla Sol
— — — —
 © Gigi Jones
:: Stream Lilla Sol ::
---