A grooving feelgood anthem, Little Monarch's new single "Full Release" basks in the euphoric rapture of love and intimacy.
— —
There's a certain kind of warmth that we only get from love's deep connection: It's a joy that comes from surrendering your heart to someone else, while knowing they have given you their heart in return. A grooving feelgood anthem, Little Monarch's new single "Full Release" basks in the euphoric rapture of love and intimacy.
Don't stop the glory, full release
I give you everything
that you're givin to me
Listen: "Full Release" – Little Monarch
---
Atwood Magazine is proud to be premiering "Full Release," the latest single off Little Monarch's upcoming new EP. Consisting of LA lifer Casey Kalmenson (vocals, guitar), Memphis-born Lanita Smith (vocals, keys), and Indiana native Justin Andres (guitar, bass), LA indie pop trio Little Monarch emerged with viral success in 2016. To date, their self-titled debut EP has racked up over 15 million streams over the past eighteen months – a testament to the band's unforgiving embrace of bright textures, expansive sounds, and sweet, sweet melodies.
Hey beautiful soul
Don't miss the moments while you wait for your life to grow
Don't plan ahead don't play it safe
What's the fun in knowing which way you're going
Going gone
Run through your empty streets
Find every corner of your heart but don't hide from me
I wanna know you from the top
Down to the deepest I wanna keep this
Going going on
"Full Release" stays faithful to the sonic world Little Monarch have been slowly building over the past two years, while finding them continuing to finesse their skills and grow as a band. A synthy pop melody reminiscent of Passion Pit collides with deep '80s funk grooves a la Earth, Wind & Fire, and the result is simply magnificent: "Full Release" glows with a dazzling, smile-inducing radiance.
It's a song celebrating the best of times – the anthem you listen to when you need, well, that "Full Release"
Show the way
Always think of a way to be inspiring, shining
Try to stay awake always up
in the silver lining, flying
Don't play it safe no I don't ever
wanna see you hiding, darling
I wanna stay wrapped up in the heat of your sun
"'Full Release' was a true collaboration for us, where everyone came together and brought a different piece of the song to the equation," Little Monarch tell Atwood Magazine. "The verse and the chorus, like bodies intertwining and becoming one, don't necessarily need each other to exist… but they just feel right lying next to each other. This song attempts to capture those moments of bliss, when you're in deep with someone who just lights you up. It's happy, sexy underneath, and might be wearing a denim on denim outfit."
Such sweet relief you're given me
Sure feels like we are taking this
Up all they, all the way
Say you believe that we could be
Out on the edge and in too deep
If you're gonna prove me wrong
You better not wait too long
Opening and closing with the same line, "Full Release" inspires us to be our best selves and to feel the love around us: "Don't stop the glory, full release, I give you everything that you're givin' to me." Intoxicatingly charming, it's a bright jam you'll be blasting all summer long. Stream "Full Release" exclusively on Atwood Magazine, and look out for Little Monarch's sophomore EP, coming this summer!
— — — —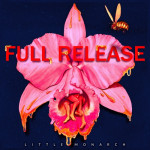 ? © Ashley Osborn
:: Stream Little Monarch ::