New Zealand indie rocker Sofia Machray dives into her breathtakingly beautiful debut EP 'Language of Flowers,' a tender tempest full of dreamy, radiant sound and raw vulnerability.
Stream: "Petals in the Rain" – Sofia Machray
---
It's the language of flowers, I spend countless hours chasing days away, feels like I'm going to waste away, we're all going to waste away, we're all gone anyway…
We've tried so hard to separate ourselves from nature, but the truth is that we humans have more in common with meadows and bees than we do concrete and steel. We are as strong as waterfalls and as fragile as flower petals, and in her debut EP, Sofia Machray makes a concerted effort to reclaim that natural part of her identity; that piece of her soul that's forever bound to Earth. A tender tempest full of dreamy, radiant indie rock and raw vulnerability, Language of Flowers aches with breathtaking beauty as Machray unveils moments of intimacy, reflection, and rediscovery.
And while this record is, on the surface, a compelling introduction to one of New Zealand's brightest new singer/songwriters, deep down it's a vessel of connection, facilitating the inextricable, but often forgotten bond between our hearts, our minds, and our souls.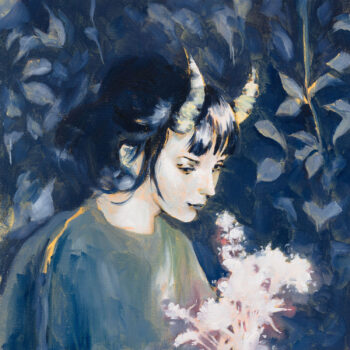 Always thinking we flower like the weekends
Dancing round, dancing round the days
Always longing to feel some belonging
Far away, far away from this place
What is this place anyway?
These days are forever changing me
And our pace is forever fluctuating
We're running round flowing in and out
I almost drowned didn't like the sound
Frantic minds think alike
Circle back I know you tried,
I know you tried, I know you tried
When all I ever wanted,
all I ever wanted was change
– "Petals in the Rain," Sofia Machray
Independently released July 21, 2023, Language of Flowers is a cathartic, cinematic eruption from the depths of a soul in motion. Turbulence and serenity intertwine on a record that blends diaristic songwriting with stormy sonics as Machray charts the turbulence of her early 20s, in all its splendor and suffering, charm and churn. Reminiscent of artists like Angie McMahon, Matilda Mann, and Alaska Reid, the Pо̄neke, New Zealand-based indie rock singer/songwriter steps unapologetically into the spotlight with her heart on her sleeve. Her six new songs are carefully textured, achingly evocative, and irresistibly dynamic – with her own soul-stirring vocals serving as a beacon between her inner world, and our own.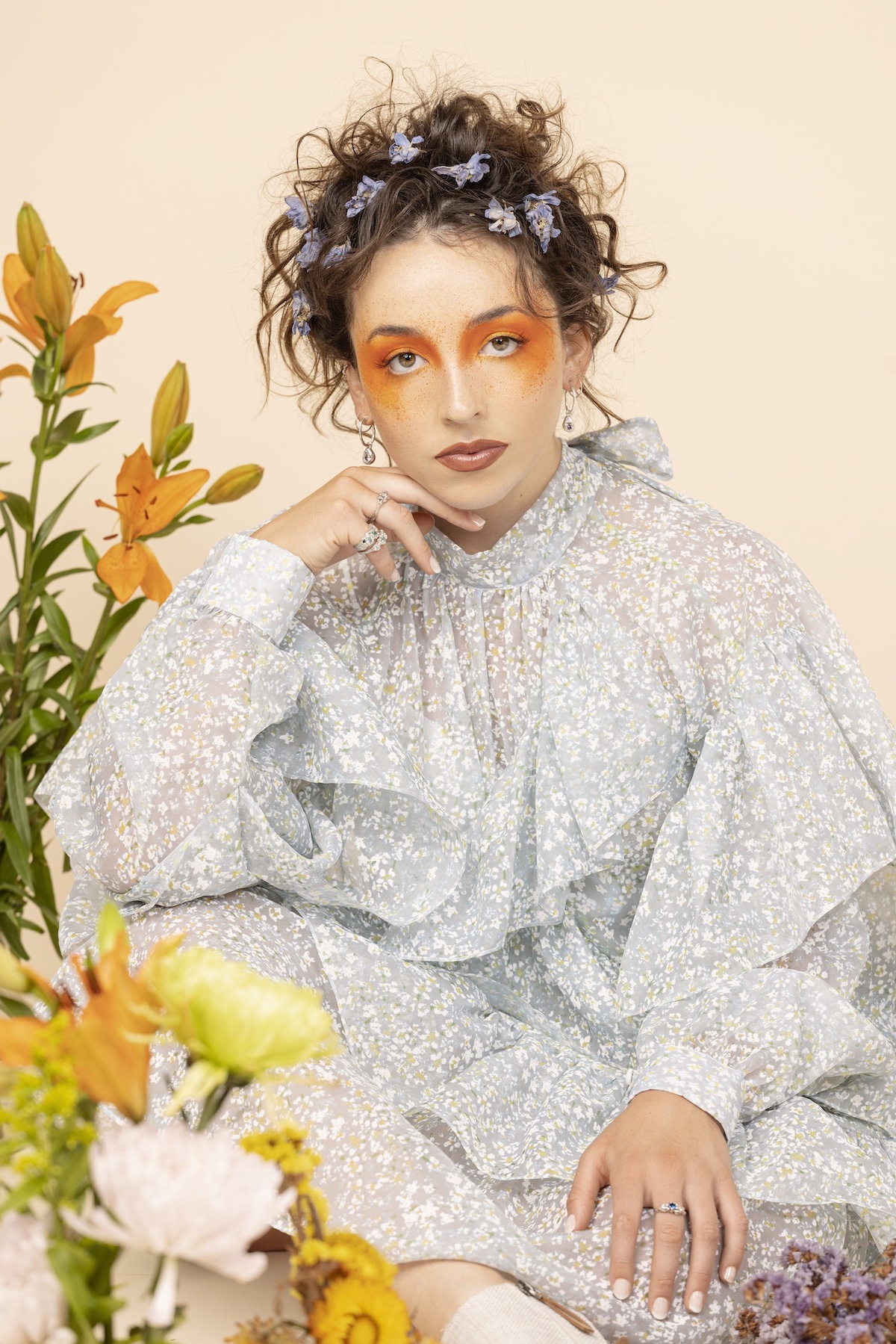 "This record was like writing letters to my future self to help me get through confusing times and the modern-day pressures of growing into adulthood," Machray tells Atwood Magazine. "Over the last year of making this record, I found myself subconsciously writing about moving on before the moving on had even begun. I found it interesting that I'd been trying to let go of something whilst still trying to hold on."
"These moments of self-discovery can be confronting at times; I often find myself turning to nature to help me come to peace with overwhelming feelings. In a way these songs feel like timestamps off what I was going through over the last year – I poured a lot of vulnerability into this record, as I was writing as a coping mechanism to push through tricky times. I'm super proud of this piece of work and everyone who helped me along the way to make my vision come to life, and especially to my band for being so embracing and accepting."
"I disappeared in 2022 so I could work full-time and get my funds up to finally track some songs, and that's exactly what I did! Once I had the concept of the record there was much more writing happening than I expected. I started busting out new songs left, right, and center which meant I didn't record a lot of the songs from my live performances as they didn't quite fit into the project. I'm unsure if I ever will as I feel I've parted with these songs now, but who knows!"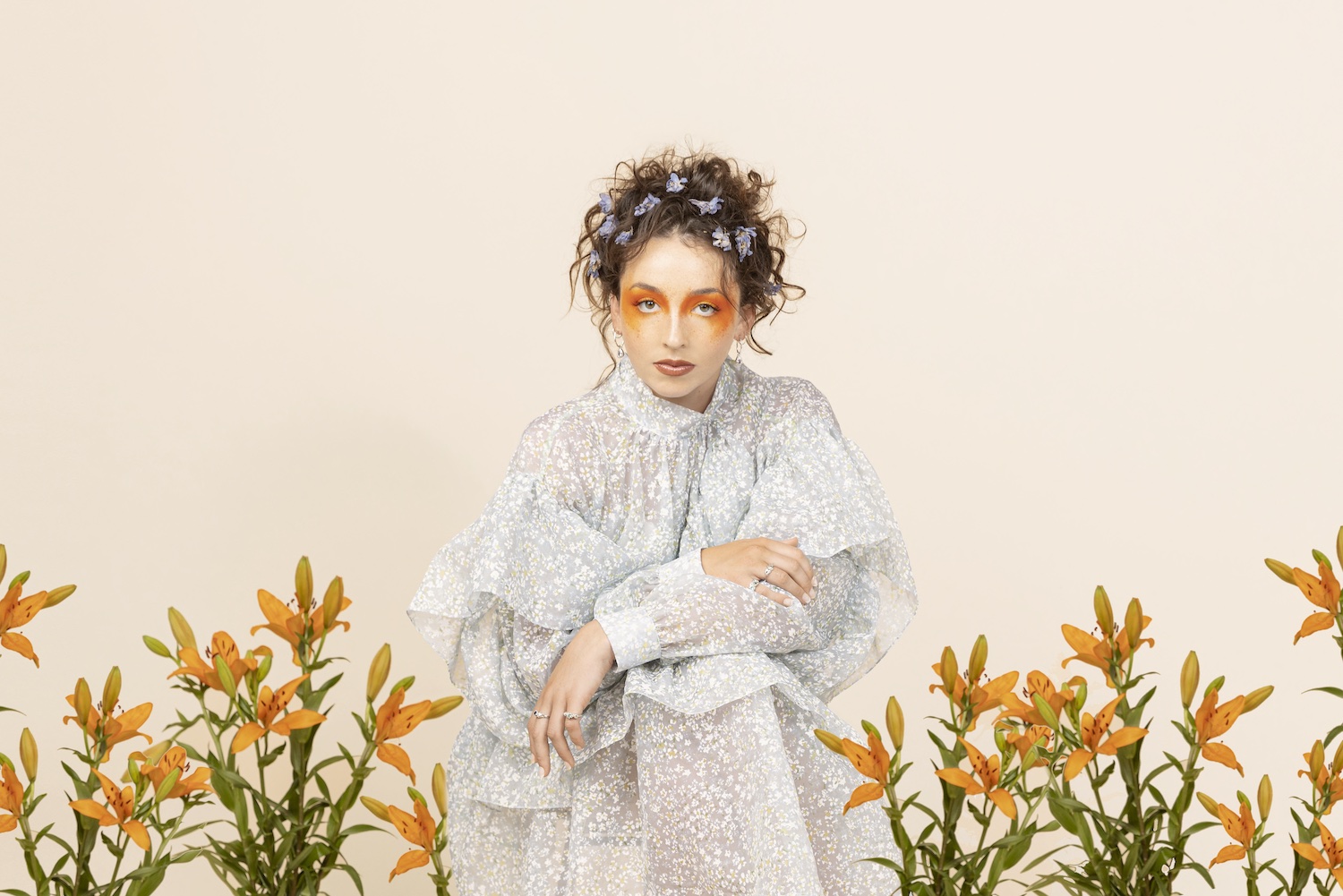 I poured a lot of vulnerability into this record as I was writing as a coping mechanism to push through tricky times.
Machray describes her record as "ethereal, powerful, and anthemic." The EP title Language of Flowers speaks to the strong connection she's long felt with nature.
"I've always been drawn to flowers, the way they change with seasons and day-to-day life whether we notice them or not," she explains. "I think humans are similar in many ways, and I love writing about these concepts. Aside from nature fueling my creativity, the outdoor world has played a significant role in my life and wellbeing as an outlet, much like music. I often turn to the outdoors to help me take my mind off things.
Atwood Magazine previously premiered Language of Flowers' lead single, the liberating coming-of-age anthem "Petals in the Rain." "Sinking into the haze of her own overthinking mind and the unavoidable specter of past experiences, Machray crafts a catchy, cathartic, and emotionally-charged sonic landscape," we wrote in our premiere. "Tension slowly dissipates into a sweet release that washes over us, drenching our ears and our hearts in a stunning, seductive indie rock sound." The track's chorus is a resounding musical and emotional climax that speaks to the narrator's ongoing inner reckoning:
We're running round flowing in and out
I almost drowned didn't like the sound
Frantic minds think alike
Circle back I know you tried,
I know you tried, I know you tried
When all I ever wanted,
all I ever wanted was change
"Petals in the Rain" was followed by the visceral, heated outpouring "Foundations," in which Machray questions her own music career and dwells in a space of uncertainty and self-doubt. She holds nothing back in this candid confessional, building to an emotionally charged climax that sends shivers down the spine.
Biting down, feel me now
Breathing in breathing out
Is what we must do
An avalanche run breaks the ice
Has me feeling sick inside
We only must do what is required
Strange people and stranger desires
Come alive come alive
Feel the night feel the night
Feel it through
Dusk to dawn, dawn to blue
Heighten senses shut me down
Through the bones of this town
If we do what we must we must do what we do
Then how the f*** can I get to you?
---
Machray, for her part, has trouble highlighting just one standout track.
"It's difficult to pin a song that's my favourite from the record as each song holds different meanings for me," she says. "However, one song I'm super proud sonically of would have to be 'Crumbs.' I pushed myself a bit more outside of my comfort zone during the writing process for this one; the song builds through lots of distinctive sections and morphs into one big beautiful mess! I wouldn't usually push myself to sing in a high register so deciding to showcase my vocal range in the chorus was a bit challenging as well as using various guitar tones and showcasing my guitar playing. All those decisions made a big obstacle to overcome when it came to live!"
"My favorite lyrics from the project are, 'It's the language of flowers I spend countless hours chasing days away, feels like I'm going to waste away, we're all going to waste away, we're all gone anyway' off 'Crumbs,'" she adds. "These were the lyrics that sparked the whole concept of the record and resonated with me at the time of writing the song. It was one of those lightbulb moments!"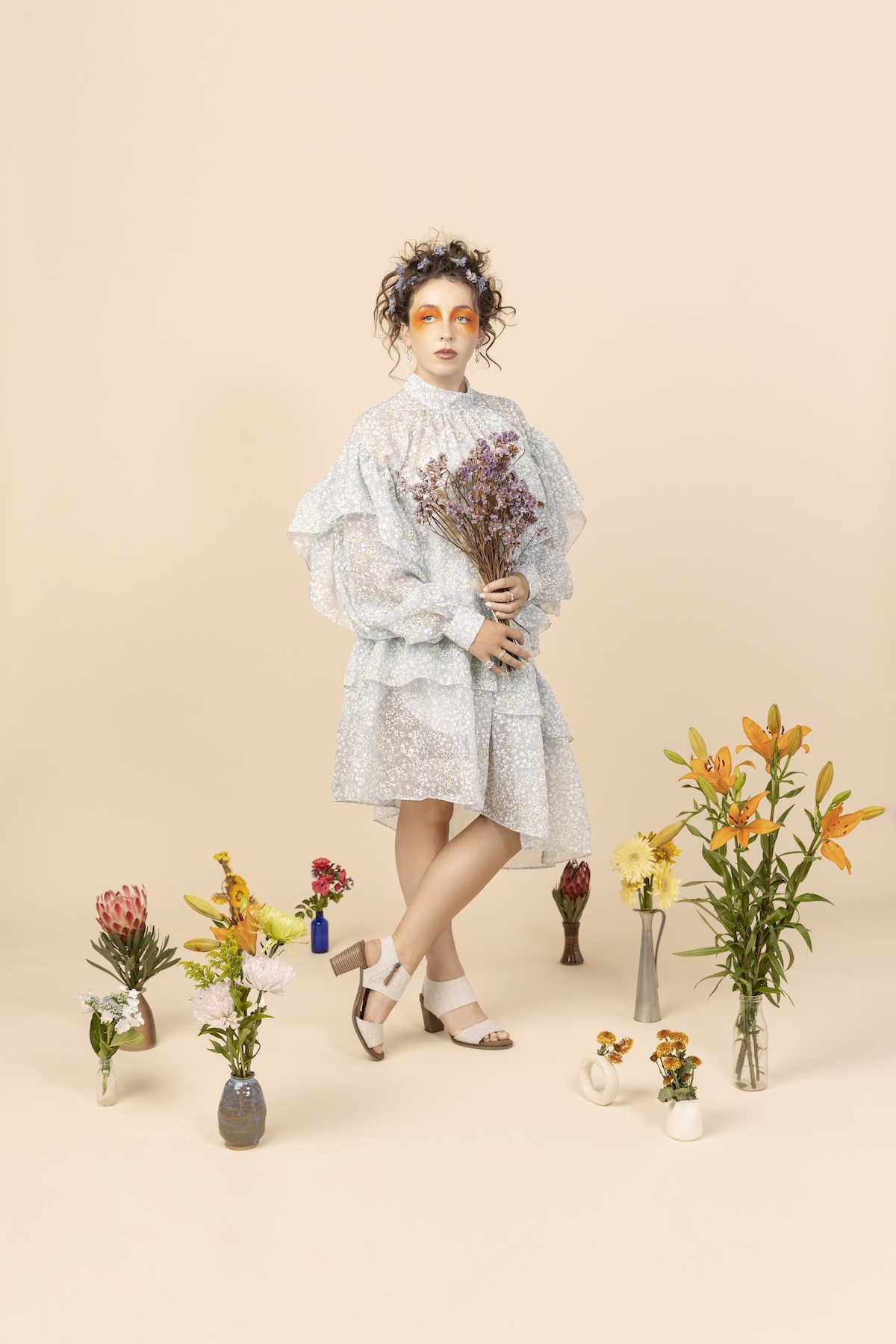 A gorgeous soundtrack perfect for dreamers and over-thinkers alike, Language of Flowers is a bold, sweetly captivating enchantment – and the perfect introduction to all the warmth and wonder that Sofia Machray has to offer.
"I hope listeners take from it whatever they need from it," Machray shares. "Music has always been a great friend and healer for me, and I hope Language of Flowers can be that for whoever it resonates with."
Experience the full record via our below stream, and peek inside Sofia Machray's Language of Flowers with Atwood Magazine as she goes track-by-track through the music and lyrics of her debut EP!
— —
Stream: 'Language of Flowers' – Sofia Machray
:: Inside Language of Flowers ::
— —
Between Now & Then
'Between Now & Then' is a song dedicated to my hometown and upbringing. I grew up in a cozy cottage that backed off right onto the riverside, in Arrowtown, New Zealand. I drew a lot of my inspiration from the mountains into my songwriting and how I co-existed with them. The song is about the deep connection I had to my childhood home and having to come to terms with it being sold and then having to navigate a new meaning of home.
Petals in the Rain
'Petals In The Rain' explores themes of self-discovery and growth through overcomings. When writing this song I was processing some of my first losses, heartbreak, and letting go of old friendships that were no longer serving me whilst navigating adulthood. I'm only 23, so I barely feel like an adult. But there was a lot to learn through these experiences in terms of self-discovery, I felt I've learned more about myself in the last year than I have in my whole life.
Crumbs
For me 'Crumbs' encapsulates the emotional struggle of wanting to speak up about something, but not having the courage to do so. I wrote this song as a way to process my anxieties and experiences around confrontational situations. I think a lot of us can relate to feelings of being held back by insecurities and worries, and the sense of regret that can come from leaving things unsaid. The track unloads a dense emotional outpour at the intersection of indie-pop, heartland rock, and shoegaze. Sonically I wanted the song to churn through a range of distinctive sections to emulate feelings of confusion and being in your head.
Cuppa Tea
Perfumed with hints of angelic soul and intricate instrumentation, 'Cuppa Tea' blossoms through various soundscapes transitioning between sparkly guitars and conflicting distortions. The song idea came about when my mum spilt a cup of tea and we laughed about it, throwing tea towels across the room. It sparked ideas about how one can react to situations and reminded me of the saying, 'Don't cry over spilt milk.' For me, it's emphasizing the importance of how we choose to respond to situations we do not have control over.
Foundations
'Foundations' delves into the uncertainty of doubt that arises when dreams and desires pass differently from how we envisioned them. It's acknowledging that life has an unpredictable nature and that things don't often move in a predictable straight line, but also highlights the potential for growth and discovery when our paths do lead us down unexpected turns. I wrote this song during our first COVID-19 lockdown period in 2020, at the time I was questioning my music career and how it might look going forward with live music not being accessible at the time.
Forget Me Not
'Forget Me Not' is one of the more emotionally turbulent and raw tracks from the record which paints a scene of coming to terms with loss, grief, and fears that life is passing by all too quickly.
— —
— — — —
 © Olivia Melhop
art © Alex Hoare
:: Stream Sofia Machray ::
---