Recommended If You Like: Fleetwood Mac, Tennis, Florence + The Machine, Shura
Poet wants to write me down
touch his sonnet to my burning lips
An unknown artist from New York has just made a powerful introduction. "London," the debut single from COTE, is an entrancing exploration of one wandering soul's journeys through love, nostalgia, and everything in between. Its lyrics as thought-provoking as they are impressively obscure, "London" is casual and intimate, a combination that adds fire to an alluring song.
Thought of it once or twice
when I was shedding my tender skin
always one for advice
I kept a record of my wanderin'
it was pulling the pin
out of all my alibis
Listen: "London" – COTE
---
"London" reads much like a diary entry; it's an exciting trip through the mind of the unknown troubadour. Yet whilst the face is shrouded in mist, the soul relents, giving the world and anyone who will listen a genuine slice of herself. There's pain and nostalgia in the singer's voice as she looks back on time gone by and a washed-up relationship.
I would've settled right down in the ash
a grey bed for pity and scorn
but you said it'd never last
only dazed and a little worn
This particular story didn't end well for the narrator, and she reflects on those feelings and who she was at the time. When we look back on past relationships and experiences, we are often wont to magnify our emotions. Our memories are feeble – we think about small things in a bigger way than they were at the time; we forget about the moments that don't matter, choosing instead to focus on the ones that do. As Julia Shaw writes in a recent post for Scientific American, "Every memory you have ever had is chock-full of errors." False memory is a real thing.
But COTE avoid the false memory route, reconstructing history bit by bit, using standout moments and vivid descriptors to paint a fulfilling narrative. "I kept a record of my wanderin'," sings COTE, and it's tempting to believe that's true: The words seem to spill from in-the-moment emotions.
Poet wants to write me down
touch his sonnet to my burning lips
I promised I'd breathe it out,
I don't deserve it
at the bottom of the pit
"London" is humble and raw, a depiction of the romantic doing her best to describe her worst. Past and present collide in both lyrics and melody; COTE's musical performance cannot be glossed over. COTE's presentation is a familiar mix of classic rock harmonies and melodic influences that most notably resemble the likes of Fleetwood Mac and modern indie band Tennis.
I wrote 'London' over a period of two years, adding and reworking verses as my life continued to shift. Throughout that time, I always found myself returning to the same theme– the desire for control against the necessity of letting go.
– COTE
Psychedelic, reverb-laden electric guitars float majestically through space, pushed to the background only by the lead singer's head-turning voice. Whoever that lead singer is, she has the sort of vocal cords to quiet a whole room with but a whisper. The song structure is a loose verse/chorus style that would make Bob Dylan proud: The melodies change when they're ready to change, not because they have to do so.
And when the chorus does emerge, the background chants of "oh baby, oh baby, it's true," "oh baby, oh baby, I'm blue" provide context clues, as well as singalong melodies that sink the listener even deeper into COTE's warm, inviting gaze. Enchanting and confident, "London" swoops us off our feet with well-timed pauses, under-the-breath singing and breathtaking imagery.
but the change is a change you see
not at heartbeat, flutter and sigh
rooted in a water deep
cut me loose as you float by
…
write it off, hang it up in the past
we're still under the gun
another side of the glass
we'd be living in london
COTE's debut is a magnetic mix of seductive poetry and engulfing soft rock. The song details life's movement, showing the artist change with the changes around her. "London" is deep and brooding; nostalgic and romantic. It is the perfect entrance, going deep into the artist's psyche, while still allowing for distance between the audience and the writer's true self. We know all we need to know for now, and it feels like a lot. COTE has caught our attention with a powerfully personal and intimate introduction, and we will have "London" on repeat while we wait for more.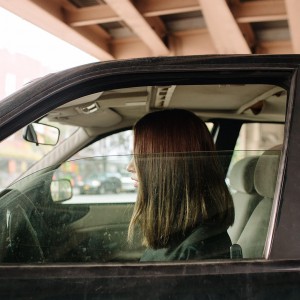 Cover: COTE © Jen Trahan
"London" – COTE
lyrics
Thought of it once or twice
when I was shedding my tender skin
always one for advice
I kept a record of my wanderin'
it was pulling the pin
out of all my alibis
(oh baby, oh baby, it's true)
get my head analyzed
(oh baby, oh baby, I'm blue)
I would've settled right down in the ash
a grey bed for pity and scorn
but you said it'd never last
only dazed and a little worn
Poet wants to write me down
touch his sonnet to my burning lips
I promised I'd breathe it out,
I don't deserve it
at the bottom of the pit
I could feel you passing over
(oh baby, oh baby, it's true)
see my hands growing older?
(oh baby, oh baby, I'm blue)
but the change is a change you see
not at heartbeat, flutter and sigh
rooted in a water deep
cut me loose as you float by
(oh baby, oh baby, it's true)
got my head analyzed
(oh baby, oh baby, i'm blue)
write it off, hang it up in the past
we're still under the gun
another side of the glass
we'd be living in london