Sufjan Stevens and Angelo de Augustine become the latest musical act to demonstrate how isolation time can be spent wisely with their collaborative release, 'A Beginner's Mind.'
Stream: 'Voyager' – Sufjan Stevens & Angelo De Augustine
---
We can all compile a substantial list of the movies and shows that we made our way through at the height of last year's lockdown – when options for other activities were sorely limited. But how many of us can also describe how we fashioned legitimate artwork out of the inspiration we gained from watching such copious amounts of said movies and shows while in isolation like that?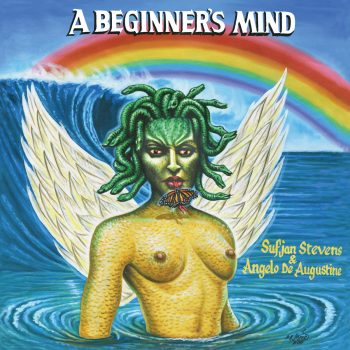 Definitely not all of us– but Sufjan Stevens and Angelo de Augustine sure can. The two of them spent a decent amount of time together confined in a friend's a cabin in upstate New York. They devoted that period to two principal endeavors: (1) watching a truckload of movies and (2) transforming the thoughts that watching those movies generated into a new batch of music. Some of the fun in listening to the resulting album, A Beginner's Mind, is taking a shot as to what particular films are referenced and in what ways. That one popular Judy Garland flick seems to be a prime suspect, for instance, given that there's a track here called "Back to Oz" and another ("Olympus") with the lyrics "There's no place like home" repeated throughout its chorus.
Yet the primary reason to appreciate this album lies in the artistic prowess that the artists feature individually, and which they take to even further heights when paired together. One seriously has to wonder how that single woodland cabin was able to contain the staggering variety of instruments that Stevens and de Augustine take turns playing throughout this record. Be it through the cool electric guitar on the aforementioned "Reach Out," the chill-out acoustics on "Reach Out,"  or the drum machine breakdown on "Lady Macbeth in Chains," this duo sure knows how to keep their music deft and sonically heterogenous.
Watch: "Reach Out" – Sufjan Stevens & Angelo De Augustine
Given how soothing the instrumentals are, it's pretty jarring to realize that they're accompanied by lyrics analyzing movie character of the likes of Buffalo Bill from The Silence of the Lambs and the cannibalistic ghouls from Night of the Living Dead. In the end, though, this approach allows for the two musicians to address themes of loss, betrayal, being misunderstood, and many more, which ultimately makes for compelling lyrical material. In-depth looks at said movie characters also for questions such as "Why must this life be so cruel and shadowed in the gloom?" to be addressed heads-on. You wouldn't expect an album named for the Zen Buddhist concept of Shoshin not to come without a sizable dose of philosophy, now would you?
Sufjan Stevens' musical ambition is plain for all to see. He's released 13 albums throughout his career (both solo and collaborative), including five in the last two years, and he is only a few months removed from putting out a staggering 49-song, 2.5-hour collection called Convocations. At the same time, even when he scales it all back to a gentle, 45-minute indie folk record, Stevens knows how to channel subtlety into his craft as much as ever. He and de Augustine should be able to head out of the woods and rejoin society knowing that they pulled off quite a fine product during their month of intimate in-cabin collaboration.
— —
— — — —
? © 2021
A Beginner's Mind
an album by Sufjan Stevens & Angelo De Augustine
---