An overwhelming cry into the darkness, Geographer's "Lonely" finds a raw, heartbroken individual dwelling in isolated self-reflection and universal solitude.
— —
Solitude is both a blessing and a curse. In the quietest moments, we have an opportunity to meet ourselves face to face; to explore who we are, and dig deeper into our identities. Yet quietness is not synonymous with serenity: Solitude can be imposing, a reminder of living without company; in the absence of love. You can go a whole day without speaking, and when you finally do say something, you might not recognize your own voice.
Once you've known what it's like to spend your life with someone else, living alone feels alien. It is within such imposing solitude that Geographer's most personal song came to life: An overwhelming cry into the darkness, "Lonely" finds a raw, heartbroken Geographer dwelling in isolated self-reflection.
I've been in and out of love
more times than I would care to count
sometimes I get a little drunk
I end up sleeping on the ground
sometimes I talk too much
when I've got nothing to say
I was here before you
and I'll be here when you're gone
it keeps on moving on and on
Atwood Magazine is proud to be premiering the lyric video for "Lonely," taken from Geographer's brand new EP, Alone Time (independently released 4/13/2018). The electro/indie pop project of Mike Deni and friends, Geographer formed in San Frianciso in 2016, releasing their debut album ten years ago and never looking back – at least, not in anger.
A record of somber reflection, Alone Time indulges in the best and worst parts of time spent to oneself – especially as the literal product of prolonged "alone time." Geographer calls this EP a "meditation on loneliness," and indeed its seven songs combine sadness, joy, darkness and warmth, introspection, yearning, curiosity and more into a provocative batch of intelligent pop/rock.
A vulnerable power-ballad, "Lonely" ties many of its parent EP's themes together in an intense outpouring of emotion:
'cause I am lonely
for your lonely eyes
I can't be the only
soul alone tonight
I want you to show me
what it means to be alive
"'Lonely' is the most personal song I've ever written, and it took two years to write," Geographer's Mike Deni explains to Atwood Magazine. "The verses I wrote minutes after my then-girlfriend stormed out of our apartment, and I was so distraught I took two shots of whiskey, which is enough to make a Michael Deni full on drunk. I sat down at my Wurlitzer, and wrote the verses exactly as you hear them now, but the song had a very different chorus – one that was beautiful, but didn't have much impact. Years later, and one entire other relationship later, I went through the loneliest period of my life, and one day I just sat down and said it as plainly as I could. It was so cathartic to just say, utterly without artifice, "I'm lonely," and then the irony struck me of hundreds of lonely people sitting in their rooms alone, shining their screens at their faces, feeling soul crushing solitude, and often times they're no more than 10 to 20 physical feet away from their downstairs or next door neighbor. It's just preposterous, but that's humanity."
Deni continues, "We are lonely things. That's why I wrote the line, but we'll always have our lonely minds. So then I fused the new chorus and bridge with the old verse. Musically, this one was an adventure as well. Most of my songs I do almost everything myself and then bring it to a producer to polish off, but this one wouldn't budge. So I drove down to LA without my usual band, and let Taylor Locke (formerly of Rooney) put together an ensemble for me. Darren Weis from Albert Hammond Jr.'s band, Girls, and Papa, played an extremely inventive drum part, and then instead of using the cello as I normally would I used a pedal steel player but through the lens of the cello, and that creates those volcanic swells that lend the song so much emotion. It was the most painless, fulfilling session I've ever done, and Taylor was sort of like, you sure you don't want to change anything, cause he knows how particular I am, but I was just feeling light and loose, and we wrapped it up and never looked back. And it's the song I most enjoy on the record."
I tend to keep to myself
I don't like to mingle in the crowd
I always play the same records
sometimes I turn them up too loud
sometimes I don't listen to what you're saying
cause every word sounds like a shout
I was here before you
and I'll be here when you're gone
I wonder who and where you are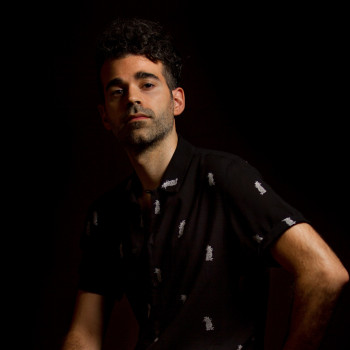 Funny how the saddest songs tend to be the most fulfilling ones. "Lonely" is one of the deepest, most emphatic songs Geographer has ever released, and it wears that depth with pride: Everything is there on the surface, for all to feel.
Directed by Christopher Jones, the "Lonely" lyric video follows Deni's journey walking through busy San Francisco. The camera remains fixed on his back as he travels up and down subway steps, along sidewalks and crosswalks, never turning his head in acknowledgement of the many people around him. It evokes the dark sensation of feeling alone in a crowded room.
Deni explains, "The idea of walking through a crowd against the grain got stuck in my head as I was working on Alone Time. It was a central visual metaphor for me of the whole idea behind the EP, of being alone together. I just find it so shocking sometimes how much we ignore each other, or pretend that no one is around us. We feel genuine startling fear, sometimes, when faced with the prospect of interacting. There is also a bizarre dance that goes on when two individuals pass each other on the street. Do I smile? Do I keep my head down? Is it too soon to look at them? Do I look at them quickly and then look away? Whether it's a fear of breaking a social convention, of rejection, or a general distaste for strangers, I don't know. But it strikes me on a daily basis that human beings appear to be militantly committed to the illusion that they are not surrounded by each other. Once I had 'Lonely,' I knew this was the perfect song for those images. And I knew I wanted the video to be simple, and to not show my face. It's not about me, it's about the feeling. I met Christopher Jones on tour with Betty Who, and he approached me about doing a documentary, and I pitched him the idea for this video, so we went around San Francisco one afternoon in search of the largest confluence of foot traffic we could find. We spent the day walking up when people walked down, crossing the opposite way in a cross walk. It was a very interesting experience, witnessing people's reaction to this behavior. And the result is quite moving."
Human beings appear to be militantly committed to the illusion that they are not surrounded by each other.
I know we've got each other
and that's so hard to find
the burden of a lover
gets heavier with time
and all we do
is turn water into wine
but we'll always have our lonely minds
Lonely as life is, there's beauty and meaning in acknowledging that we are all alone, together. The heart of Geographer's current music is a valuable, powerful lesson – one we might all spend some time reflecting on, by ourselves. Stream "Lonely" exclusively on Atwood Magazine, and don't miss Geographer's new EP Alone Time, out now! Geographer is on tour throughout the US this May – dates and more info below.
Watch: "Lonely" – Geographer
— — — —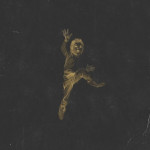 ? © 2018
directed by Christopher Jones
:: Stream Geographer ::
---
:: Geographer Tour Dates ::
5/8 Cambridge, MA @ The Sinclair
5/9 New York, NY @ Bowery Ballroom
5/10 Washington D.C. @ U Street Music Hall
5/11 Philadelphia, PA @ Boot and Saddle
5/12 Chapel Hill, NC @ Local 506
5/13 Atlanta, GA, @ Aisle 5
5/15 New Orleans, LA @ Gasa Gasa
5/16 Houston, TX @ White Oak Music Hall Upstairs
5/17 Dallas, TX @ Deep Ellum Art. Co
5/18 Austin, TX @ The Parish
5/19 El Paso, TX @ Lowbrow Palace
5/21 Phoenix, AZ @ Crescent Ballroom
5/22 San Diego, CA @ The Casbah
5/24 Los Angeles, CA @ The Moroccan