From the songwriting process to Murakami, to what it means to be a band in 2020, Rob Grote of The Districts shares an inside, on-the-tour look at their latest work 'You Know I'm Not Going Anywhere.'
— —
It's been over a decade since their formation as a band. Barely, but still. It is a milestone accomplishment that any group, band, organization, magazine, or even relationship will find celebratory. And for the latter, the fans who've built up a relationship along the way celebrated well. In an ever-changing world, the band remains, this time with a new album, mantra, and sound.
You Know I'm Not Going Anywhere (out 3/13 via Fat Possum) is The Districts' latest full-length album. One that marks their eleventh year and fourth release together. Comprised of frontman Rob Grote and longtime friends Pat Cassidy (guitar), Connor Jacobus (bass), and Braden Lawrence (drums), The Districts arose through the typical high-school band cliché and grown into something much bigger.
Native to arguably one of the biggest homegrown music scenes in Philadelphia, the band found early success in 2013 with the powerful, energetic album Telephone. Grote's soulful voice projected a raw visceral tone through the microphone and before long, people were starting to listen – from university-based house shows to sold-out venues around the country. And on their follow-up record A Flourish and a Spoil, they found radio success from anthemic, movie-scoring tracks like "4th and Roebling" and "Young Blood." But over time, Grote started to grapple with the brevity of his band. Their songs at that moment, and the world he wants to live in after.
"This album was written as an escape and as reassurance. I was falling in love with someone new and trying to juggle this desperate desire to escape with the need to show up in my life. It's pretty damn hard to be present and completely checked out all at once."
You Know I'm Not Going Anywhere is undoubtedly their biggest change to date sonically. They are still recognizable – Grote's vocals are as present as ever – but a sense of expression has shifted from the likely lads' four-piece guitar-driven arrangements. In a state of disarray while looking out at the world around him, Grote composed roughly 32 tracks that did not fit the mold of The Districts at the time. A little later, however, he found himself sharing the demos with his bandmates and it is from this pool of rough edges that You Know I'm Not Going Anywhere was born.
Atwood Magazine spoke with frontman Rob Grote, and the conversation took a rather unorthodox turn itself, that same growing disarray of the outside world. With moving pieces far from our control, a sense of normalcy was able to establish for all a half hour. And after an impromptu, semi-self-awkward introduction surrounding the coronavirus, we pressed on!
** NOTE: This conversation took place in early March 2020, before state and city-mandated social distancing and the closings of non-essential businesses.
Listen: 'You Know I'm Not Going Anywhere' – The Districts
A CONVERSATION WITH THE DISTRICTS
Atwood Magazine: So, you have a show in Philadelphia tomorrow (3/12) right?
The Districts: Yeah at the Union Transfer. I'm super psyched!
Do you get a sense of being a 'hometown hero' whenever you play in that city?
The Districts: I don't know if I think of it in those terms, but it's definitely an excitable show. It always is when you play at home. It feels, I don't know, I just never thought of it like that before.
Well is there anywhere else that makes you feel just as, if not more excited?
The Districts: I'd say San Francisco because I have some family there, but then also New York and Chicago. We have some special guests opening, some close-by friends, which is always easier to pull off back home.
Who are those special guests to you? How did you land on the openers?
The Districts: So, we were originally going to have And the Kids and Glove for the entirety of tour but following a medical emergency involving family in the first band, we are having others fill in. The band Sixteen Jackies from Philadelphia is doing some shows, we are kind of just figuring it out as we go.
Glove though, I am very close with. We do drums together in my side project, so I'm looking forward to playing with them. But as a silver lining, this has led to us researching a lot of cool new bands to find along the way.
Watch: "Velour and Velcro" – The Districts
Glove is not necessarily The Districts' style of music. More of a'70s influenced band. With musical culture being rather cyclical, do you see the new styles coming in? Do you see a newer trend for The Districts even?
The Districts: I feel like everything has phases. Sometimes I'll make dance music on the side. I play a bunch of different instruments and they are all just ways to express yourself.
I do not really think of it as guitar music, just different forms of expression. While some can be more popular at certain times – I do not think that the guitar – or the four-piece will ever be not a way to express yourself with.
It's not like Latin [hah].
Would you have any advice for that four-piece band looking to get it started?
The Districts: It can be tempting to follow trends, whatever way the wind blows. It is more important to be true to what you want to create. That will lead to the best possible form of it being expressed. No matter the context, it will be better than if contrived through following someone else's lead.
I saw a press release saying that you were personally fried both professionally and mentally. With this new album, this new sound, has the reception eased your mental worry?
The Districts: The way this one came about, I never planned for it to be a Districts record. I was just trying to record some stuff that would be its own little home in a way. I didn't stick to the same format in which we previously recorded our work. But with it, I felt more comfortable and freer in my own self-expression.
The response has been pretty good so far. I feel like we've executed some ideas that we have wanted to get to in the past. Now with years behind us and recording in a different process, we were able to execute them.
Well you mention the work behind you, it's now been just over a decade, have you noticed a generational shift in fans? Are you looking towards them even?
The Districts: I'm kind of always looking ahead. I think what had me stuck before making this record were people wanting us to look back and be the old version of us. I think this time off has allowed for me to take that step forward, almost away from it.
We still play the old stuff; we love playing the ones that people will always sing along with. But I wrote some of those songs when I was sixteen, and I am a different person now. Whenever I make music it's for who I am now.
I think some of my favorite music is very 'out-there' material. I am looking for a way in which we can put our own stamp on it.
Do you find this songwriting and sound creation easier now?
The Districts: I felt a lot of pressure when we first signed to a label. I was just a kid in high school then. Now it's like, "oh shit" there is somebody behind us, supporting us. You don't want to let those people down. I felt like I had to live up to something.
Over time, especially with this record, I was able to tune out any idea of expectation. Just creating music as a form of pure escapism and expression as I did when I was a kid. Connecting to something outside of myself.
Stepping outside of yourself is important, especially now. Are there any outside influences you have? Away from music even?
The Districts: I really enjoy books. I read Kafka On the Shore by Murakami while I was writing most of this record, it is a rather dreamy piece that gets in your head. Pale Fire by Vladimir Nabokov was also very inspirational.
Before this album was released, you had some singles released to preview it. "Hey Jo" being the first. Did you have much say behind that?
The Districts: Yeah, I really wanted "Hey Jo" to be the first teaser track because it shows a lot of the directional change we've taken on this new album. There are a lot of natural sounds combined with these synths and other industrial, gear-grinding samples. That song meant a lot of me, so it felt like it almost had to come out first.
Watch: "Hey Jo" – The Districts
It is nice to hear you have a big say and that the process comes organically. One of my favorite songs of yours, 'Nighttime Girls,' is on its own little two-song EP in between albums. How did this little hiatus-jingle come to be?
The Districts: We are always recording songs between records. In that case, it didn't quite feel like part of this record; it more so built off the last. That said, we had a lot of fun playing it, especially live, so we felt that it deserved to be out there.
I like to keep records, ideally, as their own cohesive world.
Do you ever get fatigued by certain songs?
The Districts: It's always exciting to see people's reactions to our hits, but we need to play tracks that make us feel good and more honest as musicians. Sometimes that involves us playing big chunks of the newer record or some deeper cuts. It's important to keep it new for yourself out there.
— —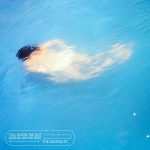 ? © Shervin Lainez
:: Stream The Districts ::
---