Catfish and the Bottlemen make a stunning return with their massive anthem "Longshot," channeling raw energy and passion into a tale of success and survival, familiarity and change.
this article was written in collaboration with Ditta Demeter.
— —
Every once in a while, the little things make me smile…
Catfish and the Bottlemen have made a stunning return this week with "Longshot," kicking off 2019 in style with a massive anthem full of raw energy and passion. An ode to success and survival, camaraderie and growth, "Longshot" delivers a jolt of electricity to the senses as the Welsh rockers assert themselves with spirited charisma and arena-ready excitement.
Go, ahead and tell me you got all you want
Fiver says you're wrong
And I suppose you've come down to help me
Move things along
"Longshot" – Catfish and the Bottlemen
---
Sometimes the longshots really do pay off, and you find yourself living a life you never imagined – headlining tours, selling out stadiums, travelling to cities around the world, and meeting people from every walk of life. Such is the case for Van McCann, Johnny Bond, Robert "Bob" Hall, and Benji Blakeway, who formed their rock band as kids over a decade ago, but could never have dreamed of the life they're currently leading. Catfish and the Bottlemen's debut album The Balcony landed in 2014, and has since gone on to achieve platinum status. Their sophomore album The Ride released in May 2016 and reached #1 in the UK before going gold. The band have toured five continents in a relatively short time, and they're currently gearing up for a sold-out U.K. arena tour that will bring them through some of the country's biggest venues. Not bad for a couple of lads from Wales!
Yet as "Longshot" suggests, the fighting's never over: There's always another barrier to break, and new obstacles to overcome.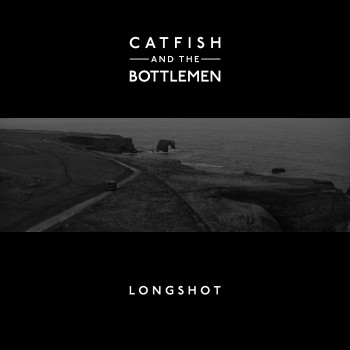 And we lapped it up
and we're wise enough to know
How it goes to get me honey
But we're wise enough to know
How it goes to get me honey
'Cause we know this feeling
all a little too well
Catfish and the Bottlemen's first release in over two and a half years, "Longshot" has a refreshing reflective quality to it that celebrates the road to today, while at the same time looking ahead at all our tomorrows. Van McCann howls with determination and drive, his words echoing a sense of darkness and the idea of an endless struggle — one that can overshadow today's accomplishments, if you let it. This imperceptible, but very real unknown adds to the song's allure, helping to make it the definitively strong comeback we were all patiently waiting for.
Catfish and the Bottlemen seal the deal with a dynamic, catchy chorus radiating heart and soul:
Listen, the distance between us,
could've took a while
Once we closed that difference,
you turned up like a friend of mine
Every once in a while,
the little things make me smile
As if one of our longshots paid off
One of our longshots paid off
"Every once in a while, the little things make me smile," McCann sings. It's a nod to the everyday pleasures, the small victories in life that help you get through the hard stuff. There's a remarkable amount of wisdom here, but it's all light, laidback, and refreshingly unpretentious. Catfish and the Bottlemen are still very much the same blokes they were when we met them five years ago; while they're older and perhaps a little more "worldly," they express hardship and revelry with a sense of gratitude and a nod to the connections that matter most.
The second part of this chorus line affirms the weight of the first: "…as if one of our longshots paid off." That "as if" nicely curbs the gusto that "our longshots paid off" seems to express, almost putting that part in brackets and emphasizing the previous and more powerful line of "the little things make me smile." No matter how far they go, the band are committed to remaining tied to their roots.
While it certainly captures Catfish and the Bottlemen at an important time in their individual and collective growth, "Longshot" also invites listeners to bask in nostalgia's warm embrace: Its down-to-earth lyrics encourage us to think back on our own journeys, pondering how far we've come and how much we ourselves have changed along the way. It's an opportunity as well for us to stop and smile at the little things; to remember that life is a marathon, not a sprint, and that we can afford to slow down and spend time doing what we want to do, with the people we want to be around.
The "Longshot" music video underscores all these messages with beautifully orchestrated yet simple visuals. Director Jim Canty has worked with the band before, turning tender and affectionate serenade "Hourglass" into a six-minute mini-story starring no other than Sir Ewan McGregor. While then, the played-down aesthetics sought to grasp the soulful simplicity and intimacy of love, their main objective here is to really let the music shine. Classic and uncluttered in the best way possible, the video is made up of a single shot, with no cuts to break the smooth cinematic flow or distract from the electricity of the music. Despite this minimalism in editing, the long sequence remains incredibly dynamic and full of movement: the camera, McCann's car, and the band themselves are always in motion, reminding us of the idea of constant struggle and creating a journey of their own. Close-ups of the band performing add great emotional depth, accentuating the personal dimension of the animated, lively track.
"Longshot" is a rallying cry, a celebration and a lament all in one. Between the raw vocal bursts and the explosive guitars, reveling in the comfort of kinship and respecting the never-ending hustle, Catfish and the Bottlemen have made an incredibly powerful return – setting the stage for a promising and memorable year ahead.
2019 has barely begun, and we've already got an anthem we can shout at the top of our lungs: Stream "Longshot," our now!
— —
"Longshot" – Catfish and the Bottlemen
— — — —
? © Jill Furmanovsky
Catfish and the Bottlemen
---
:: Catfish & The Bottlemen Tour ::
3/12 – Indianapolis, IN @ Old National Centre
3/13 – St. Louis, MO @ The Pageant
3/15 – Houston, TX @ House of Blues – Houston
3/16 – Dallas, TX @ House of Blues – Dallas
3/18 – Phoenix, AZ @ The Van Buren
3/19 – San Diego, CA @ House of Blues
3/22 – Los Angeles, CA @ Hollywood Palladium
3/23 – San Francisco, CA @ The Fox Theatre
3/25 – Portland, OR @ Roseland Theatre
3/26 – Seattle, WA @ Showbox SoDo
3/28 – Salt Lake City, UT @ The Depot
3/29 – Denver, CO @ Ogden Theatre
3/31 – Kansas City, MO @ Midland Theatre
4/2 – Columbus, OH @ Express Live!
4/3 – Brooklyn, NY @ Brooklyn Steel