With "Truth Toy", Lou Stone's earnest views on love and honesty are delivered on a simple bed of tender instrumentation.
Stream: "Truth Toy" – Lou Stone
---
No great relationship is built on lies. Yet it's at the very beginning of one when we usually tell the most: Embellishing ourselves, hiding our faults, and skipping ahead to the falling in love part- whether it's possible or not. Lou Stone's new song "Truth Toy" is here to defend love, to tell us all that the key is simple: Be honest.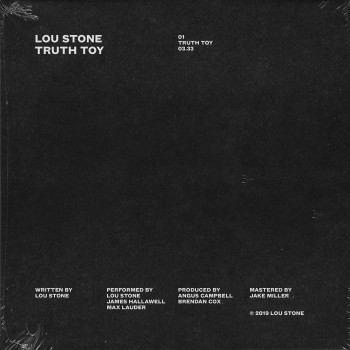 The multi-instrumentalist's newest single builds upon the sound from his Fictions EP (released earlier this year), taking the EP's slow, lullaby feel and providing an uplifting urgency to it. It's a quality that works, having been heading towards this subtle shift for years. Born in London, Stone spent much of his youth in Sydney and Montreal playing in bands and honing his skills. Busking early versions of the Fictions songs on the streets and subway stations of Europe, he returned to London to get his real life on digital tape and release it to the world.
A voice more smoky whiskey than vanilla vodka, Stone carries the experience of awkward first dates and failed relationships in his vocal chords. It's emotive, knowing, and damn beautiful. Add in some harmonies and it strikes you as not only wise but also as very catchy.
I'm not gonna say that my heart is on fire
Act these emotions with carnal designs on the truth
Stop messing with the truth, you're playing with the truth
I'm not gonna sing you these songs just to play
Ratchet up tensions for naked displays of the truth
Stop messing with the truth, you're playing with the truth
The idea behind the song is simple but achingly important: "It is a song about cutting through the shit we all experience at the beginning of a relationship" explains Stone. "Breaking down the walls we put up to find the truth, I am asking people to be honest with one another."
These earnest views are delivered on a bed of tender, gentle instrumentation, making the music's greatest quality be its simplicity. A wandering baseline and a minimalist drum machine anchors the song, while a perfectly-reverbed guitar accents the end of Stone's sentences. All this combined allows Stone to talk in almost Dylan-esque poetry, creating a mental image as complex as it is stunning.
Red-blooded, bruise so easy
This porcelain heart won't leave me now
Dream big but fade so quickly
Hope flickers past this reverie
Here it is, our heads immersed in other games
Shake awake, let our conscience unfurl
Lay down we'll wait for cover
Still please don't find another me
The result is a call-to-arms for new lovers to say what you want to say and not what you feel should be said, to be honest to yourself and your new beau, and- most importantly- to protect the truth. After all, it's not a toy.
Stream: "Truth Toy" – Lou Stone
— — — —
? © Manon Ouimet
:: Today's Song(s) ::
---
:: Stream Lou Stone ::