A high energy blast of intimate alternative pop/rock, Livingmore's sophomore LP 'Take Me' dives into reflection, self-expression, loss, and more as the LA band come to life with passion, charm, and eleven inescapably catchy songs.
Stream: "Sharp" – Livingmore
---
Dynamic and charming, Livingmore's sophomore LP promises to be a welcome addition to 2021's summer soundtrack. A high energy blast of intimate alternative pop/rock, Take Me dives into reflection, self-expression, loss, and more as the LA band come to life full of passion, verve, and eleven inescapably catchy songs.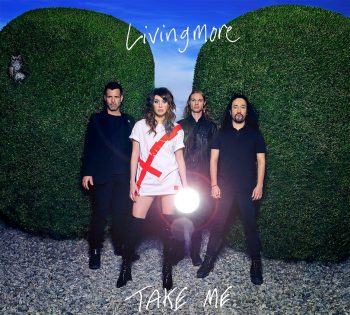 You say why don't you wear your thigh highs
Well I'll wear them with a blazer and tie
I'm looking sharp like my guy
You see them in their champagne clicks
Whisky watching is how I get my kicks
Oh I'm gonna spit on everything nice
Don't tell me to leave it alone
Because I'm not gonna just go home
I'm gonna make it last with a bite
And I'm looking sharp like my guy
Oh yeah but will it measure,
oh yeah will it measure up?
– "Sharp," Livingmore
Independently released May 21, 2021, Livingmore's Take Me arrives three years after the band's debut OK to Land put them on the pop/rock map. The Los Angeles alternative rock band of Alex Moore, Spencer Livingston, Mike Schadel, and Rodrigo Moreno, Livingmore have come into their own on a dynamic "dance your problems away" collection of songs intended to move our bodies and lift our spirits.
"It really hasn't been that long," lead vocalist Alex Moore tells Atwood Magazine. "It's been a little over two years since our last full-length album and during that time, we toured a lot, released a handful of singles and an EP. We wrote and recorded the new album during the summer of 2020 at our studio in Los Angeles. A strange time to be making an album or really doing anything for that matter, but it was a very collaborative effort and we are proud of it. We're just trying to make the best record we can, we think we achieved that vision."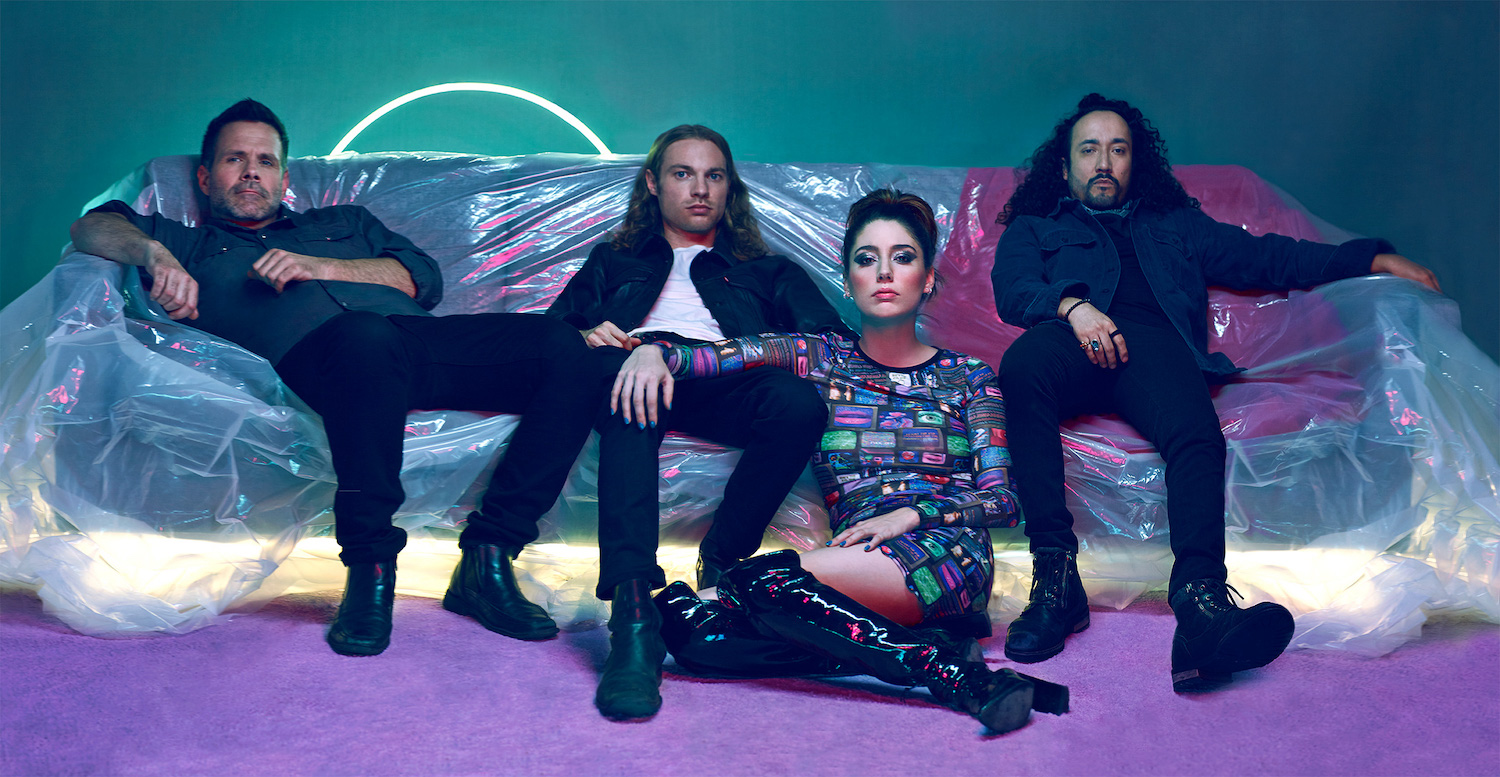 That vision comes to life on a record fueled by emotion and forever driving toward visceral release.
From the unapologetic heat of celebratory opener "Sharp" to the effervescent anxiety (or anxious effervescence) of closer "Dreams on Fire," Take Me takes its listeners on a sunny adventure that never sacrifices depth for a good time. Thoughtful lyrics and memorable melodies help make every moment of Livingmore's new record one of provocative, thoughtful inspiration.
"Well, we had to give it a title," the band says of the album name. "We're hoping the listener will interpret that for themselves."
For Livingmore, their music speaks for itself; they avoid highlighting any meaningful lines or songs, instead opting to let listeners experience the songs on their own. "Since we wrote them, it feels kinda weird and self-indulgent to point out our favorite lyrics," the band says. "We just hope the lyrics are as meaningful to listeners as they are to us. We're proud of it all!"
Whether it's the undeniable bounce of "Bummer," the urgent overdriven chug of "Neighbors," the enchanting riffs and harmonies of "Memory Hill," or the soaring chorus in "Dramatic," Take Me has its share of shining moments and special takeaways. It's an honest and introspective album: One that doesn't shy away from life's hardships, but one that doesn't dwell in them, either.
For their part, Livingmore are just happy to have these songs out in the world. "We would never try to tell the listener what to take away from a listening experience," they add. "We're excited to see what connects with everyone once it's officially out and they've had a chance to listen thoroughly."
Experience the full record via our below stream, and peek inside Livingmore's Take Me with Atwood Magazine as the band goes track-by-track through the music and lyrics of their invigorating sophomore LP!
— —
Stream: 'Take Me' – Livingmore
:: Inside Take Me ::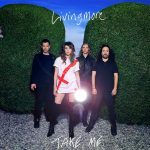 — —
SHARP 
Alex: "Sharp" is a celebration of life and self-expression. Personally, it has to do with feeling stronger as the woman I am today and standing my ground. When I was younger, I was more quiet and clothes were the first thing that made me comfortable expressing myself. I was thinking about how our energies mix with the wardrobe we wear and that's what first sparked the idea for "Sharp."
BUMMER
Alex: "Bummer" is a struggle against one's own cynicism. Feeling like you might be turning into the things you always tried not to be.
GOT ME FEELIN' LIKE 
Alex: "Got Me Feelin' Like" embodies an imaginary character who walks into a liquor store on a happy, high feeling like they are the star of their own show for the day, even if that is not the reality.
NEIGHBORS
Alex: "Neighbors" is an observational song about society and how there is always a deeper meaning to the sometimes seemingly simple or mundane routines in life.
MEMORY HILL
Alex: "Memory Hill" is about of losing a certain type of connection with a friend but always being brought back together by sense of humor and past memories. Even if things won't always be the same. People grow apart and live different lives, but that doesn't mean the love is gone.
I KNOW ITS A SMILE
Spencer: "I Know It's A Smile" is about someone who doesn't ever show you their true self. They may be showing you a smile on the outside but inside is a different story.
DRAMATIC
Alex: "Dramatic" is a fun song that admits the world is nowhere near a safe or perfect place but sometimes we just have to throw on some glitter and walk on our own tragic runway. It's fashionable chaos. Don't forget to make yourself feel good amongst the madness.
ENERGY TAKEN
Alex: Years ago, a psychic told me to be careful with my energy because though I have light, it can also be taken away if I stay around others who drain it and it got me inspired lyrically. Mike, our drummer, showed us this track and those words just flooded out of my mouth. "Energy Taken" has to do with the parts of life that might leave you feeling burnt out and learning how to break cycles that don't serve you well, but it also has to do with carrying pain with you and not having the tools to get out of it in that moment. It definitely calls out self-loathing and how that can make you morph into blaming yourself for things that aren't because of you. It's kind of a relief to just shout it all out and say it's there instead of ignoring it.
CLOSER
Spencer: "Closer" is about the feeling of being right on the brink of something new and the tension that builds knowing that life is fragile and things can fall apart if you aren't careful.
RAYS 
Alex: "Rays" has to do with realizing you always wanted an adventure, but the reality is that adventures are full of ups and downs. I just remember feeling the sun on my face in a time of stress and deciding to gain more control of my emotions and anxieties. Changing my perspective during a worrisome time, without invalidating my feelings, helped me move forward.
DREAMS ON FIRE 
Spencer: "Dreams On Fire" is about the anxiety that we feel when we make decisions.
— —
— — — —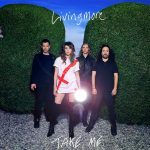 ? © Joseph Cultice
:: Stream Livingmore ::
---