Mr. Carnivore's debut album Blue Light is an intimate and impassioned outpouring of raw music and emotion reflecting on uncomfortable topics with hauntingly beautiful vulnerability.
? ? ? ?
Cleveland indie rock band Mr. Carnivore charged into our lives in early 2018 with debut single "Knees," a captivating reflection on the darker side of love that made them an early artist-to-watch and immediate favorite amongst this year's newcomers. Nearly seven months later, Mr. Carnivore have proved they were worth both the hype and the wait: Their debut album Blue Light is an intimate and impassioned outpouring of raw music and emotion reflecting on uncomfortable topics with hauntingly beautiful vulnerability.
Stream: 'Blue Light' – Mr. Carnivore
---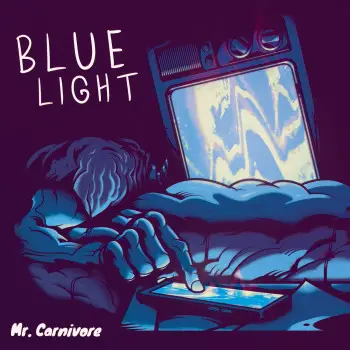 Atwood Magazine is proud to be premiering Mr. Carnivore's debut album Blue Light, independently out August 31, 2018. The indie rock band of brothers Pat LaGuardia (lead vocalist and guitar) and Joe LaGuardia (bass) strip down their instruments and expose their innermost selves on this intoxicating introduction, crafting a safe space full of introspective enlightenment and stimulating sensitivity.
"This album, being Mr. Carnivore's first true release to the public, is absolutely a coming out of sorts," Pat LaGuardia tells Atwood Magazine. "I have been writing and recording songs with Joe LaGuardia for my entire life. Mostly, the songs have been kept to myself or shared with the people that inspired them, but never really put out there and given to the rest of the world to listen to… I am excited, but also pretty nervous. Being that I have kept my music pretty close to the vest for all my life, my lyrics tend to be a bit honest and blunt, and at times have been uncomfortable for me to share."
That discomfort stems from LaGuardia's willingness to pour himself, flaws and all, into his music. Beginning and ending with a collage of real voicemails from friends and family, Blue Light takes a step away from our sensory-overloaded "modern age" in a bold (and ultimately successful) attempt to achieve emotional balance, and maybe – just maybe – find a way to feel satisfied. The track "Upper Half" begins this ascent with a stark observation of personal perception versus reality:
I really wanna make you laugh
But I'm not quite sure how to yet
Well, I grew up and I got old and I got fat
They keep telling me
I'm on the upper half
Well how 'bout that?
I lost the flame, I lost the fire
I quit my job; I'm up for hire
I broke the circuit, crossed the wires
They keep telling me, they keep on telling me
I'm on the upper half
Well how 'bout that?
LaGuardia notes, "This album, Blue Light, is funny in the respect that even though it is our first public release, it is still very much written for myself in the form of a 21st Century rehabilitation from electronic screens. I wrote each of these songs in the midst of a period of my life where every one of my days consisted of waking up, driving to work, working on a computer from 9 to 5, driving home where I felt too mentally tired to do anything but watch TV, play video games or mess around on my phone. After about 4 days in a row of not being able to sleep a wink at night I went to the internets for answers and started reading about some of the effects electronic screens can have a person. I decided that I should play more guitar than look at electronic screens and these were the songs that came out of me when I made that choice."
It may come as an initial shock that the band's emotive debut single "Knees" is absent from Blue Light, but LaGuardia explains that when it came time to finish the record, "'Knees' didn't really fit or make much sense anymore."
"The process of making this album has been quite a shake up. It really kind of took control of itself in a lot of ways. Sometimes no matter how much you plan or prepare for things, the universe has other ideas that ultimately take precedence over your "plans." Our first single "Knees" not being on the album is a great example of that. We did all the recording and engineering of the album ourselves before mastering, which is challenging and extremely rewarding at the same time. There are a lot of imperfections on the album, which I love."
Blue Light is an open and honest snapshot of a human searching for fulfillment and reassessing his identity. Unabridged lyrics and catchy hooks help standout songs like "Cello," "Paradise," and "Wind Me Up" resonate, yet while these tracks may easily be repeated on their own, they are best appreciated within the context of Blue Light's spiritual and musical journey.
Press play on this special debut album and put away your phone for half an hour; let yourself be consumed by Mr. Carnivore's diary-like reflections and humbling contemplations. Join them on their escape from distraction and electronic deluge; dwell in sensitivity and embrace the real you. Experience this full record via our exclusive stream, and peek inside Blue Light with Atwood Magazine as Pat LaGuardia goes track-by-track through Mr. Carnivore's debut album!
Stream: 'Blue Light' – Mr. Carnivore
:: Inside Blue Light ::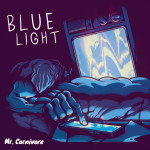 — —
Intro/Outro
Collecting voice messages has been a habit of mine since I got my first flip phone. I save all my old cellphones just for the voicemails. When you go back and listen to all of them it's like listening to memories. It's a cool little snapshot of time. I have always had a habit of saving voicemails from people that mean something to me, and when people in those voicemails cease to be part of your life it makes them more important. I went through all of my phones from high school on and pulled out the most important.  All these voicemails pertain to people and things that went on in my life for the past 4 or 5 years that kind of get wrapped into the concept of the album. It fit the theme of electronics in general.
Upper Half
This song is chalk full of irony, of which there is a lot of on this album. Essentially, the concept is about my realization that what most of society considers to be the "Upper Half" of living and what I consider to be the "Upper Half" of living are not the same thing.
Hot Air Balloon
Well this is the one of those uncomfortably blunt songs for me. The lyrics for this song pretty much say exactly what happened. I was saving a hot air balloon ride as a possible way to propose to a girl that went on a first date up in an air balloon pretty quickly after we broke up.
Wind Me Up
This song is about a party night in a foreign city (Pittsburgh) where some slurred truths about the state of America were discussed
Bible Girl
This song is a typical angst rebel song about simply not finding value in things that other people do.
Cello
Upbeat song that I originally wrote with my friend Scott Lladan. The song has changed a lot throughout its existence, but we got a version of it on this album that I am really proud of. The song is written about the fact that I am pretty sure that "all of my friends think I've gone crazy"
Paradise
IRONY STRIKES AGAIN! yeah this entire song is the feeling you get when someone tells you they are "living the dream" or… "hey, it's one more day in paradise"
Starting Again
This was the first song I wrote coming out of my electronic screen coma, and it's essentially about starting to feel human and passionate about life and music again.
---
Atwood Magazine: For me, "Cello" captures the Mr. Carnivore sound best. What's song on the record do you feel very exemplifies your music?
Mr. Carnivore: I think you hit the nail on the head with this – "Cello" is the song I would pick too. It's fast and fun to play. We are all pretty bad at dancing but if we could dance I think this would be our "jam."
Much of this record feels like reflections from the mind of a musician, trying to make it big and maintain relationships at the same time. What themes, musically and emotionally,do you feel connects these songs?
Mr. Carnivore: I think reflections is a great word in your statement there.. the process of writing the songs on this album was definitely a reflective period of time where I looked at the last 4 or 5 years and tried to sort out some of the things I grew through. I think emotionally the songs all share an ironic or rose colored glasses type of approach to topics are uncomfortable to talk about sometimes.
Which was the hardest song to write on the record? "Hot Air Balloon" strikes me as one that must have been particularly difficult.
Mr. Carnivore: It's funny you say that because "Hot Air Balloon" was probably the easiest to write, but the hardest to perform. I don't keep journals or anything like that, but sometimes I write my thoughts out on paper when I'm stressed or something gets stuck in my head. Most of that song was written out with no music or song in mind the words just kind of came out during a stress writting session. I just had to make them rhyme.
? ?
? ? ? ?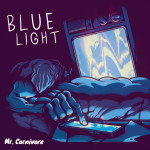 ? © 2018
:: Stream Mr. Carnivore ::