To celebrate "the most wonderful time of the year," Atwood Magazine's Mistletones column features fresh holiday/wintertime tracks and exciting covers of beloved classics. December has a knack for bringing out some of the most poignant, tender, and celebratory music, and we want to highlight that excitement by showcasing new and alternative holiday greats! Spice up your holiday season with songs you can listen to now and cherish in the years to come.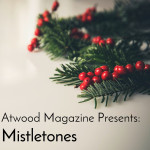 click on the artist's name to jump directly to their section
"Home Alone, Too"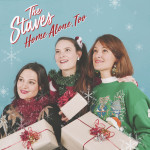 Intimate and bittersweet, The Staves' wistful "Home Alone, Too" is a breathtaking ballad that captures the warmth, as well as the weight, of the holiday season. The indie folk trio's delivery is absolutely flawless: Sisters Jessica, Camilla and Emily Staveley-Taylor weave their haunting harmonies through a tale of heartbreak and longing that aches with the onset of Christmastime:
Well it rained again this Christmas
Seems to happen every year
And it only snows on tv
And I saw you in your photographs
Seems you're having so much fun
It's okay, you don't belong to me
How I hate this time of year
It's dark and it's cold
And I feel I'm getting older
And I wonder…
Are you watching home alone, too
Are you watching home alone, too
To I'm dreaming of you
And I don't know what to do

Poignant instrumental flourishes add additional texture and depth to an already stunning encapsulation of wintry melancholy. "Home Alone, Too" tenderly depicts the pain that can accompany traditionally cheerful times when they're not spent with the ones we love. If you haven't yet been won over by The Staves, then "Home Alone, Too" all but promises to seal the deal on this incredible band. A stirring, beautiful performance, "Home Alone, Too" will be on my winter playlists for many years to come.
INTERVIEW
Atwood Magazine: What inspired "Home Alone, Too"?
Jessica Staveley-Taylor: The song was written last Christmas upon returning home to grey, drizzly London after a perfectly snowy, festive trip to New York. This time of year always makes you evaluate how you've spent it and think about the year to come. John Lennon said it best in War Is Over: 'So this is Christmas and what have you done?'
One thing about "Home Alone, Too" that's absolutely stunning is how it seems to encapsulate this time of year with a distinctive and heavy sadness. Why pen a holiday song built with such melancholy?
Staveley-Taylor: The best Christmas songs have a good dose of melancholy to them! Everyone sheds a tear to Silent Night. Home Alone, Too takes on a slightly tongue-in-cheek 'bah-humbug' tone about the festive time. How it's always poised to be magical but can sometimes be disappointing or mundane. This time of year is always laced with nostalgia. It forces us to reflect on where we are in our lives and think about Christmases past and future. It's sad because you think of those you miss and past times  But it's also nostalgic in a lovely way, the way you can shed a tear from happiness. The two are so closely related.
How does this track capture the holiday spirit or season for you?
Staveley-Taylor: I think everyone spends a considerable amount of time in front of the TV over the festive period, escaping reality, watching classic films (and, if you are me, eating lots of chocolates). The tracks sets that scene, but with the singer of the song gazing out of the window, seeing the Christmas lights in all the neighbours' windows, and wondering if that special someone is doing exactly the same thing…
What is your relationship with the holidays and the holiday season?
Staveley-Taylor: I have always loved the Christmas holidays. Even as an adult I still feel the excitement of Christmas like I did when I was a kid, although the great thing about being an adult is you can drink lots of mulled wine and go to Christmas parties. But to relax with the ones you love, some good food, drink and music, even if it's only for a day, is always such a joy and we are the lucky ones who get to do it.
What are some of your favorite holidays songs?
Staveley-Taylor: Have Yourself a Merry Little Christmas has a beautiful, dreamy sentiment, but also that poignant melancholy to it. The Judy Garland version (the best one) seems to be the only one that has my favourite lyric 'until then we'll have to muddle through somehow'… All the others have 'hang a shining star upon the highest bough.' Not as poignant! For me, Fairytale of New York by The Pogues and Kirsty McColl is the absolute best Christmas song. I don't believe that it's as popular in the US as it is here – so go listen! It's a rousing, drunken and beautiful song.
stay tuned for our full Mistletones interviews, coming soon!
"Winter Wishes"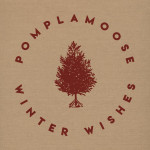 I've been telling everyone I know to listen to "Winter Wishes," as I just can't stop listening to it! Pomplamoose's incredibly moving holiday album fills you with as much warmth and winter wonder, as it does heartache and humility. By no means a standard Christmastime offering, Winter Wishes is an intimate record of reflection, connection, longing, and hope. All revenue from downloads and streams of Winter Wishes between now and January 2019 will be donated to the non-profit Save the Children, which strives to offer children around the world "a healthy start in life, the opportunity to learn, and protection from harm."
The beautifully bittersweet title track "Winter Wishes" opens with touching waves of grief as Nataly Dawn sings of not being able to spend this time of year with a lost loved one. They may no longer be with us in body or spirit, but "I'll be thinking of you tonight," she breaths in solemn requiem. Raw, intimate, and truly breathtaking, Winter Wishes is the perfect album to usher in this holiday season, and the song "Winter Wishes" is, as far as I'm concerned, a new holiday classic.
INTERVIEW
Atwood Magazine: What is your relationship with the holidays and the holiday season?
Nataly Dawn: Well, growing up as a pastor's daughter Christmas was a pretty big deal. My mom was the musical director at church (and not just because she was the pastor's wife – she's a kickass pianist and singer). She would direct the choir and any musical productions. I was usually a sheep or an angel (or Sherlock one year but that was…another story?). I really do picture my childhood holidays through rose-colored glasses. I remember that each December morning before going to school, we would read about the Christmas story and then sing a hymn (in three-part harmony – yay for musical families!) We would get new Christmas ornaments every year and I would run home because I couldn't wait to see the tree through our window. So yeah…I have a lot of positive feelings to channel when it comes to this time of year. Even though I know that things weren't easier or simpler back then, it feels like they were.
stay tuned for our full Mistletones interviews, coming soon!
"Christmas Song"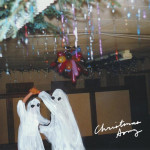 The melancholy, somewhat Hawaiian sound that has become notable with holiday music begins Phoebe Bridgers' "Christmas Song." Her voice breaks through for the first verse in a Sara Bareilles "Winter Song" kind of way. Bridgers eases through with alliterations of what it is to be home, with lyrics that are specific and descriptive, yet easily applicable to anyone's holiday experience. She captures the excitement and anticipation of being swelled with warmth and friendly faces, and then sometimes an immediate sadness that follows by being forced to think about how things used to be and how they are now – where they're going, and where they've been. Bridgers perfectly captures Christmas in a way that no other Christmas song has done before with these very lyrics:
You don't have to be alone to be lonesome
That right there is it. Lyrics so precise and profound. Lyrics that make you think, why haven't thought of them yourself?
---
"Pizza for Christmas"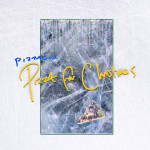 Although the DIY synths of "Pizza for Christmas" sound reminiscent of a cheery, '80s-infused holiday classic from the get-go, the latest festive cut from bedroom pop up-and-comer Pizzagirl isn't so merry after all. The song title might sound like the only thing that can make December 25th even more dreamy for little kids, but between the lines, "Pizza for Christmas" depicts the impending loneliness the season brings. The track kicks off with a disappointing voicemail — "I don't think I can make it down tonight, something's come up. I'm really sorry" — leading into the retelling of a holiday that's grown so solitary, its menu calls for only pizza rather than a traditional, celebratory homemade meal. If John Hughes were to have ever been credited for a melancholy Christmas film, the latest from Pizzagirl would sound all too fitting to be played during a moody montage scene (starring Molly Ringwald and/or Anthony Michael Hall, of course). Whether or not you're experiencing some holiday blues yourself, "Pizza for Christmas" is the synth-ballad you need under your tree.
INTERVIEW
Atwood Magazine: How does "Pizza for Christmas" capture the holiday spirit or season, for you?
Pizzagirl: I think it captures it pretty accurately for me, i'll most likely be eating a lot of pizza for christmas and avoiding the low temperatures! Maybe not so melancholic, but you never know!
stay tuned for our full Mistletones interviews, coming soon!
---
"The Christmas Song"
Frankie Simone's rendition of "The Christmas Song" (released November 30) takes the smoothness of the 1964 Nat King Cole classic and subtly updates it with an empowered female touch. "You know that Santa's on her way/ She and her bitches, kweens, and baddies gonna slay," she sings mid way through, each verse soulfully elongated in keeping with the rest of the song. Simone's vocals ooze over the warming piano and drizzles of violin which set the base for her to do her thing.
Her 'thing' is what was introduced with LOVE/WARRIOR, her debut EP released in June this year,  each track of energetic pop being a platform for queer liberation. Artists can do straight-forward covers of Christmas songs and they can sound great but they can also add to the homogenous selection in our consciousness. Frankie Simone's "The Christmas Song" is simple but made her own, dedicated to her community and the underrepresented.
INTERVIEW
Atwood Magazine: What inspired you to record "The Christmas Song"?
Frankie Simone: I really wanted to thank my fans for all of their incredible support this year, so I decided to cover my favorite holiday classic, "The Christmas Song," but with my own twist, of course. In my version, Santa is a badass femme and she and her bitches, kweens and baddies came to slay. I tend to question why things are "the way they are" about pretty much everything in life, so why should my favorite holiday songs be any different?
stay tuned for our full Mistletones interviews, coming soon!
Wonderland EP
As someone who has never really understood why Christmas music is so popular – or even a thing – I'm very pleased to announce that Marika Hackman has managed to show me just how good and interesting holiday songs can be. Her Wonderland EP was released at the end of 2016, a bridge between her debut album We Slept at Last and sophomore record I'm Not Your Man, and it was so good that I wanted to play the whole thing on repeat on Christmas Eve while fully aware that my then 3 year old niece and nephew would not really appreciate the darker nature of the songs. The EP includes two original songs, "Driving Under Stars" and "Paper Crown," covers of "O Come O Come Emmanuel," "In the Bleak Midwinter," and "Winter Wonderland", and a heavenly intro track ("Intro").
"Driving Under Stars" is the perfect holiday song and tragically underrated. The guitar and drums make it sound like a typical rock song, but Hackman's layered harmonies and lyrics are the perfect reminder that this song was made for the holidays. It's a holiday song that accurately represents the joys of the end-of-year holidays without the plastic, exaggerated nature of other Christmas songs. "Paper Crown" is darker in tone, but the intricate storytelling in the song is divine. When tackling the covers, Hackman displays her true artistry and fingerprint as she takes tunes that have been famous for decades and manages to make people see them in a new light.
There's something so wonderful in listening to Hackman's versions of these extremely famous songs, since she manages to highlight their humanity and completely strip them of the artificiality and commercial nature that tends to accompany Christmas-themed things. When looking at the EP in Hackman's discography, it's a beautiful blend of her different sounds, at times connoting her early EPs and mini-album That Iron Taste, referencing the tone of We Slept at Last but also hinting at rhythms and arrangements that came after on her second record. It's a terrific body of work and I hope everyone listens to it, especially if you're surrounded by snow on Christmas morning.
---
"There Is a Light"
Put simply, We The Kings was not a band I expected to release holiday music, much less a full album of covers and two original tracks. Their Season's Greetings from the Sandbar LP puts an island spin on longtime favorites, but the standout is their original tune, "There Is a Light." Starting with delicate and warm piano, Travis Clark's voice comes through in earnest shortly after. Acoustic guitar and strings soon join in, and the whole track comes together like a warm hug and a smile. The album itself spurred from Clark's desire to write a holiday album, but having never experienced a white Christmas he decided to give it all a tropical twist. The result, at least on "There Is a Light," is an uplifting and heartwarming track celebrating the holidays and the anticipation of Christmas. The minimalist production allows Clark's vocals to shine through beautifully and ground us in a feeling of happy longing and bliss. It also avoids the subtle melancholy many holiday songs tend to carry, opting instead for warmth and contentment. If you'd like to add some sun to your winter playlists this season, "There Is a Light" is the perfect choice.
INTERVIEW
Atwood Magazine: What is your relationship with the holidays and the holiday season?
Travis Clark: Christmas time might actually be my favorite holiday because as a band We The Kings is always on tour and away from our families. Around the end of the year, a lot of the music industry takes a break so it's nice to be able to spend at least a week or two at home with everyone that we've missed!
How does this album and specifically "There Is a Light" capture the holiday spirit or season, for you?
Clark: The album captures what the holiday looks like in Florida. It's usually still relatively hot where we are at around the end of December, so making a Christmas album with an island feel was exactly what we wanted to do. Plus, it's a nice separation from all of the typical Holiday music. "There Is A Light"'s lyrics obviously have the Christmas feel, with Santa coming to visit and portraying a kid looking out the window at the light coming from the clouds that perhaps could have been from Rudolph the red-nosed reindeer.
stay tuned for our full Mistletones interviews, coming soon!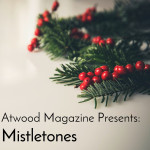 ? © Annie Spratt [CC]
art © Markus Spiske [CC]
---