As we emerge with "impossible iridescence" in summertime, Michael Cormier contemplates apprehension and fear in the face of the extraordinary in his new single "Yellow Sadness" off his third LP, 'More Light!!'
Stream: "Yellow Sadness" – Michael Cormier
---
Michael Cormier's "Yellow Sadness" has its share of surprises.
From abrupt chord progressions to fragmented lyrical still lifes, the track is exquisite, uncanny, lovingly sad. "Where's that laughter/Coming from?/Everyone's ageless and having fun," the artist sings early on. It's all innocent fun, we think, until small, almost cartoonish tragedies start seeping in. Suddenly, Cormier is "slipping on banana peels" and "dropping all the fries." Things aren't quite right anymore. "It's a song for when candy starts to taste too sweet, for when the sun becomes more blinding than illuminating, for when the laughter of a distant picnic goes on a little too long," Cormier says.
In "Yellow Sadness," we startle at beauty with a fright.
Sunflowers looming large
When I look up
I'm looked down upon
Where's that laughter
Coming from?
Everyone's ageless and having fun
Yellow sadness
Chlorine blue
Blinding reflections by the swimming pool
Summer of walking on eggshells
And slipping on banana peels
Atwood Magazine is proud to be premiering Michael Cormier's "Yellow Sadness," the seventh track off his upcoming album More Light!! due to release on June 25th via Oof Records and Dear Life Records. Based in Philadelphia, Cormier is a multi-instrumentalist who collaborates in musical projects Friendship and Hour, as well as co-run Dear Life Records. His two 2019 debut LPs have already given us a glimpse into his delicate, cozy tonality and an expansive sensibility toward the mundane. In "Yellow Sadness," Cormier's devastatingly aesthetic eye is on full display — in the strangest of summers, one where we finally emerge from our quarantine, perhaps all too blindingly.
"The name 'Yellow Sadness' was lifted from a Mary Rueffle poem, my favorite from her fantastic collection Private Property," Cormier explains. "In her poem, Rueffle describes looking up at a fresco painting on the ceiling of a church and the sensation of feeling 'looked down upon.' I shifted that image to describe how I felt walking past the huge sunflowers that adorn the streets of Cedar Park in West Philadelphia, where I was living at the time of writing the song. It led me to reflect on the pangs of sorrow I feel when the weather gets nice and everyone bursts forth from their homes with impossible iridescence."
In "Yellow Sadness," yellow is sunflower, banana peels, mustard, fries, and lemon juice all at once; blue is chlorine, swimming pool, and freeze-pop. Cormier's chromatic passion turns the song into a glossy, impressionistic visual experience next to its heartbreaking, splintering sound. Yellow sadness, summertime sorrow. Meanwhile, Boosegumps' Heeyon Won keeps Cormier company for the majority of the track, singing an octave above and producing an ethereal, surrealist effect that captures both the anxieties and tenderness underlining the song.
Featuring sparse drum beats, glassy guitar notes, and at times a buzzing bassline, "Yellow Sadness" witnesses a construction of freeze frames in illumination, spry notes in lingering, and Cormier — and us — in awe.
Michael Cormier will be celebrating the release with a streamed album release show June 26th at 8 PM.
— —
Stream: "Yellow Sadness" – Michael Cormier
— — — —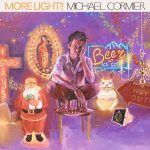 ? © Abi Reimold
:: Stream Michael Cormier ::
---